How to dice a mango to make fresh salsas. Mangos can be intimidating to learn how to dice but after understanding the basics and with some practice, you will be dicing up mangos like a pro.
*Disclosure: I only recommend products I would use myself and all opinions expressed here are my own. This post may contain affiliate links that at no additional cost to you, I may earn a small commission. Read the full privacy policy here.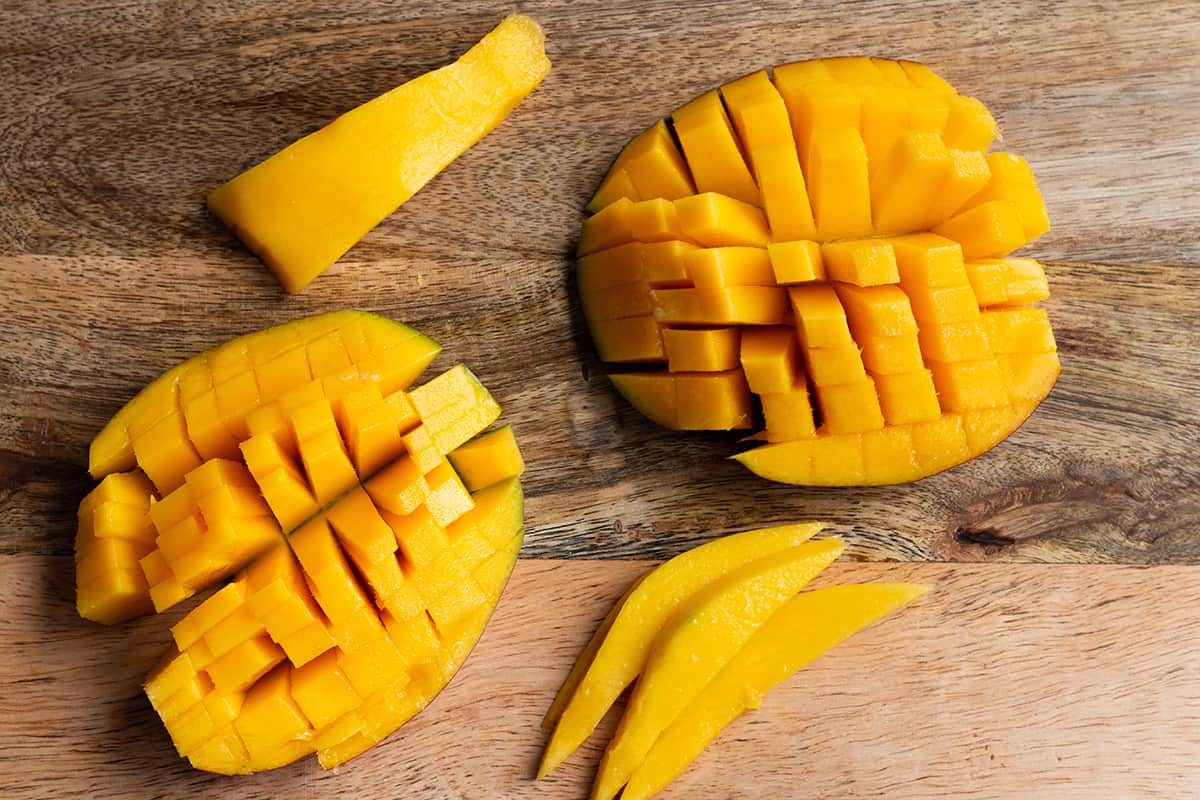 Do you love fresh mangos? Do you ever see them in the store and think of all the smoothies and salsas you could make, but then get intimidated about where to even start dicing up this fruit?
That was me until I learned the best way to process this delicious fruit. I was always so worried that I would butcher a mango attempting to dice it up, ultimately wasting most of it. So I would always settle for frozen.
But after some practice and understanding, it's not only easy to do but it's well worth the little bit of extra time for the flavors of fresh mango. I can easily dice up multiple mangos in one sitting and throw together a quick salsa that is so great on a variety of different things.
Don't let this fruit intimidate you anymore!
How to Know a Mango is Ripe
The first step to cutting a mango is to select the perfect one. But how do you tell when a mango is ripe?
A good mango will be soft but still a little firm to the touch. If it is mushy then it's overripe. If it's hard and firm then it needs a little more time to ripen. Very similar to an avocado.
Give it a very gentle squeeze and if it feels soft but still firm then it is ready to go. I like to think of it like a tennis ball that has a little give but is still firm.
If it is super soft and squishy, it will be too mushy to dice up. These would be better off being peeled and scraped off for a puree or smoothie.
Don't worry about the color. This has nothing to do with ripeness. So don't wait for your mango to turn all red or it will be too late.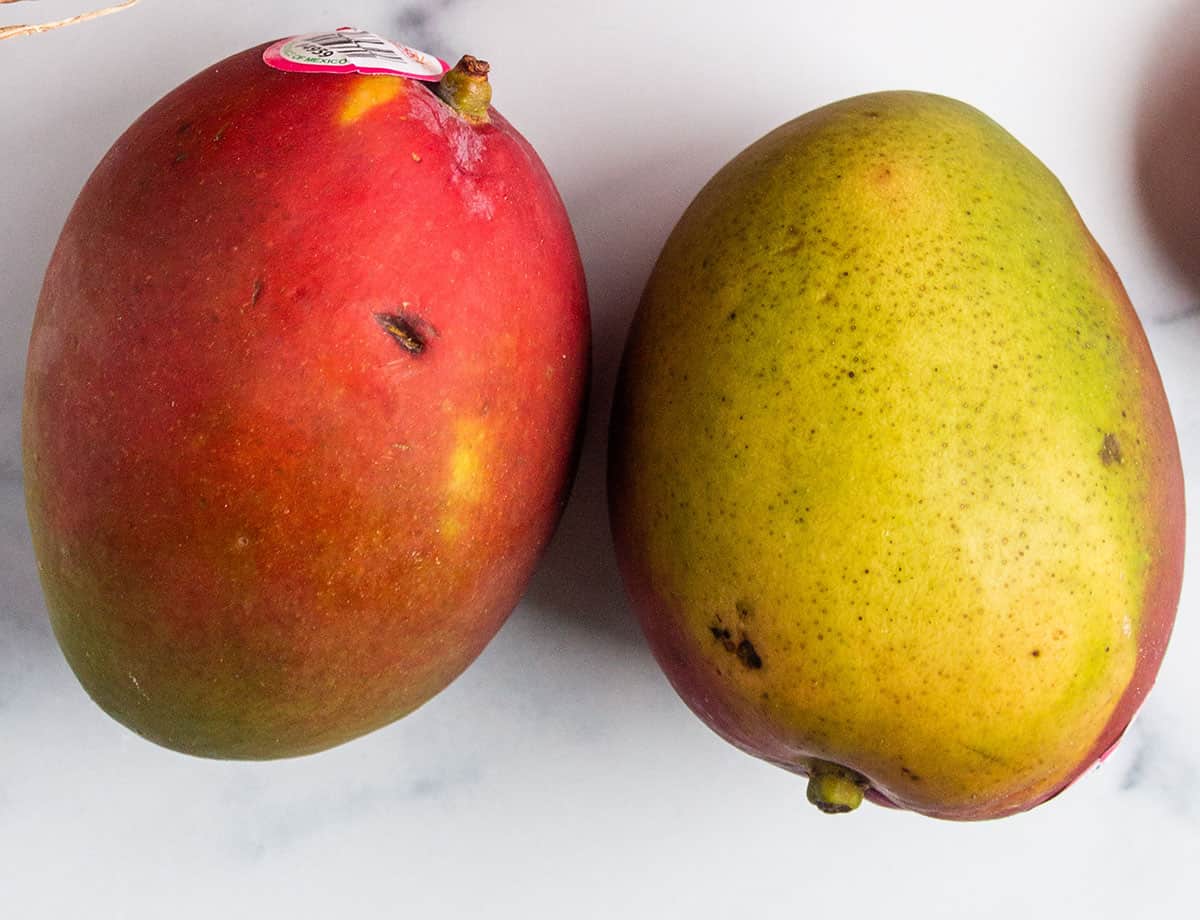 Parts of a Mango
Mangos are considered stone fruit and have a very large pit in the middle of them. The goal is to cut away the fruit that surrounds the pit.
You will notice a mango is more of an oblong shape with a longer and shorter side. This is important and will dictate where you make your first cut.
The peel or skin of a mango is not edible unlike other stone fruits such as peaches. Once removed, the skin will need to be discarded or composted.
How to Dice a Mango
Step 1:
The first thing you want to do is cut a small piece off the bottom which is typically the flatter side of the two ends. This will be super helpful as the mango will stand on the end and not move around while cutting the other pieces.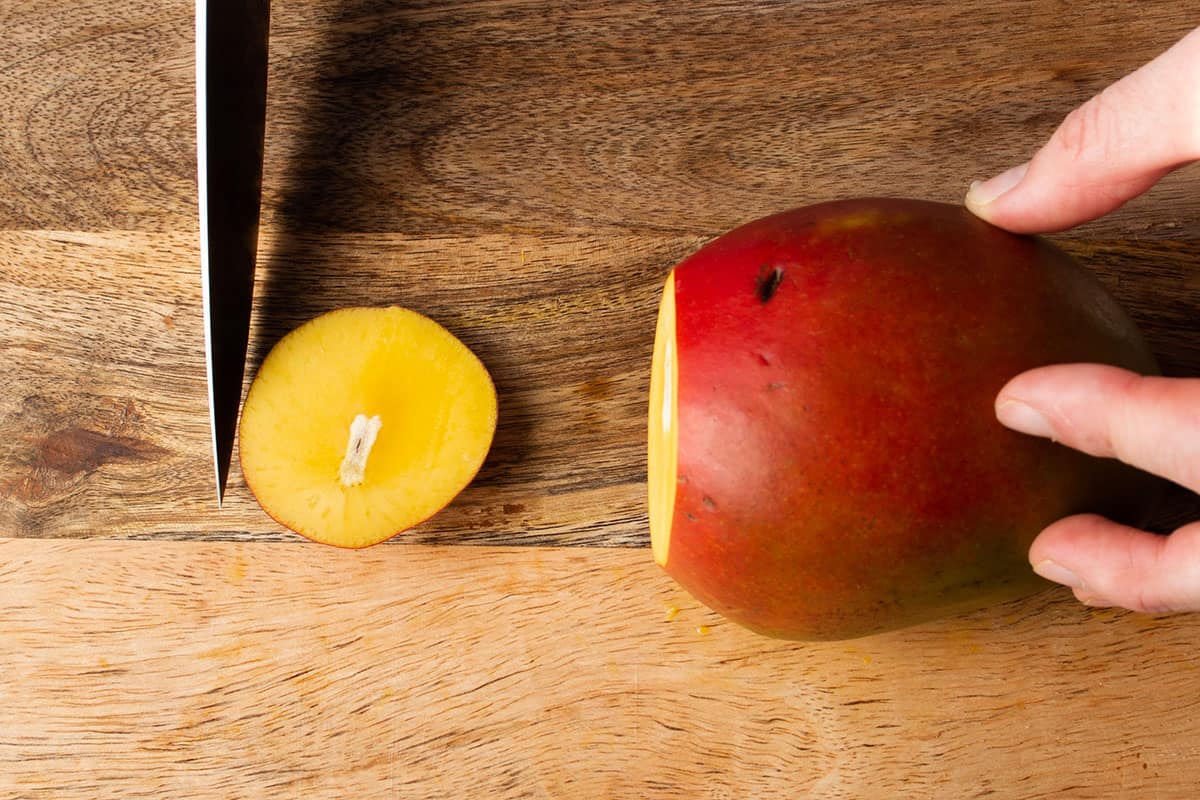 Step 2:
Locate the longer, flatter sides of the mango. These will be the first two cuts.
Step 3:
Using a sharp knife, start at the top of the mango and cut the long side off. Use the pit as the guide and move your knife down the mango.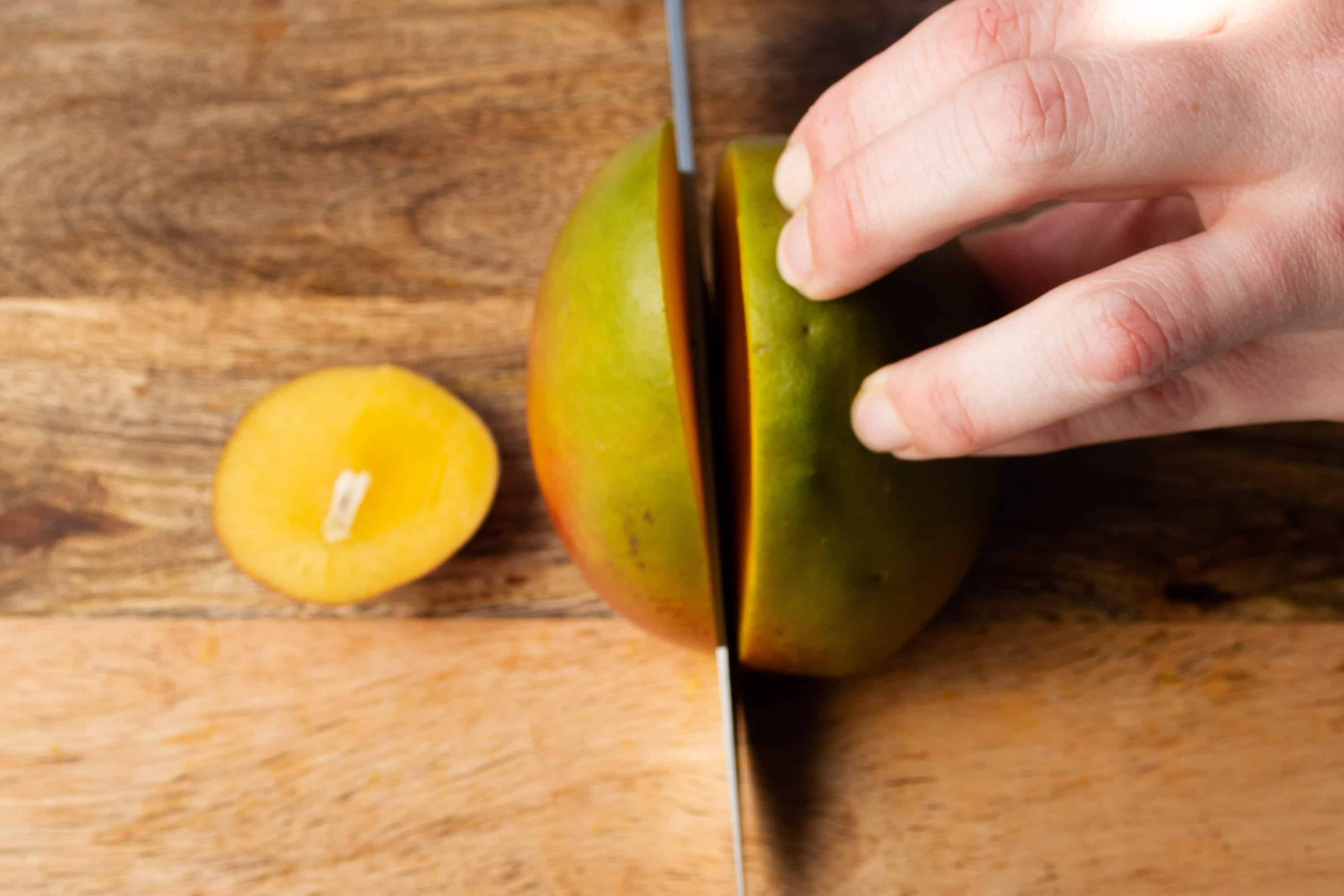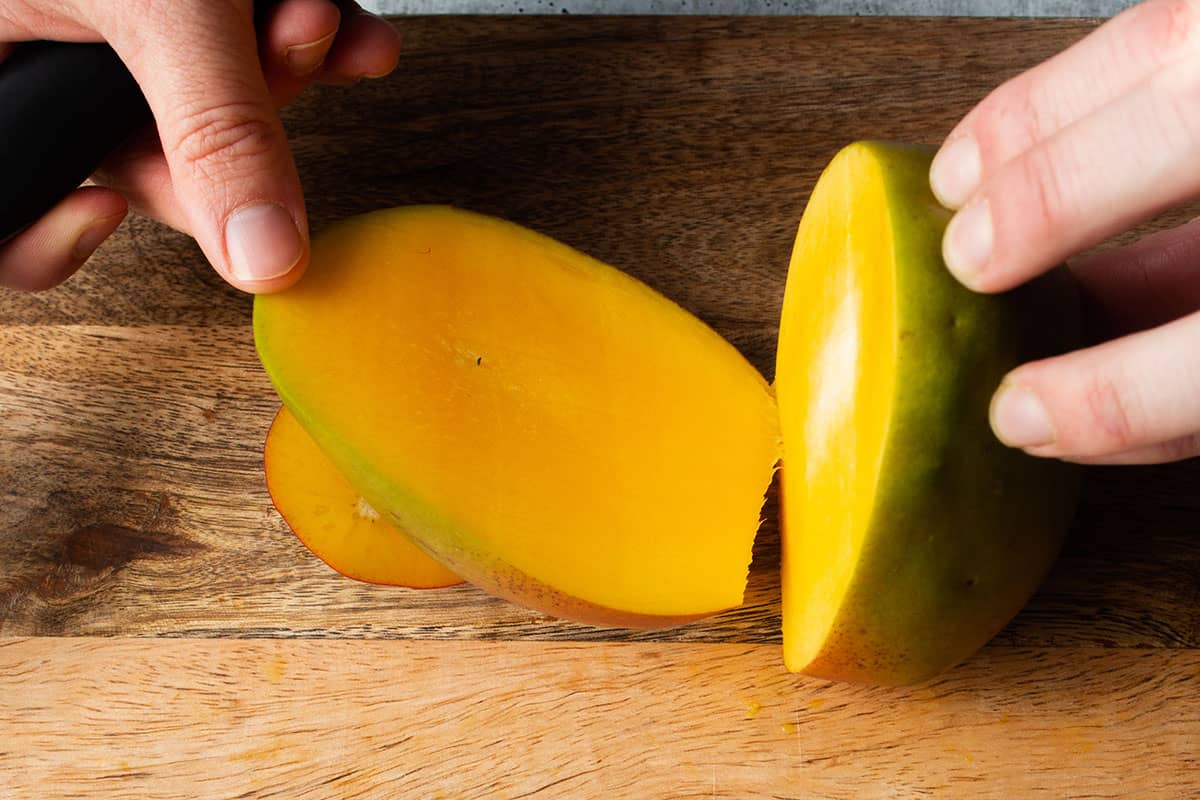 This does take practice! You will start to get a feel for how close to the middle you need to cut. Don't be afraid to reposition your knife closer or farther away from the pit.
Repeat on the other side.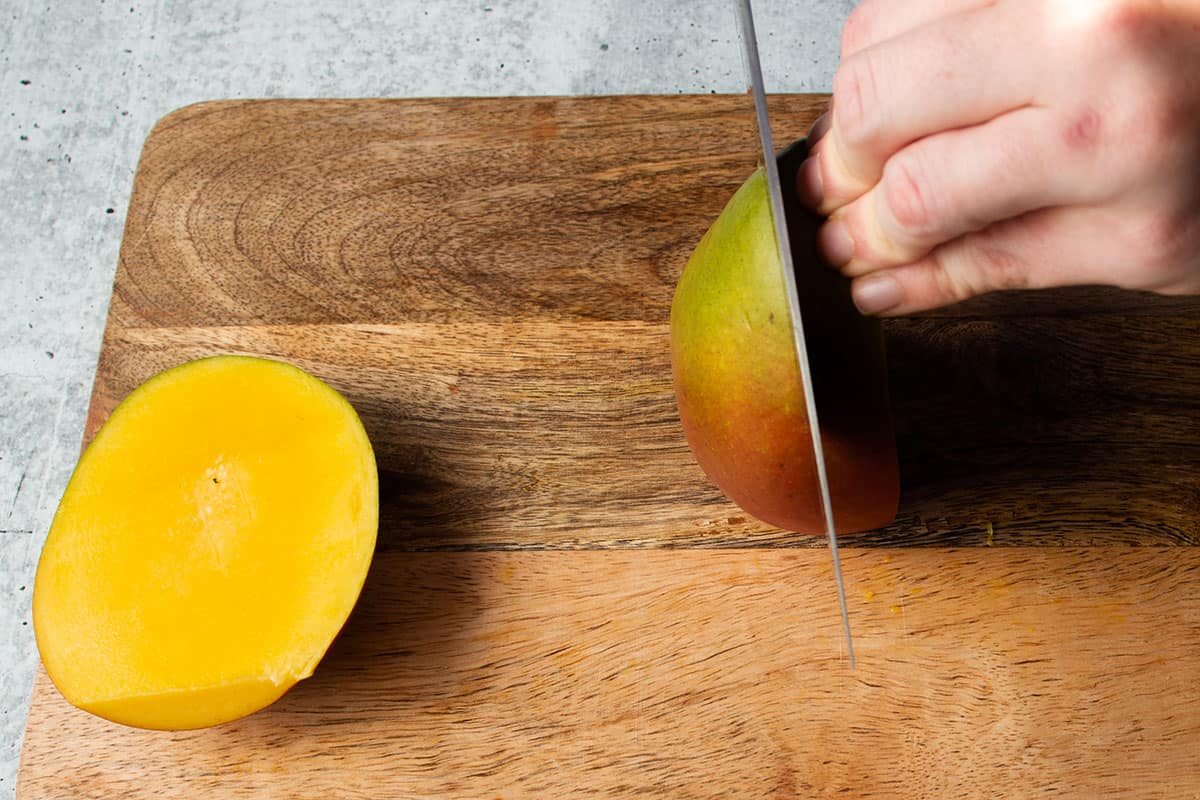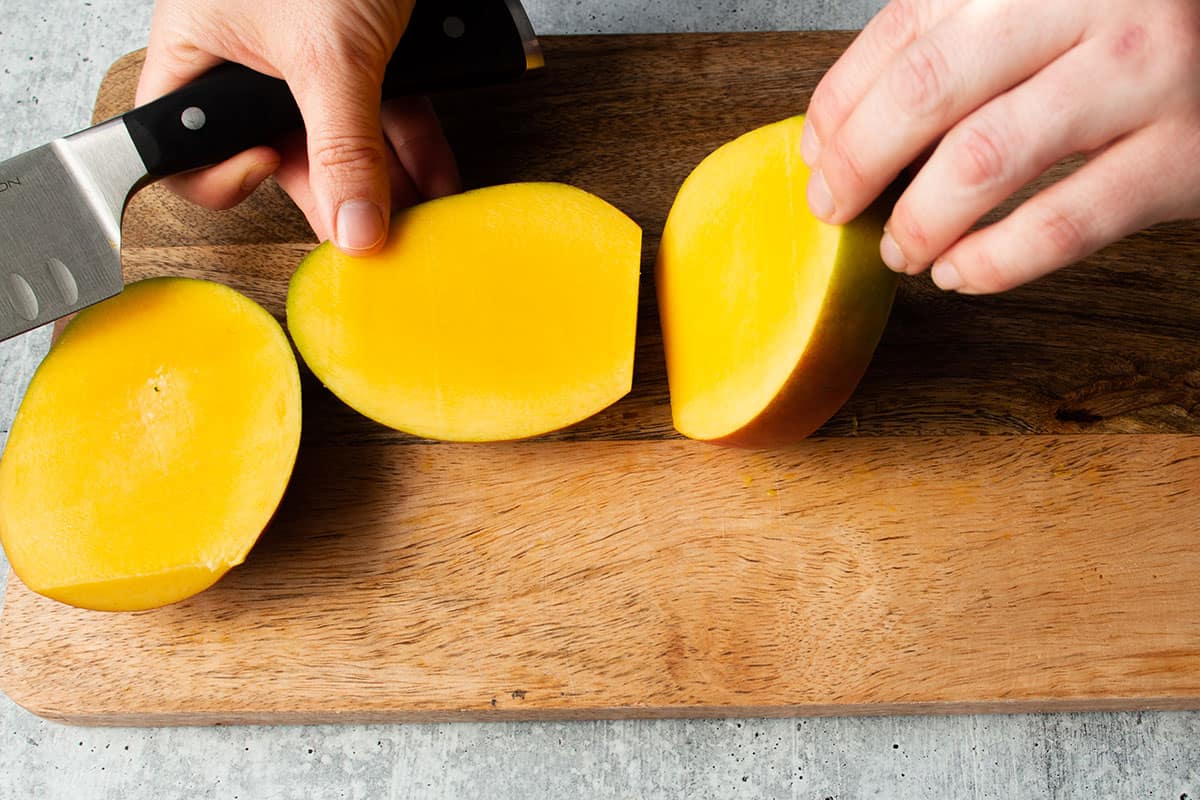 You should now have two big chunks of mango. I like to call them the cheeks.
Step 4:
Once the sides are removed you will notice there is still some flesh on either side of the pit. Next, take your knife and cut these off in a similar way as the cheeks were removed. Again, use the pit as your guide for where to cut.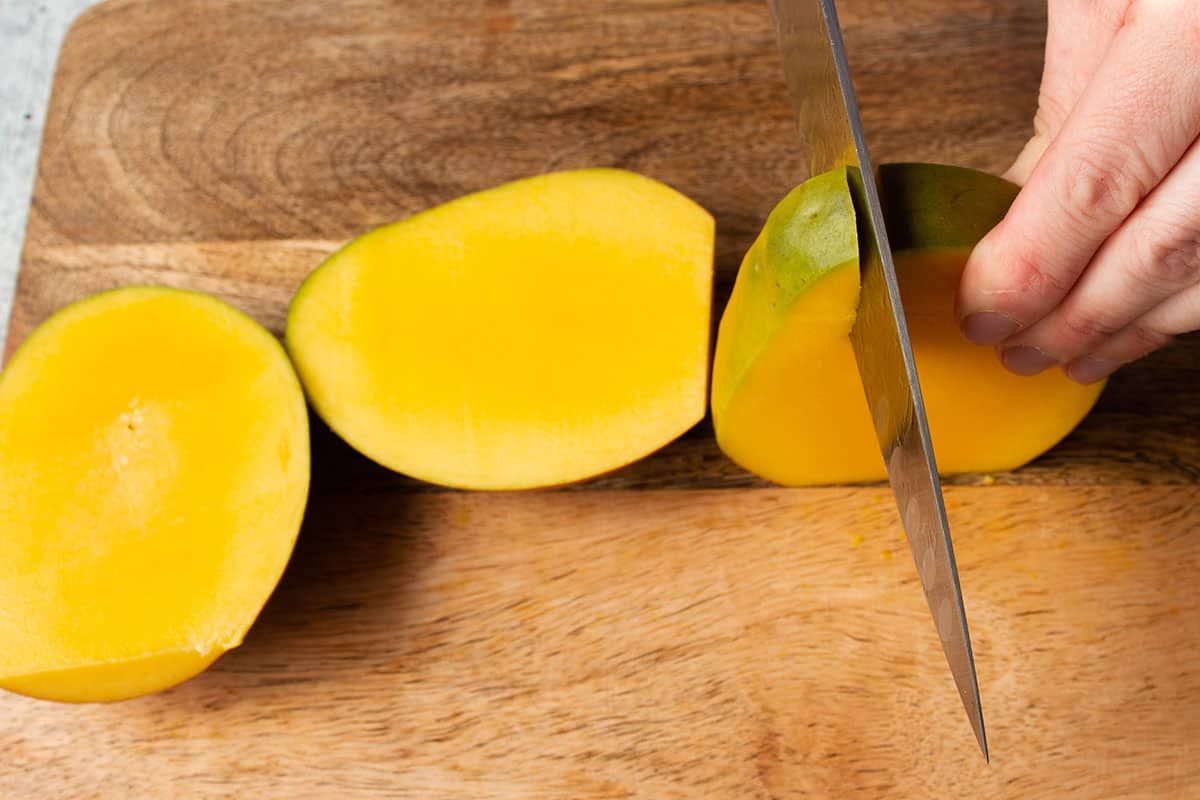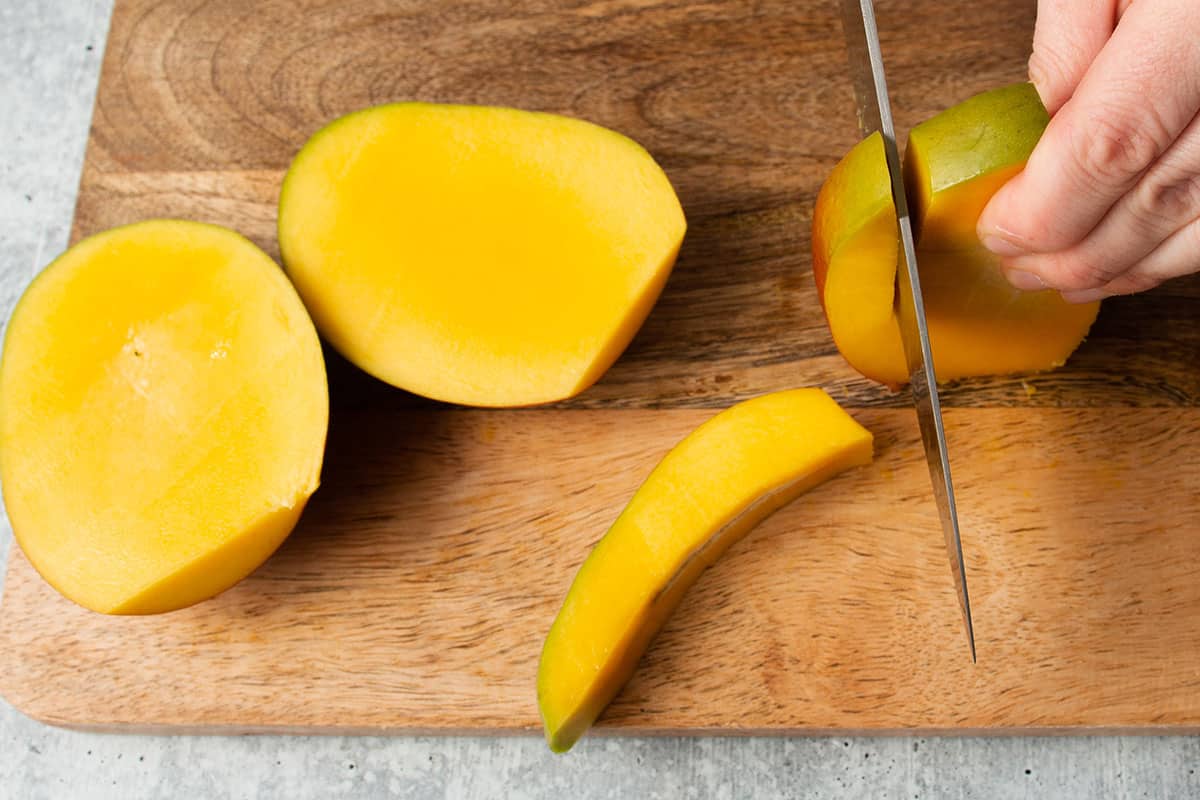 There should be two large chunks of mango and two smaller strips.
If there is lots of good fruit left on the pit, use a paring knife and cut away as much as possible. It is nearly impossible to get it all so don't worry if there is still flesh on the pit. It is not like a peach where the pit comes right out.
Step 5:
Take your knife and remove the skin of the smaller piece. Toss skin and dice the fruit up to your desired size.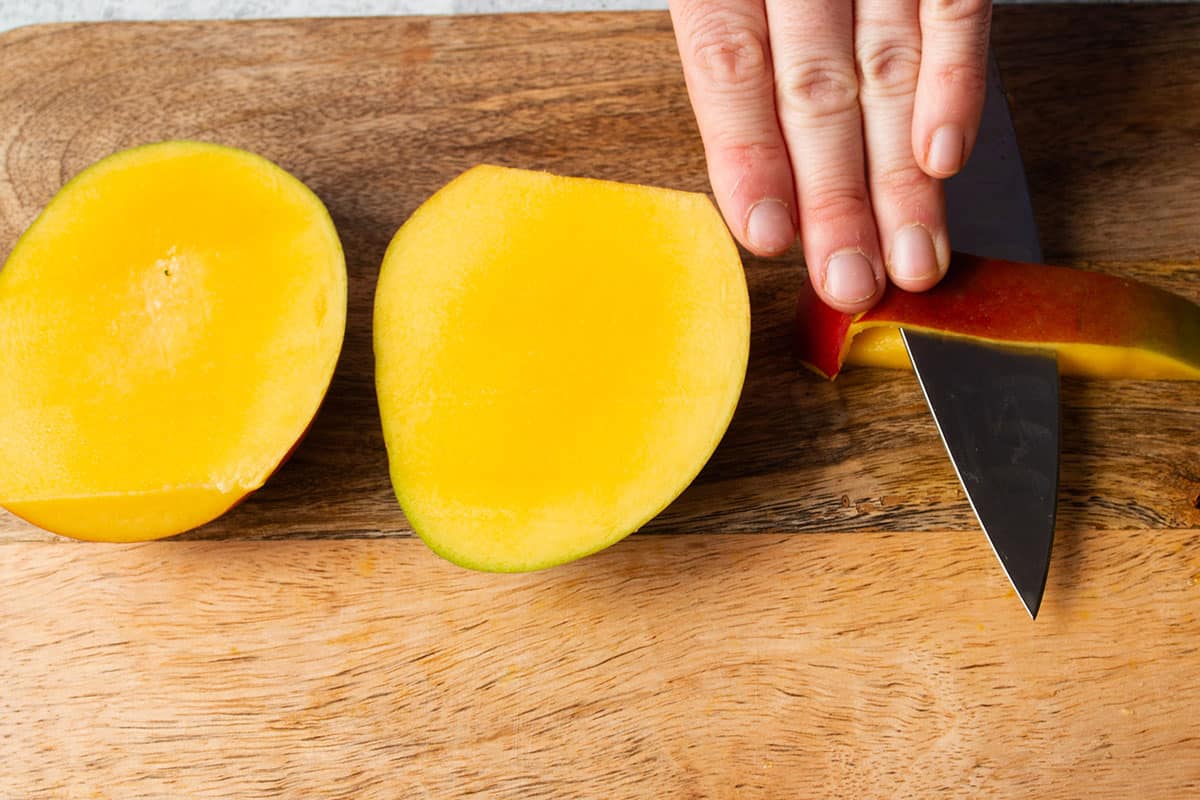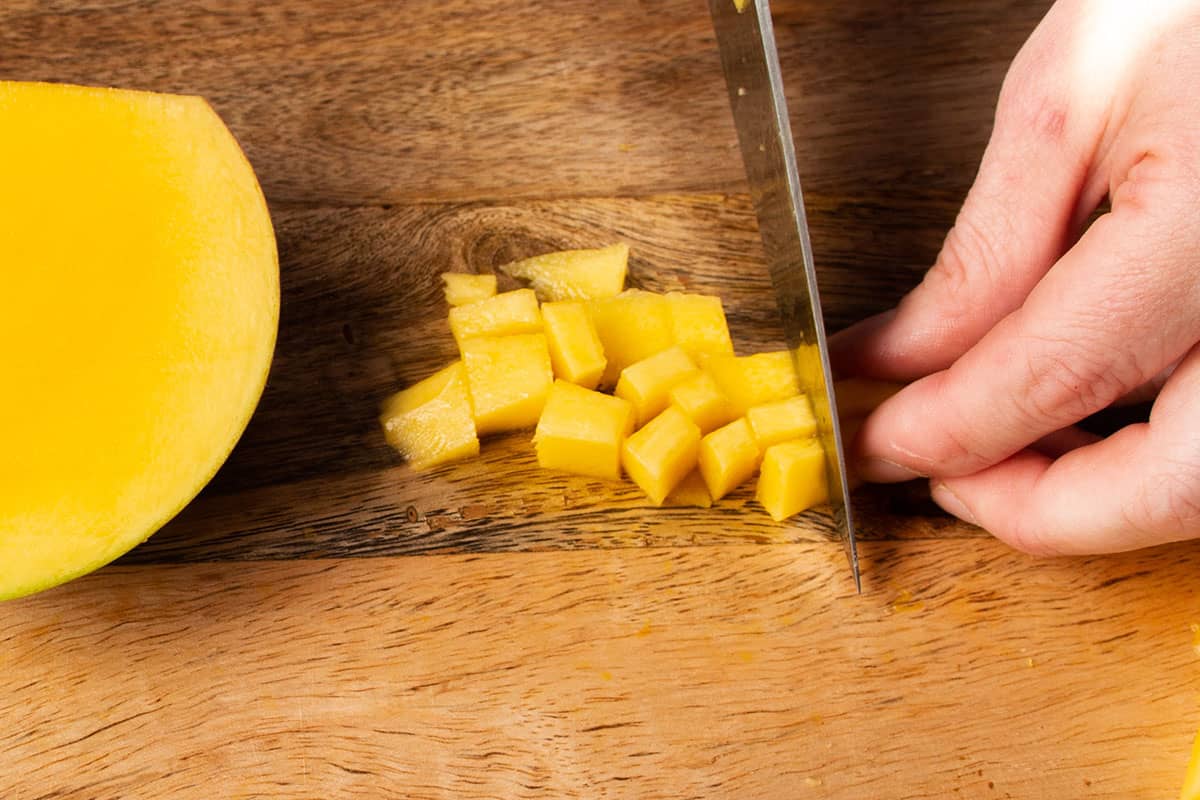 Step 6:
Now take your larger oval pieces and carefully cut a crosshatch pattern. Cut right to the skin but be careful to not cut through the skin. Very similar to how avocado is diced up.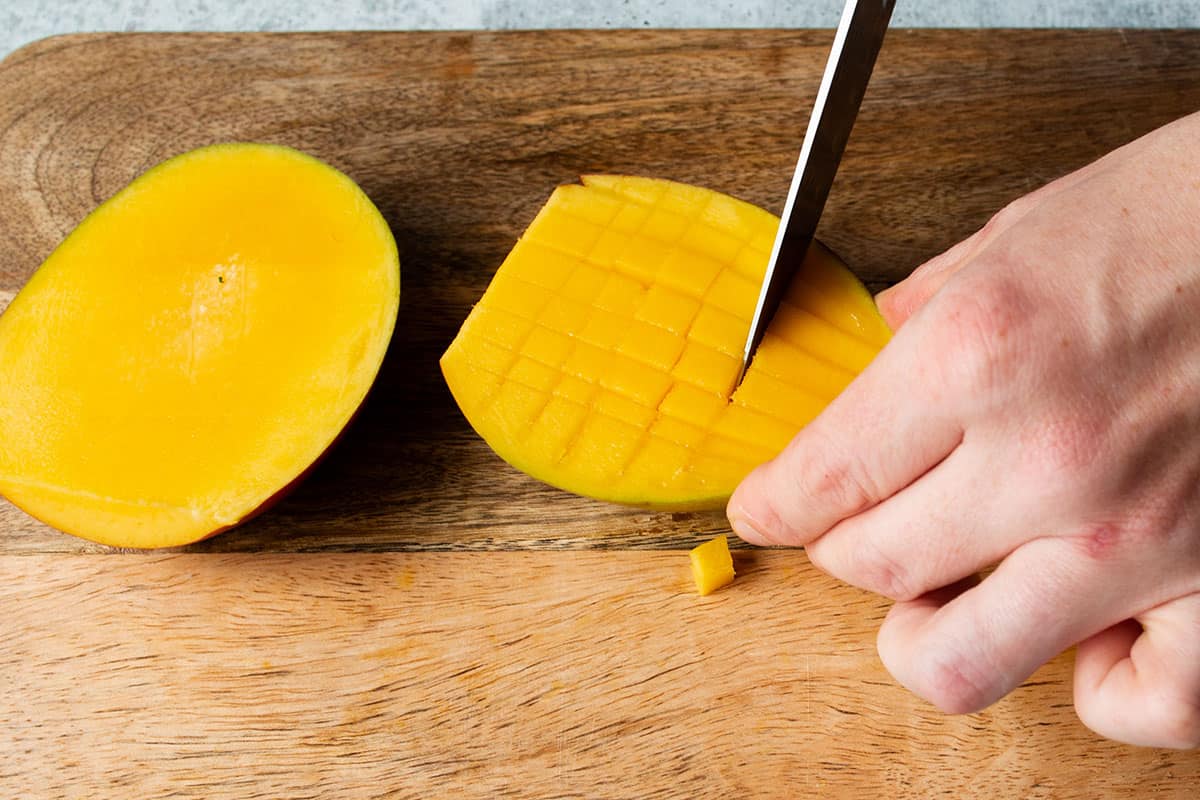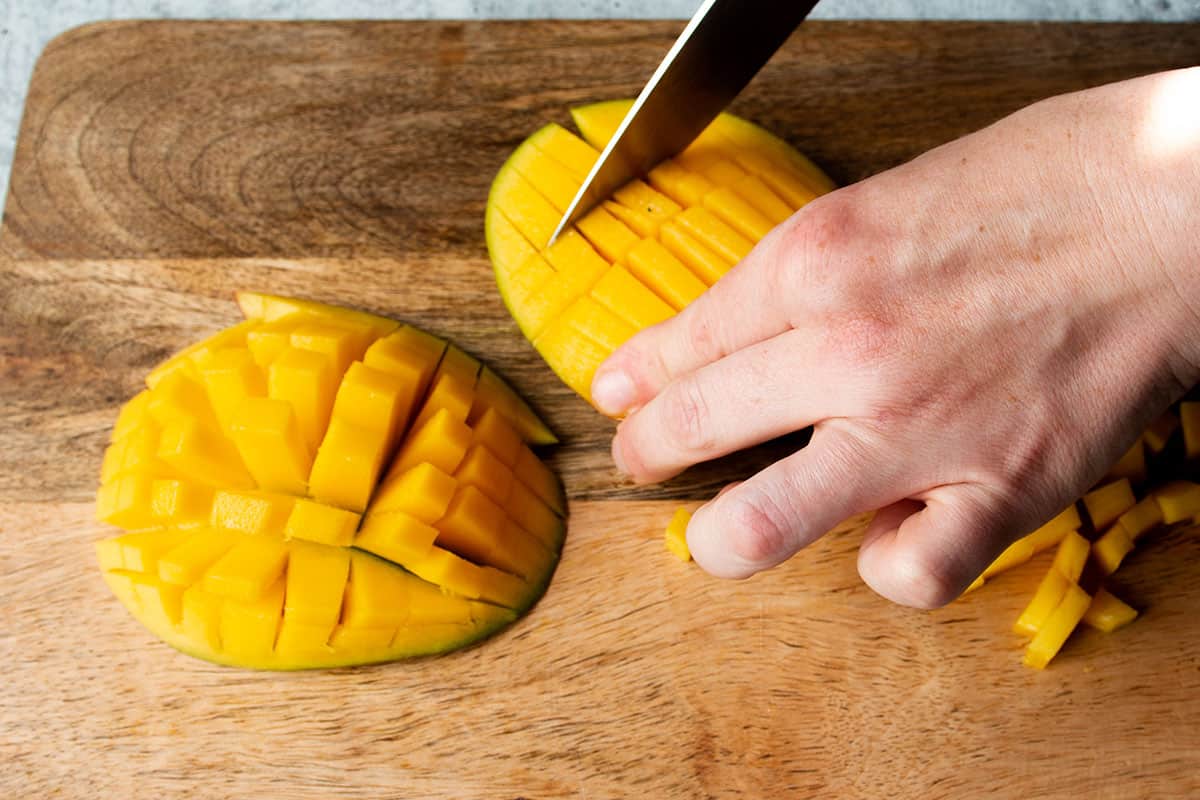 Using your thumb, run it along the skin of the mango and scrape out all the chunks of fruit.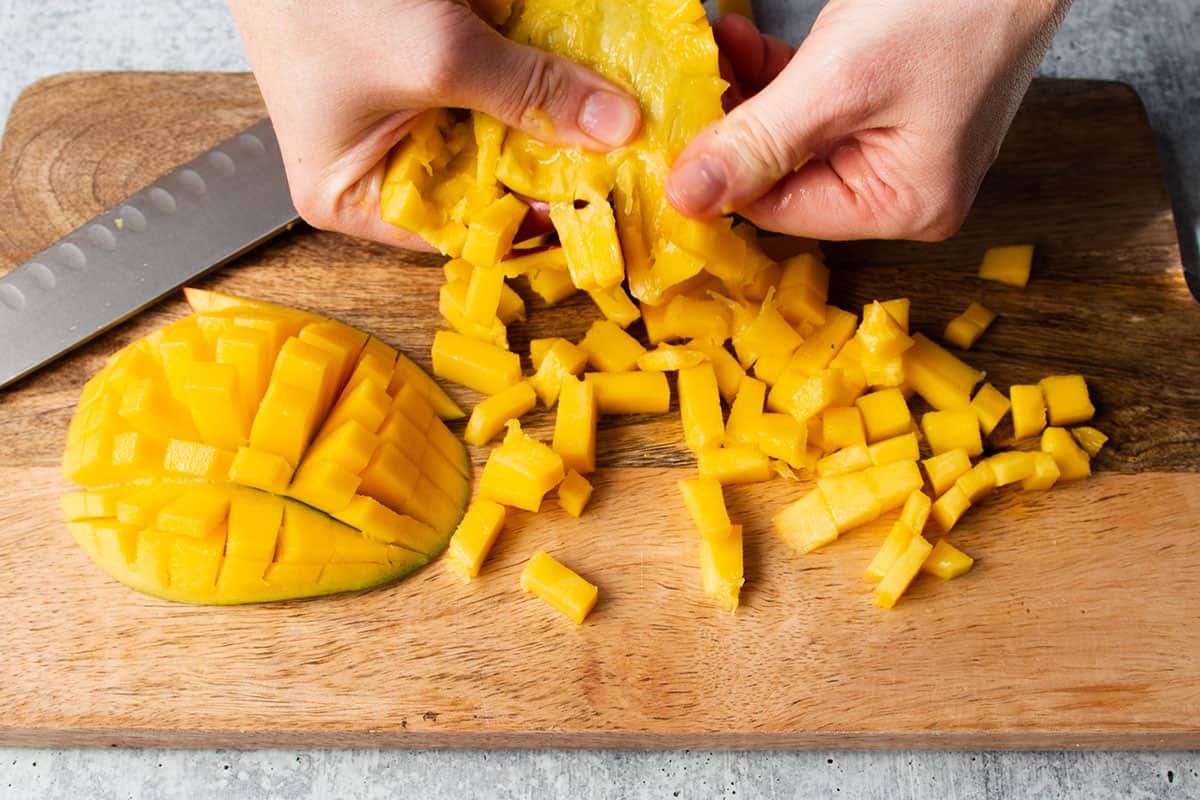 And that's it! You successfully diced up a mango! If it was not easy or doesn't look as pretty as you hoped, don't worry. Cutting a mango really does take practice. It won't be perfect the first few times.
Now grab a pineapple and whip up this mango pineapple salsa. It goes great with all kinds of grilled meats and tacos.
Other tips For Dicing a Mango
Make sure your knife is sharp! Using a sharp knife helps cut through the skin and is much more accurate when trying to cut around the pit.
Switch to a pairing knife for cutting the crosshatches and removing the skin from the side pieces. Since these pieces are smaller it could make it easier to use a small knife.
If the mango is ripe but you are not ready to eat it, place it in the refrigerator for a few days. This will slow down the ripening process.
Storing Fresh Mangos
After the mango is cut up it can be stored in an airtight container in the refrigerator for 3-4 days.
Can fresh mangos be frozen? YES! When Costco has fresh mangos in stock I like to buy multiple flats, cut them all up, and freeze them for smoothies or salsas. It's a great way to preserve this fresh fruit.
Freezing mangos is very similar to other fruits. Follow the easy steps in my how-to freeze blueberry post to get similar results. If not done properly you will end up with a big brick of frozen mango...
I hope this was helpful and gives you the confidence to try cutting your first mango! Again it probably won't be pretty your first time so keep practicing.
Did you make it? Please let me know in the comments below and leave a 5-star rating on the recipe card. I love hearing from you! Subscribe to join my email list for recipes right to your inbox. We can also connect on social media via Instagram, Pinterest, and Facebook.