A simple guide on how to feed and maintain a sourdough starter. Whether you are baking everyday or once a week, this guide will give you tips tricks and information on how to keep your starter alive.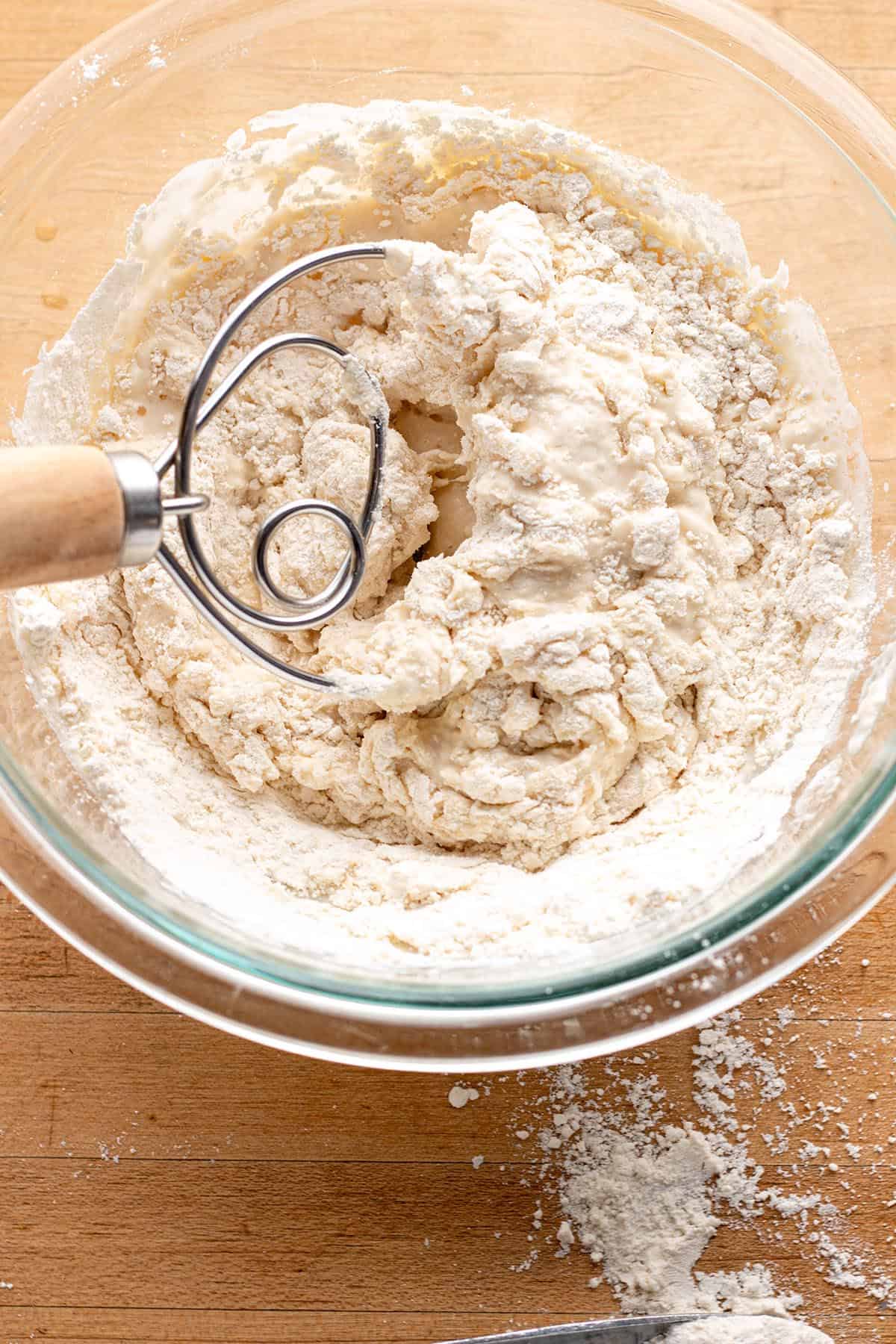 We put so much work, time and energy into getting our starters alive, active and happy. So proper maintenance is crucial to make sure your starter lasts a life time.
This guide is designed to answer all your questions on how to properly feed, store and care for your sourdough starter.
If there is a question I haven't covered, please leave it in the comments section below and I'll be sure to get it answered for you!
If you do not have an active sourdough starter, learn how to make your own sourdough starter.
Do you already have one but are having a hard time getting it active? Read my how to troubleshoot a starter.
Jump to:
How Often Do you Feed a Sourdough Starter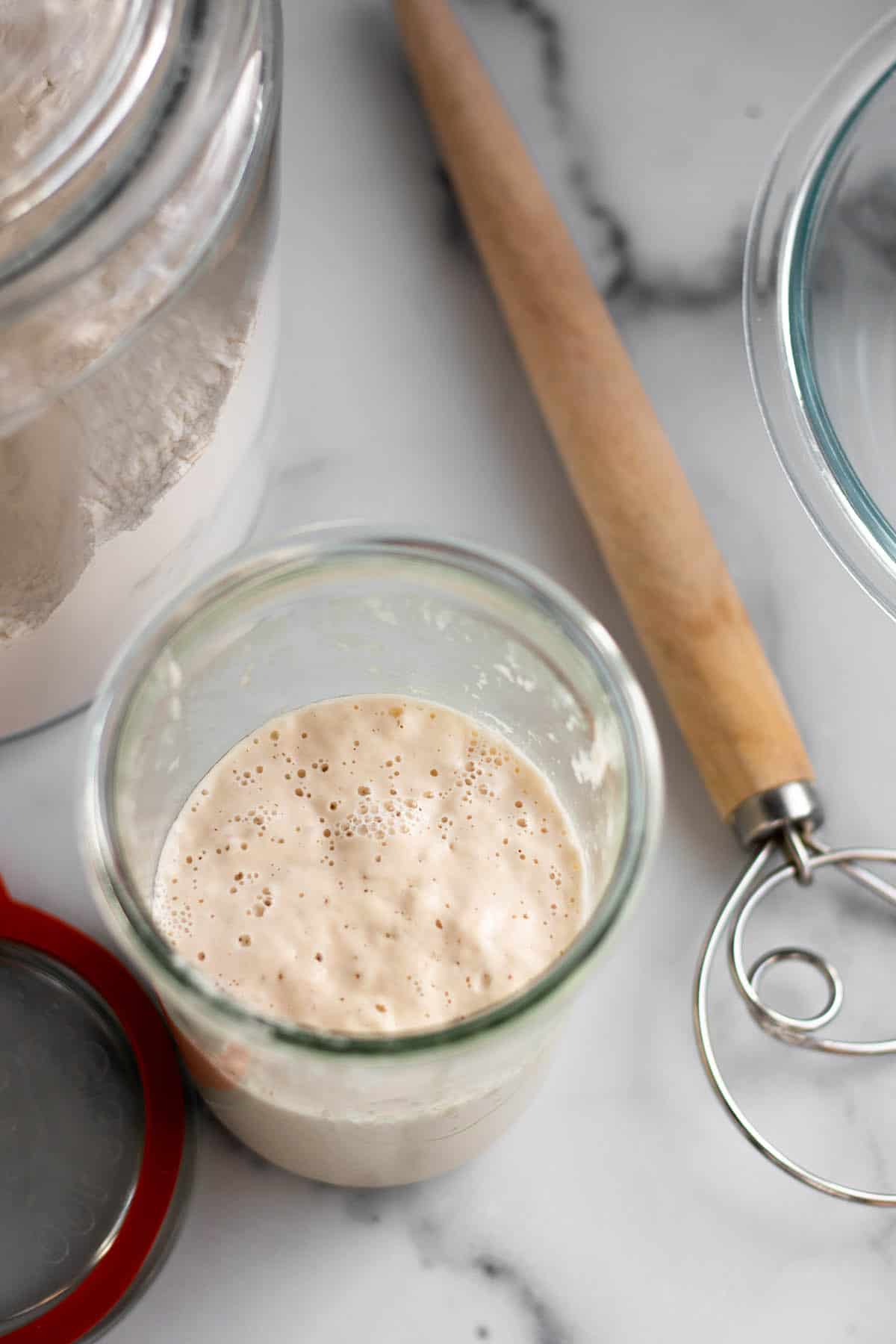 This answer will depend on how much you are baking. I bake all the time so my starter lives on the counter and gets fed almost daily.
When starters need to be fed:
6-8 hours before you want to use it to make sourdough bread.
Any time it starts to develop hooch or a crusty on top. These are signs that it is hungry
Starts to smell
When it is on the counter try to feed at least every 24-48 hours.If left out too long without feedings mold and bacteria can start to grow. This is what kills a starter.
If you do not have plans to use it for a few days storing it in the refrigerator will put all growth on pause and keep it safe. More on this below.
How to Feed a Sourdough Starter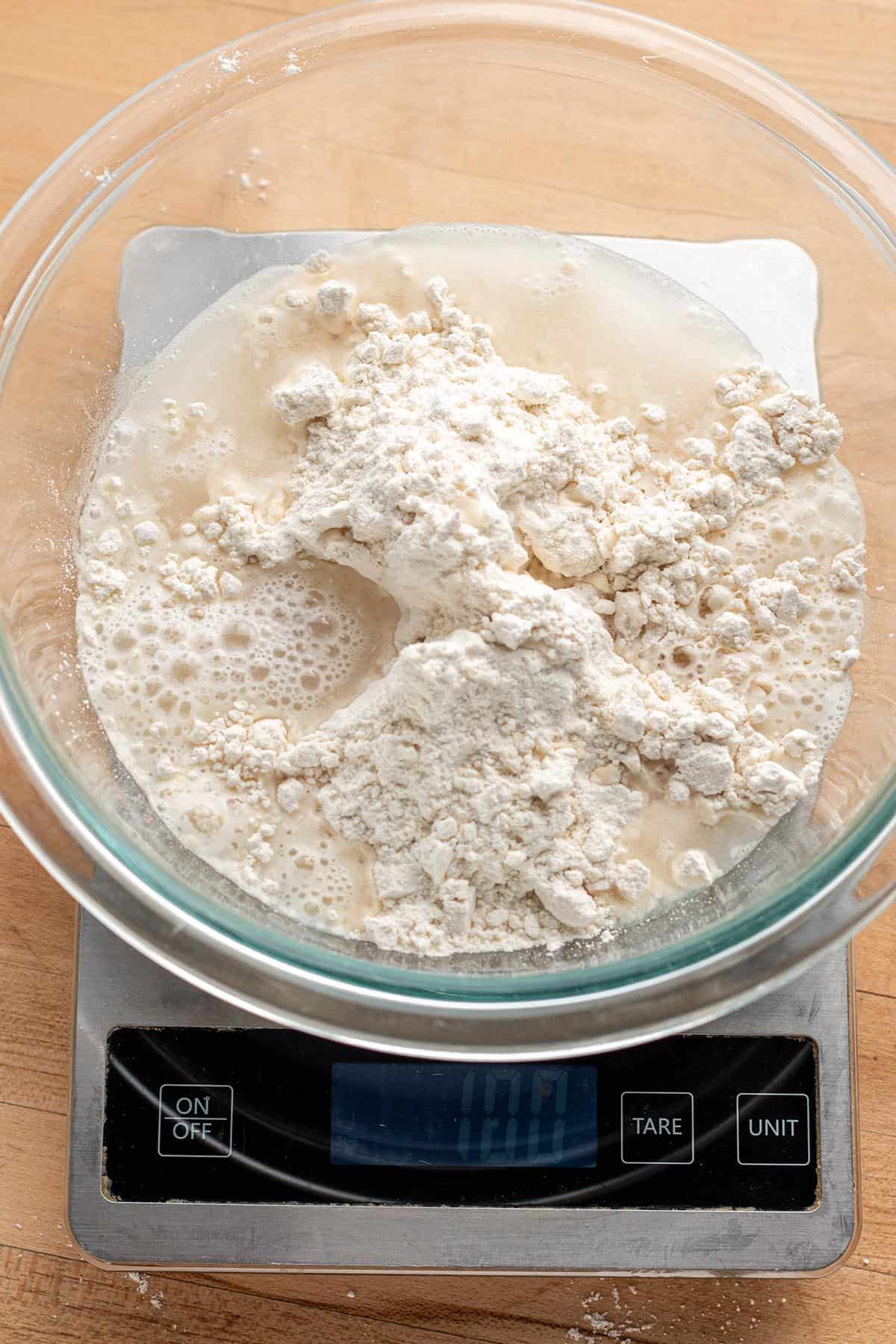 Feeding a sourdough starter is a really simple process.
The best way to feed it is by doing equal parts (in grams) of starter, flour and water.
That means, if you have 50 grams of starter then feed 50 grams of water and 50 grams of flour. Stir it up and lightly cover to let it rise.
This is a good way to maintain a healthy starter and typically how I feed it on a daily basis. When ready to bake take what you need, and then re-feed what is left behind. In 6-8 hours you will be ready to bake with it again.
How much you feed can also depend on the recipe itself.
Sometimes the recipe will call for a stiff starter which will need to be fed a 1:2:2 ratio.
Or it will call for you to create a leaven.
What is a leaven? This is what helps dough rise. Often recipes will have you take out a part of your starter, feed it the recommended amount of water and flour, and then you will use that in the final recipe.
After a while you will start to get into a routine and rhythm with what works best for your baking schedule.
How to Store a Sourdough Starter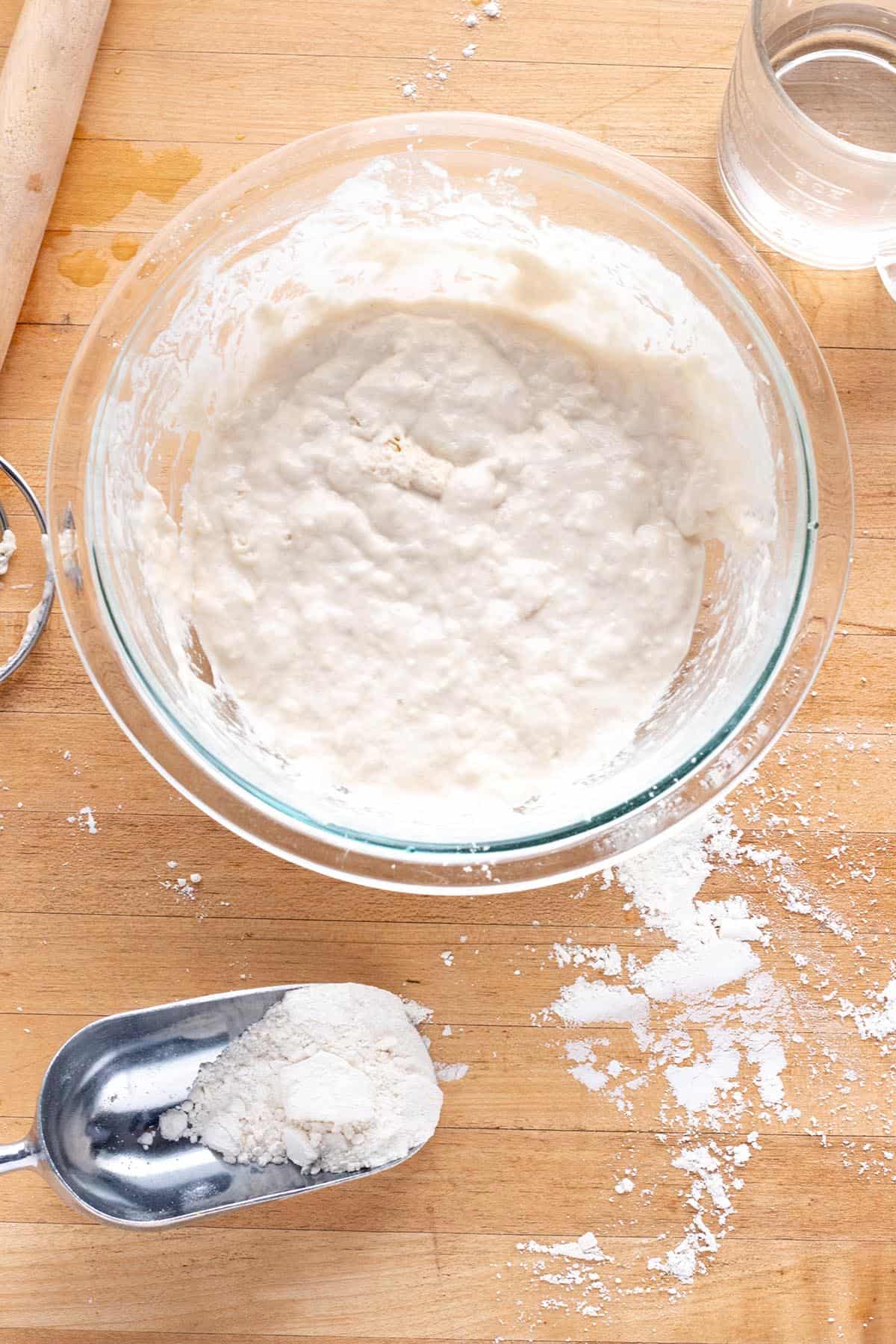 A sourdough starter should be kept in either a glass jar or bowl. Whichever you find easier and works best with your space.
Personally, I only use a glass bowl. I find it much easier to use, mix and care for in a bowl.
Find what you prefer and works best for you.
Whatever you keep it in, make sure it's covered with a light cloth tea towel. When it is out on the counter you never want to use a tight lid.
The pressure that gets built up while a starter is rising can shatter the jar. It also doesn't allow for the wild yeast in our environments to get into the starter. This is crucial to help it grow.
How to Store in the Refrigerator
If you are not wanting to bake for a while, the best way to store your starter is to keep it in an airtight container in the refrigerator.
This will put the yeast development and growth on pause and can be kept this way for a few weeks.
If kept too long in the fridge, it will start to form a dark liquid on top. This is called hooch and perfectly normal. Learn more about hooch and what to do.
To bring it back to life, first warm up to room temp and then feed as normal.
Sometimes it can take a couple of feedings to get it active again. Especially if it's a brand new starter or been in the refrigerator a while.
Sourdough Starter Tools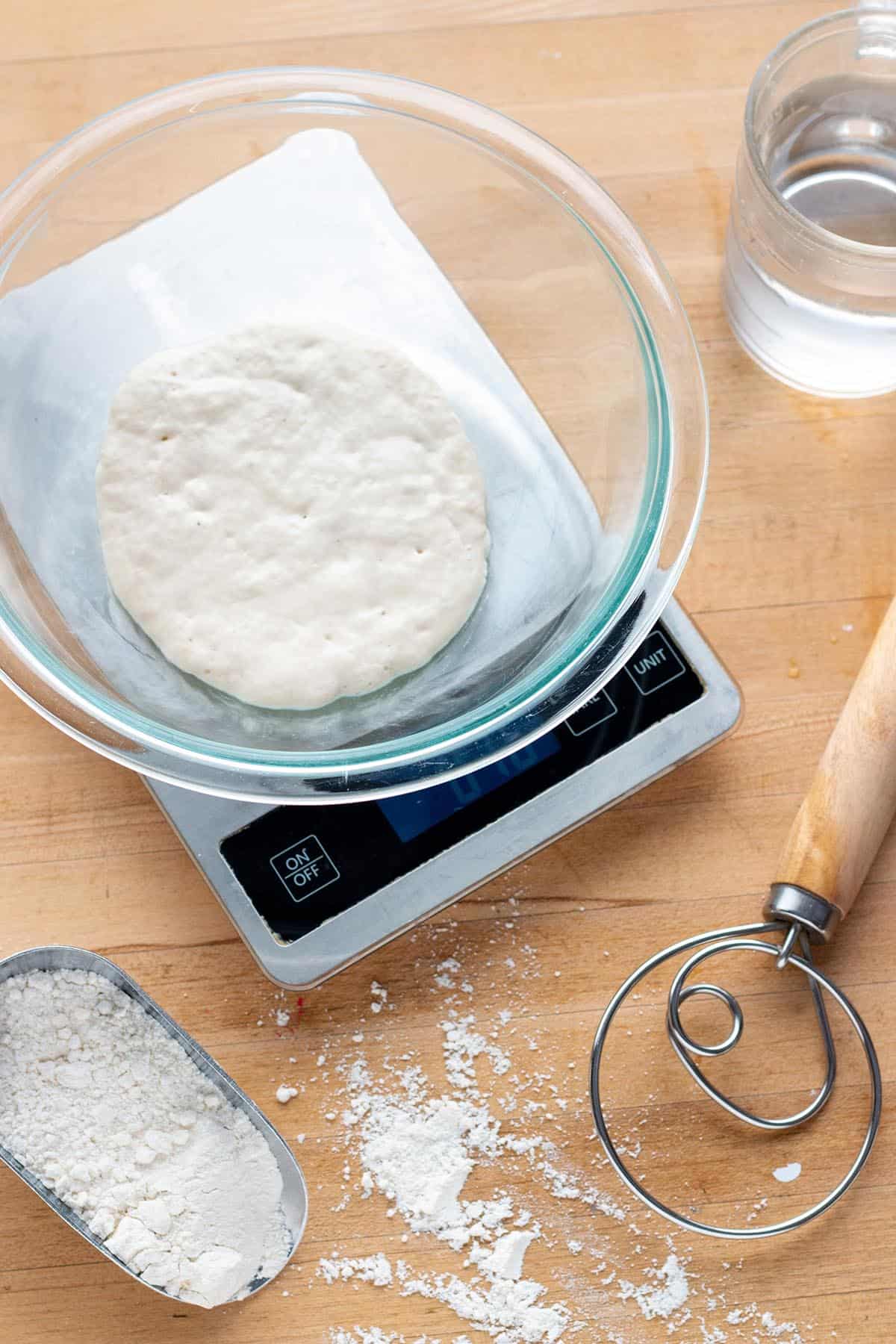 Digital Scale. A digital scale is the most important tool. Measuring a starter in grams is the most accurate way to feed your starter.
2 glass bowls or jars: Having two jars or bowls is a great way to transfer and keep your starter. That way you always have a clean bowl to keep it in.
Danish Dough whisk. Not necessary but definitely makes it easier! The only way I mix my starter now as it makes it so simple.
Flour sack towel or tea towel: you want a towel to cover the bowl. It needs to be light enough to let in the things we want, but heavy enough to keep out the things we don't.
Frequently Asked Questions
If your question hasn't been answered, leave it in the comments below and Ill be sure sure to answer it.
It's been very active, but I fed it and didn't see any growth?
If it is a brand new starter, this is normal. Until the starter is mature it will be very inconsistent in its growth. Read more on how to troubleshoot a starter if you are not getting consistent growth.
Why does my starter have a hard crust?
This is also a sign that the starter is hungry. Just scrape the crust off into the garbage and feed.
Why does my starter have a liquid on top?
That liquid is called hooch and is perfectly normal. It just means the starter is hungry and needs to be fed. Learn more about hooch.

Some people like to stir it back in and claim it makes the bread even more "sour."
My starter smells. Has it gone bad?
When a starter is hungry it will start to get a fruity or sour smell to it and that is perfectly normal.

A starter can smell yeasty, sour or fruity but it should never be rancid. If it starts to smell like alcohol or nail polish that just means you are not feeding it enough.

If that smell is accompanied with a pink or orange tint, throw it out immediately and start over as your starter began to grow bacteria.
How do I know if my starter is strong enough to make bread?
The best way to tell if a starter is ready to make bread with is if it doubles in size within 6-8 hours. It should be actively bubbly and a very light consistency. Learn more about how to tell your starter is ready.
I feel like I have way too much starter and I'm throwing too much away.
Instead of tossing your extra starter add it to discard recipes. There are so many things you can do with that extra sourdough starter.

My other tips is to keep a smaller amount of starter. Instead of feeding 100g of each flour and water, only keep around 25-30 grams of starter. This will significantly cut down the amount of waste.

Then, when you're ready to bake bread, up the feedings until you have the amount you need.
I made bread and now there is very little starter left. What do I do?
That is perfectly fine! Especially if you follow the 1:1:1 ratio feeding. Just weigh how much you have and add that much flour and water.

Then, 8 hours later feed again without discarding. Before you know it, you will be swimming in starter.
Please leave any of your questions in the comments section and I would be happy to answer them!
Sourdough Discard Recipe:
Sourdough Resources: