How do you care for a sourdough starter?
The number one thing to always keep in mind when it comes to a sourdough starter is everything takes time. You can't just open a packet of yeast and be ready to go in two hours. Everything takes a little extra time management and patience. This is what gives baked goods made with a starter the best nutritional value and taste. The long ferment gives the dough time to break down the sugars and acids which helps our bodies digest it easier. It also helps develop the flavors.
The other thing to keep in mind is you will figure out your own starter. Everyone has a different experience and every starter is unique. What works for others may not work for you and that is okay. All of our environments are very different. We all have a variety of yeasts and bacterias, different house temperatures as well as the flours and water we use. I tried countless recipes as well as techniques to get my starter to perform properly and what I found worked well for my friends, or tutorials I researched, was not working for mine. So experiment and try new things and you will begin to get a sense of how your starter works the best for you.
You will also get a feel for what your starter needs. Most people like to give it a name as it will become a member of the family and potentially passed down to the next generation. Mine is named Monica because my love for the show Friends is strong, and Monica is active and bubbly just like my starter. It's a living thing that needs to be cared for so some people think naming it will give it meaning and help remind you to feed it. You will start to notice when it needs to be fed and when its ready to bake with. Truly the hardest part is getting it going.
Once you get your sourdough starter to mature the hard part is done. When a starter is well established it becomes pretty resilient and requires very little care. Mine lives in my spice cabinet at eye level so I never forget about it, and I use it practically everyday or every other day. If this is you as well make sure to feed your starter at least once a day. I have let it go for 2 days and I wouldn't push it past that.
When a starter gets hungry it might develop a liquid or crust. That is perfectly normal just signs that it needs to be fed. Scrape it off and feed. Mold is never okay in my book. If you see mold throw it out and start again!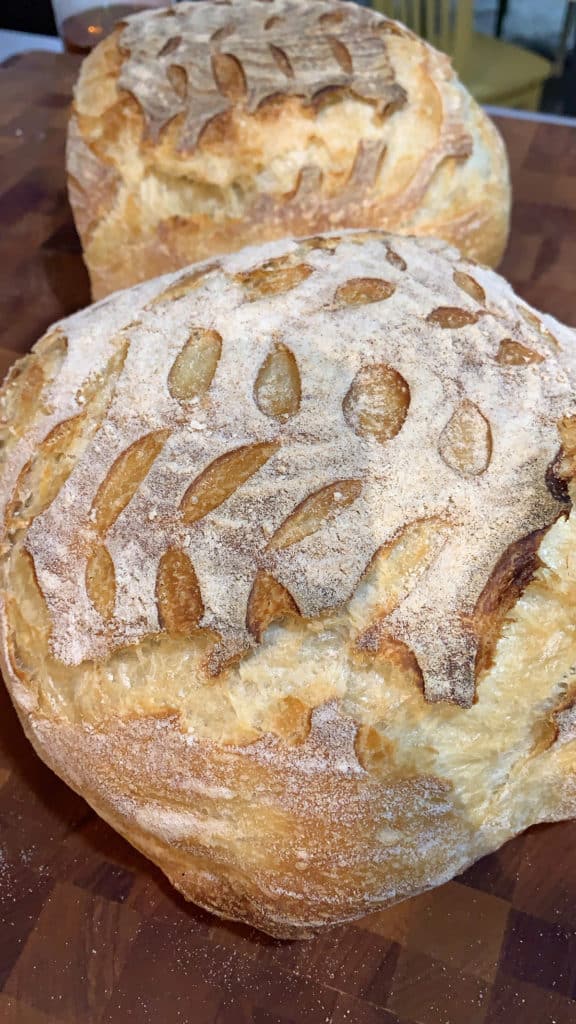 When to use your starter?
The best time to use your starter is after you have fed it and has had some time to grow. Typically mine doubles in size and is the most active 6-8 hours after I feed it. I can often times push it to 12 hours if needed. Once it hits that peak point it will start to fall back down and the yeast isn't as active. Again you will start to get a feel for this. While you can still use it after it has fallen you might not get the same results.
If you are using a jar you can put a rubber band on the level your starter is at once fed. Then you can keep track of the growth. Or if your using a bowl, use a wet erase marker to also keep track of the weight.
Typically, I like to mix all my doughs at night and like to bake in the morning. I cook dinner every-night so I am already in the kitchen and I enjoy my quite mornings to bake and be creative so this works well for me. That means I feed my starter every morning or until about noon and by dinner time I can whip up some bread dough, bagels, English muffins or cinnamon rolls to bake in the morning. This schedule really works well for me and you will find what works best for you.
Can I take a break from a starter?
If you do not plan on using your starter everyday, or are going out of town and feel silly finding a starter sitter, you can always put it in the fridge. The cold temperature puts all the yeast growth on a pause and it will not grow or need to be fed while it is in there. Typically it will live for about week unfed in the fridge. A lot of people only make a loaf once a week so their starter lives in the fridge and only comes out to make dough and then goes back in.
If you know its going to go in the fridge feed a few hours before, let it build up a tad and then stick it in there. I like to use a mason jar or a flip lock jar at this point so smells from other food don't get in. When you are ready to use it again take it out, wait a few hours for it to come back to room temp, and then feed. I often find that sometimes it can take a couple feedings to get back to its original strength and other times it just takes one.
Frequently Asked Questions
I will update this section as I receive questions..
Q: I haven't fed it in a while and now there is a liquid on top?
A: Its hooch and perfectly normal. Just scrape it off and feed.
Q: I haven't fed it in a while and now it has formed a hard crust?
A: Mine does this if I go more than 12 hours. I just scrape off and feed to my chickens, compost or throw away.
Q: It's been very active, but I fed it and didn't see any growth?
A: If you have been seeing constant growth but for some reason it didn't rise with a feeding there are two things that could have happened.
1: It probably did rise but then it fell back down again
2: Or the feeding wasn't enough and it didn't have enough "food". For example if you had 100 grams of starter and you only fed 50g water and 50g flour there would be more starter then there is food available. Try it again with a 1:1:1 ratio and see if that helps.
Q: I want to make pancakes while camping or on a night away but don't want to bring my starter.
A: Two different things you could do here.
1: make your pancakes the day before and they will last in the fridge and then reheat.
2: Give your starter a good feed and then divide. Put half in the fridge to keep safe and take the other half to make your pancakes with.
Here is my go to pancake recipe
Q: My starter smells. Has it gone bad?
A: When a starter is hungry it will start to get a fruity or sour smell to it and that is perfectly normal. Some people will bake with it still to give the bread a more sour taste. If you want a milder bread feed it again and the smell should go away.
Q: How do I know if my starter is strong enough to make bread?
A: Two things to look for.
1: Wait until it is fed and doubles in size. I like to use a wet erase marker and mark my bowl when I feed it then I can keep track of the growth.
2: Does it float? A good strong starter will float when added to water. Take a drinking glass full of water and put about a teaspoon of starter in. If it sits on top you are ready to make bread!
Q: I feel like I have way to much starter and I'm throwing too much away?
A: There are so many recipes out there and ideas of what to do with excess starter. And you can get creative. I have a long list of stuff I like to make such as crackers, English muffins, sandwich bread and of course pancakes. Another thing I like to do is take traditional recipes and incorporate my starter somehow such as my banana muffins. I will also make extra loaves to share with family, friends or for my husband to take to work. Who wouldn't want a fresh loaf of homemade bread?
One way to really cut back your amount of starter is to put it in the fridge between uses. I typically do not do this because I use it so frequently. I use my starter a minimum of every 2 days and it doesn't make sense for me to put it in the fridge to just take it out a day later. If you want to keep it out, but are not using it regularly, one thing to do is to keep a very small amount. Because I use the 1:1:1 feeding ratio I can cut my starter WAY back to a very small amount.
So on a day I'm doing extra baking like a loaf and maybe bagels I'm left with very little starter. So if I take it down to 30g now I'm only feeding 30g of flour and 30g of water. Then I let that sit for 12-24 hours and then feed again. Then when I know I will be baking more I start increasing those feedings to two a day until I get the amount of starter I need. It's a great way to eliminate waste.
Q: I made bread and now there is very little starter left. What do I do?
A: That is perfectly fine! Especially if you follow the 1:1:1 ratio feeding. Just weigh how much you have and add that much flour and water. Then 12 hours later do the same thing. Before you know it you will be swimming in starter. For example if you only have 20g left add 20g water and 20g flour, now you will have 60g total. Then the next feeding add 60g flour and 60g water and now your up to 180g! That is also why I love this feeding routine it just takes so much guess work out of what to do and how much to feed.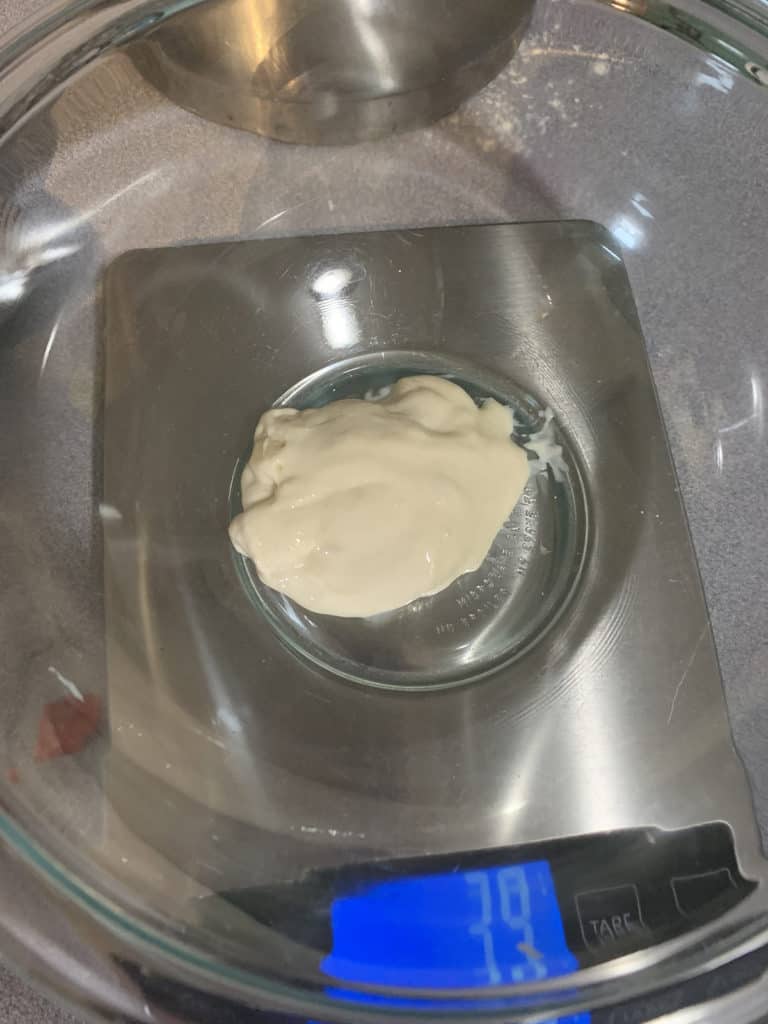 Only 39 grams of starter after baking a couple of things. Quickly built back up to several hundred grams after a few feedings.
Q: I started with all purpose but I don't currently have any. Will it be okay to use something else?
A: Typically you want to keep feeding your starter the same flour it is made from. If it is a well established starter you can get away with switching flour if needed. It might take a few feedings to see the growth build back up.
Please leave any of your questions below and I would be happy to answer the best I can.
Follow me on Instagram for more recipes and my handmade home at @dirt.dough