Easy, no-knead, overnight sourdough bread. This method has a long proof in the refrigerator for 12-24 hours giving it a great oven spring. Then baked in a hot dutch oven giving the final loaf a crispy outside and soft inside.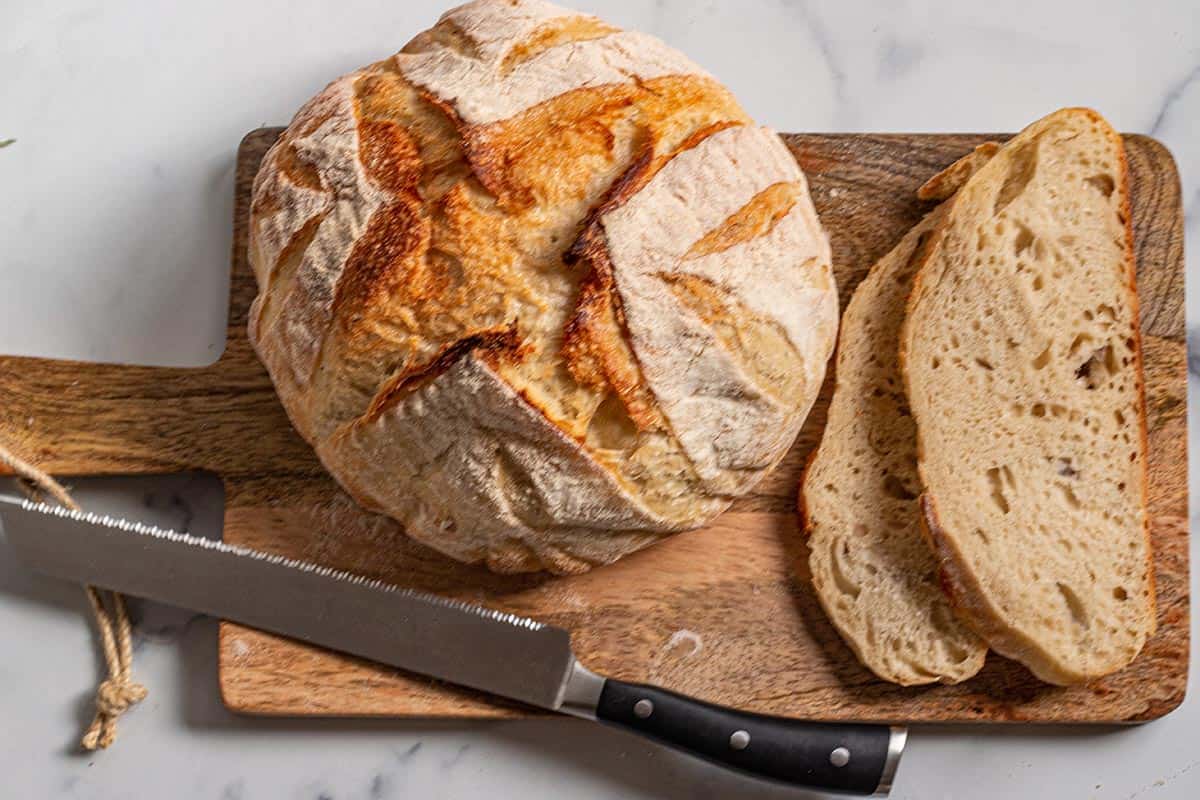 Join my sourdough Facebook community! It's a place you can ask questions, learn from others or share what you are baking. We would love to have you.
Why is Sourdough Bread so Unique?
Welcome to my little corner where I share my love for home cooking and baking. I enjoy making just about everything fresh from scratch. The signature item that I never go anywhere without and often send my husband off to work with is my sourdough bread.
Sourdough bread is just so special because it is made with a different level of care and creativity.
The first major distinction with sourdough bread is the leavening agent. The basis of every good loaf starts with a strong sourdough starter.
What is a starter?
A sourdough starter is a mix of flour and water, that over time, has collected wild yeast from the surrounding environment.
Once a starter has matured it can be used in place of instant yeast, baking powder, baking soda in bread, and many other baked goods.
Because the sourdough starter will take care of the rising process there is no need to use sugar or other additives in a loaf. Just three simple ingredients: Flour, Water and salt.
You can make your very own sourdough starter in a matter of days! It is a fairly simple process that anyone can do.
If you already have your starter, let's make some bread!
Equipment Needed to make Sourdough Bread
1. Digital scale: Weighing ingredients is the most effective way to bake bread. The amount of flour can vary too much when using measuring cups, causing your ratios to be off.
2. Glass Bowl:
3. Danish Bread Whisk: If you have never used a bread whisk get ready for your new baking BFF. These things are amazing and every bread baker should add one to their collection of tools. It cuts through the flour with ease and brings together the flour and water effortlessly.
3. Banneton: for your final proof or rise. You can also use a glass bowl lined with a tea towel. Just make sure you use a good amount of rice flour to coat it. The banneton is what gives your bread those fancy rings.
4. Bread lame: Used to score your sourdough bread. A sharp razor blade works just as well. I would not use a knife, it just won't score it properly.
5. Parchment paper: This will help transfer the final loaf into and out of a very hot dutch oven.
6. Dutch Oven rated for 500 degrees. The best dutch oven for baking bread I have found is this Lodge 5qt cast iron. It's affordable and extremely durable and out of all my dutch ovens is my favorite to make bread in. No need to purchase an expensive $100+ enameled dutch oven. Learn everything you need to know about selecting a dutch oven and how to bake bread in it.
7. Bench scraper: This helps with the final shape of your dough. Sourdough is a very wet dough and can be sticky. We want to avoid adding more flour after the dough has already been developed so a bench scraper helps tremendously.
8. Thermometer: The best way to see if your bread is done is to have the internal temp reach 205 degrees.
Ingredients:
1. 550 grams of unbleached all-purpose flour. I really prefer the taste and texture to all-purpose but I have been using bread flour as well. Both work well, they just have a slightly different texture. Honestly, the rest of my family cannot tell the difference.
2. 360 grams of filtered water
3. 175 grams of starter: Make your own starter
4. 9 grams of sea salt
5. Brown rice flour for dusting your banneton or tea towel
I know what you are thinking. Where is the milk, the eggs, the SUGAR? None of that is needed! The reason other bread needs milk and sugar is to activate the instant yeast packets but you do not need that because you have a starter that will do all that work for you.
How to Make Sourdough Bread
The number one thing to remember when caring for and baking with a starter is that everything takes time. That includes bread. Don't wait a few hours before dinner to whip something up, plan it out.
In a pinch I know you can use a combination of active dry yeast and starter but then that kinda defeats the purpose of having a starter...
So let's look at a timeline for an example. A starter is at its peak once it has doubled in size. That is around 8 hours for me, and you will start to learn when that is for you. Also, as your starter matures it will start to rise a lot quicker.
The dough takes about 3 hours to assemble (But only about 10 min of actual hands-on), then we do a bulk ferment in the fridge for 12 to 48 hours (again zero hands-on time for that).
Then, when you are ready to bake, the loaf needs to do a final proof in a banneton basket (or towel-lined bowl) for around 2 hours.
Once it does its final rise it takes about 50 min to bake and then an hour to cool. So, if I want the freshest bread for dinner I work backward. Here is an example:
Timeline
I want sourdough bread for Sunday dinner around 6:00. Here is that timeline:
Sunday 6:00 Dinner
Out of oven by 5:00
In oven no later than 4:15
Out of fridge at 2:00 and ready for final proof (or rise)
I like my bread to bulk ferment in the fridge at least overnight so that means I make my dough the day before and then take it out really any time of the day that works with my schedule.
Saturday:
Feed Starter in the morning.
By 2:00-5:00 start mixing my dough
So, you can see with my timeline from the time I feed my starter to the time I can slice into the bread it takes around 36 hours, but you will find that actual hands-on time is very minimal. I have the entire process down to about 30 minutes of actually doing something.
The rest of that 36 hours is just the bread left alone to do its thing. I have made so many loaves now that this is all second nature to me and I can quickly calculate in my head when I need to make everything. You will get a feel for it soon enough!
Mix Ingredents
If you do not have a scale and would prefer to make this recipe in cups instead, my friend Alexa at The Duvall Homestead has that recipe for you!
Take out your scale and add in the 175 grams of starter. Set it aside and give your starter a feed and put it away. I like to do this first so it's off my counter and done. I'm also always afraid when I go to add the salt to make the bread I don't want to accidentally add it to my starter instead.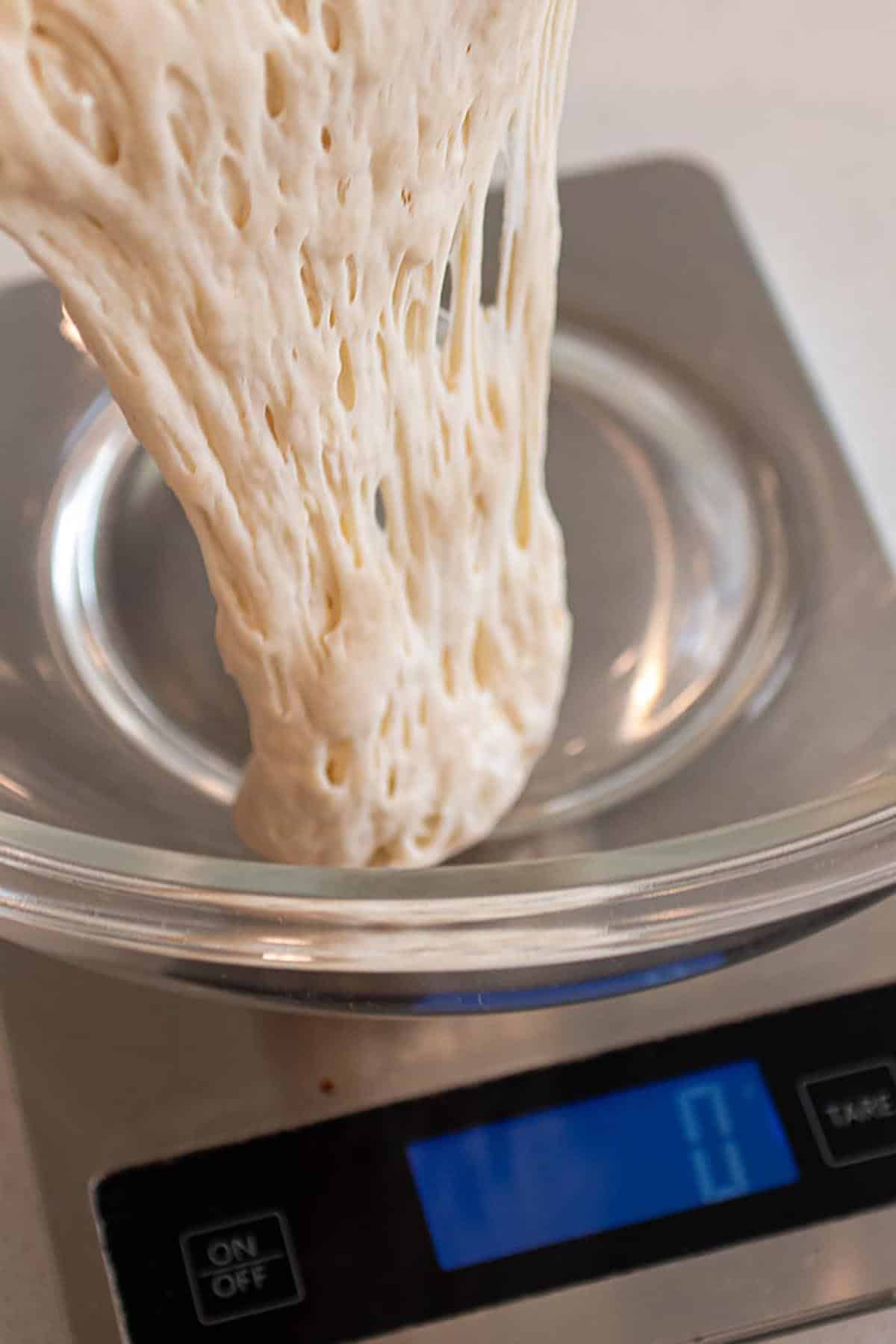 It's sometimes challenging to get the exact amount of starter. If you go over a few grams it's not a big deal.
Zero your scale-out and add 360 grams of water to the starter and mix with a fork until incorporated.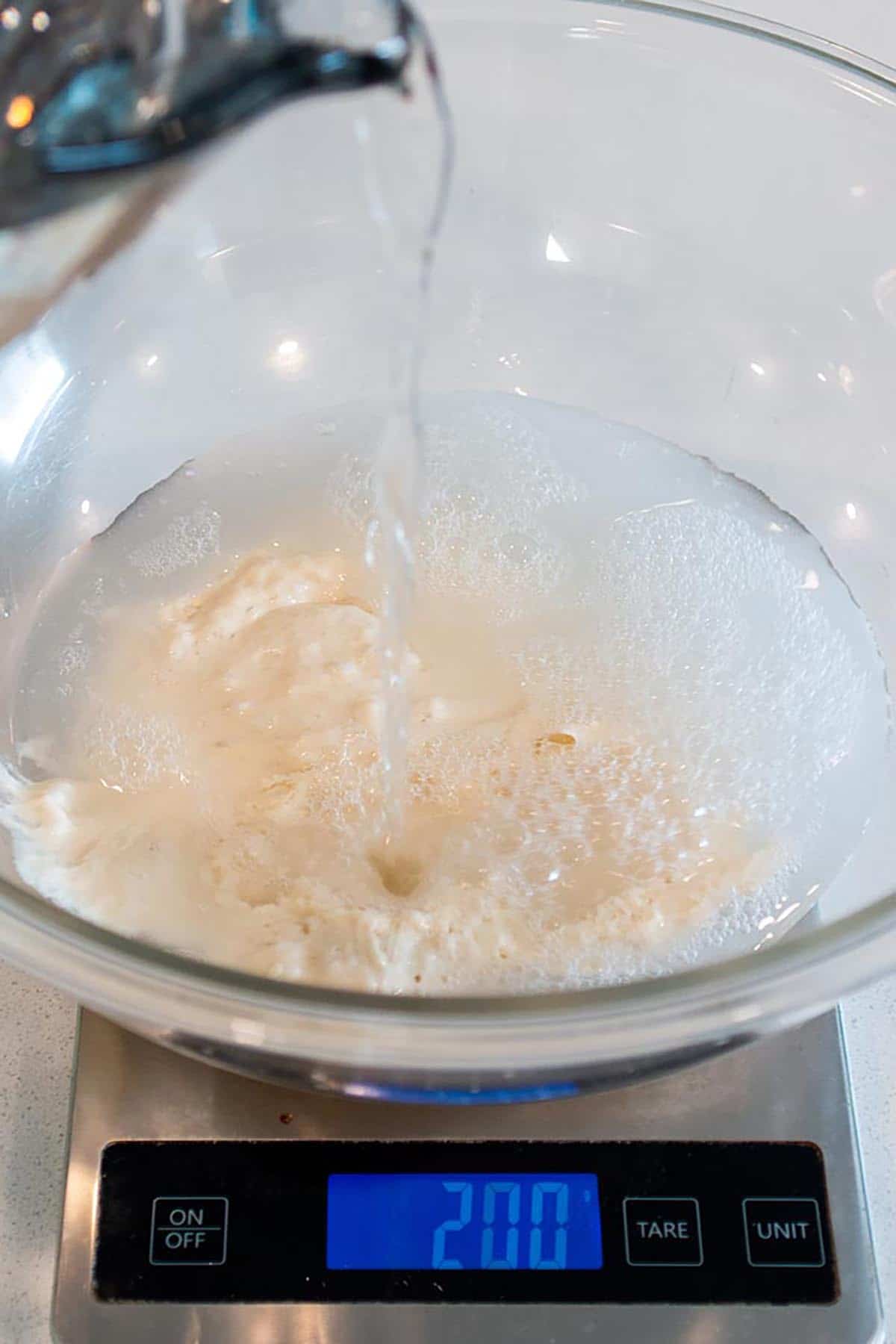 Zero scale and add in 9 grams of salt.
Zero scale and spoon in 550 grams of all-purpose flour.
Mix with a danish bread whisk or fork until fully incorporated.
Then, using your hands form the dough into a rough ball. Note: Sourdough is a very wet and sticky dough. If it keeps sticking to your hands you can get them wet to help. Avoid using flour.
The dough will look very rough and that is perfect! The next few steps will work it into a beautifully smooth ball. But for right now it needs to rest.
Cover with plastic wrap and rest for 1 hour on the counter.
Stretch and Folds (S&F)
Now for the next three hours ( once time per hour ) we are going to do a series of stretch and folds. Each one only takes about 30 seconds so again very little hands-on time.
We are essentially working the dough to strengthen and develop it. This process is what's going to give us that light and airy texture of sourdough.
Skipping this process can lead to underdeveloped, denser, wetter bread.
After that first hour, remove the plastic wrap and stretch and fold all 4 corners. Pick up the side of the dough, stretch it out and fold it over. Rotate the bowl 3 times and repeat.
Cover the bowl back up and rest another hour on the counter.
You will start to notice with each stretch and fold it will become easier to work with and the dough will feel more relaxed.
It will start to look more put together.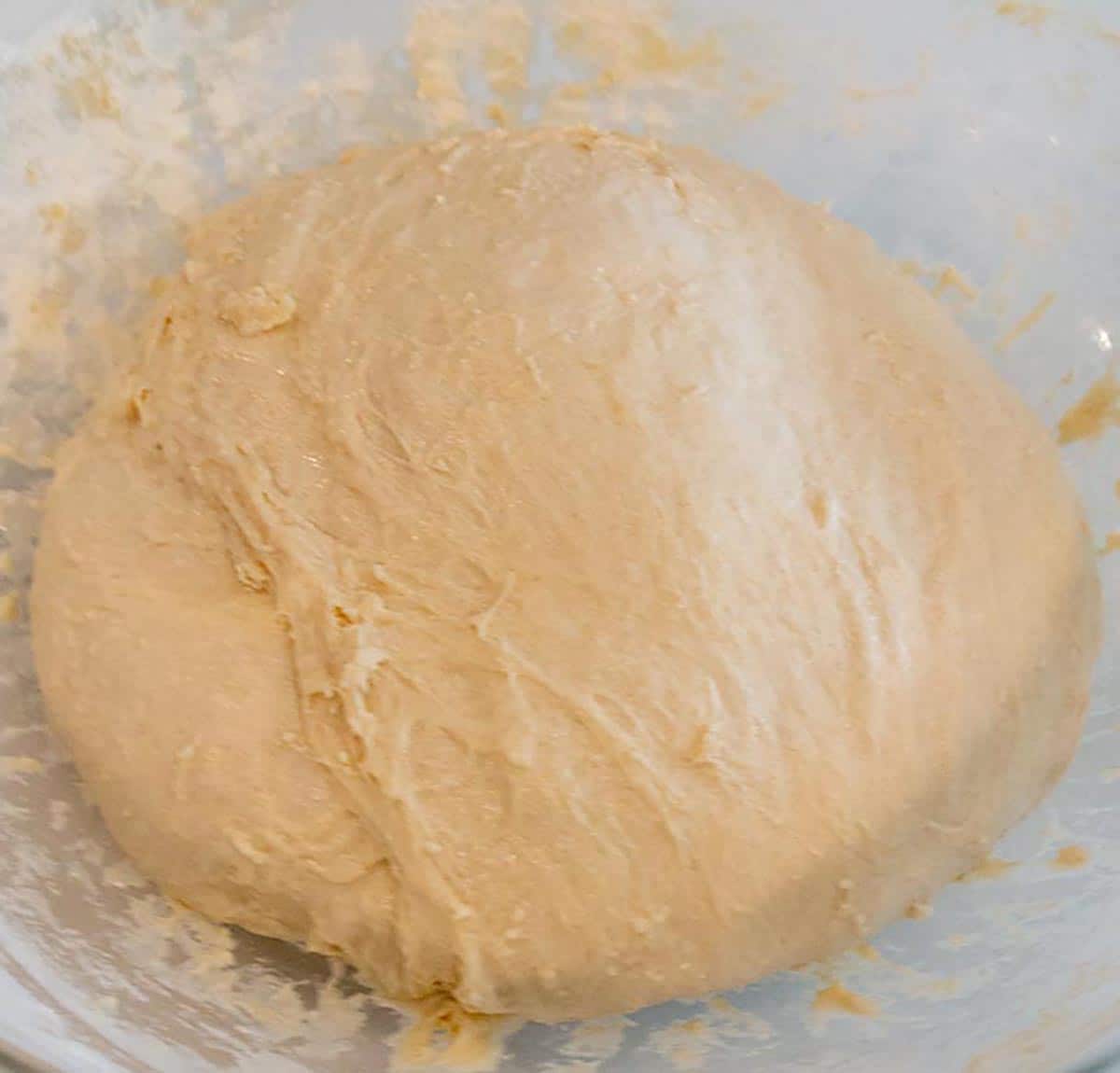 Do this for a total of 3 hours and 3 series of stretch & folds.
The dough in the next photo was on the last stretch and fold and you can see how smooth it is starting to look. You will even notice little air pockets and bubbles. That is what you want! That's what creates the little holes in sourdough bread when it is baked.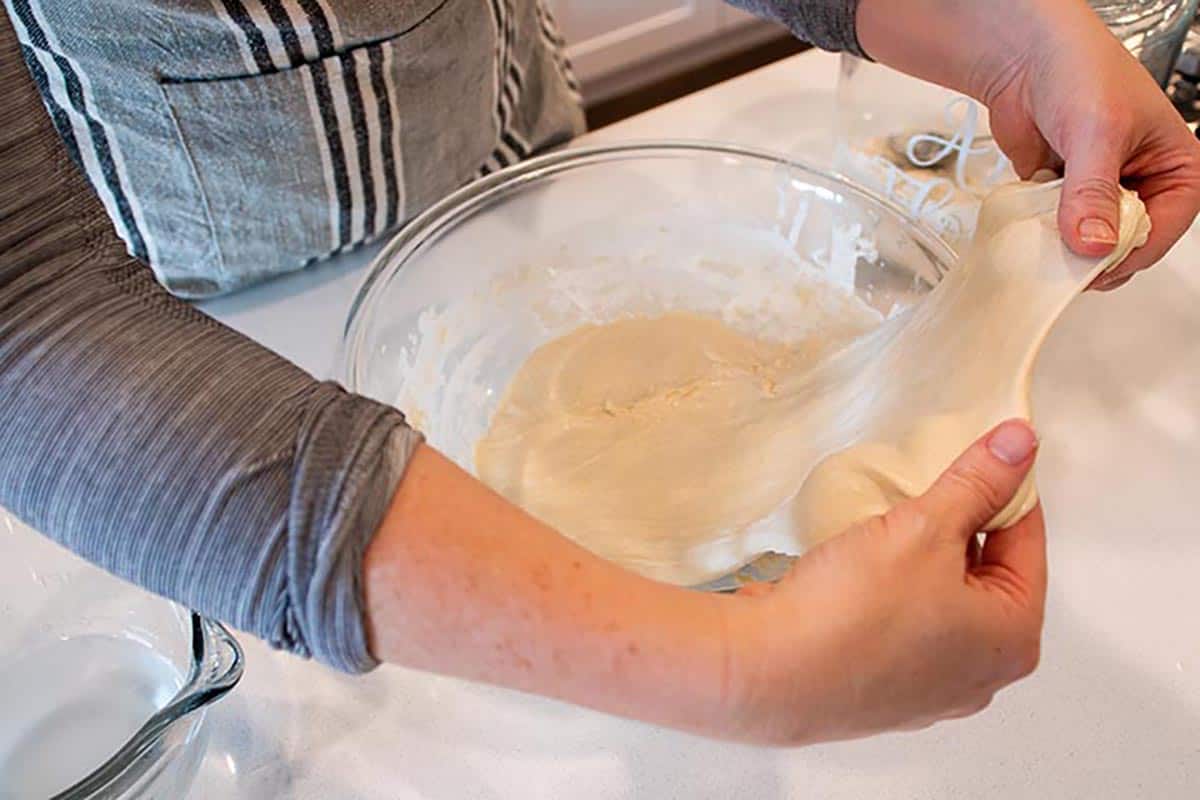 You won't be doing any kneading for this reason. We want all those little air pockets and kneading would remove those ( that's why we fold it).
(When you make dough for cinnamon rolls, sandwich bread, pizza dough and bagels there is more kneading because a thicker dough is required.)
Below is a before and after the dough is taken through three rounds of stretch and folds. You will see how nicely it comes together and makes a nice smooth ball.
After the final stretch and fold, cover it back up with plastic wrap and stick it in the fridge and let it rest for a minimum of 12 hours.
I have gone up to 48 and it still turned out great. The reason to let it rise in the fridge is because if it sits at room temperature it could proof too quickly.
The cold proofing lets it rise and ferment over a longer period of time. This is what really develops the flavor and gives it that big oven spring.
Shaping
When you are ready to bake, take the dough out of the fridge and turn it onto a hard, un-floured, surface. It is best to not use flour, but if you are just starting out and need a little to help with it sticking that will be fine. Just use a very light dusting.
Cover with a kitchen towel and let rest for 20 min. This will help bring it back up to room temperature.
While the dough is resting give the banneton or tea towel-lined bowl a dusting of brown rice flour.
Avoid using AP or bread flour. Both retain too much moisture and will get clumpy and cause the dough to stick.
Once the dough has had a little time to rest, gently pull all four corners stretching it out. Be very careful not to overwork and deflate all the air pockets. Those air pockets are what create the signature sourdough holes.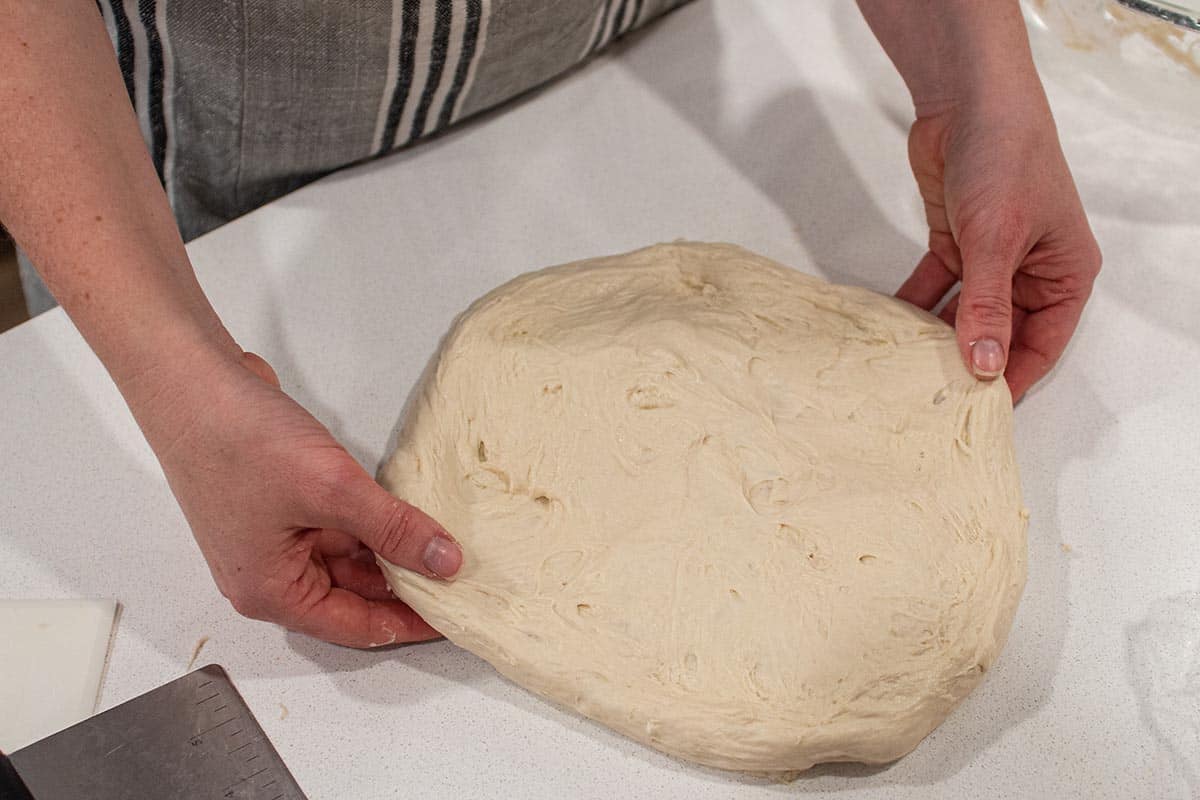 Now working one corner at a time, carefully fold to the middle (again being careful not to deflate).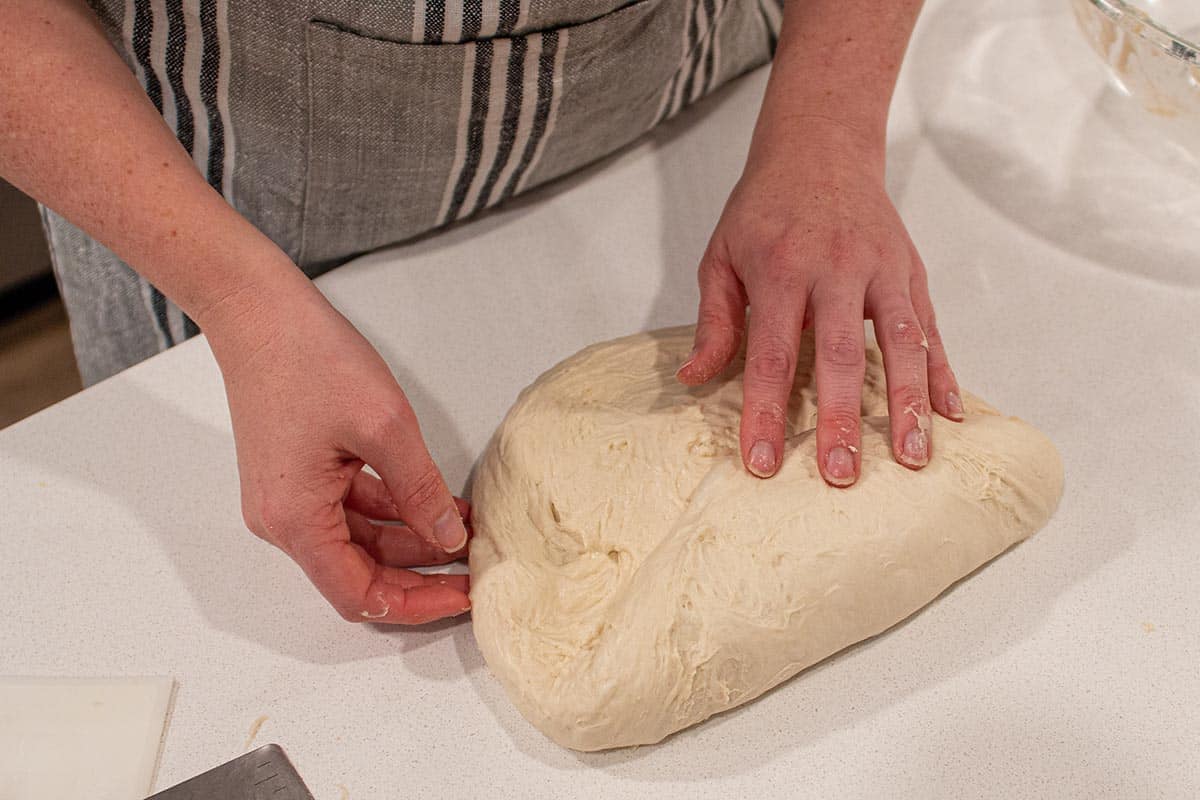 Continue this process until all four corners are folded in and it resembles a rough ball.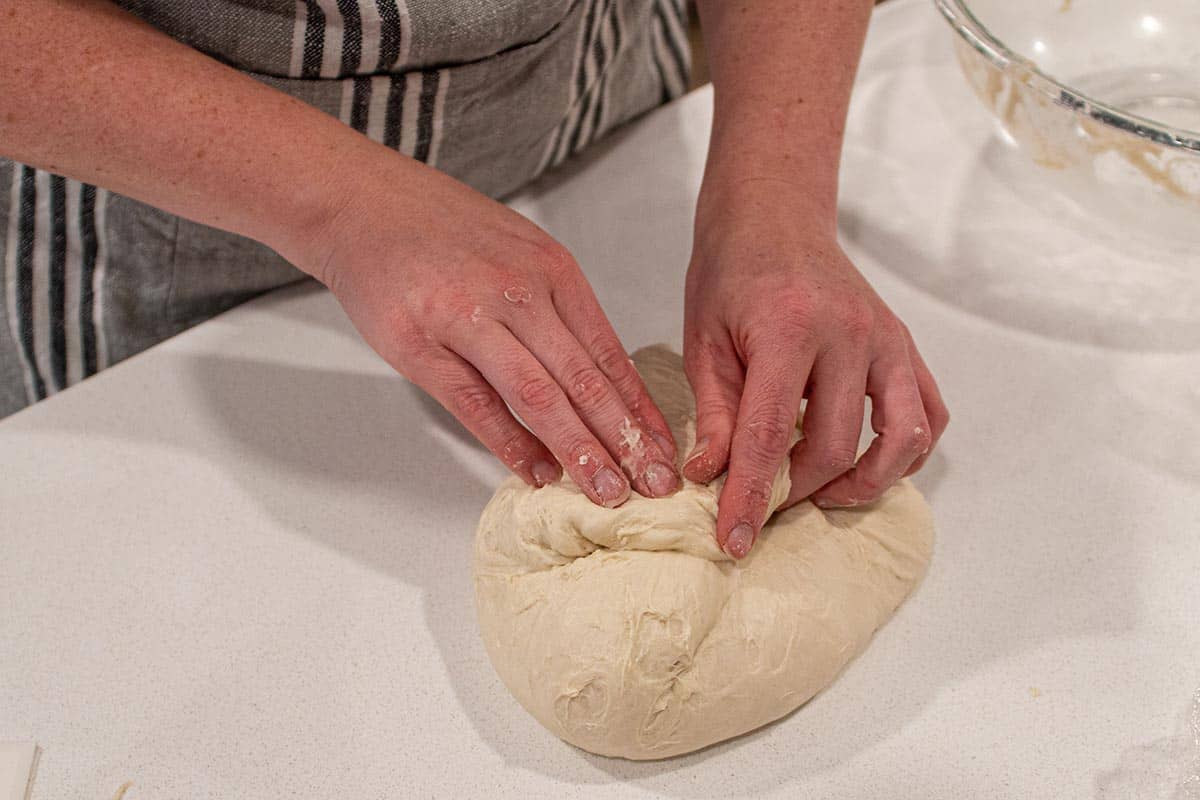 Flip dough seam side down. Using your hands, gently slide the dough across the counter a few times. The friction from the counter will cause the seam in the dough to come together without overworking it.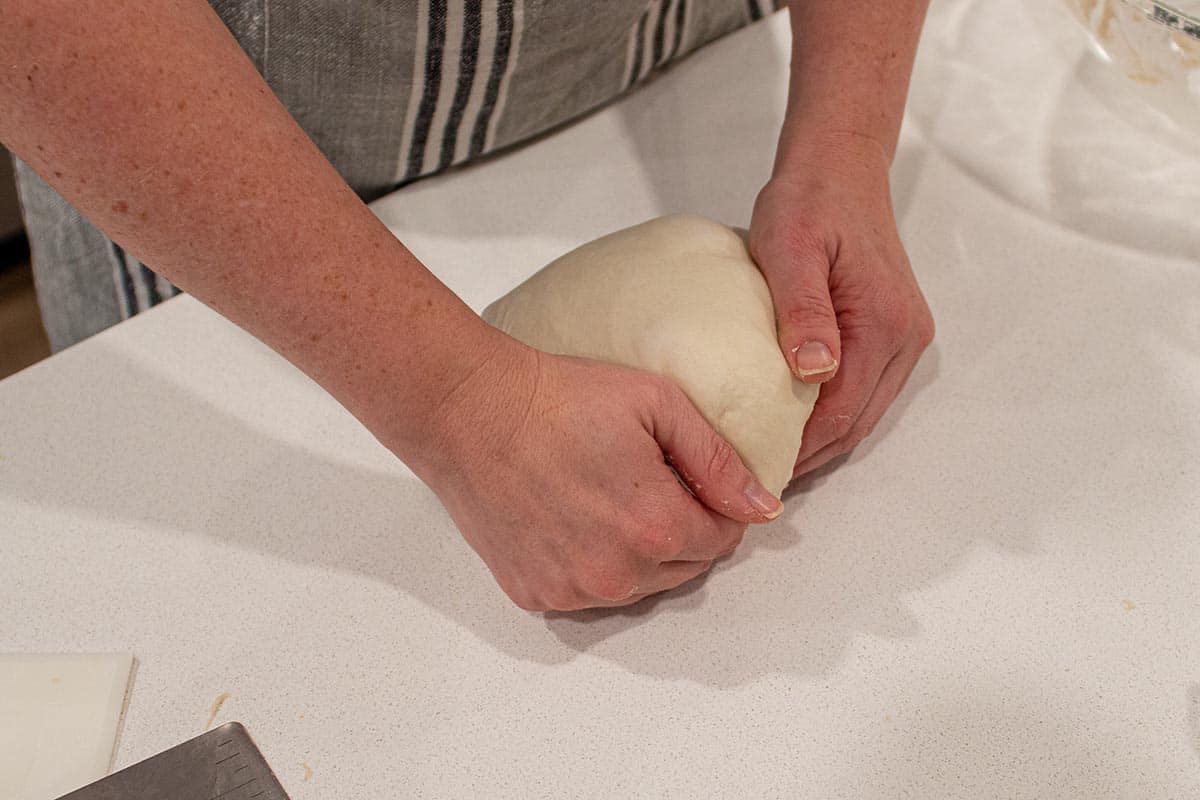 If you are finding the dough is sticking too much you can use a bench scraper to achieve this same result. Over time, with practice, it will become much easier.
Final Proof
Place the dough seam side up in your prepared banneton basket.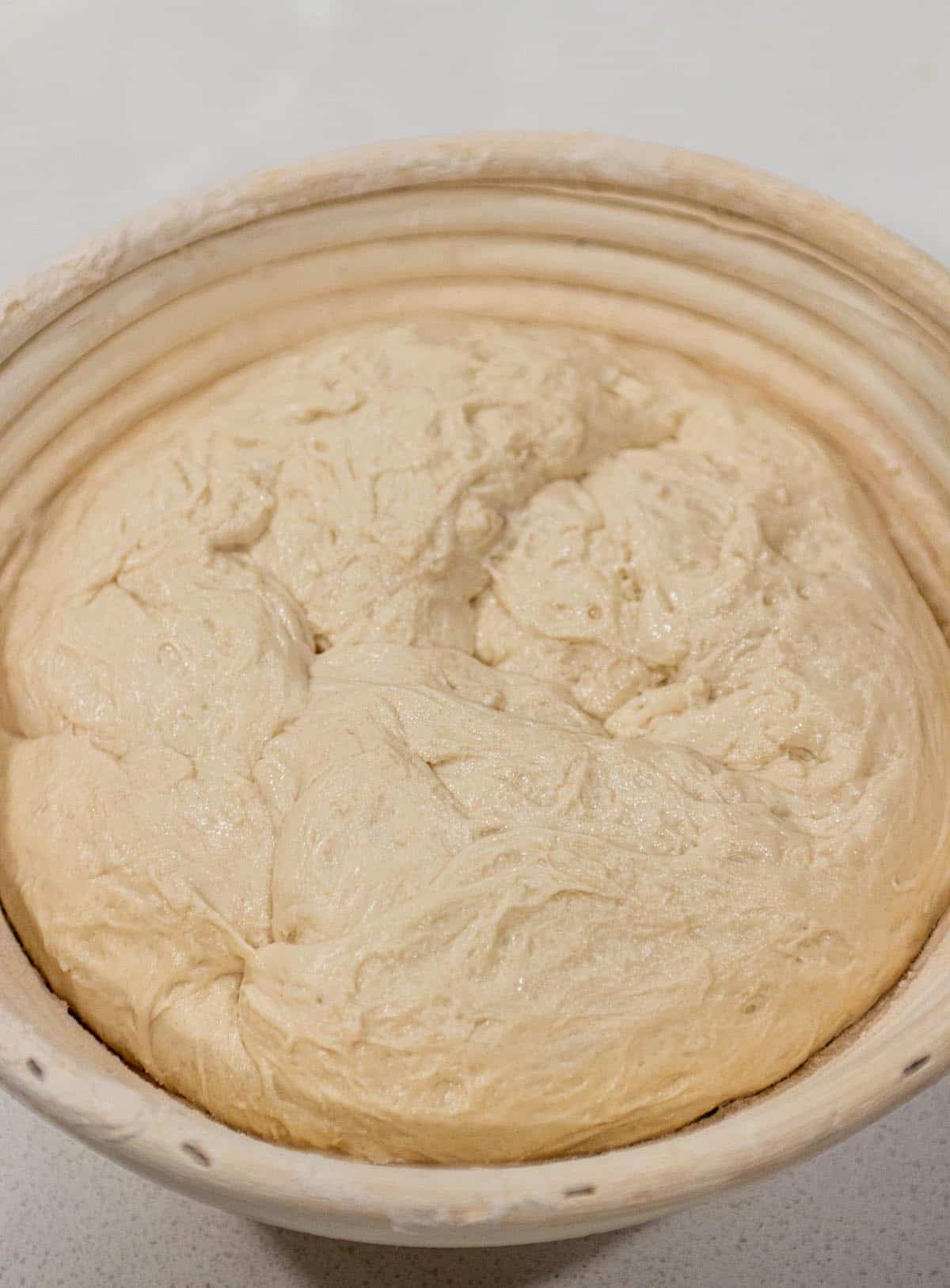 I don't use the cloth liner that comes with the bannetons. I really like how the rings make a fun design in the dough.
Cover with a towel and let rise in a warm location for about 2 hours. In the winter I like to put it in the oven with just the light on for about an hour. Just be careful you don't accidentally turn it on with the dough still proofing.
Avoid using a proofing option on an oven. Most preset proofing is around 100 degrees, which is too hot. The ideal proofing temp is between 75-80 degrees.
It won't rise too much during this stage, it will become more relaxed and puff up.
Baking
About 30 minutes before you are ready to bake, start preheating the oven to 450 degrees with the Dutch Oven inside. We want it to be nice and hot before we add our dough.
When it's time to bake, carefully turn your dough onto a piece of parchment paper. Make sure the parchment is large enough to lower and lift the dough out of your dutch oven.
First, gently peel away the dough from the basket and then flip it over so the dough is now seam-side down on your parchment paper.
Using a Bread lame, or sharp razor blade, give your bread a fun scoring pattern. This will allow the moisture to escape the bread which helps with baking. The scoring doesn't need to be very deep, just about ¼".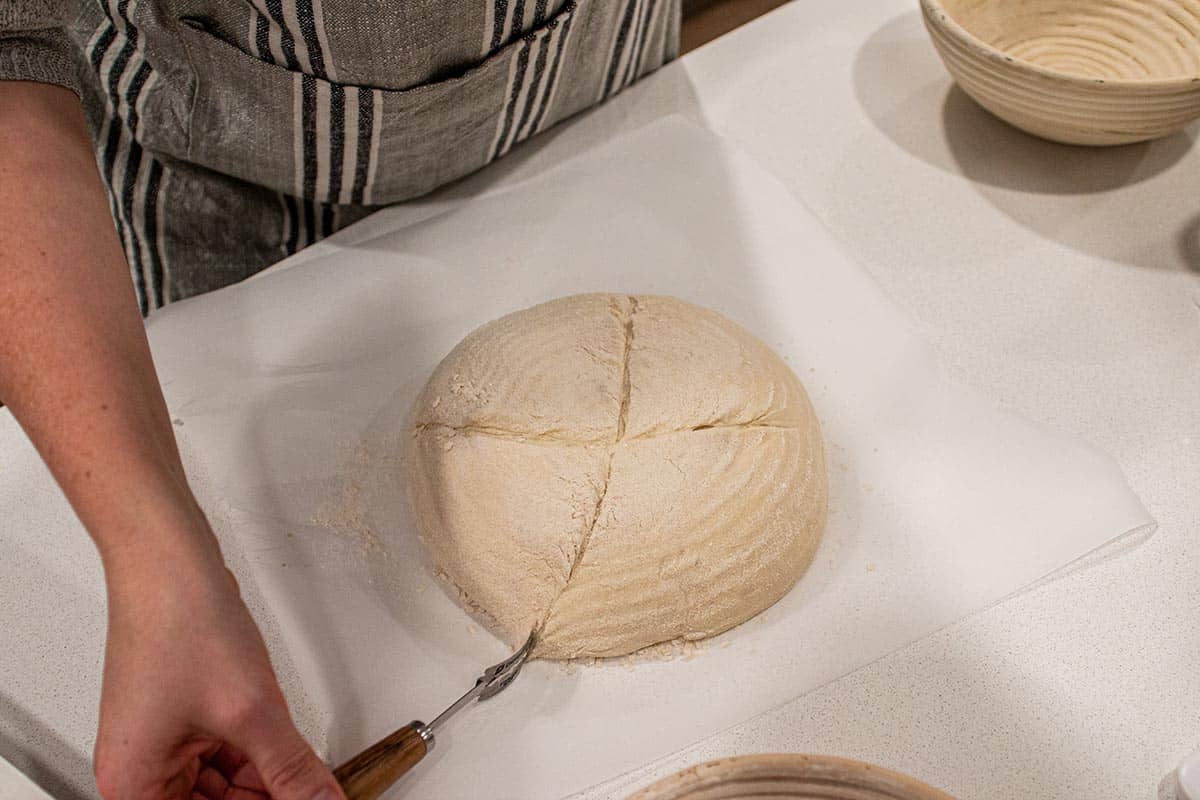 Get really creative and have fun with the scoring.
Once you score, carefully remove the very hot dutch oven and place the bread inside, put the lid back on and return to the oven for 25 minutes.
Sourdough bread requires steam to help it bake properly. By preheating a dutch oven it will be nice and hot right when you put the dough in. The lid will then trap the steam in and give the bread that beautiful final rise in the oven.
After the first 25 minutes, remove the lid and bake for another 20-25 minutes or until the internal temp reaches 205 degrees and the outside is golden and crispy.
Final Steps:
When it is fully baked, carefully remove the bread and place it on a cooling rack for 1 hour. If you listen very close your bread will be crackling. That is music to my ears. It just means the crumb is still cooking and setting.
It is technically still baking so refrain from cutting for about an hour. This will give it time to properly set. Cutting too soon will cause the texture to be a bit gummier.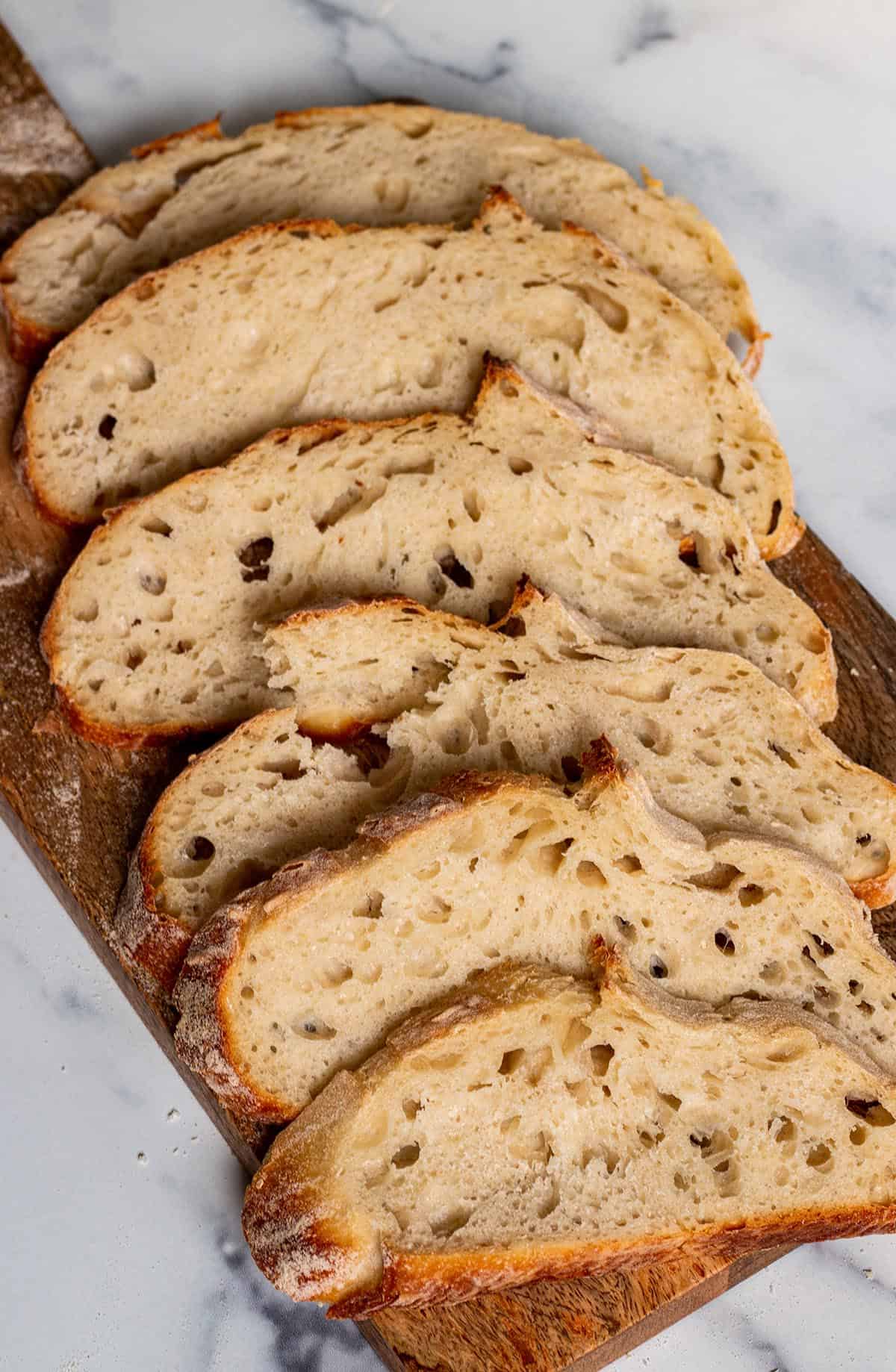 And that's it! You just made a beautiful artisan loaf of sourdough bread. Smother it in butter and top with honey. Or dice to dip in a mix of olive oil and vinegar. Better yet take the starter out and make another loaf to share with a loved one.
Keep that bread fresh as long as possible. Read my 8 different ways to store sourdough bread.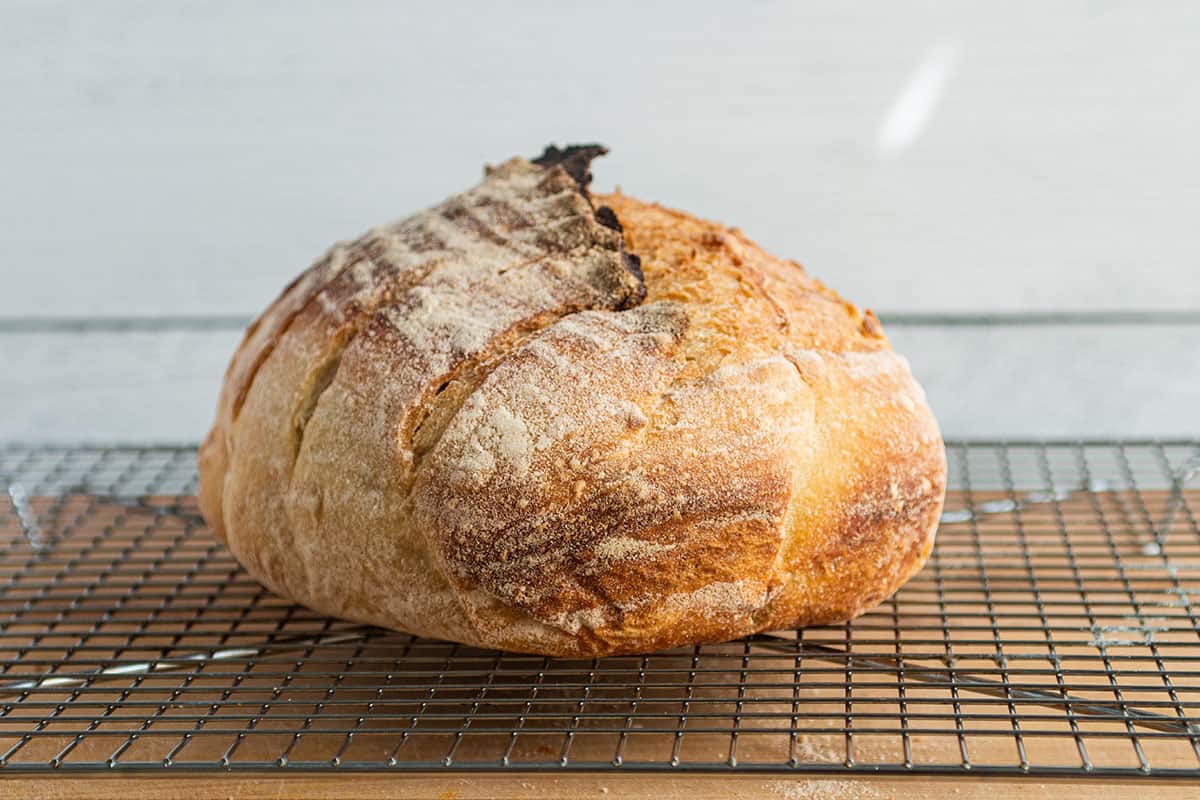 Please share your bread photos with me! I love receiving photos from people who are just as obsessed as I am.
You can tag me @dirt.dough on Instagram.
Other Sourdough Recipes: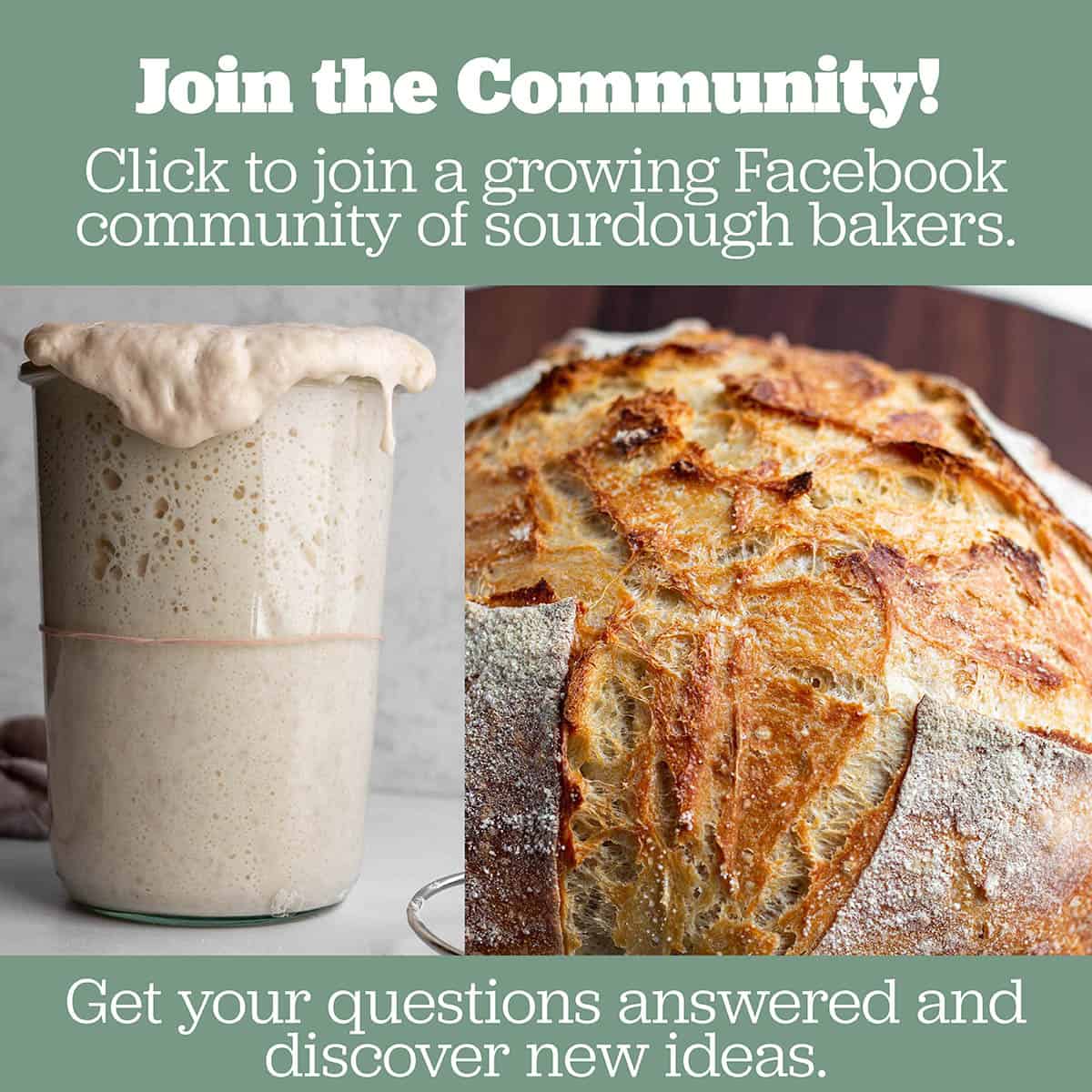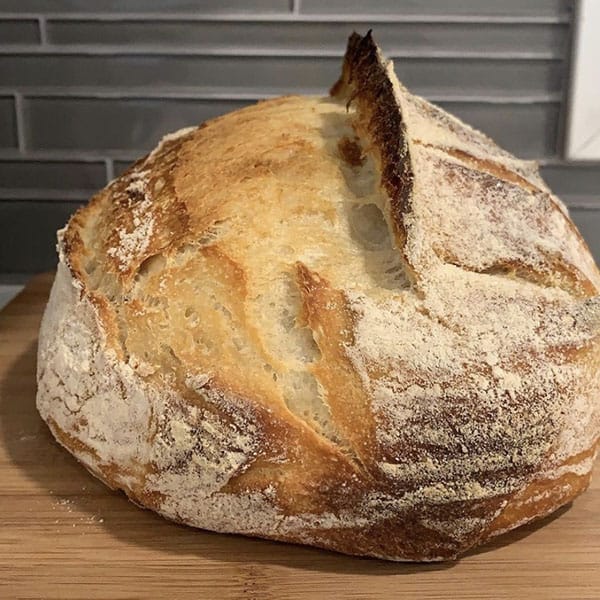 Easy Overnight Sourdough Bread
Easy, no knead sourdough bread. This method has a long proof in the refrigerator for 12-24 hours giving it a great oven spring. Then a bake in a hot dutch oven gives the final loaf a crispy outside and soft inside.
Ingredients
175

grams

Sourdough Starter

Learn how to make your own

360

grams

Filtered Water

9

grams

Salt

550

grams

All-Purpose Flour

Brown Rice Flour

For banneton basket
Instructions
Mixing the Dough
Feed your starter 8-12 hours prior to making bread. Make sure it's at peak performace, meaning it has doubled in size and has lots of bubbles.

Start by placing a glass bowl on a digital scale. Make sure it is measruing in grams and zeroed out.

Add in the active sourdough starter.

Zero out the scale again.

Pour in the filtered water.

Mix well with a fork until fully combined and zero out the scale.

Add in the Salt. Zero out the scale.

With a dough whisk or fork, mix everything until it starts to come together and forms a rough dough.

Using your hands, form the dough into a rough ball.

Cover with plastic wrap and set aside for 1 hour.
Stretch and Folds
Over the next three hours you will do a series of stretch and folds at the end of each hour (3 total). To do this gentely pick up one side of the dough, stretching it out as far as it can without breaking and gently folding it over. Repeat on the three other sides.

At the end of the first hour, remove plastic wrap and do first round of stretch and folds. Cover and rest another hour

After hour two, remove plastic wrap and stretch & fold all four corners again. Cover back up and rest.

After hour three, remove plastic wrap and stretch & fold all four corners again. Cover back up.

After the third round of stretch & folds it's time to let the dough sit overnight. Transfer the bowl to the refrigerator where it will sit 12-48 hours.
Shaping and Final Proof
Once you are ready to bake, remove the bowl from the oven and turn your dough on to a solid surface (not floured). Rest for 15-20 min.

Prepare the banneton, or tea towl linned bowl with brown rice flour. (see notes about what flours to use).

Shape the dough. Gently streatch out all the corners of the dough. Be careful not to deflate any of the air pockets.

Take each corner and gently fold to the middle, again avoid kneading and deflating the air pockets.

Repeat on all four corners until it resembles a rough ball.

Turn the dough seam side down and with your hands, gently slide the dough across an un-floured surface a few times. The friction will cause the seam to come together without overworking it.

Place dough in the basket, seam side up. Cover and rest for a total of two hours.
Baking
30 minutes before baking, preheat your oven 450 degrees with your dutch oven inside. We want the dutch oven nice and hot before adding our dough.

Remove your dough onto a piece of parchement paper so now it is seam side down. What you should have is a round, somooth top.

Score your dough with a razor or bread lame.

Careyfully lower the parchment paper into the scalding hot dutch oven. Put the lid on and bake for 25 min.

After that time, remove the lid and bake for another 25 minuties.

Your bread is done when the internal temp. reaches 205 degrees.

Wait about 1 hour before cutting into the bread. It is still baking during this time and if cut too soon, it could lead to a gummy texture.
Notes
Making sourdough bread takes some practice. If it doesn't turn out your first time don't give up. It is a very different process than typical loaves of bread and a lot of different factors can lead to a loaf not turning out.
Sourdough is a very wet, tacky dough. Don't be surprised if it sticks to everything. We want to avoid adding more flour to the dough. This can cause the new flour to get clumpy and not incorporate well. Instead, try these things:

Get your hands damp (not too wet) right before handling the dough. 
Work Fast
Use a bench scraper

The dough will undergo a long, cold-proof in the refrigerator. This will make sure the bread does not proof too quickly. The cold temps slow down this process and give the dough more time to develop more flavors. 
Do not use a proof setting on an oven. Most ovens that have a preset-proof option are a minimum of 100 degrees. That is just too hot. So double-check what your proofing temp is on your particular oven prior to using the setting. You want the final proof of your bread around 75-80 degrees. 
When we prepare our bannetons with flour, we want to make sure we are using brown rice flour. Regular flour retains too much moisture and will become clumpy and cause the bread to stick to the basket. 
Dutch Oven: We bake sourdough in a dutch oven because this particular dough requires steam to rise. When the cold dough is put in a hot dutch oven the moisture from the dough gets trapped inside. This helps give it that beautiful oven spring. Then, by removing the lid halfway through it gives the loaf a chance to develop that crispy crust.

Make sure your dutch oven can withstand temps of 500 degrees
Be extra careful when handling. They get extremely hot!

Scoring Bread. We want the inside of our bread to release the moisture and we help it by scoring the crust. Not only does it give your final product a fun and artsy look but it also helps the bread get that nice oven spring. There is no hard and fast rule here. Have fun. Get creative!

Do not use a knife. They are not sharp enough
Use a sharp razor blade or bread lame. 

Rest: This is the hardest part of baking your bread. You just spent all these hours caring for your loaf just to look at it for the next hour. While you could dive right in I encourage you to wait an hour. The bread is extremely hot (205 degrees) and cutting too soon can disrupt the final cooking process and can lead to a more gummy texture. 
Nutrition
Calories:
182
kcal
Carbohydrates:
38
g
Protein:
6
g
Fat:
1
g
Saturated Fat:
0.1
g
Polyunsaturated Fat:
0.2
g
Monounsaturated Fat:
0.04
g
Cholesterol:
1
mg
Sodium:
55
mg
Potassium:
60
mg
Fiber:
1
g
Sugar:
0.1
g
Vitamin A:
1
IU
Vitamin C:
0.03
mg
Calcium:
9
mg
Iron:
2
mg
Did you try this recipe?
Leave a comment and rating below.