Super easy dutch oven potatoes turn out perfect every time. The steam created by the dutch oven bakes the potatoes giving them the most tender texture. They make a great side dish for just about any steak and potato style dinner.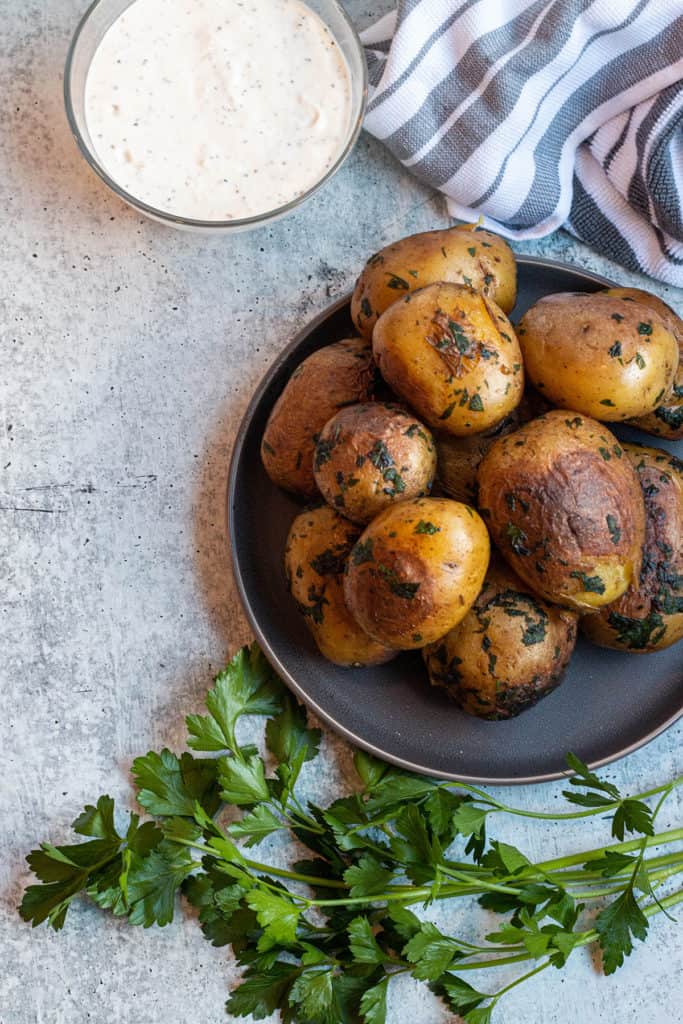 *Disclosure: I only recommend products I would use myself and all opinions expressed here are my own. This post may contain affiliate links that at no additional cost to you, I may earn a small commission. Read full privacy policy here.
While I love cooking from scratch I also like to get dinner on the table quickly most nights. These Dutch oven potatoes are my go to when I want a good side dish that takes little work.
Because they are so easy to make and require very little effort or ingredients, you can have a delicious, versatile side dish with very minimal effort.
Consider making a great dipping sauce for them as well. This lemon garlic aioli is what we prefer to smother our potatoes with. You will not be disappointed with this combo.
Tips for Making Dutch Oven Potatoes
The Potato
For this cooking method you will want to use Yukon or any gold potato. They tend to hold their shape better than russets, and are also smaller so take a lot less time to cook.
When selecting your potatoes use the small to medium sized ones. Either size will work great. Just make sure your potatoes are roughly the same size so they cook consistently.
This recipe calls for more medium sized potatoes. Adjust cooking time as needed if using smaller ones.
If there is a slight variance in size don't worry, they will cook just fine. The smaller ones will just be a lot more tender.
Don't worry about peeling either. Just give them a really good wash before cooking. This is of the reasons this dish is so simple. And the skins are almost as good as the insides.
Fresh Herbs
Use fresh herbs to finish off your potatoes. Parsley, rosemary and thyme are all really good options.
Select your herbs based off your main dish. I typically just use some fresh parsley. It's what I always have on hand and goes well with just about everything.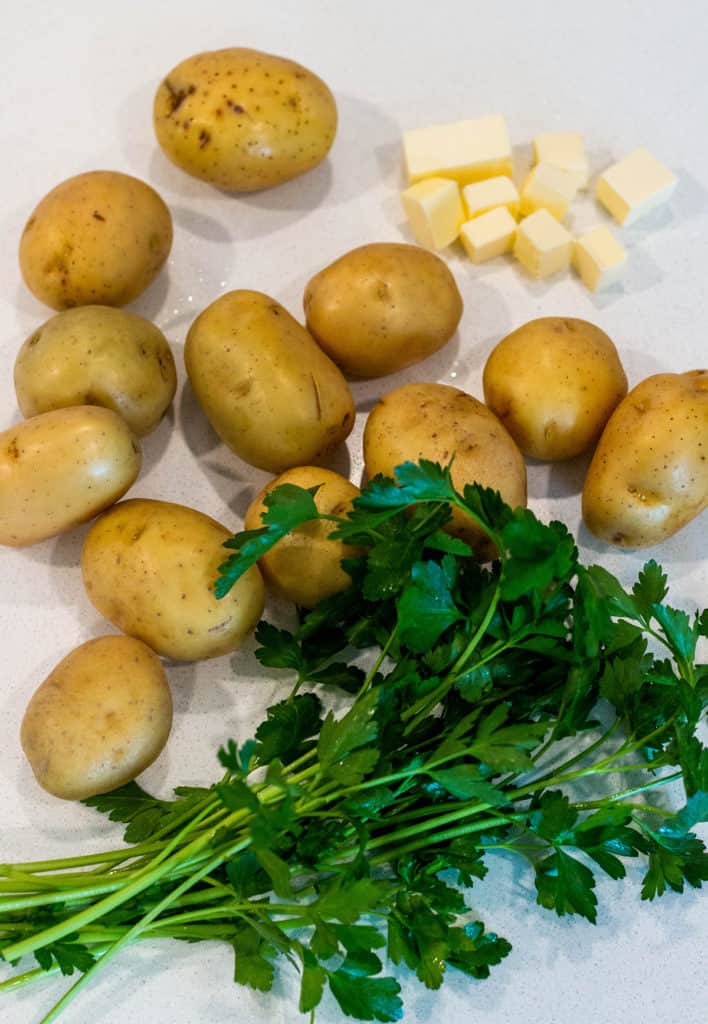 If you are pairing them with a steak consider using rosemary and thyme. Fish, maybe some dill and parsley or chives.
The fun things about these potatoes is you can get really creative and use the same things that you are using in your main dish to tie the two together.
The Dutch Oven
You will need a heavy bottom dutch oven for this recipe. Either a 5qt or larger. There is just no way around it. The even heat a dutch oven provides along with how it holds in the steam cannot be replicated by any other cookware.
Dutch ovens are designed to retain heat and cook from all sides evenly. Resulting in the best potatoes.
Do not overstuff your dutch oven. If your potatoes are slightly stacked they will still cook fine. Keep in mind that you will want them to move about freely so do not over stuff your pot. That is why I recommend a 5 qt or larger.
I love my Le Creuset round wide dutch oven for this recipe. It's bottom is larger than other 6.75 qt and has more cooking surface, allowing more potatoes to cook on the bottom and giving them that crispy skin.
How to Make Dutch Oven Potatoes
The process is very simple. It will feel like it just won't work but trust me! Turns out perfect every time.
Start off with the butter and allow it to melt over medium-low heat on the stove. Be careful to not heat it too hot or the butter will burn.
Add in the potatoes and salt and toss to combine.
Place the lid on the dutch oven and cook for 20-25 min. About every 5 min give the pot a good shake with the lid on.
Do not be tempted to remove the lid. This will allow all the steam to escape.
The potatoes are ready when they can easily be pierced with a fork.
Add in the parsley or any other fresh herbs and let cook for another 5 minutes.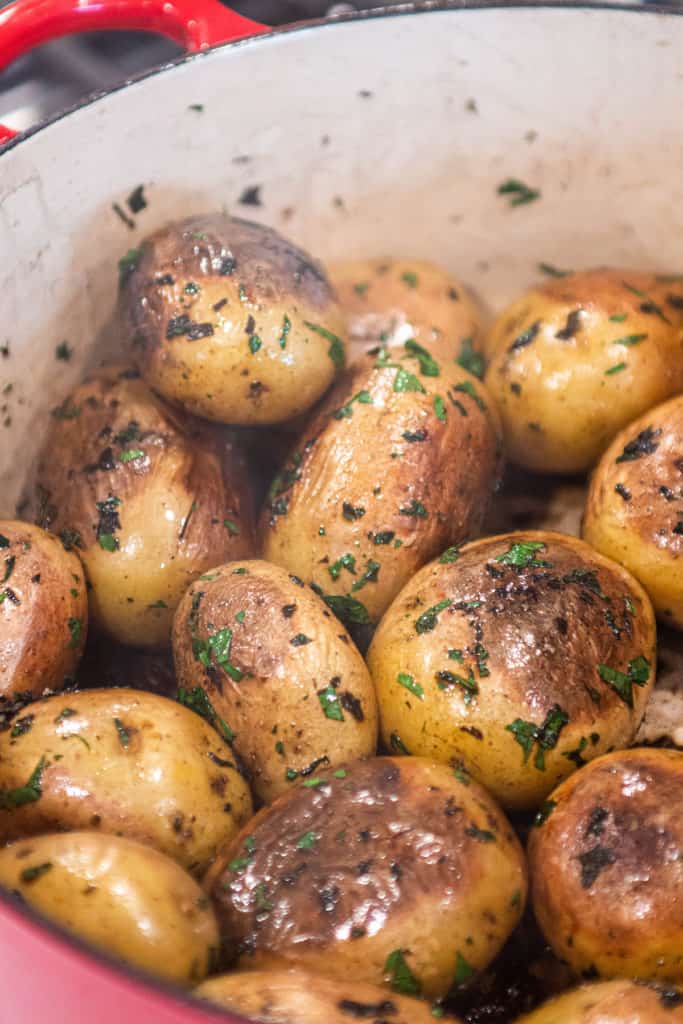 Serve warm with a side of Lemon Garlic Aioli.
If you end up with left overs these make great breakfast potatoes. Just dice up and fry with an egg in the morning.
Tools you May Need
Dutch Oven – Any dutch oven, 5qt or larger, will work.
Pin for Later
Dutch Oven Potatoes
Ingredients
3

lbs

Yukon Gold Potatoes

4

tbsp

Butter

1/2 Stick, Cubed

1

tsp

Unsalted Salt

1/4

Cup

Fresh Parsley

Or any other fresh herb
Instructions
Thoroughly wash and scrub the potatoes and pat dry with a towel.

On the stove over medium-low heat melt the butter in a large dutch oven. Don't heat too high or butter will burn.

Add in potatoes, sprinkle with salt and toss to combine.

Cover with lid and cook for 20-25 minutes.

Every 5 min or so, give the pot a shake with the lid on. This keeps the potatoes from sticking to the pot

Potatoes are done when they can be easily pierced with a fork.

Add in the fresh herbs and let cook for a few more minutes.
Notes
~ Use small to medium sized Yukon gold potatoes.
~ Do not overstuff the pot. The potatoes should be able to move around freely so they don't get stuck to the bottom.
~Cube butter first so it melts quickly.