Make your own Sourdough Starter in just days. By measuring the flour and water by weight will give you a starter that is very active and ready for all kinds of baked goods.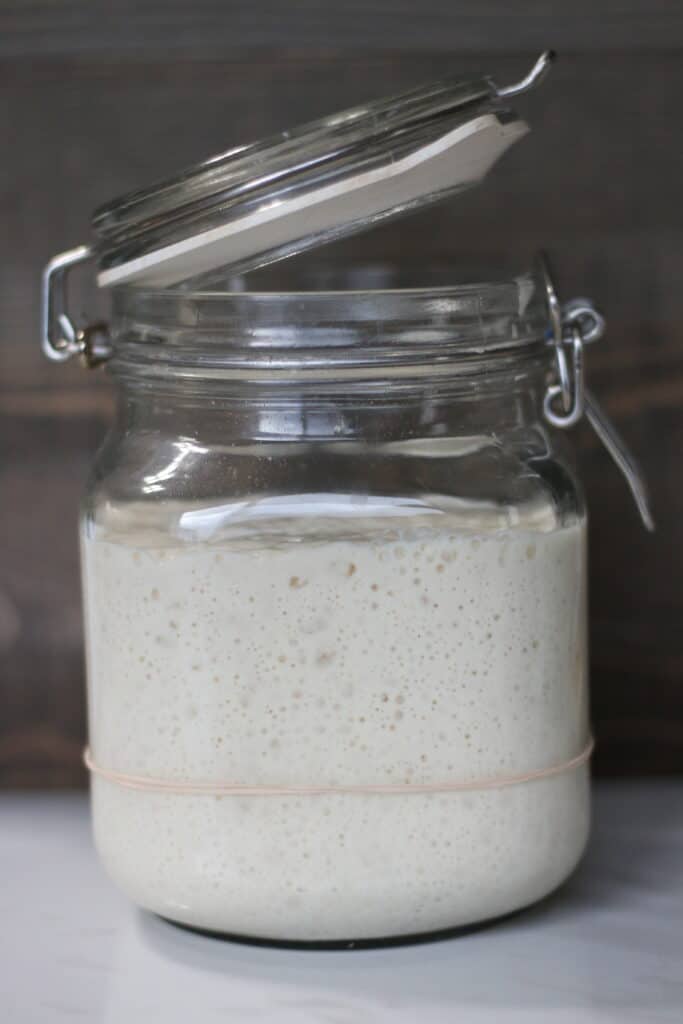 *Disclosure: I only recommend products I would use myself and all opinions expressed here are my own. This post may contain affiliate links that at no additional cost to you, I may earn a small commission. Read full privacy policy here.
If you have found this post chances are you have thought about making a sourdough starter so you have a general idea of what it is. If you don't, this next section is for you.
What is a sourdough starter?
A sourdough starter is a process of collecting wild yeasts and bacteria in your environment with a combination of flour and water and over time when taking the right steps it becomes a useful tool you can use to leaven (rise) breads and other baked goods. It is a living thing that needs to be cared for and fead.
It's what they used for centuries when active dry yeast wasn't a thing. Most recipes such as rolls and breads call for yeast and we typically use those little active dry yeast packets that when mixed with warm water and sugar brings it to life and then when added with flour and other ingredients will cause it to rise. In quick breads, cookies and other baked goods we use baking sodas and powders as our leaven. A sourdough starter takes place of all those things and can be used in just about any baked goods, not just sourdough bread.
The best part! As long as you care for and feed your starter properly it will last you literally a life time. There are starters out there that are over a hundred years old and get passed down through generations. My daughter is already asking if she can have her own when she is an adult.
Fermented Flour and Water
There are so many health benefits to a sourdough starter. Because you are eliminating processed sugars and yeasts that you find in commercial baked goods your body will have an easier time breaking them down. The breads you make with a sourdough starter are very simple and use very little ingredients. The other piece is, it takes a long time for your bread to rise and it goes through a long fermentation process. When I use an active dry yeast packet (well use to use) my bread would double in size in 2 hours. With a starter it can take 12 sometimes up to 24 hours to fully rise. I'm going to be honest. I don't know the actual science behind everything that happens with a starter but I can speak from experience!
Is it better for you?
When I started baking with my starter we eventually eliminated every form of commercial bread product. I no longer purchase bagels, english muffins, sandwich bread, pancake mix and of course my beloved sourdough! And believe me, fresh sourdough you make yourself doesn't even come close to what you buy in the store. The amount of bread I was eating has increased (it's just that good) but surprisingly my weight has not. And I have even noticed some differences in how I feel on a regular basis. Because a sourdough is basically fermented water and flour it has gone through a process of breaking down some sugars that are found in flour so then our bodies can digest them easier.
Some people even say that those with a gluten intolerance can handle breads made with a sourdough with a long ferment.
My Personal Experience
I am not gluten intolerant but a few years ago I found out through a series of digestive test that my body has a difficult time breaking down some sugars. Since I introduced sourdough into our diet I do not have a lot of the same issues I had before. Was it a fluke? I thought so. That was until we went camping one time and I ate processed hamburger buns and hotdog buns all weekend. It was the first commercial bread I eaten in a long time. I was so sick the following week. Like morning sickness sick. After about a week of strictly sourdough products that feeling went away.
Then we went camping again and guess what happened Monday morning. Yup terrible stomach ache and dry heaving. So we will be making hamburger buns next time around. I can only speak to my personal experience and that has shown me that my starter is the healthier option for us. I just don't get that bloated feeling like I used to.
In Conclusion
So now that you know what it does and some of the benefits. How do we make one? If you are lucky enough to know someone who can gift you some of theirs that is a great way to get started today! I absolutely love the opportunity to share part of Monica (my starter) with anyone willing to learn. If your anything like me and up for a challenge to make your very own. read on.
There are so many different ways out there and available to you to make your sourdough starter. Some people use all types of flours and there are multiple different ways to measure. Other do straight cups and others by weight. While some even just add flour and water and look for a certain consistency. For this demonstration, and how I currently care for my starter I choose to go with measuring by weight.
For more explanation as to why I do that please read this post on how I troubleshooted my starter. I started a brand new start just for this demonstration. It was the 4th one I have made and it was doubling in size and ready for bread by day 10! My first two attempts were major fails and never even reached this point and my current start took 4 months to get the kind of growth this one did by day 10. So I stand by this process. It just works.
What you will need to make your very own sourdough starter, and why:
A glass jar or glass bowl.
Lots of people use jars such as flip lock, mason or other types. I personally do not like to use jars and prefer a bowl. I use a glass mixing bowl and I have multiple on hand in case I want to move my starter to a fresh clean one. You don't need more than one I just find it helpful that I can move it to a clean bowl when needed. I just find it so much easier to mix and remove what I need to use when its in a bowl, and a jar just gets messy. Or maybe it's just me.
When I get to a point when I'm not using my starter, which honestly is only if we are gone for more than a day or so, I will move it to a flip lock jar and store in my refrigerator. When it's out and growing I keep it in a bowl with a flour sack towel over the top.
Another benefit to this is my starter has so much room to grow. When I was keeping it in a jar, there were times it would grow out and over the jar. I've even see cases where the person left the lid on and the starter SHATTERED the jar. Those are the reasons I use a bowl but please use what ever is easiest for you. I have friends who love keeping it in a jar. Whatever you use, make sure it is glass. Some plastics and metals can react with the chemical reaction that is taking place with your starter.
2. A digital scale.
A scale won't just be used to get your starter going but so many recipes are measured out in weight. Not cups. It's the only way to get the most accurate measurements and it's a helpful tool to have in your kitchen. You will end up using it in multiple different ways not just with bread making. If you want to skip the scale you can measure your feedings by cups. Instead of by weight, do 1 cup flour and 1 cup water. I prefer going by weight because then I have better control of how much starter I have.
If i'm not baking a lot, I can keep a much smaller amount or ramp it up if I plan on baking more. I also speak to this in my starter troubleshoot guide. I have made 4 starters. The first two were major fails and the second took 4 months to make bread. Once I switched to this method I was able to make beautiful loaves in days. It just works. You can read that post here
This is the digital scale I use. It's very intuitive and can easily switch from grams to pounds.
3. Wooden Spoon.
Using a wooden spoon to mix your starter is just as important as using a glass bowl, Some metals and plastic spoons can react with your starter and mess up the whole process.
4. Ingredients:
Flour and Filtered water. Yup, thats it! No need for anything else. Until its time to make bread then you will add salt. That's the secret behind the best most natural bread you could make. Flour, water and salt. No eggs, butter or sugar. Nothing else! That all comes later but right now all your need is flour and water. You really want to use filtered water either from a bottle or fridge. The chemicals in tap water can mess with the fermentation. I just use the water from my refrigerator but you could use bottled if you would like. Some people find success with bottled water because it can be kept at room temp. I find the fridge works just fine for me.
Now lets talk flour. I like using an unbleached all purpose and have found a lot of success with it. If you are using all purpose it must be unbleached. This is very important. My first two failed starters were with bread flour and on my 3rd attempt, once I switched to all purpose I finally saw some growth.
I love the King Arthur brand and have been using that from day one. It really doesn't matter what brand you choose just make sure that it is unbleached and once you find one that works stick to that. You don't want to change up your flour once you have your starter going. You absolutely can but its best to stick to the same brand. The other flour you will need is an organic whole wheat flour. You will use this the first day to get your starter going. Don't worry though, it won't be a waste because once your starter is strong enough for bread you can use the whole wheat to make sandwich breads.
5. Flour sack towel or tea towel.
I really like to use the flour sack towels. I feel like it helps my starter perform better than a tea towel. It's light weight so the wild yeasts in my environment can get into my starter easily but heavy enough that unwanted things can't get in. A tea towl works great as well but I prefer the flour sack. I would not suggest paper towels. I don't feel like they give the proper coverage to the bowl. If you are using a jar, you can secure it with a rubber band. Be careful putting the lid on too tight. You want the yeast in your environment to get into the mix and you also don't want to end up with a shattered jar once it starts expanding.
6. A warm spot in your kitchen for it to live out of the way!
For a long time I kept mine on top of my fridge. I found it was the perfect spot. It was off the counter so my kids or myself didn't accidentally bump it and it kept it safe from all the other ingredients flying around my kitchen. And more importantly my dog doesn't eat it. That's how I lost my first starter!!! Learned my lesson the hard way. It now lives in a cozy little space in my cabinet. It's close to the oven so it gets nice and warm, and being stored in a cabinet, I don't have to worry about anything or anyone getting to it. It's also at eyesight so I can closely monitor it and I don't forget to feed it.
Once you have all these things you are all set to start building your very first starter!
Now lets talk about the process.
My method of sourdough starter is measuring a 1:1:1 ratio. What does this mean? Basically by weight (in grams) we are going to combine the same amounts of starter, to water and flour. So if we have 100 grams of starter we are going to add 100 grams of flour and 100 grams water. We will do our best to keep to the same ratio as close as we can. Once your starter is happy and active, it will be a lot more resilient. With a more mature starter, when I feed I don't worry so much about an exact 1:1:1 ratio. I do make sure I feed equal parts flour and water every time but it doesn't always match the weight of my starter.
Each time you feed your starter for the first week or so you will discard half before you feed it. I know this seems like a waste but it's a must in the process. Every guide you read will have you discard part of it. If you kept the same amount every time it would just become too big to manage and it won't get the proper amount of proteins and sugars to get the kind of rise you need. It will starve because there is more starter to go around than there is food to eat.
Use That Discard
After a few days you can put that discard to use. Sure it won't be strong enough to make bread but there are other things you can use it in. Pancakes are perfect and a sourdough starter just makes the most perfect pancakes. Another thing I do with my extra starter is feed it to my chickens. They love it! I have one in particular that when she sees me with that paper cup she knows whats inside. I've herd of people composting it to. It's just wheat and water so throw it in there if you don't have chickens.
I would highly encourage you to not dump it down the drain! You will quickly learn that starter that hasn't been washed adheres to everything. Drives my husband nuts when I put a bowl with scraps of starter in the sink and don't wash it right away. It becomes very difficult. If it's sticking to my bowls, spoons and sink that bad I can't imagine what it would do to the pipes. So scoop out what you don't need and throw in the trash (if you don't have chickens or a compost).
Once your starter is established you will not have to do this step. Are you ready now!! Are you dreaming of fresh bread!!! Lets get started!
Day 1:
I like to wait for the evening. I find for the first few days it's easier to remember to feed my starter when I know I'm in the kitchen making dinner. Mornings are hectic and it tends to skip my mind.
Weigh your glass bowl (in grams) and write the measurement down somewhere you will remember. Put it in your phone or I like to write on the outside of my bowl with a wet erase marker so I know.
With the bowl on the scale zero it out by pressing tear. Once it reads zero add 100 grams of whole wheat flour.
Zero the scale out again by pressing tear and add 100 grams of filtered or bottled water.
Mix until all combined, cover it and put in your safe warm location. That's it your done for the day! one beautiful thing about a starter is that everything takes a really long time but requires very little effort on your part.
Day 2:
Don't worry if it isn't exact. Could be my environment is warmer or colder than yours, or I just have different yeast cultures in the air. Just keep going.
Now you are going to discard. Keeping about 100-125 grams in your bowl. I would just toss it in the trash as it hasn't had enough time to do much fermenting at this point and won't be very useful. Or throw it in the compost or give the chickens a treat.
After removing part of your start, place your bowl on the scale and get a total measurement of the bowl with the starter. Take that measurement minus the weight of your bowl and thats how much starter you have. Make sure its between 100-125 grams.
My total weight is 863 and when I subtract the weight of the bowl I am left with 109 grams. That is how much water and flour I will add.
Add that same amount of water (by weight) and the same amount of flour you have deiced to use. Remember you can use all types of flours. I have only had luck with unbleached all purpose so that is what I am using. So since I have 109 grams of starter in my bowl I'm going to add 109 grams of water and 109 grams of flour.
Mix together using your wooden spoon, cover it and put back in its resting place. Now you are done for the day.
Day 3:
After 24 hours, repeat the same process from day two. This is what it should start to look like. You will start to see some bubbles and activity. It's should start to look alive!
Discard leaving 100-125 grams of starter and feed the same ratio of water to flour. Cover it and put in your safe spot for the night.
Reminder: On day 4 we are going to move feeding twice a day. So don't forget to feed first thing in the morning. We will do two feedings a day for the next 5 days. When you remove the starter in the morning this is a perfect time to give some pancakes a try with the discard! Here is my recipe.
Day 4:
At this point this is what your starter should be looking like.
Its active, bubbly and probably smells. Thats okay! You are creating an active culture of wild yeast. It sounds disgusting but when you think about what is happening its actually a really cool process. Just by mixing two very simple ingredients you end up with a product that can be used to rise bread. Its mind blowing.
Morning: Discard, feed and cover.
Evening: Repeat process. Discard, feed and cover.
Day 5:
Repeat day 4:
Morning Feed
Evening Feed
On this day start to pay attention to what your starter is doing? Is it active? And by active does it have lots of bubbles and maybe even starting to rise in-between feedings? This part is crucial to determine if it's ready for bread. After you feed on this day and going forward put a mark on the bowl (I use a dry erase marker) or rubber band if your using a jar and track if there is any movement. If there is no change keep going with 2/day feedings. The Starter I made for this demonstration didn't see any growth until day 7 and even then it was very little. It wasn't until day 10 that it was over doubling in size. Be patient as it can take some time before it doubles in size.
Day 6:
Let's see a progress picture.
Morning Feed
Day 7 is when I first started seeing some growth with this starter. I fed at 9:00am and by the evening feed it had risen about an inch. We are getting there!
Evening Feed
Day 7:
Seeing so many bubbles! How is yours looking?
Morning Feed
Evening Feed
Day 8:
Lets check in. What is happening to your starter? By this day it should start to rise between feedings. Probably not doubling in size but you should see some growth after 6-8 hours between feedings. Do two more feedings this day
Morning Feed
Evening Feed
Day 9:
How does it look from your feeding last night? Has it risen? Is it super bubbly and looking alive? Time to move to the float test to see if your ready to make bread!!!!
If it still has no movement I would scale back to just 1 feeding in the morning on this day. Let it go 24 hours and see what it looks like on day 10. Sometimes, when we starve our starter for a full day on the next feed the active yeasts go crazy.
If it is doubling in size, now is the time to do a float test. Take a drinking glass of water. I usually just do room temp tap water but I don't think it really matters. Then take a teaspoon full of starter and drop it in. What is it doing? Did it float to the top or sink to the bottom? If your starter is floating it's officially bread making time! See my post here for my favorite go to recipe. If it didn't then read on.
Day 10
This was the day for me that I woke up and saw significant growth so I immediately did a float test and it passed! So if it doesn't work on day 7-9 don't give up!
I gave it one more good feed in the morning of day 10 and not even 6 hours later this was the growth I had.
If after all this you are still not seeing anything DONT GIVE UP! My original starter took a long time to be ready for bread, but I still made tons of things in the mean time. We did pancakes almost every morning. My daughter loves pancakes and I was so happy to find a healthier option for her. Rather than pancakes made with a boxed powder hers were now made from scratch and had eggs and milk in them as well. We also did english muffins and crackers. Just search sourdough starter discard recipes for endless ideas. I didn't make my first successful loaf for almost 4 months after making my starter so hang in there. You can also read my troubleshooting guide and see if any of these tricks work for you.
The Starter I made for this post didn't see major growth until day 10 and now it is over tripling in size! So it can take some time. Be patient and don't give up!
Please stay tuned for a post on how to maintain your starter going forward and my frequently asked questions page. Reach out to me in the comments below, email, or on my instagram and I would be happy to answer any questions you may have.
Add a Starter to Your Home
I am so passionate about my sourdough starter and what it has done for me that I would love to see more and more people not only add it to their kitchens but use it on a very regular basis. I hear all the time people take it out of the fridge once a week to make bread and then back in it goes. This makes me sad. There are so many possibilities out there to use this valuable tool.
I would love to see your progress and how your starter is doing and what you and your family are making with it. Please tag me so I can follow along with you and cheer you on!
Sourdough Discard Recipes