What is a sourdough discard? How is it different from just a sourdough starter and how do you use it? How to stop throwing away all that sourdough discard and put it to good use.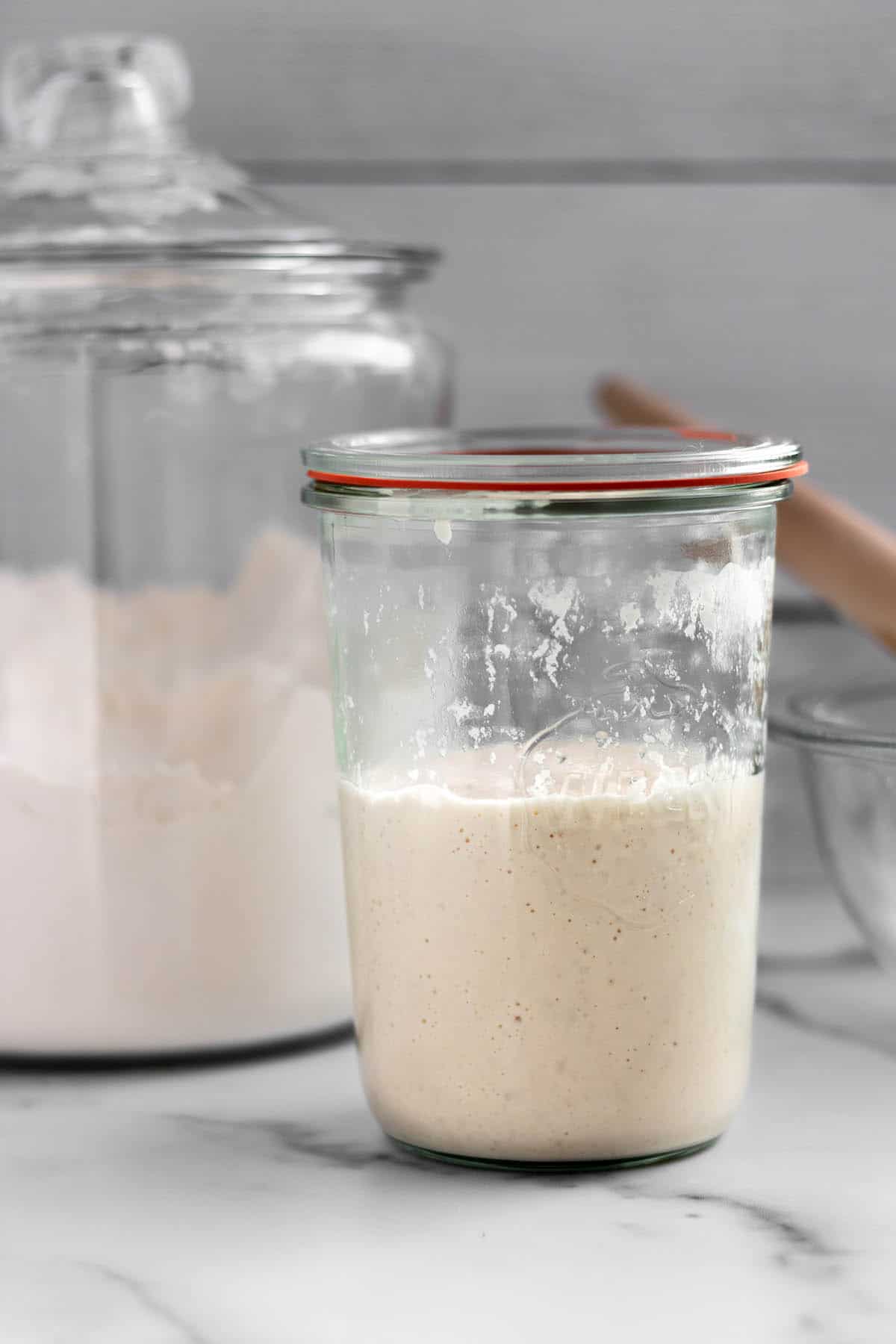 Who doesn't love a loaf of good sourdough bread? It's soft, a little tangy, and when made at home is some of the best, freshest bread you could possibly get. You can't find bread like this in a grocery store.
And a good loaf of sourdough first starts with a good strong sourdough starter. But did you know that bread isn't the only thing a starter can make? Did you also know that the unfed starter (or discard) can also be used in baking?
Whether you are just starting your sourdough journey, or are a seasoned sourdough baker, you may be wondering what to do with all that discard.
Read on to learn how to harness the power of that sourdough starter discard and ways to store it. Or click to see a large list of all kinds of sourdough discard recipes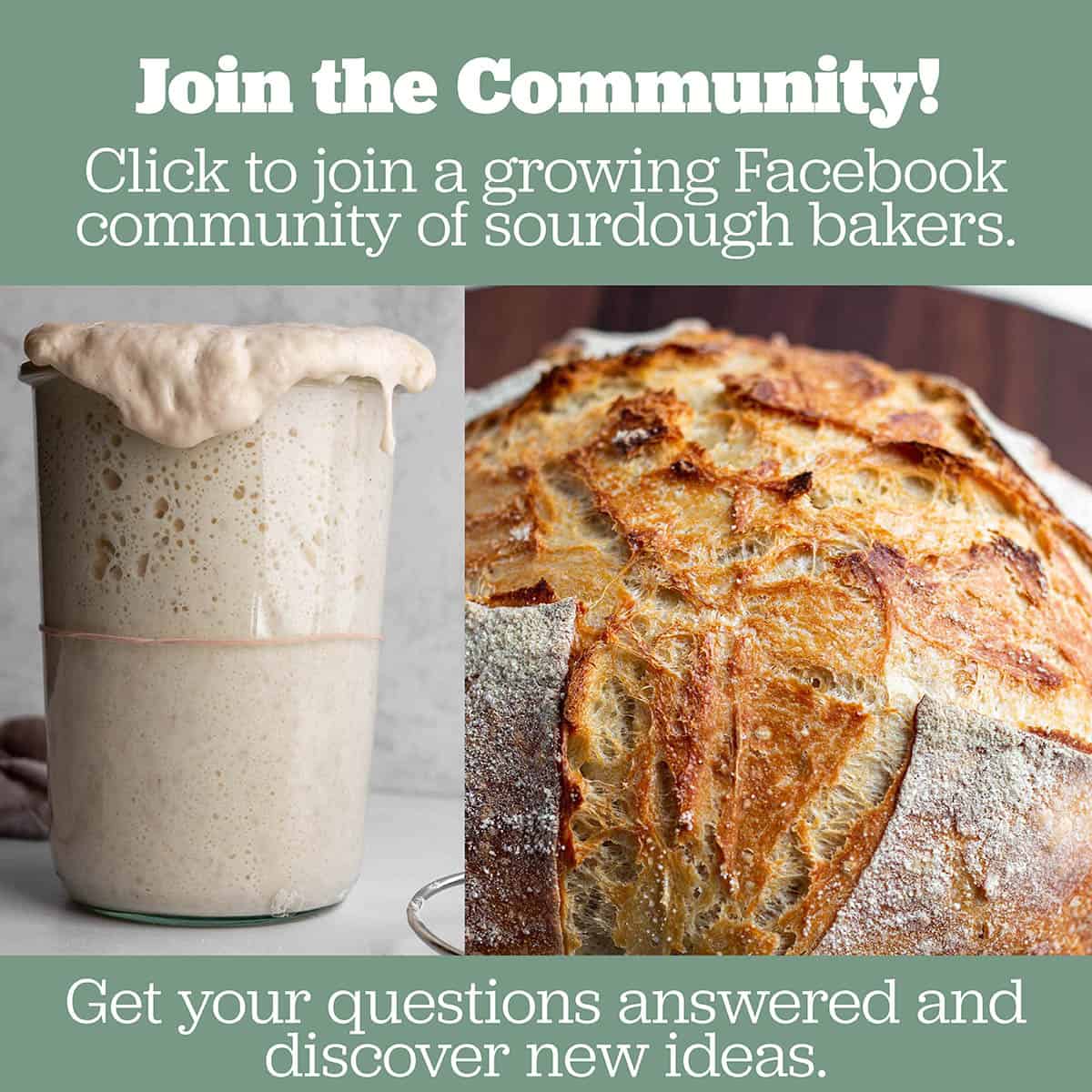 Jump to:
Sourdough Starter 101
A sourdough starter is a combination of flour and water that over time has gone through a fermentation process, collected wild yeast in the surrounding environment, and has come to life. Once this process has been established a sourdough starter can be used as a powerful ingredient in baking.
In most baked goods a leavening agent needs to be added to give a proper rise. This can be yeast, baking soda, baking powder, or even a sourdough starter.
Sourdough starter is a natural substitution for instant yeast or other leavening agents. It collects wild yeast from its surrounding environment, traps it in a mix of water and flour, rises, and then can be added to more water, flour, and salt to be made into sourdough bread.
Learn how to make a sourdough starter with a step-by-step tutorial.
Once a starter is active it requires regular "feedings". When properly fed, a sourdough starter will double in size in a matter of 6-8 hours. This is what is then used to give rise to that iconic sourdough bread.
How to Feed a Sourdough Starter
The feeding process for a sourdough starter is really simple that takes just a few minutes. Start off by weighing how much starter there is in grams then add equal parts of fresh flour and water in the same amount.
When feeding a starter, to get the best results it is recommended that the components are measured by weight. Cups can vary too much so getting an accurate weight reading is ideal. Using a kitchen scale is the best way to go.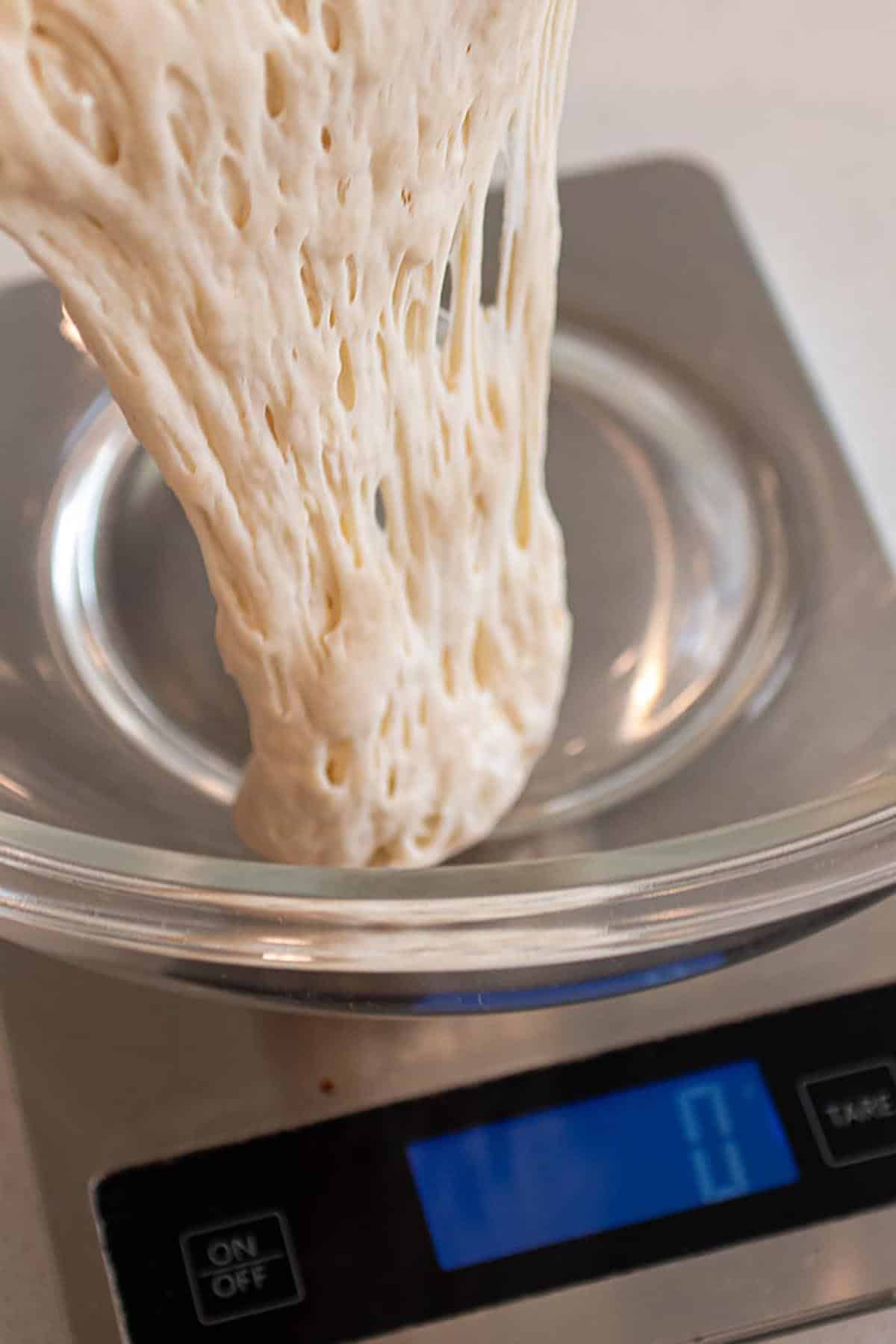 For example, if there is 100g of starter, add in 100 grams of flour and 100g of water.
Mix thoroughly, cover, and wait. It is really that simple! Learn more about feeding a sourdough starter.
Another way to obtain an active sourdough starter is to create a leaven. This will also require weight measurements.
So if you need 175 grams to make bread take 58 grams of sourdough starter, 58 grams of filtered water, and 58 grams of flour. Mix together well, cover, and let rise.
Once it has doubled in size the remaining bread ingredients can then be added to the leaven. A leaven is a great way to keep sourdough waste down because you are only feeding the exact amount that is needed. Just make sure there is some leftover to keep the starter going.
A starter should be fed every day but can go up to 2 days when left out at room temperature.
When it is not being used or fed regularly it can be stored in the refrigerator in an airtight container for a few weeks.
Keeping a starter fed and happy will ensure you will have a healthy starter for many many years. If left unfed it can start to grow mold and bacteria. At that point, a starter should be thrown out and started over.
Any pink, orange, or grey color should be discarded and a brand new starter should be made. A sourdough starter does have a tangy smell to it but it should never have a foul smell. This is also a good sign that it has gone bad.
What is a Sourdough Discard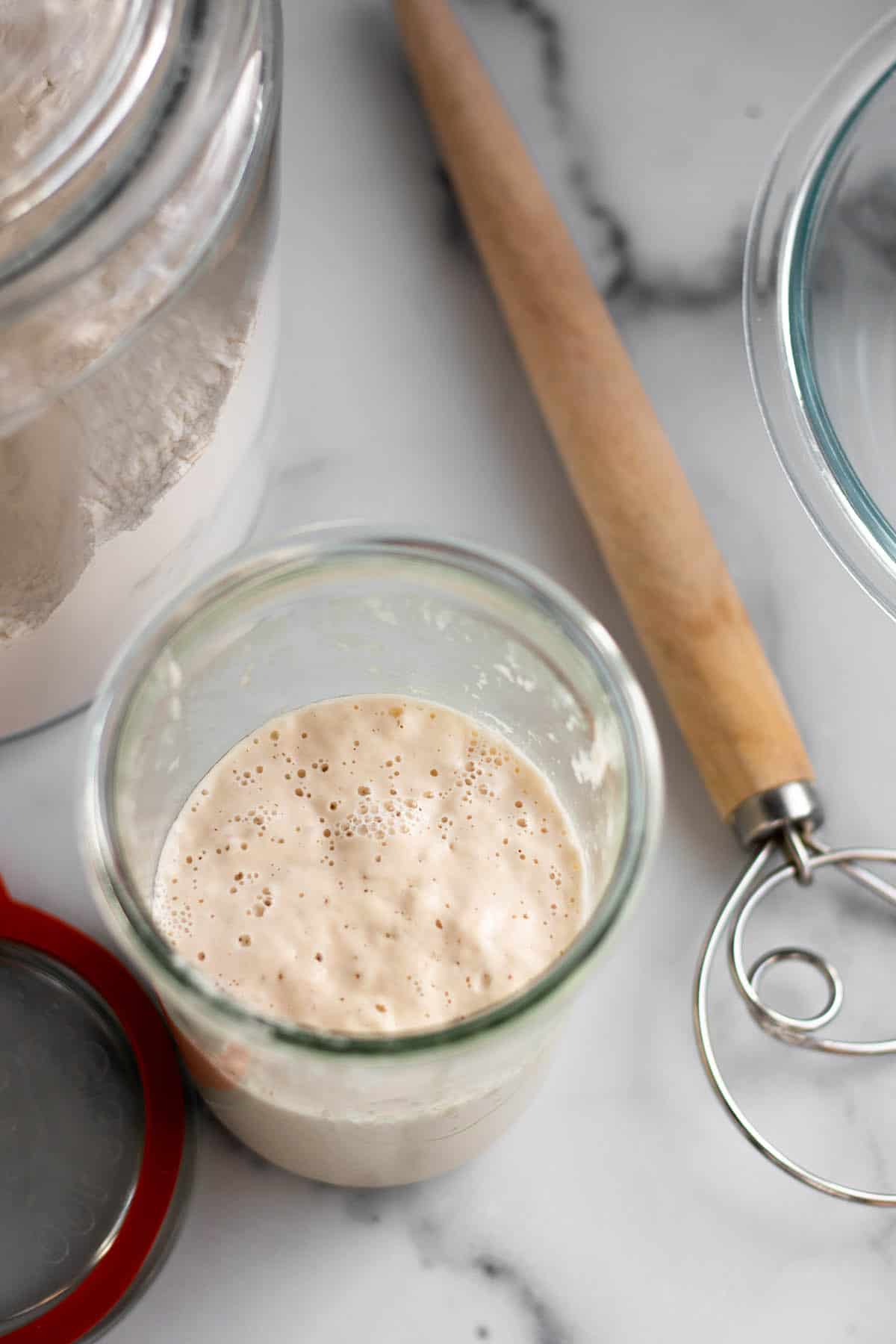 Sourdough discard is the term that is used to refer to the starter that is essentially unfed. This is the starter that has doubled in size and then has fallen. It is no longer suitable to give rise to a loaf of bread.
Sourdough discard just means that it is inactive.
When this happens the starter needs to be fed again. Typically when feeding you remove the portion of your sourdough stater that will be used. It's fed and set aside and the remaining unfed starter is "discarded"
While some people will just toss this portion they are missing out on what baking potential it still has. Even though the yeast no longer has flour to feed on it can still be used in some baking items.
When paired with another leavening agent such as baking powder or soda, sourdough discard can be added to make fluffy pancakes, cinnamon rolls, sourdough discard banana bread, sourdough muffins, sourdough discard naan, sourdough discard crackers, and so many more sourdough discard recipes.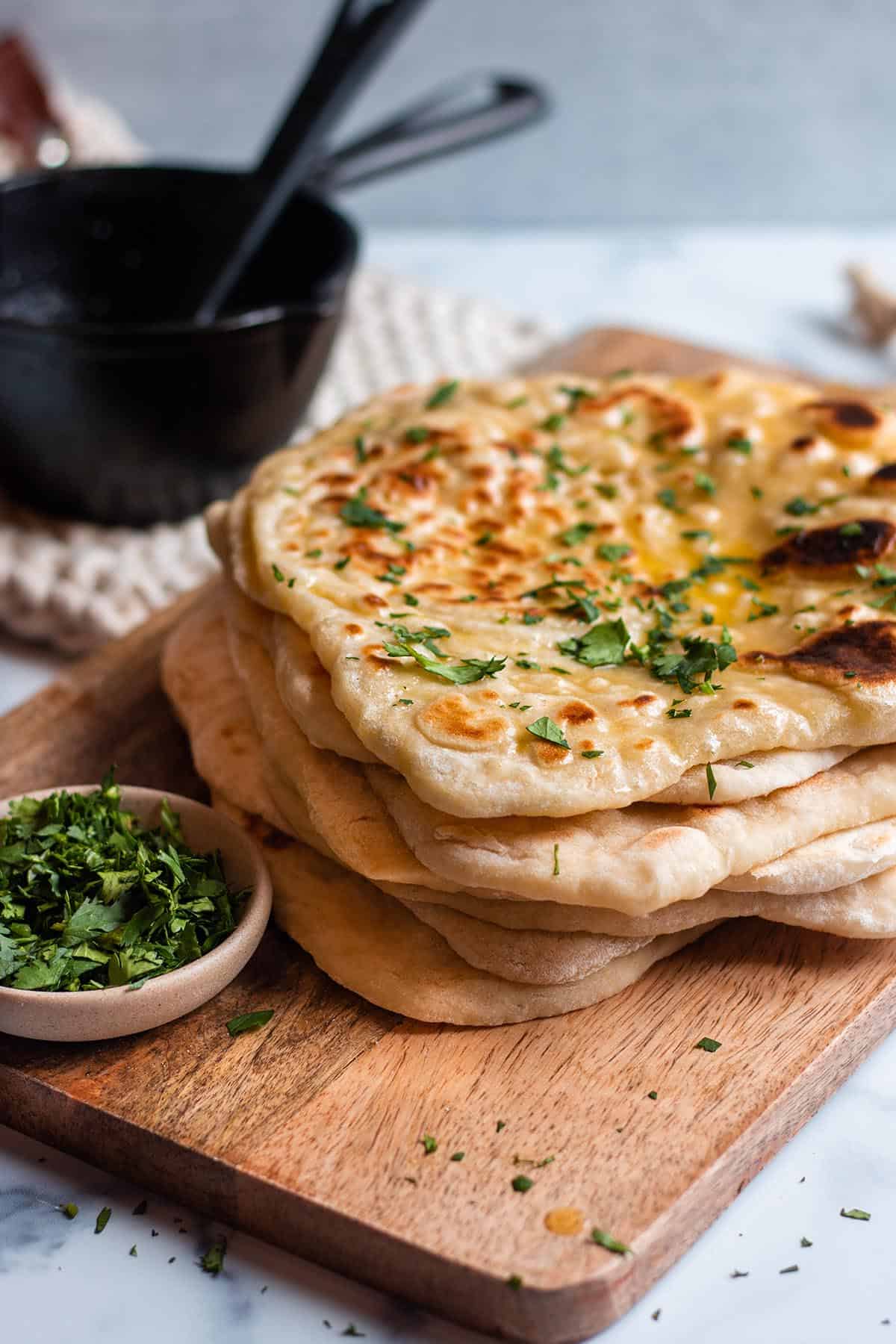 An active sourdough starter will have lots of bubbles and look almost alive. You can often see bubbles popping all over the place. Sourdough discard will look very different. It is flatter and less active or not at all. There may be bubbles but it is not active bubbles.
After a while of working with sourdough, you will start to get the feel of what is an active starter and when it needs to be fed again.
How to Store Sourdough Discard
Sourdough starter discard is really best used right away. But there are options if you are not quite ready to bake. If left alone too long yeast has nothing to feed on it just becomes a breeding ground for other things we do not want in our stater.
A general rule is if a discard starts to smell tangy it's probably best to just refeed or toss. Tangy starter, when added to baked goods, will give it an unpleasant taste.
If it starts to develop a liquid no worries! That is called hooch and it is perfectly normal. Learn more about hooch and what to do with it.
There are other, safer ways to store the discard:
Refrigerator:
This is a good option to prolong the life of the excess starter. Discard is perfectly safe to keep in the refrigerator. Store in an airtight container and bring to room temp before baking.
One method is to have a large discard jar that can continually be added to. When ready to bake with the discard, the portion that needs to be used can be brought to room temp and added to our baked goods.
This method could potentially leave you with a lot of discard on hand. So it is best to just use it right away.
Discard will keep for about 1-2 weeks in the refrigerator. At this point, it may start to develop a grey liquid on top (hooch) and will be more acidic giving any baked good an intense tangy flavor.
Freezer:
I personally have not tried this method but some do freeze their starter discard. Keep in a freezer-safe container and defrost in the refrigerator before using.
IMPORTANT! DON'T SKIP
This is worth repeating!
And most important. If a starter ever develops a pink, grey, or orange tinge that is a very dangerous sign and it should be tossed immediately! Then all containers should be thoroughly cleaned and sanitized and start a brand new starter.
How to Bake with Sourdough Discard
Don't toss that leftover starter! Put it to good use.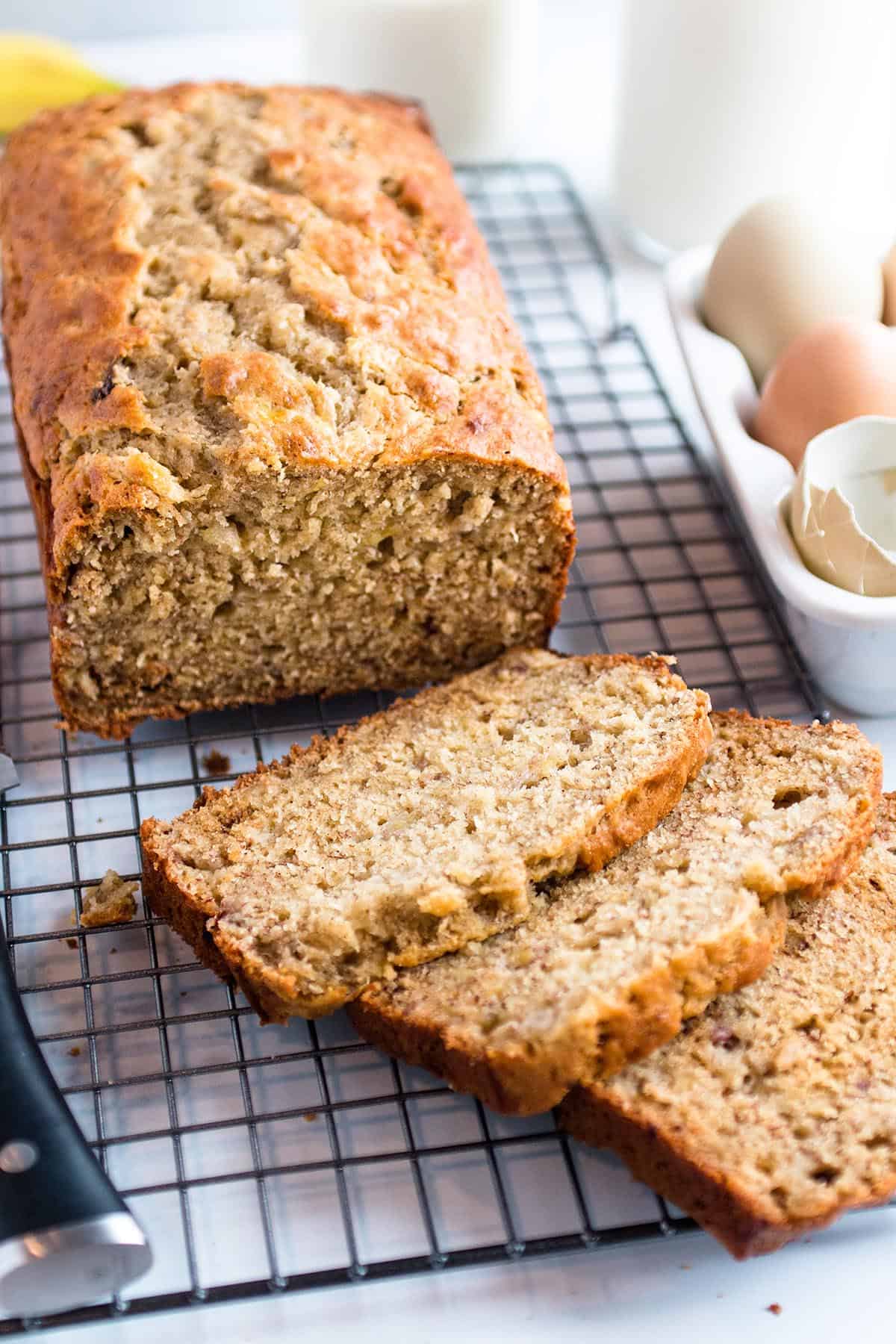 Due to the fact that sourdough discard no longer has the potential to give a good rise it needs to be paired with baking soda or powder in most recipes. This is true of quick breads, sourdough oatmeal cookies, English muffins, and sourdough discard pancakes.
Certain things like sourdough crackers or sourdough naan, however, do not need either of these. Discard alone is enough to give these things the rise they need.
In some baked goods, such as naan, the discarded starter will give the flatbread that sour taste we are used to in our bread. Naan is something I encourage everyone to just try.
How to Eliminate Sourdough Waste
A great way to keep the amount of discard low is to simply keep a small amount of starter.
Because the best and most effective way to feed a sourdough starter is with a 1:1:1 ratio, keeping a smaller amount will produce way less waste.
What does that mean?
If you are keeping around 150 grams of sourdough that is 150g of water and 150g of flour that needs to be added. That gives us 450g total of starter! While that is great for making multiple loaves of bread, it is not ideal for everyday feedings.
Scale back the amount that is kept on hand to around 30g. That means it needs to be fed 30g water and 30g flour and that is only 90g total.
Then when ready to bake bread bump those numbers up to give you more to work with.
And remember, that unfed starter (discard) is not a total waste. Put it to good use.
Sourdough Starter Discard Recipes
What are you making with your sourdough discard or what would you love to try? Leave me a comment below letting me know.
There are so many different ways to use leftover sourdough starter. Making sourdough pancakes is the best and easiest way to use it daily or click to see my long list of discard recipes.
Another great resource to get all kinds of sourdough recipes is King Authur Baking. There is no shortage of ideas. Below are just a few of our favorites.
Other Sourdough Resources
Do you want recipes sent right to your inbox? What about cooking tips and tricks, sourdough tutorials, and even some gardening inspiration? Sign up for my newsletter today. Don't worry. I don't spam. I just share my love and passion for all things food.