The best dutch oven for baking bread right in your own home. Using a dutch oven is the best and easiest way to create your own bakery-style sourdough bread right in your own kitchen. But what is a dutch oven? Why is it so great? What size do you need? Where do you even start? This guide is a complete look into how a dutch oven works, different types, sizes, uses, and which one is best for your bread baking needs.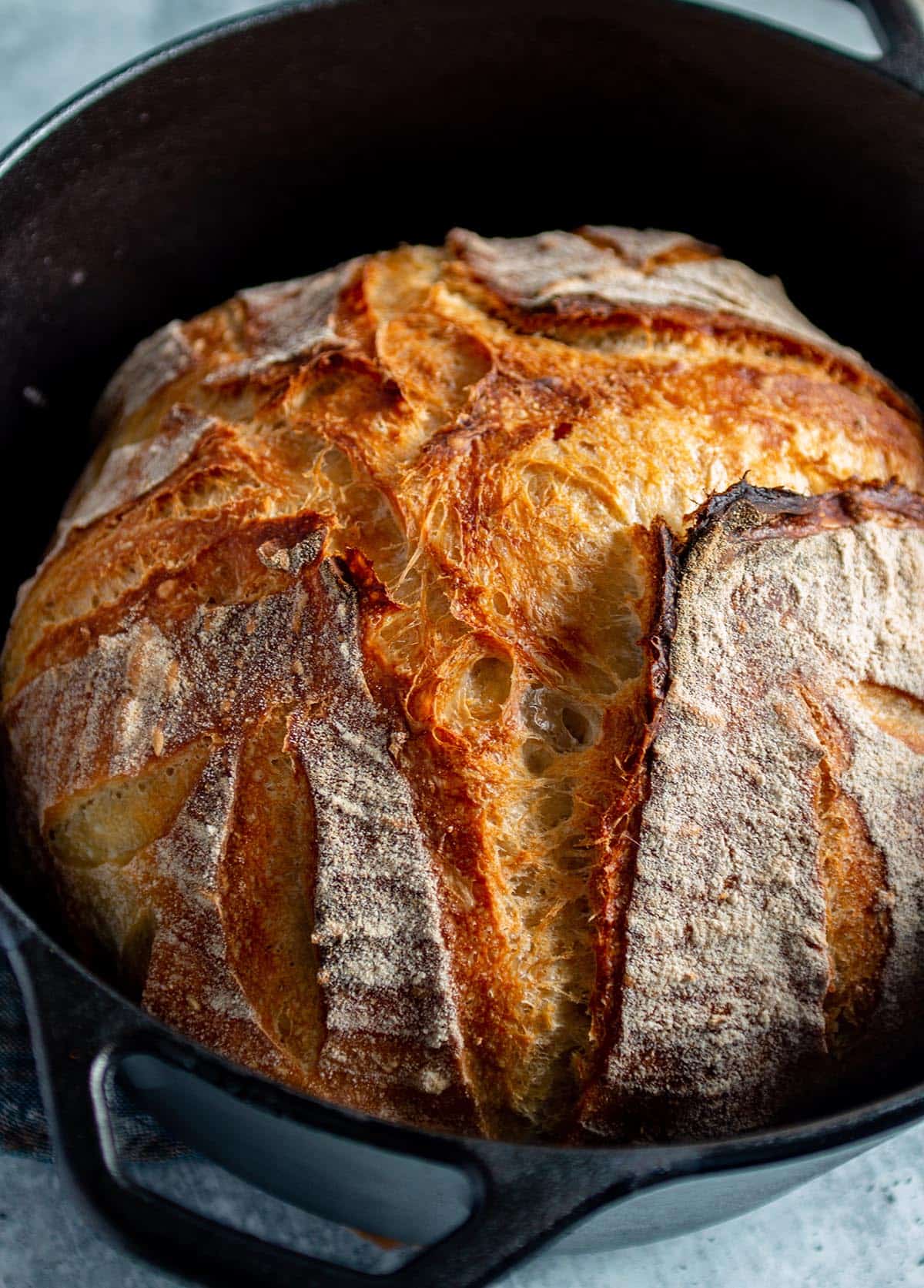 Are you an aspiring home bread baker? Have you been baking for a while now and want to take your bread to the next level? Maybe you are thinking there has got to be a better and easier way to get the best oven spring out of your loaves of bread. I'm here to answer all those questions and guide you into selecting the right baking vessel for your bread baking needs. Get a full list of essential sourdough tools and equipment.
Home bread baking is very common these days and especially with the Covid pandemic, there have never been more people interested in baking bread at home. I'd like to think this would make Julia Child beam with pride.
It has also never been easier to bake bread at home and that is in part due to the incredible baking powers of the dutch oven. Dutch oven bread is the closest a home baker can get to beautiful bakery-style loaves of artisan bread.
But what is this amazing piece of cookware and how does it work?
Jump to:
What is a Dutch Oven?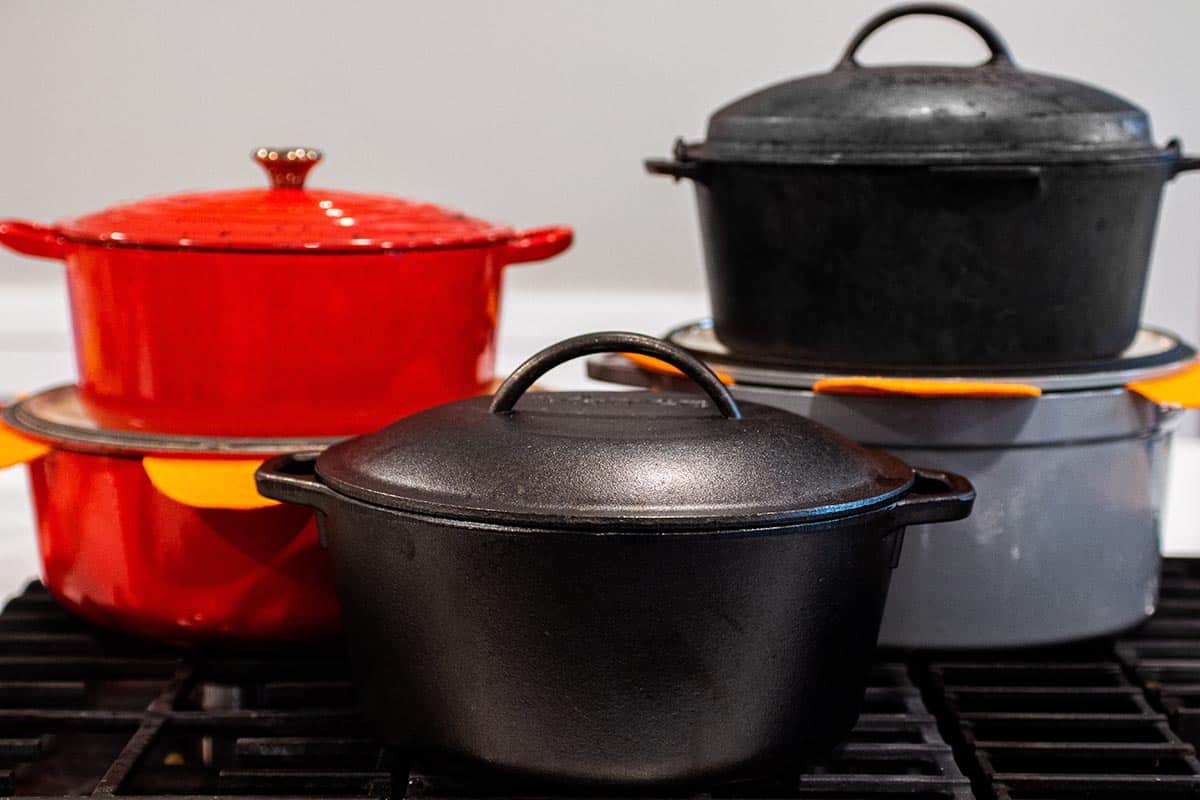 A dutch oven is the jack of all trades type of pot. You can cook or bake just about anything and it's so versatile. It can bake, simmer, braise, roast, sear, and even deep-fry. The larger size can be used to roast a whole chicken, whereas the smaller size can make fantastic loaves of bread or delicate sauces. It is your everyday use kind of pot.
Not only do they come in different sizes but also in different shapes. The dutch oven is by far the best tool for all home cooks and every kitchen should have at least one. In my kitchen, they are the most used pieces of cookware I own.
How are dutch ovens different from stock pots? Stockpots are usually stainless steel or nonstick, much lighter, not suitable for higher heat, and have lower heat retention. Dutch ovens are very different. A few characteristics are:
They are a cast-iron pot which makes them very heavy with very heavy lids. This helps trap the steam which we will talk about later.
They are either enamel coated or bare cast iron.
They have a flat bottom and very thick walls.
With proper care, dutch ovens can last a lifetime.
They can withstand extreme temperatures.
They can easily go from stove to oven.
Their weight makes for excellent heat retention.
They can come in either a round or oval shape. A round dutch oven is a great choice for soups, stews, or other casseroles whereas the oval dutch oven is great for roasting larger items like ham or chicken.
But what makes this pot so special and unique? Doesn't a regular stainless or nonstick work just as well? The short answer is no. Anyone who cooks with a dutch oven will testify that there really is nothing like it.
Dutch ovens are designed to withstand really high temperatures and are the best option when needing cookware to go from stove to oven. They perform all those tasks stainless or nonstick cannot.
They also have better distribution and retention of heat. Where some cookware can have hot spots, where parts of the pot get hotter than others, a dutch oven is designed to properly distribute the heat evenly across the entire bottom of the pot. Making everything cook more evenly.
Type of Dutch Ovens
There are a few different types of dutch ovens that will all fall into the categories of raw cast iron or enamel coated. Both are great choices but still have their pros and cons.
Each type is better suited for different styles of cooking.
Cast-Iron Dutch Oven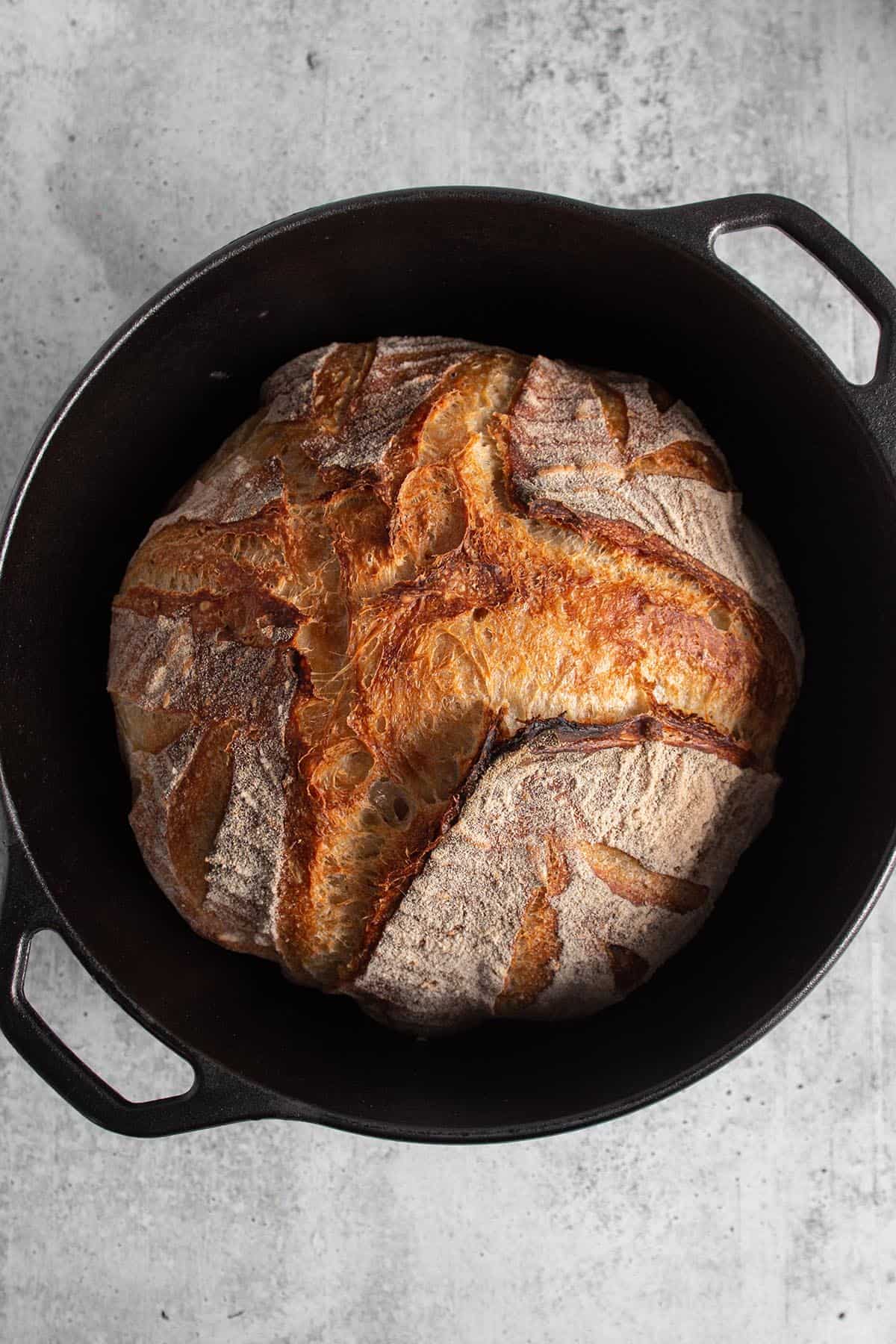 Cast-Iron Dutch ovens are made from raw cast iron and go through a seasoning process to keep them from rusting and make them more non-stick. They can withstand extremely high heat, have great heat distribution, are extremely durable, and can last forever. You can find brand new cast iron dutch ovens as well as some fun vintage ones. When looking for vintage, just make sure it still has a tight-fitting lid or it won't work the best for bread baking.
Pros:
Can withstand extreme temperatures
Very durable
Will last forever with proper care
Great heat retention
Affordable
Preferred for outdoor cooking over a fire
Cons:
Need to be seasoned
Not the best for acidic foods such as tomato sauces
Can be heavy
Can hold onto tastes from other foods if not properly cleaned
Needs more maintenance
If you are into any kind of camping or outdoor cooking you want to make sure you have at least one cast iron dutch oven in your arsenal of cookware.
Enameled cast iron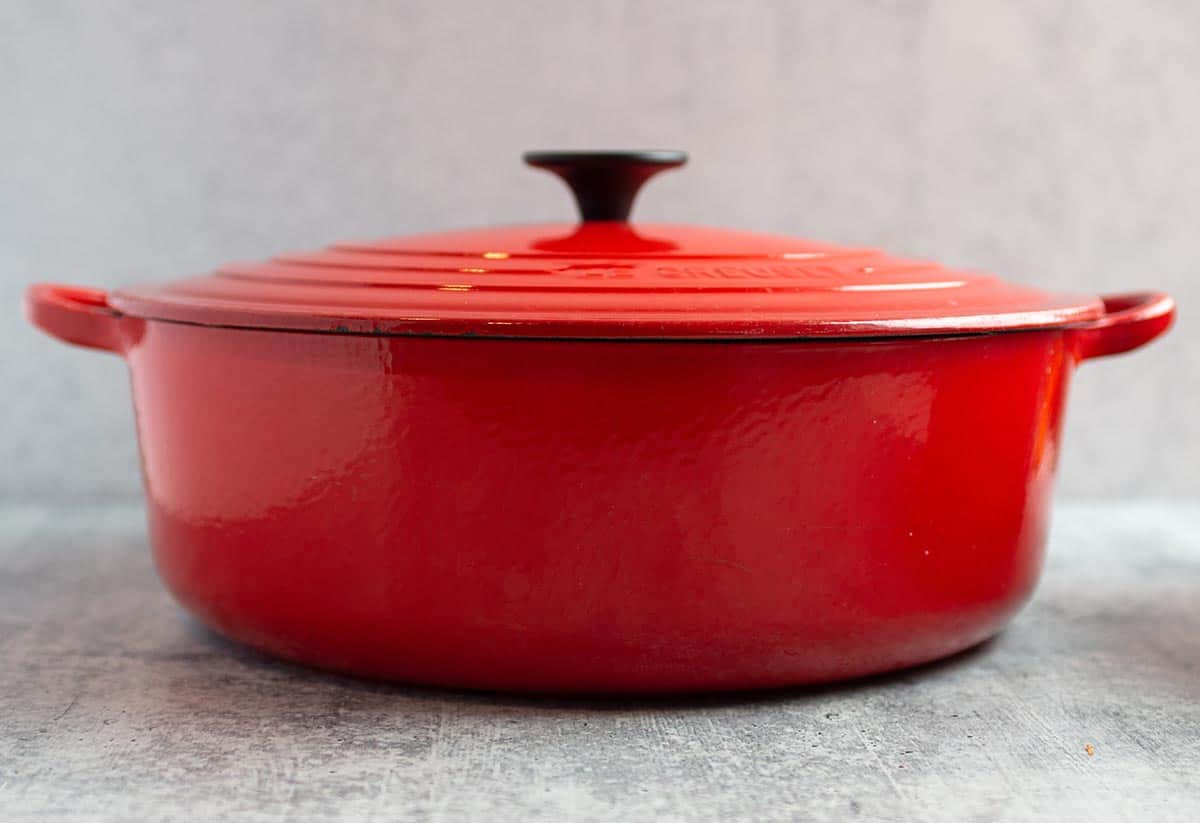 Enameled coated cast irons are also a cast iron pot but with an enamel finish. They are very well made, easy to clean, and look great with all the fun colors. They are suitable for higher temperatures, have a more non-stick surface, heavy lid, and are great for all kinds of cooking needs.
Pros:
Easy Cleaning
Comes in a wide variety of colors
Excellent heat retention
Can go from stovetop to oven
Great for soups, stews, simmering, sauteing, searing, and roasting
Can also be used for deep-frying and braising
Very durable
Cons:
Knobs and handles can't withstand extreme temperatures
Needs to be heated slowly
Can crack
Can be expensive
Heavy
Not great for outdoor use
How to Pick the Right Type of Dutch Oven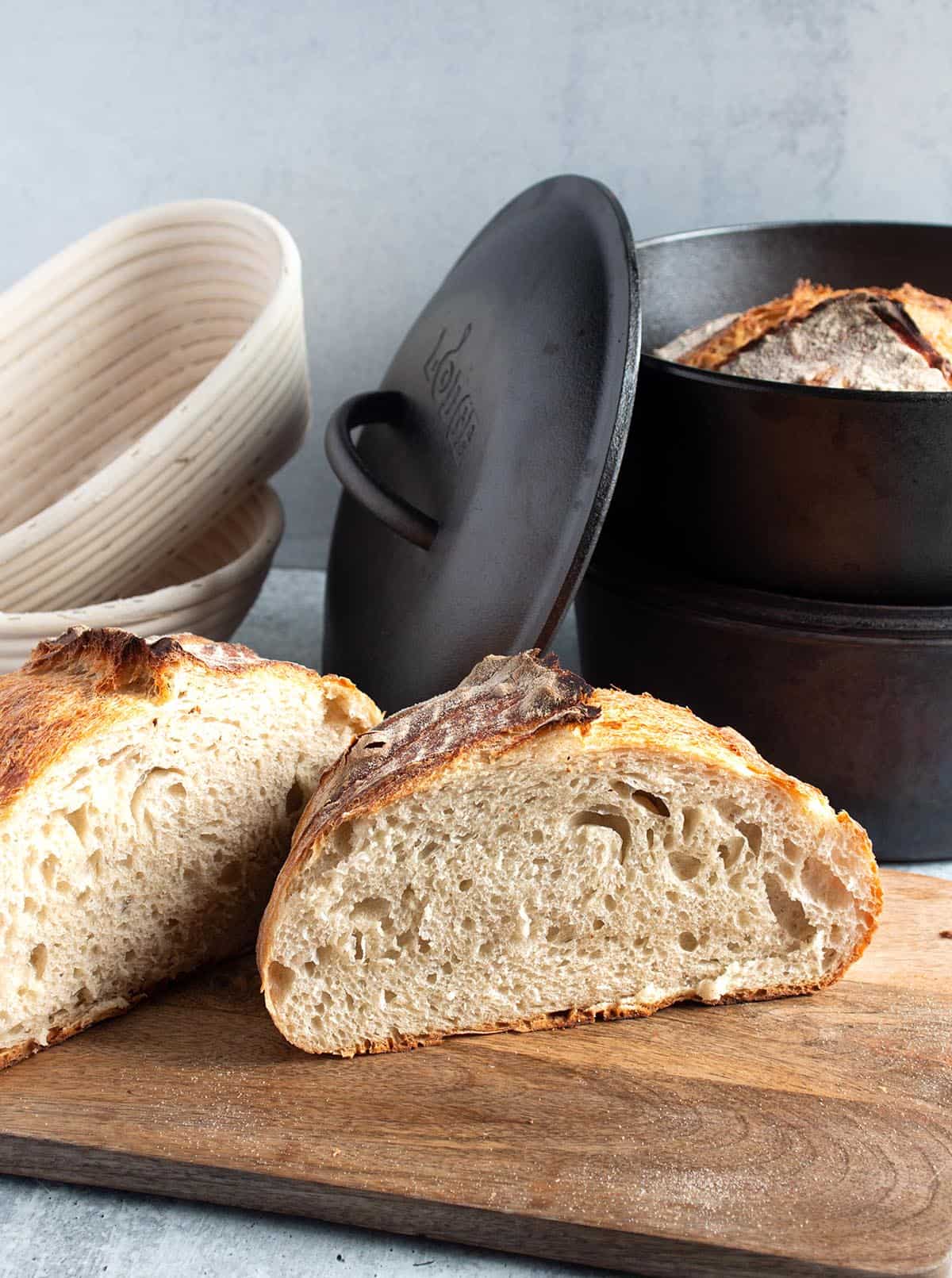 Picking the right dutch oven for your kitchen is a very personal choice and really comes down to what you will be using it for, and how much you are willing to spend.
Prices for dutch ovens start at about $50 and can go all the way up to $400 plus. Price can make a big difference in the quality of the cookware. I started off with a much cheaper brand and by year 5 was already replacing it. My dutch ovens now are on the more expensive side but will be passed on to my kids someday.
When it comes to picking the right dutch oven for your cooking and baking needs here are a few things to keep in mind.
What do you like to cook the most? Is it a lot of acidic foods?
What temps are you cooking at? On the stove, oven, or campfire?
Do you want easy care?
When to select an enameled-coated dutch oven
Enameled-coated dutch ovens are great for everyday cooking. It's the preferred pot for stovetops and is great for stews, soups, casseroles, etc. They are more non-stick and easier to clean, making them the best choice for these kinds of dishes. These also work very well for bread as long as the handles and knobs can withstand 500-degree temperatures. Some just cannot.
I was disappointed to find that an enameled pot I had that cost several hundred dollars had knobs that also needed to be replaced in order to make bread. While it's my favorite pot to cook with, the knob part was a bit disheartening.
Regardless, my enameled dutch ovens are used almost daily for regular cooking, especially during soup season.
Le Creuset dutch ovens and Staub Dutch Ovens are at the top of the market but other brands such as Lodge and Cuisinart also make quality cookware at a much more affordable price.
The number one thing to keep in mind when selecting an enameled-coated dutch oven for bread is the maximum temperature it can withstand and this includes the knobs and handles. Everything else is a personal preference. The entire pot must be able to withstand 500-degree Fahrenheit temps.
When to select a Raw Cast Iron
Raw cast iron dutch ovens are best used on or in extreme heat. They are the preferred pot for outdoor camping and cooking over a fire. An enameled dutch oven will not hold up well for that style of cooking.
While seasoned cast iron dutch ovens can still make most of the dishes listed above, some acidic foods are hard on the pot and it can be a little more difficult to clean at times.
So if outdoor cooking is something you are interested in, a cast iron dutch oven is the right way to go. If you are looking to make more soups and stews you could lean more towards enamel coated.
Cast iron is, however, a great option for baking bread.
Baking Bread in a Dutch Oven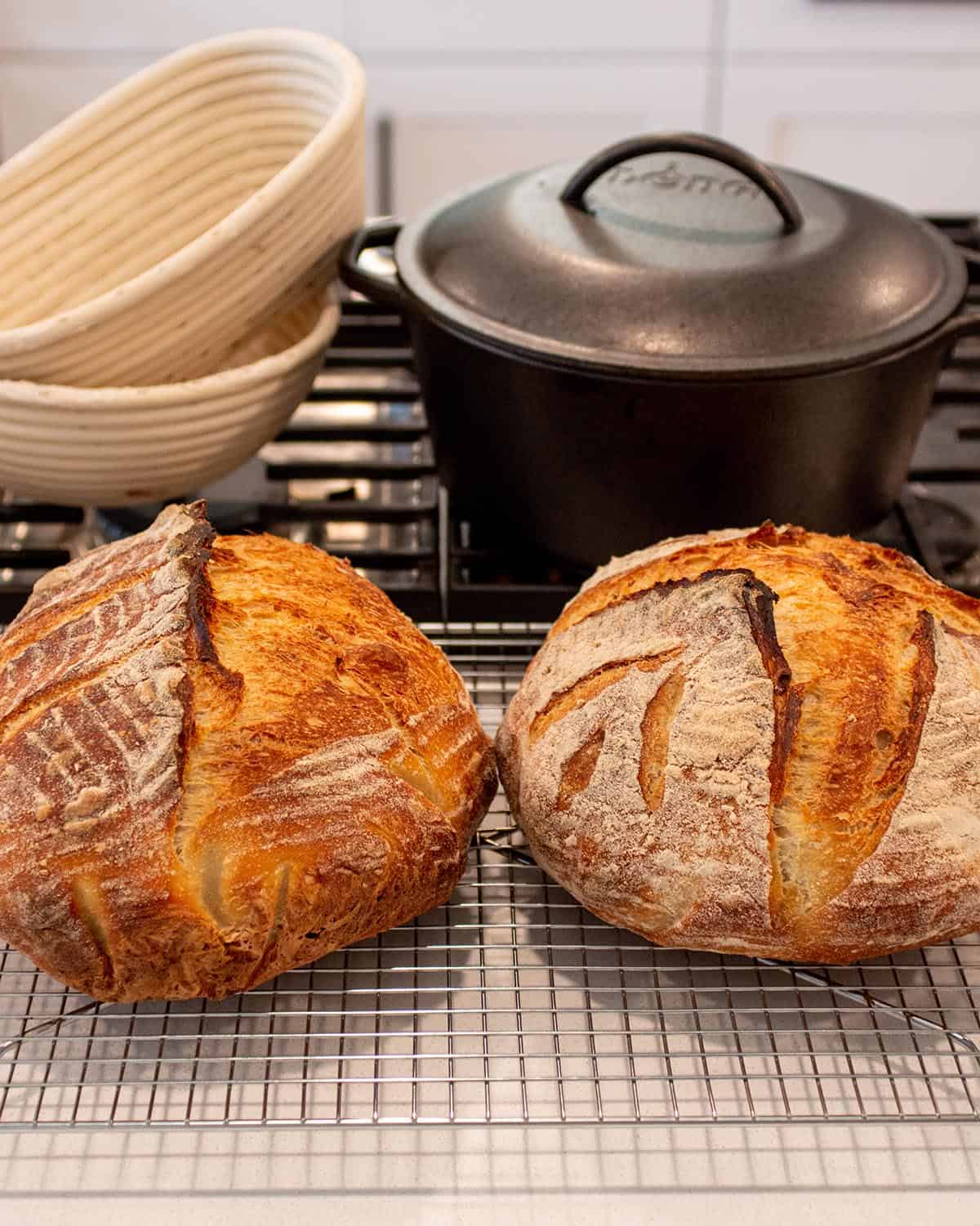 For this section, I will be referring to sourdough bread since that is what I make the most of. Want to learn how to make sourdough bread? It all starts with a strong sourdough starter. I have lots of tutorials and recipes to get you started.
When bread bakes in the oven it needs steam and moisture to get that iconic oven spring look. Where the bread doubles in size, seems to come to life and breaks open at every seam. This is created by steam and moisture. In a home kitchen, it is really hard to make our ovens into true bakery-style ovens that have the power to do this.
The same effect can be achieved by placing a sheet pan on the bottom rack with ice cubes or water-soaked towels. When the door is shut and the oven is hot, it will create steam. But there is a much easier and more effective way to achieve these same results.
The best way to create this same effect is to bake our bread in a dutch oven. A good dutch oven will give your bread the same spring as any bakery-style oven. It's smaller so the steam gets trapped and concentrated around the bread, giving it that beautiful rise.
How does it work?
Before adding any loaf of bread we want to make sure the oven and pot itself are up to temp. Placing the pot inside and allowing it to heat up means it will be hot and ready to go as soon as we add the dough.
Once the loaf of bread is placed inside and the lid gets put on, it immediately starts to cook the bread by drawing out all the water from the dough which creates steam. Since a dutch oven comes with a tight-fitting lid the steam has nowhere to go so it gets trapped and that's what helps give the bread its final lift.
Some home bakers will even spray the tops of their bread with water or throw in a few ice cubes before closing the lid to help with this process. I don't find that it is necessary but always fun to give it a try.
The Best Size Dutch Oven for Bread
When it comes to baking bread there really is only one that is the ideal size and for good reason. A 5-qt dutch oven will allow for any size ball of bread dough. It will give the loaf enough room to expand, with enough headspace. It can accommodate a round boule loaf or an oval shape.
I tend to make larger loaves of sourdough and they fit perfectly and have plenty of room to grow.
Anything larger than a 5qt just isn't necessary. Unless you are needing one to do more than just bread, a 5 qt should be plenty of pot for any size loaf of bread.
A larger pot will also have to build up more steam than a smaller one, making the 5qt much more efficient.
They are also easier to store and less heavy. Some of the pots larger than 5 quarts can get really heavy and take up so much space.
The Best Dutch Oven for Baking Bread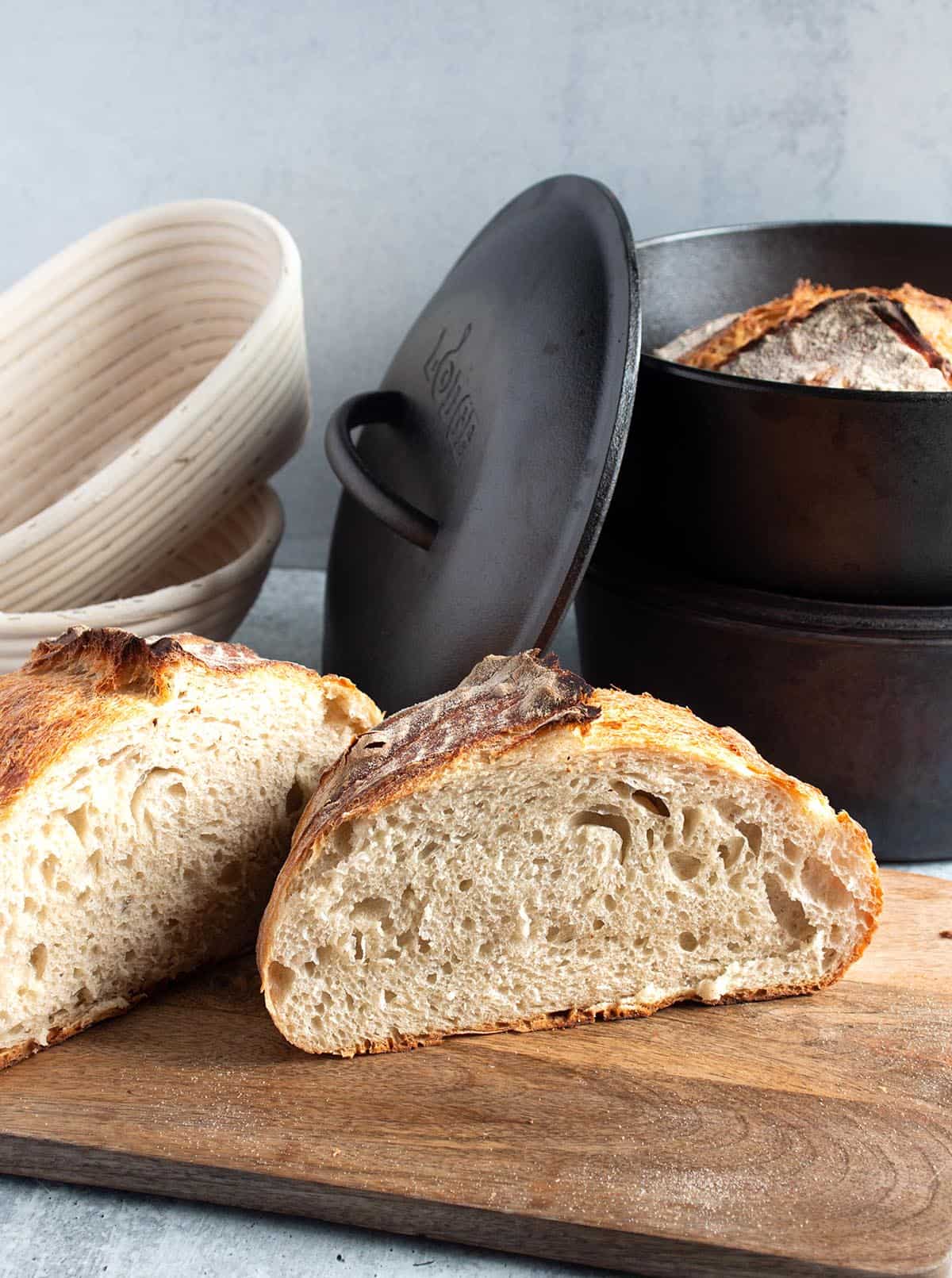 So now that we determined what a dutch oven is, the different types, how to pick the right one for you, and what is needed to make bread. What dutch oven stands out?
I personally have tried and tested different types of dutch ovens and hands down the best one on the market is a 5qt Lodge cast iron dutch oven. This dutch oven is affordable, durable, and bakes my loaves perfectly every time. It's made by Lodge, who has been making cast iron for over 120 years. They know their stuff and make cookware that will last multiple generations.
I have also used my enameled coated Le Creuset which I'm obsessed with, but at that price point, it's just not necessary for bread baking. The stock knobs on the Le Creuset are not resistant to the higher heat so they needed to be replaced. Not with raw cast iron though! The entire pot can go directly into a 500-degree oven.
I like to keep my more expensive dutch ovens for other cooking, baking, and simmering.
This pot is also relatively inexpensive which makes it a great choice. It gets the job done and is affordable.
For bread purposes, my Lodge is a workhorse and is really the best option for homemade bread.
Tip: I keep my Lodge dutch oven exclusively for bread. That way it's always clean and ready to make my next loaf. Bread is made on parchment paper so nothing even comes in contact with the pot, making cleaning and caring a breeze.
How to Bake Bread in a Dutch Oven
Baking bread in a dutch oven is really simple. This section will just go over baking bread. Please see my sourdough bread post for the recipe and instructions to make the dough.
The most important step in baking bread in a dutch oven is preheating. The pot itself needs to be extremely hot so that it can create steam the moment the lid is secure.
Once your dough is done rising it's time to get the dutch oven ready.
Step 1: Preheat the oven to 500 degrees and place the empty dutch oven inside.
Step 2: Heat for 30-45 minutes so the pot is extremely hot. Use caution and care when handling. Cast iron retains heat well and the pot itself will be scalding.
Step 3: Reduce oven temp to 450 degrees Fahrenheit (or the temp the recipe calls for).
Step 4: Remove bread from the proofing basket or bowl onto a piece of parchment paper. Seam side down. Score the dough. This allows more water to escape and helps the bread rise.
Step 5. Remove the lid from the dutch oven, carefully lower the bread inside, put the lid back on and bake.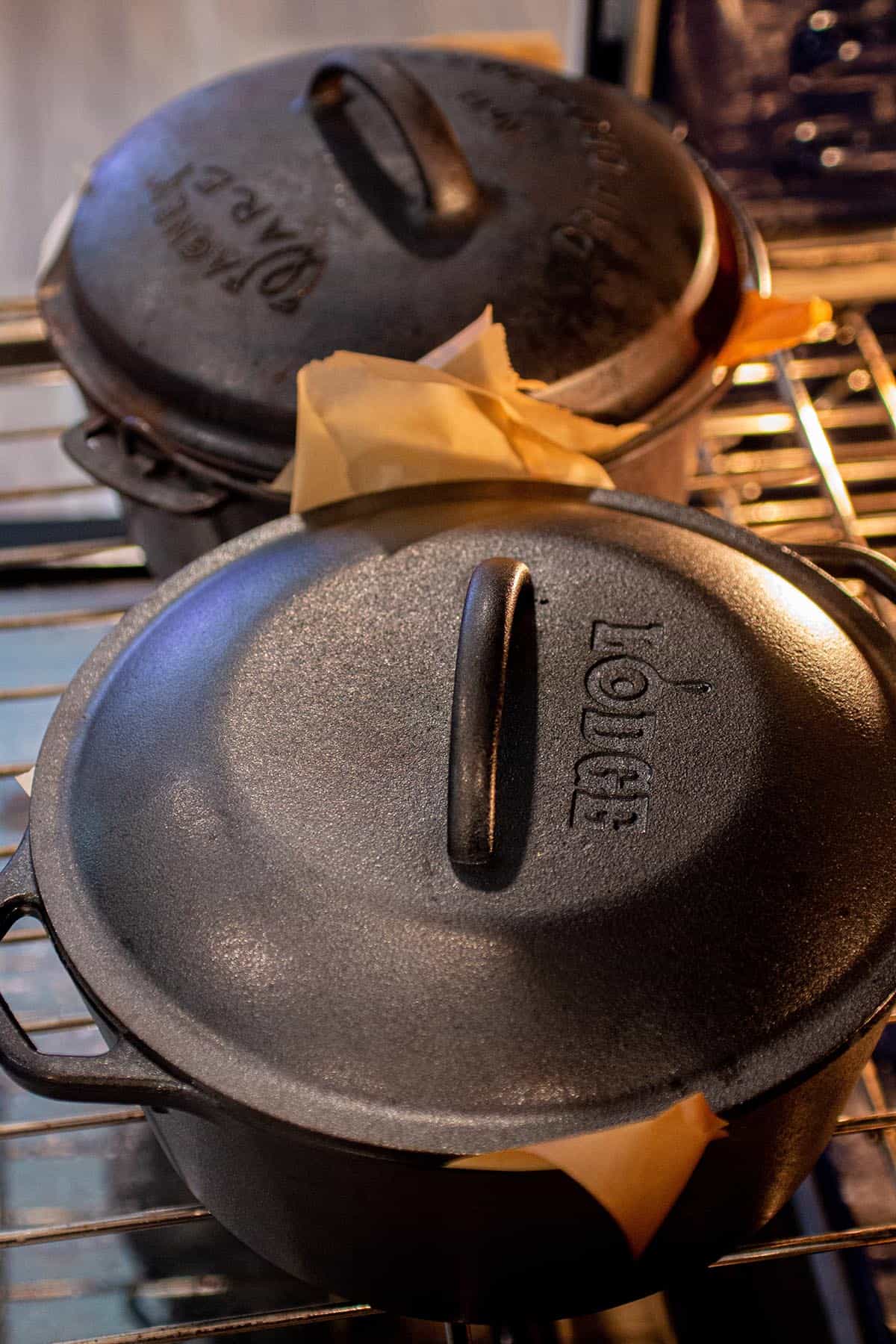 (For my particular recipe, it's 25 minutes.)
Step 6: Remove the lid and continue to bake for another 25 minutes. Or follow the recipe you are using.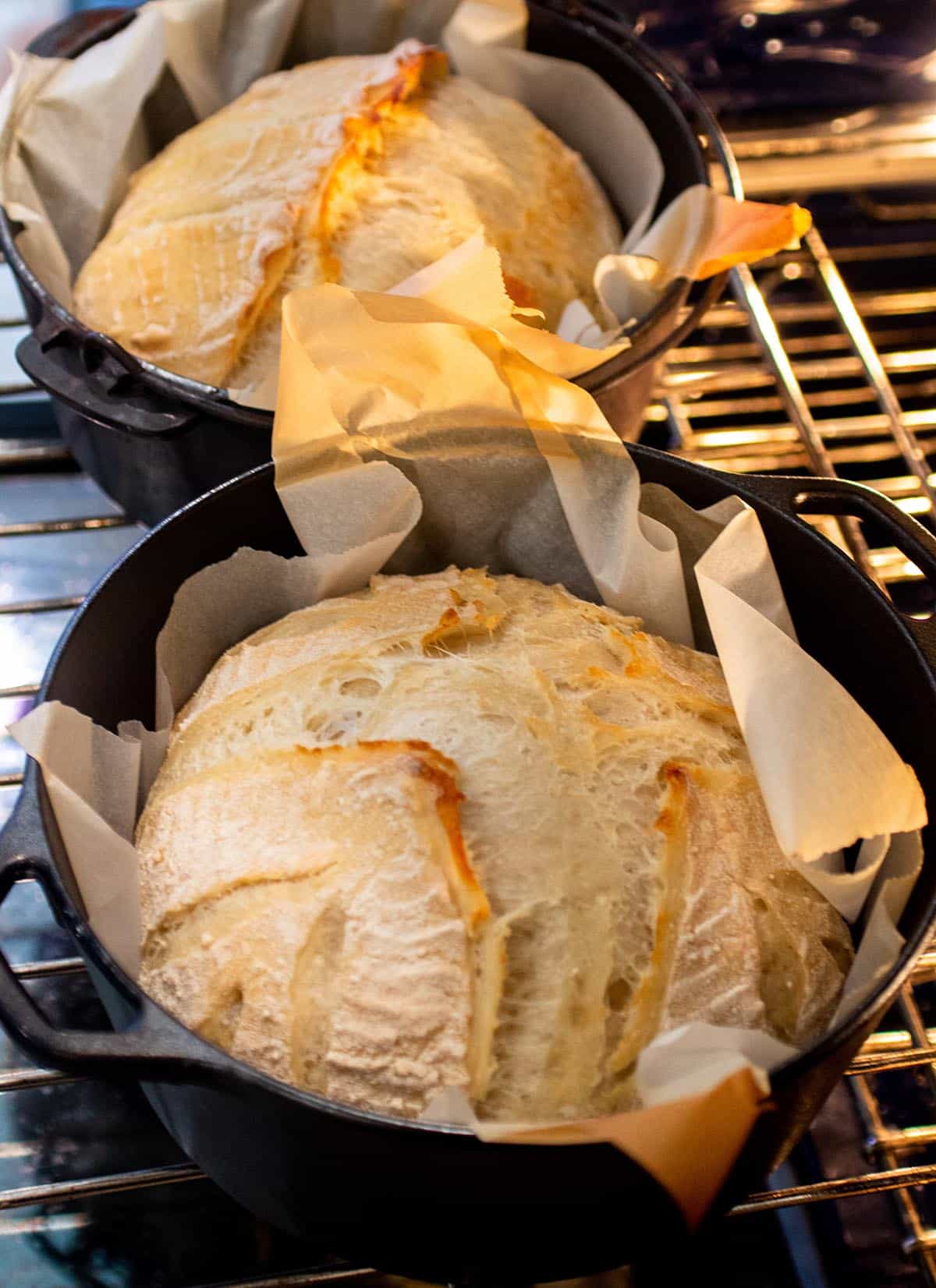 Step 7: When done baking, remove the pot from the oven and carefully lift the bread by the parchment paper. Take it out of the dutch oven and place it on a cooling rack, then allow the bread to finish cooling while on the rack.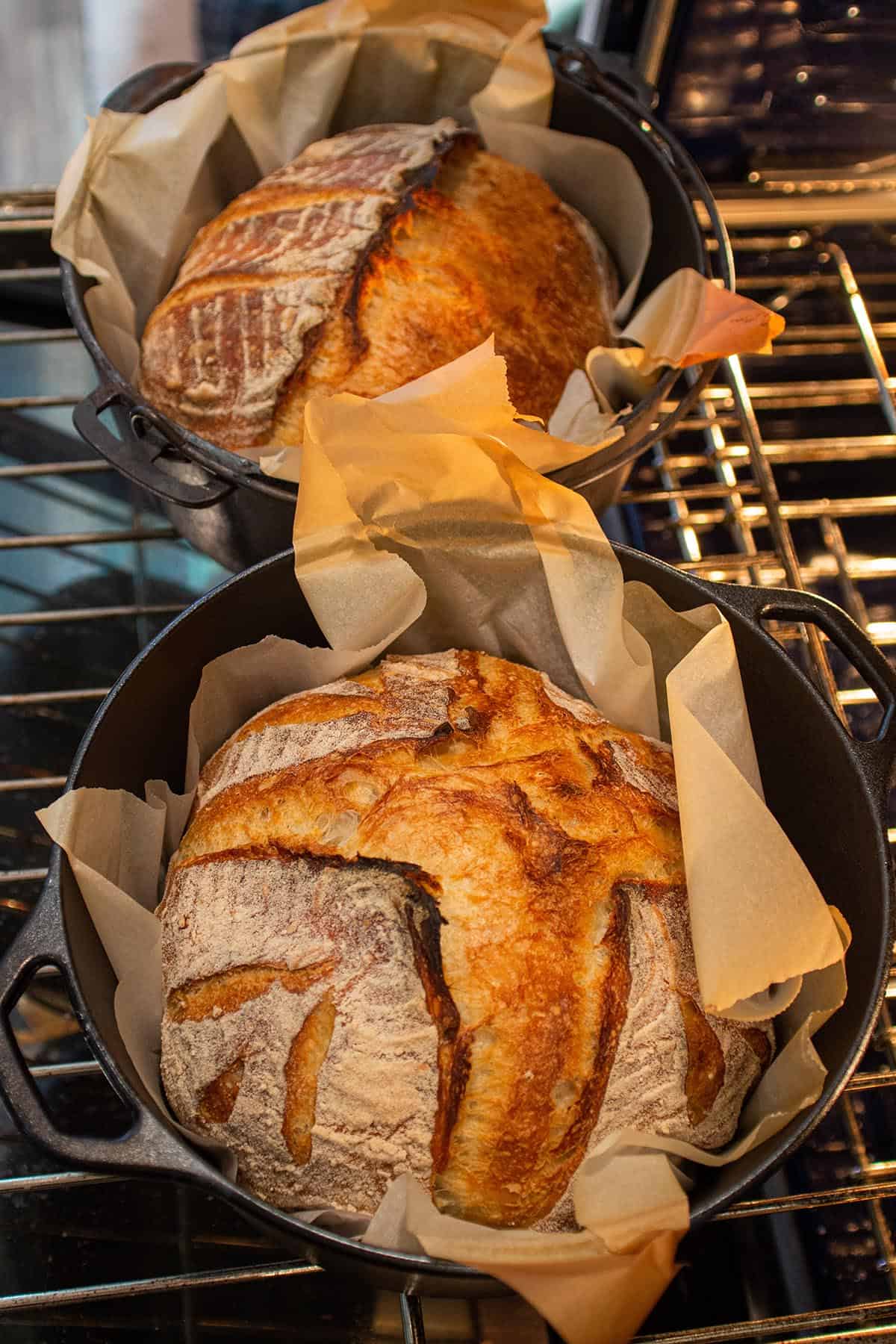 The reason to bake with the lid on first is to trap and create that steam that helps the bread rise. Once that happens the lid isn't necessary. Removing the lid also helps make the top of the loaf crispy and golden brown.
The bread is done when the internal temp reaches 205-210F degrees (for sourdough). I tend to bake closer to the 210 temperature. Try experimenting in this range to see what you prefer.
How to Care for a Dutch Oven
Dutch ovens are relatively easy to care for and with a few simple steps, they will last a long time.
Before cleaning makes sure the pot has an opportunity to completely cool before washing.
Caring for Enameled Coated Dutch Ovens
These dutch ovens are by far the easiest. They are already non-stick so in most cases can be cleaned out and dried with ease. If they do get tougher stuck-on food or stains just allow them to soak in hot, soapy water and it will easily wash off. Do not use an abrasive pad as it can scratch the inside.
When cleaning enameled-coated dutch ovens, allow them to completely cool down before running underwater. Going from extreme heat to cooler temps can cause them to crack.
Some are even dishwasher safe but I always recommend hand washing if you can.
Allow to completely dry and store in a cabinet, on a shelf, or right on your stove. My larger dutch oven lives on my cooktop, always ready to go. They can also be stacked but just be sure to use trivets, towels, or other pot separators as a buffer so they don't chip or scratch.
Caring for Cast Iron Dutch Ovens
Seasoned cast iron can be a bit more challenging. If you are just baking bread there will be very little cleaning and re-seasoning. When the pot has had a chance to cool, lightly rinse out with water and completely dry with a towel.
Water is the death of cast iron so make sure it is completely dry before storing and keep in a place away from moisture.
Reseason often to keep it performing at its best.
Tips for Storing Dutch Ovens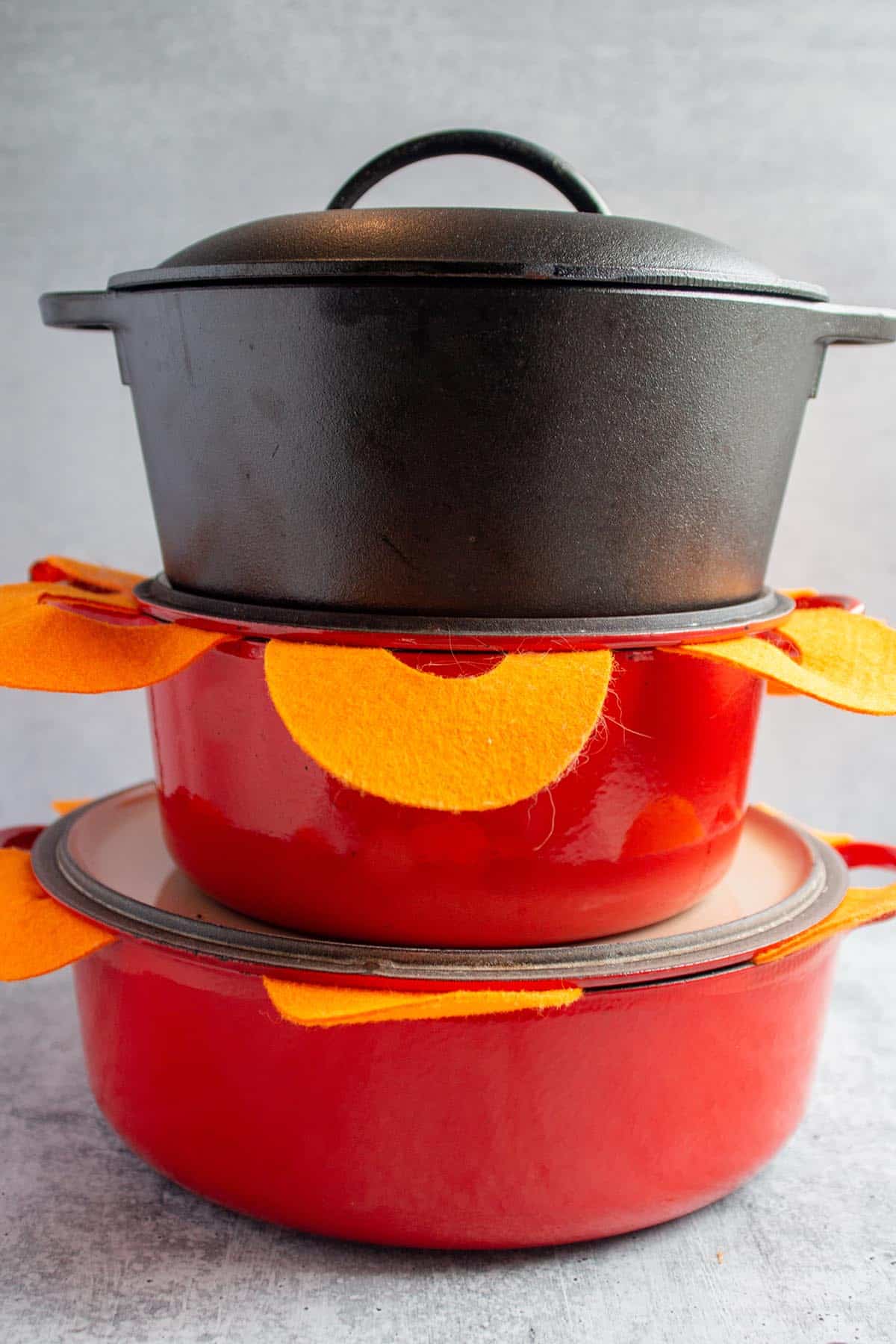 Make sure your dutch ovens are clean and completely dry before storing.
Store in an easy-to-access location. If possible keep at chest height. Dutch ovens, especially larger ones, can be extremely heavy so storing them in a spot where it's easy to access and transfer to your cooktop is better. Mine has a permanent spot on my stove.
If nesting or stacking, make sure a silicone or felt mat is sandwiched in between the lids and pots to prevent damage to the rims.
Shop Dutch Ovens
There are so many different dutch ovens on the market to choose from and again it comes down to what you will use it for and your budget. My advice is to stick to brands that have been around for a long time. My top three suggestions would be:
Shop Second Hand
I also love to find vintage dutch ovens and never leave one behind at thrift stores, estate sales, or garage sales. This can be a great way to add to your collection. Anything Griswold, Lodge, or Wagner ware is highly desirable, sought-after pieces of cookware. And often you can find them for really cheap. Especially if people don't know what they have.
When looking at thrift stores or garage sales just inspect the piece and make sure there is no major damage to the pot or lid, the lid still fits tight and it's not warped. If there is a little surface rust that is not a deal-breaker and can be restored with a little elbow grease and good seasoning.
Hopefully, I have covered everything you possibly needed to know about what a dutch oven is, how to select one and how to bake the best loaf of bread right in your own home kitchen. I would be happy to answer any questions so please feel free to reach out or leave a comment below.
If you are curious about making your own sourdough bread and don't know where to start I would love the opportunity to get you going. Check out my sourdough tutorials, send me a message, or leave a comment below with any questions.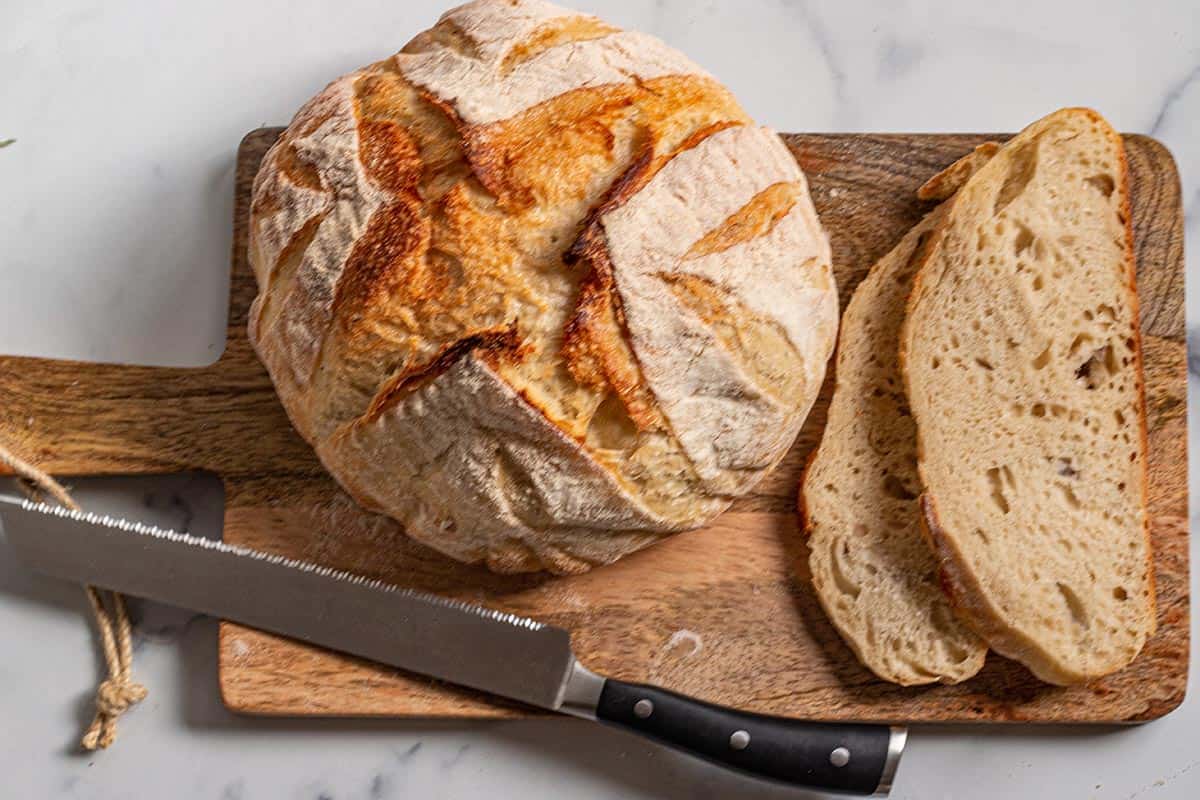 I hope that this new piece of cookware is a great addition to your kitchen equipment and you make tons of fantastic loaves for your family and friends. Don't forget to tag me on social media @dirt.dough so I can see what you are baking!
Recipe to make in a Dutch Oven
Other Sourdough Resources:
Do you want recipes sent directly to your inbox? What about cooking tips and tricks, sourdough tutorials, and even some gardening inspiration? Sign up for my newsletter today. Don't worry. I don't spam. I just share my love and passion for all things food.