Essential sourdough tools and equipment you will need to care for a sourdough starter and making sourdough bread. These are things that get the job done and make your time baking easier and more efficient.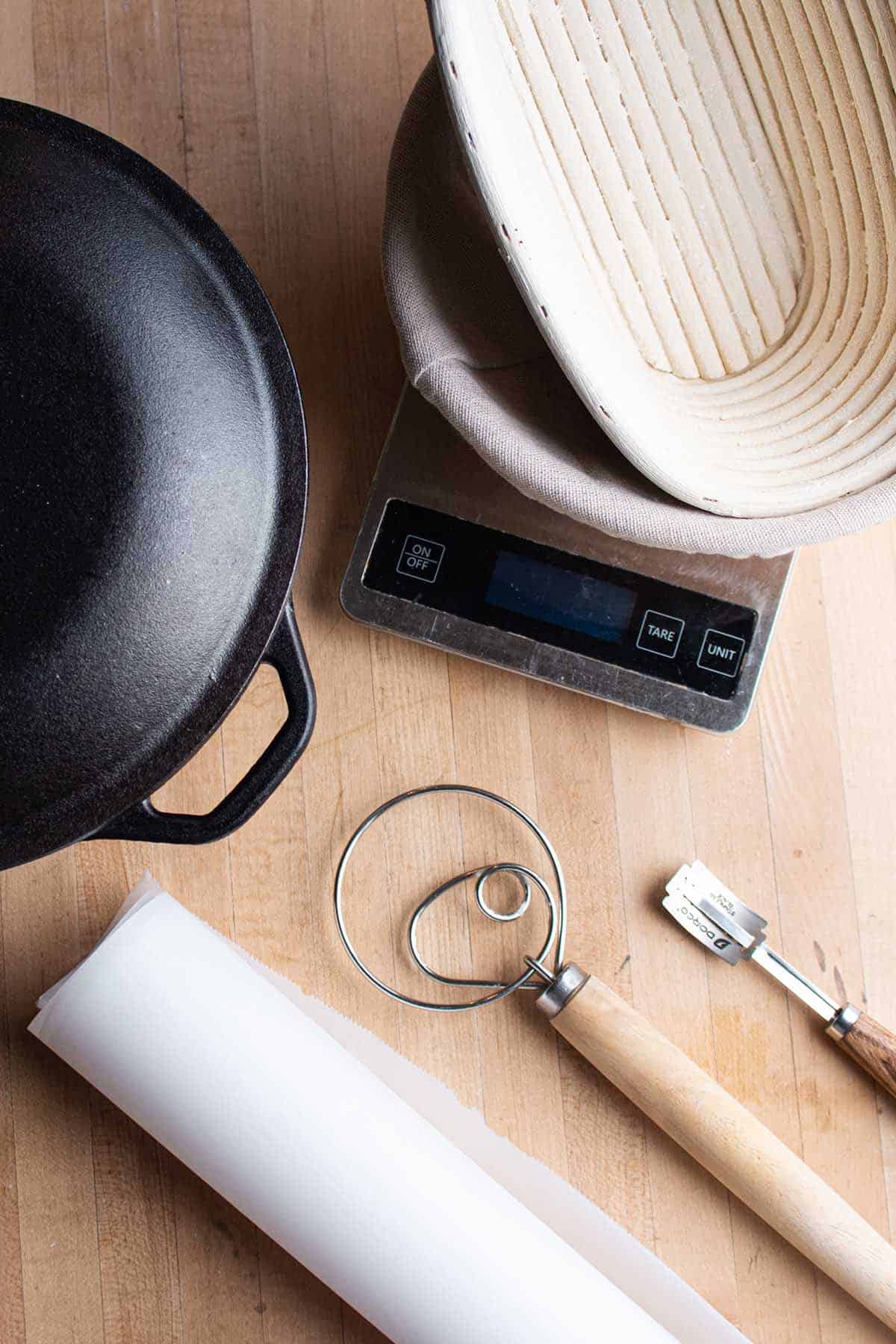 Have you been bitten by the sourdough craze?
Making your own homemade sourdough bread is such a rewarding experience. Not only is sourdough a healthier option, there is also a big difference in the taste compared to store bought.
Need help getting a starter alive and active? Check out my everything you need to know about making a sourdough starter. Please reach out with any questions you may have.
When it comes to making bread, here are the sourdough tools and equipment I recommend every kitchen should have and some other options that are useful.
Need some ideas to use your starter in? Check out my sourdough focaccia, sourdough bagels or my list of sourdough discard recipes.
Jump to:
Digital Scale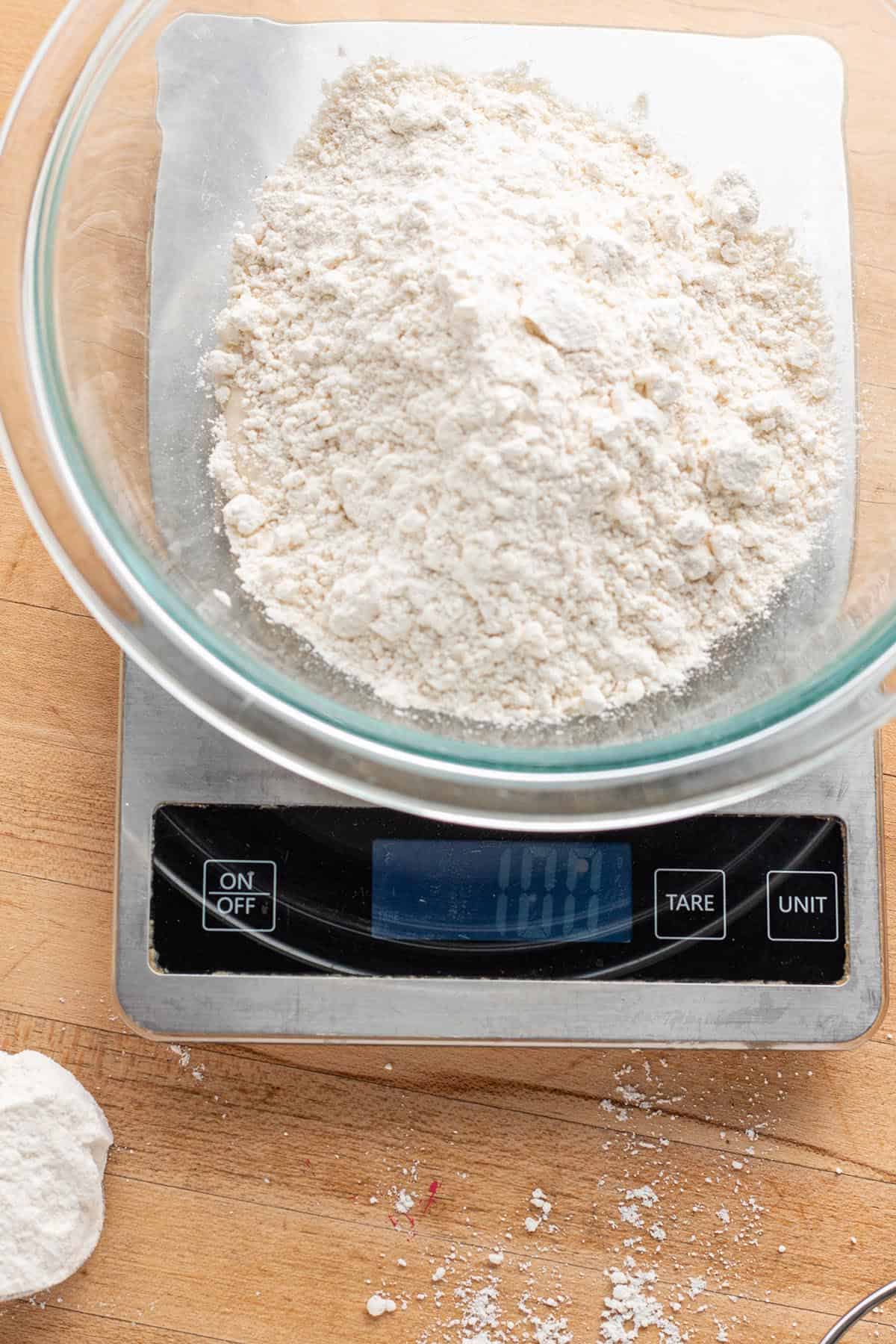 This is the most crucial piece of equipment. When making sourdough or caring for a starter, a digital scale is going to give you the most accurate reading.
If you take a cup and scoop out some flour you will get a different amount every single time.
A digital scale takes away all that variance.
When baking sourdough, a crucial piece and a term you will hear often is the hydration level. That just means the amount of water per flour that is in each loaf.
Even just a 10% difference in the amount of water and flour can drastically change the consistency.
Having a digital scale allows the measurements to be the exact same every single time.
Danish Dough Whisk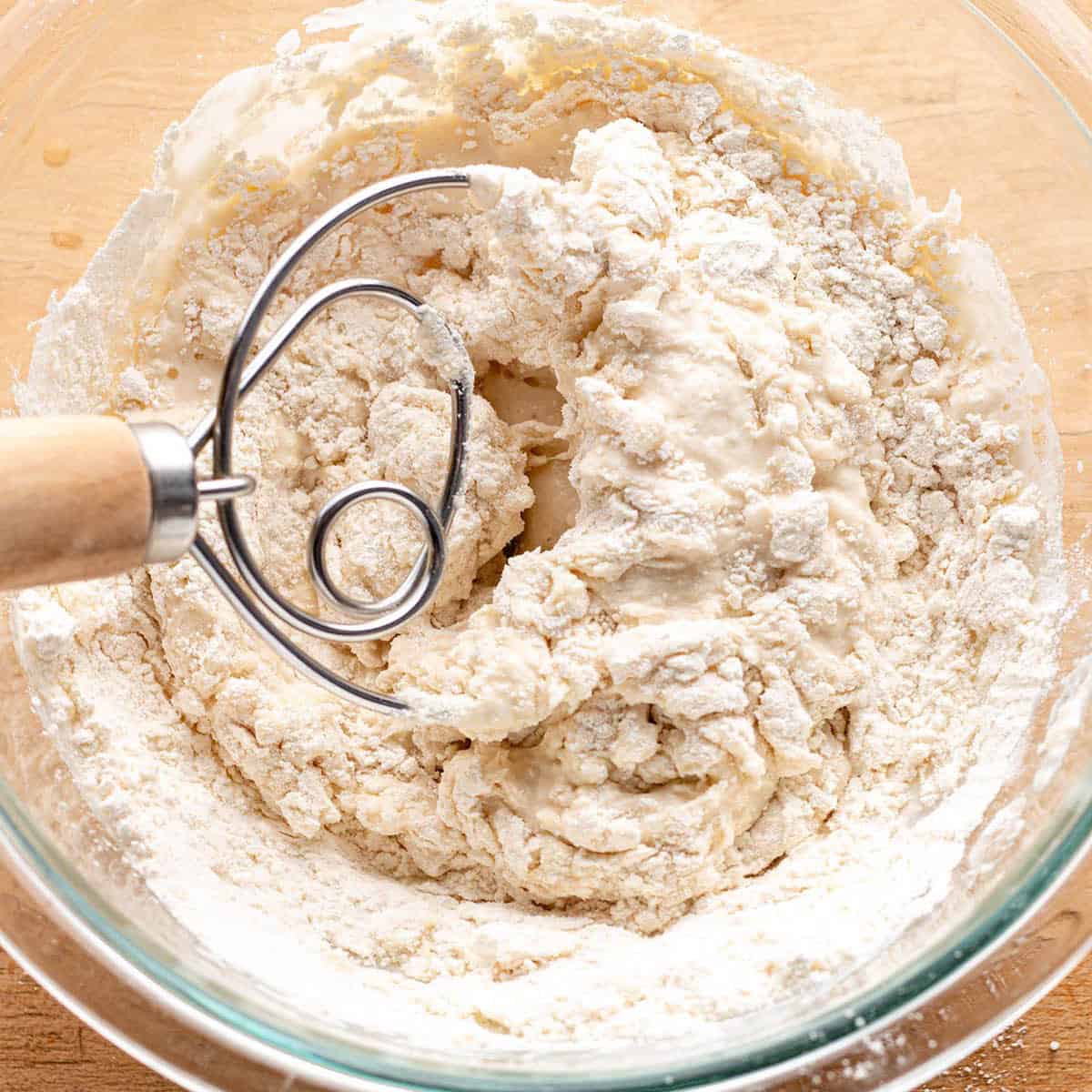 This little tool is a gem! While a spatula, wooden spoon, or even a fork will work just fine, once you use a dough whisk you will never use anything else again.
A dough whisk is designed to cut through and mix dough with ease.
It's designed to delicately mix the dough without over mixing and doesn't get a lot of dough stuck to it.
They are inexpensive and will make the task so much easier.
Banneton Proofing Basket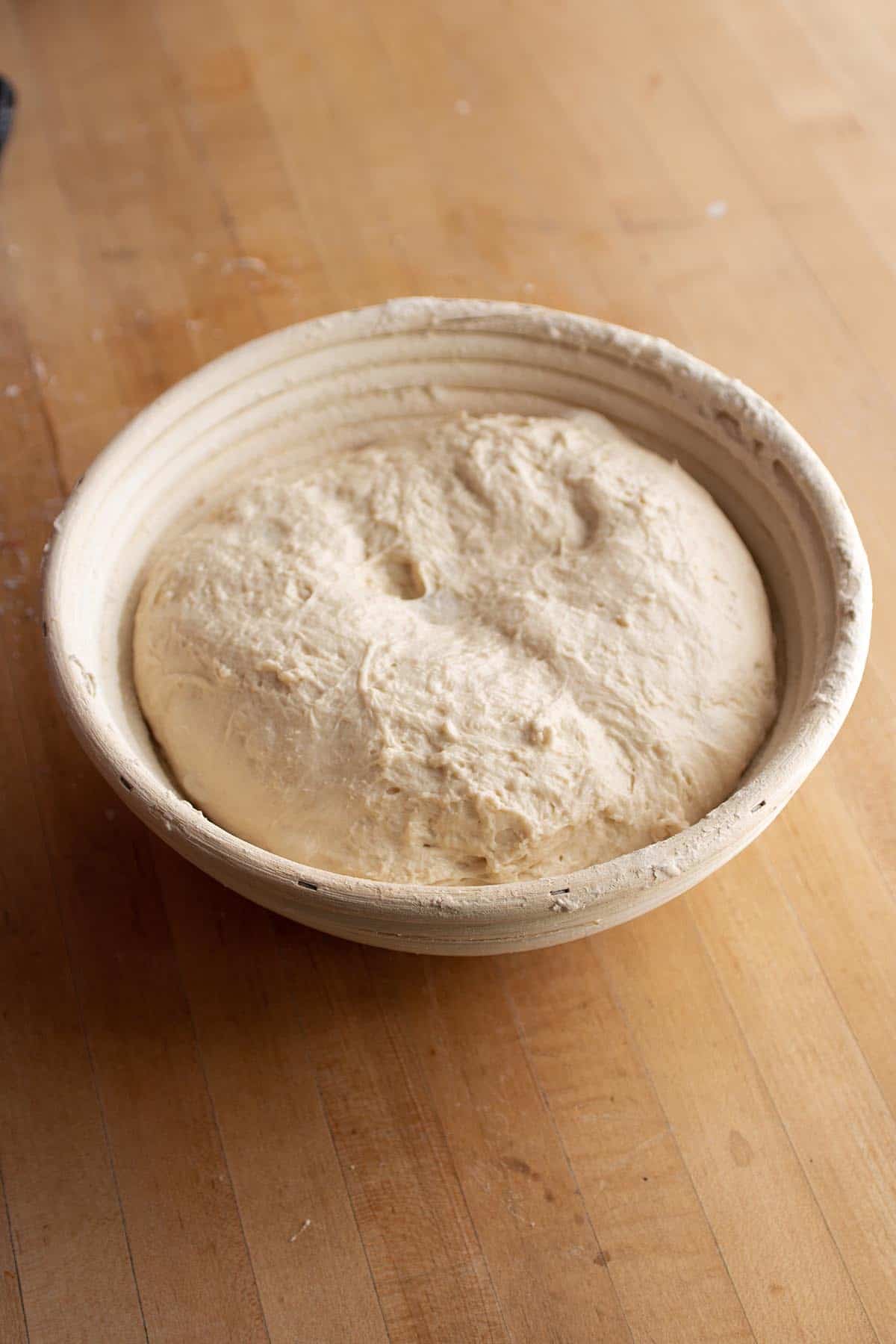 This little basket is used for the bulk proofing when making sourdough bread. It's what gives the loaf that round shape.
They come in two different shapes and can be used with or without a cloth liner.
I like to use my banneton without because the coils give the dough a nice texture.
There are round banneton baskets and oval shaped banneton baskets.
If you are just starting out, there are also sourdough baking kits that are a great option as well.
If you are not ready to invest in one, another great option is to take a bowl and line it with a light tea towel or flour sack towel.
Silicone Bowl and Bench Scraper
This little tool is a life saver and really inexpensive.
Sourdough can be wet, sticky and tacky. And the last thing you want to do is keep adding flour to the loaf just to handle it.
That's where this tool saves the day! It can be used to get that stuck dough off the sides of your bowls or counter.
I also use a metal bench scraper when shaping my dough on the counter.
Bread Lame
A bread lame is razor blade connected to a handle that can be used to score the top of the bread.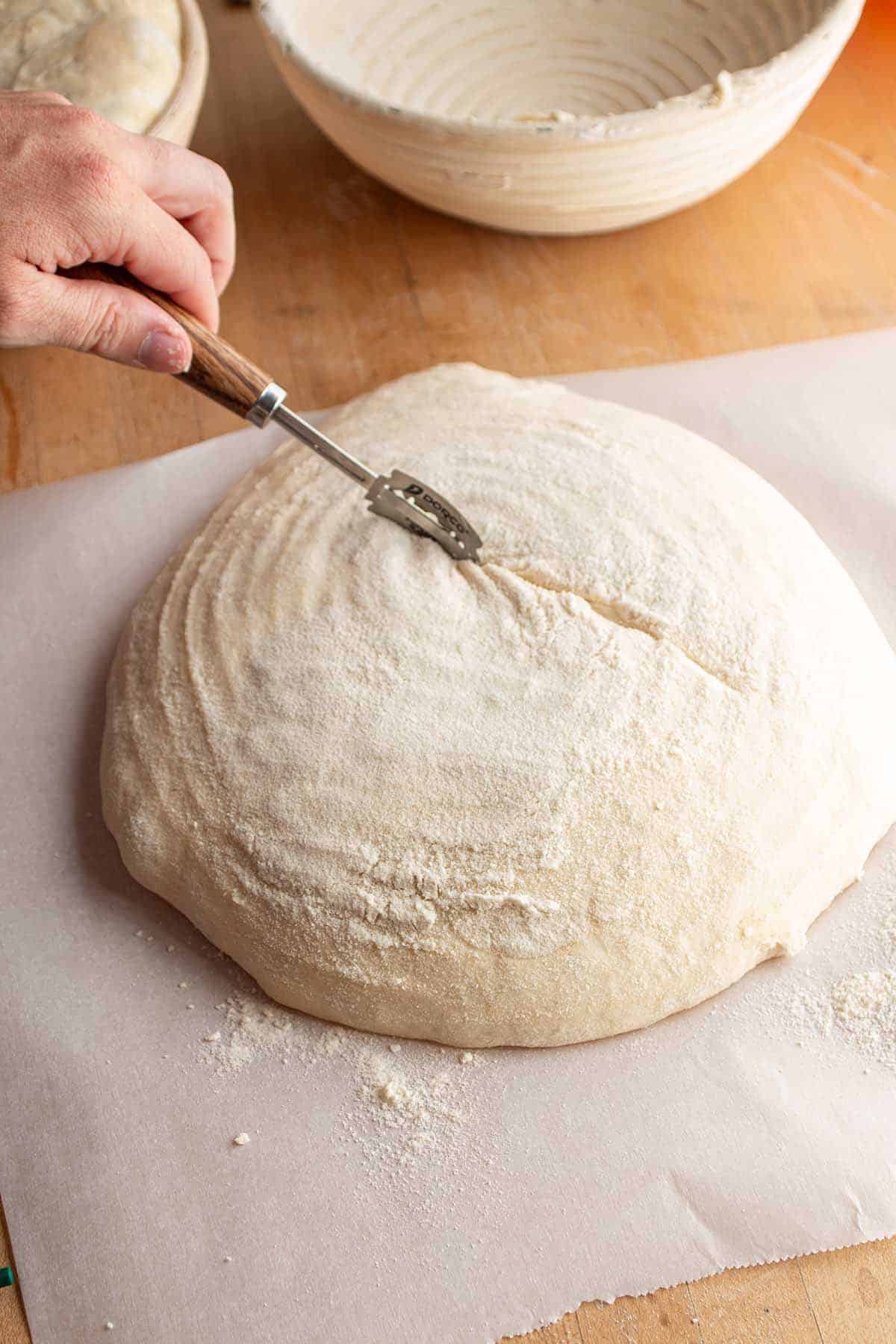 While a regular razor blade can be used, the handle just makes it much easier.
A regular knife will not work. They are just not as sharp as a razor blade and won't cut through the dough.
Why do we need to score the dough before baking? When dough starts to bake it rapidly expands (called the oven spring). There needs to be some give somewhere so instead of the loaf cracking or bulging it will expand where it is scored.
Dutch Oven
The best and easiest way to make sourdough bread is baking in a Dutch Oven.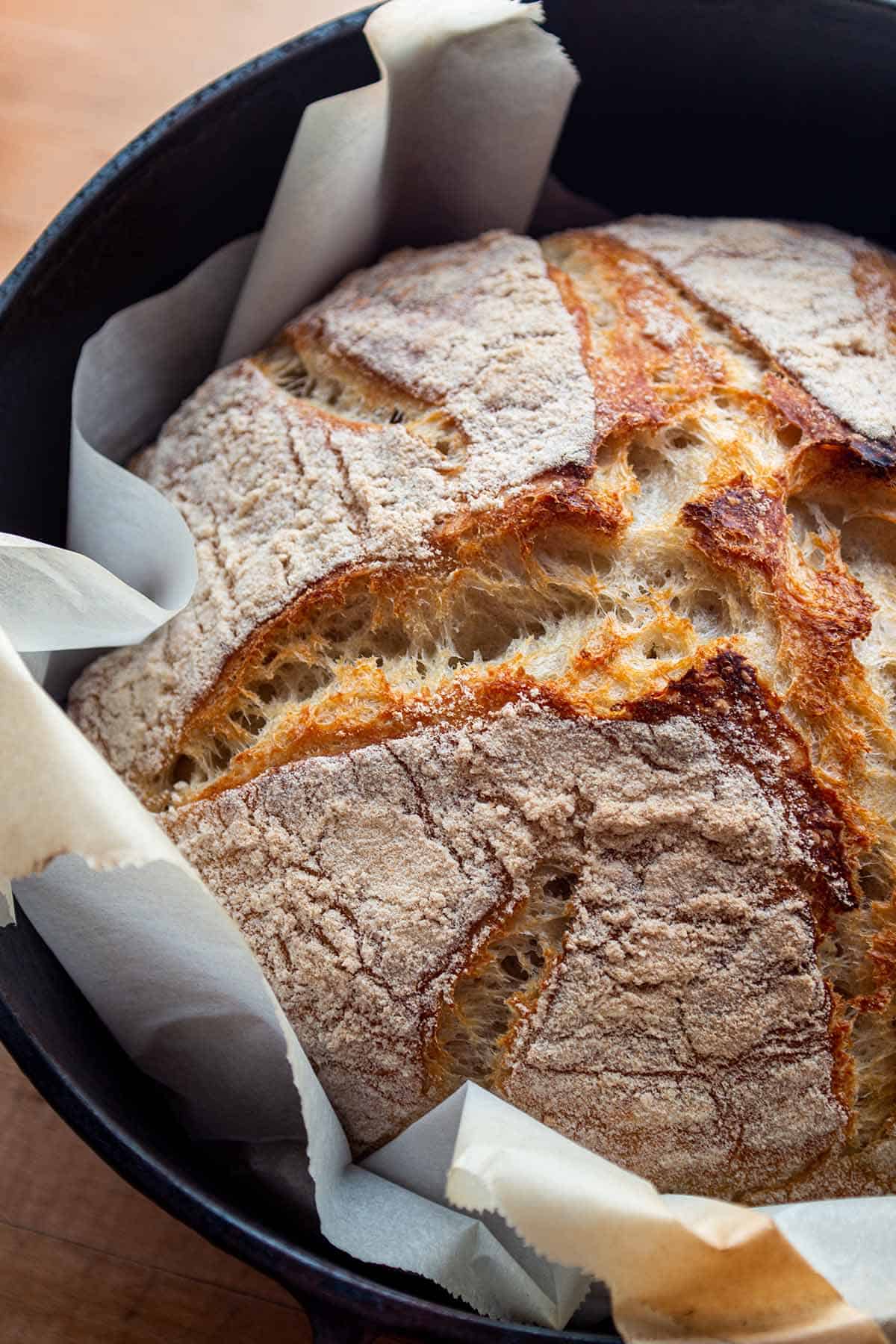 While it is easy to achieve similar results without one, using a Dutch Oven just gives you more control over the bake of your bread.
How does it work? When a Dutch Oven is preheated and then the cold dough is added, steam is created and trapped inside the pot. The steam is what gives the loaf its final rise and texture.
If you do not bake with a Dutch Oven, then the same environment needs to be created in the oven itself. There are just too many things that can go wrong, so using a Dutch Oven makes this step so much easier.
Learn more about the best Dutch Oven for bread and find the right one for you.
Be sure to also use parchment when placing your dough in the Dutch Oven.
Instant Read Thermometer
Sourdough bread needs to be baked to 205-215 degrees Fahrenheit. My sweet spot is right at 210 degrees.
The best way to tell if it is fully baked is with an instant read thermometer.
My favorite one to use is a ThermoWorks ThermaPen. It is on the pricier side but so worth the investment. It instantly tells me what my loaf is at and if it needs to return to the oven for longer baking.
Other Tools
A few other recommendations for sourdough tools that you might have on hand already are:
Glass Bowl
Parchment Paper
Wire cooling rack
Bread Knife