This sourdough discard banana bread is so incredibly soft and bursting with banana flavor. Don't let your extra sourdough discard, or overripe bananas, go to waste anymore.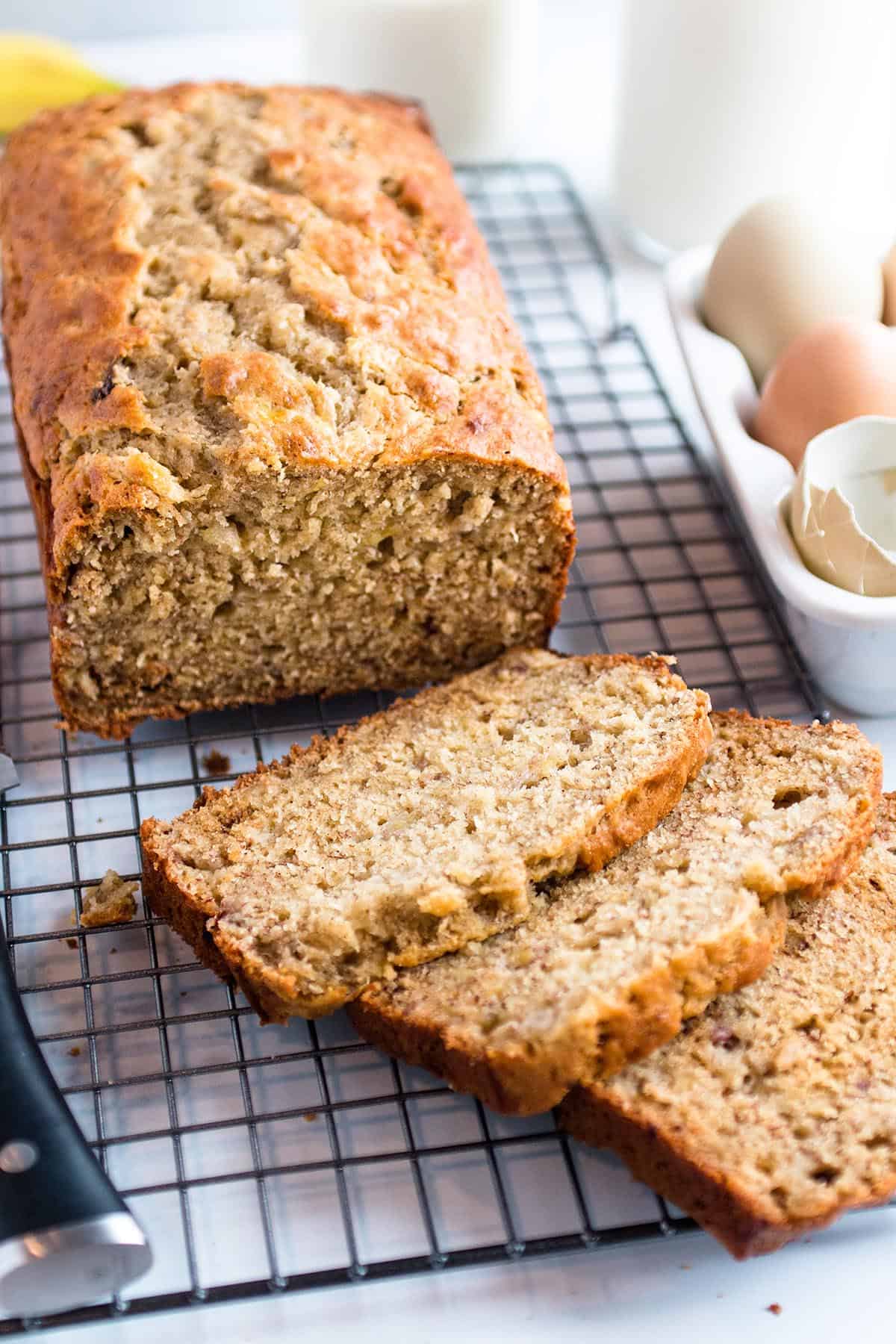 Jump to:
⭐Why You Will Love This Recipe
Easy to make: This bread is really simple to make and takes little effort.
Uses pantry staples: Nothing crazy in this recipe. It calls for simple pantry and refrigerator items.
Great use of discard: Stop throwing away your discard and put it to work in this sourdough banana bread.
Uses up overly ripe bananas: Also stop throwing away banana your kids wont eat. Make them this banana bread instead.
📝Tips to Make it Better
Use overly ripe banana: Make sure the banana are turning brown and ripe. This will make the bread softer and the bananas easier to mash.
Cream the butter and sugar: Make sure these two ingredients are completely combined before moving on. It should be soft, creamy and zero butter lumps. Do not move on until this is accomplished.
Don't overmix: Once the eggs are added just mix the batter until the ingredients are combined. Overtaxing will lead to very dense bread.
🥘Ingredients Needed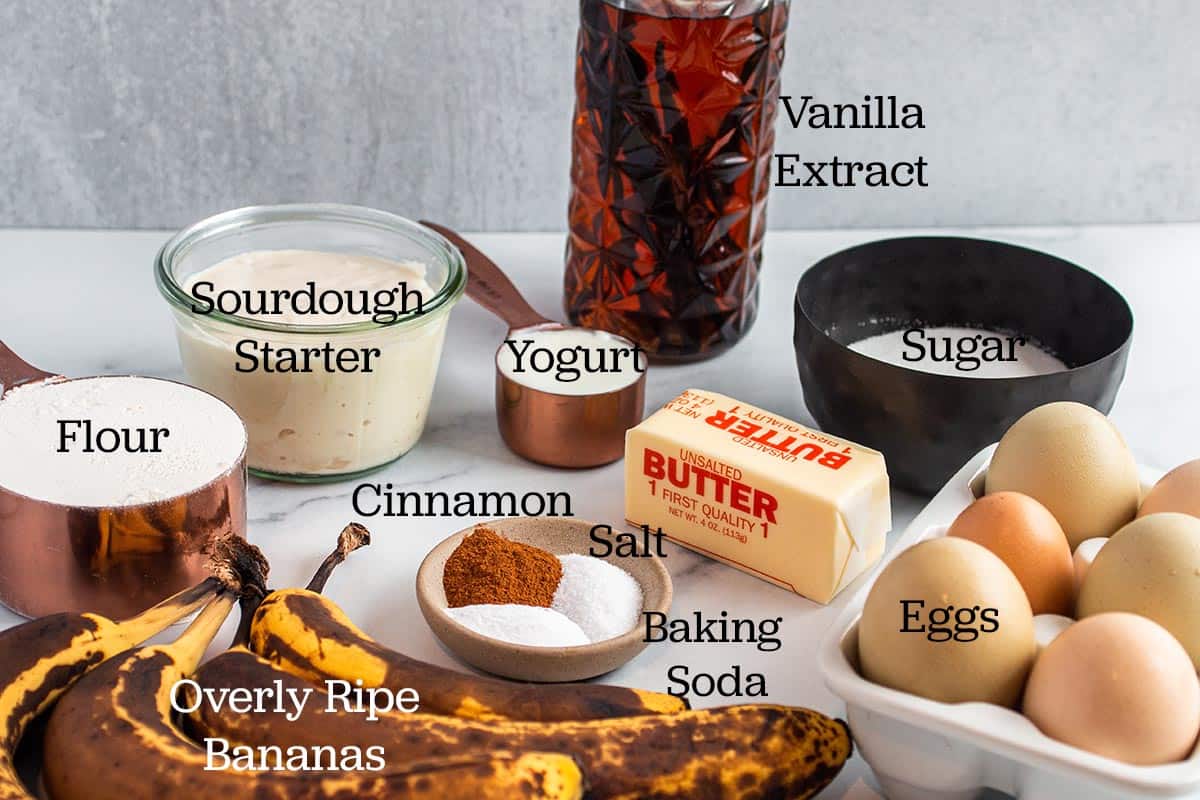 All-Purpose Flour: This recipe calls for all-purpose flour. While bread flour can be used it will turn out more dense.
When measuring the flour make sure to scoop flour out with a spoon into the measuring cup and level with a knife.
Overly Ripe Bananas: This recipe calls for about 2 cups of mashed bananas. That will be about 4 larger size bananas. The softer the banana the better. If they are too firm it will be difficult to mash.
Unsalted Butter: Make sure butter is soft and at room temperature. The butter and sugar need to be creamed together. Softer butter will allow it to come to a creamy consistency. You shouldn't see any lumps of butter.
See full information on ingredients and quantities in the recipe card.
🍌How to Make
Prepare the Batter
Step 1: Preheat oven to 350 degrees Fahrenheit.
Step 2: Prepare a 9"x5" nonstick loaf pan by spraying with non-stick spray or a coating of butter with a dusting of flour. Whichever way you prefer to prepare baking pans. Set aside.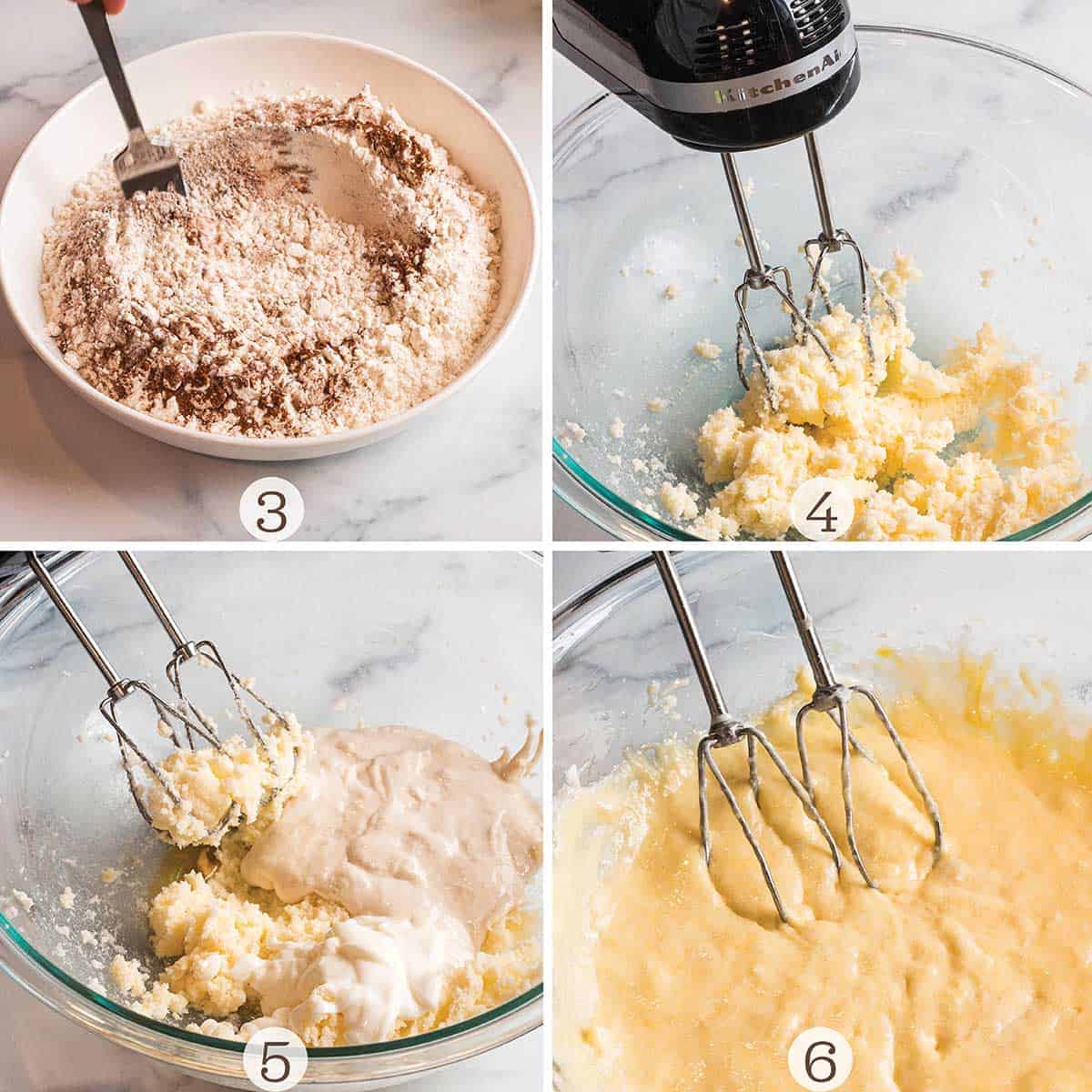 Step 3: In a small bowl, mix together the flour, salt, baking soda, and cinnamon. Set aside. (Image 3)
Step 4: In a large glass bowl, mix together the butter and sugar with a hand mixer until it's fully combined and has a soft, fluffy texture. (Image 4)
Step 5: Next, add in the yogurt, sourdough starter, and vanilla extract. Mix well with a hand mixer until everything is fully combined. (Image 5)
Step 6: Add in eggs and mix again with the hand mixer just until they are fully incorporated. Don't overmix from this point. (Image 6)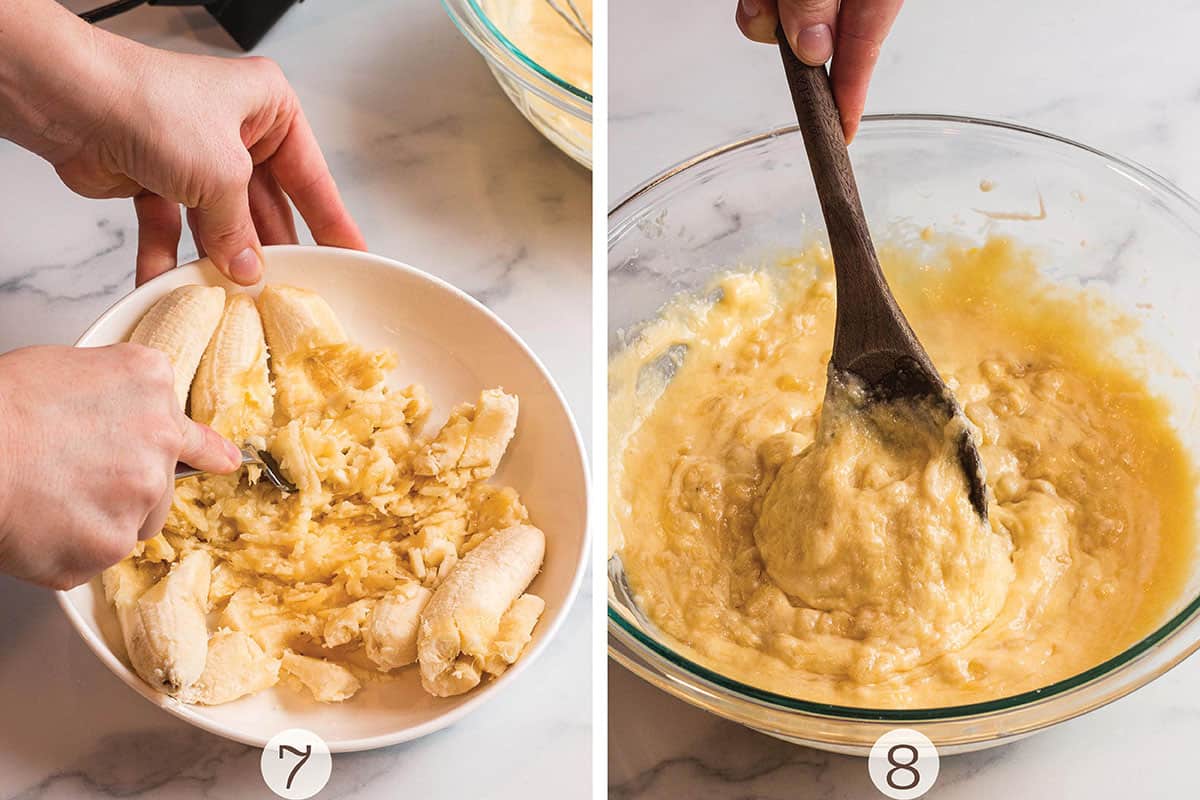 Step 7: In a medium bowl mash bananas with a fork until they are a creamy consistency. Some smaller lumps are okay. The softer the bananas are the easier they will be to mash. (Image 7)
Step 8: With a wooden spoon or spatula, fold in the mashed bananas just until everything is fully incorporated. (Image 8)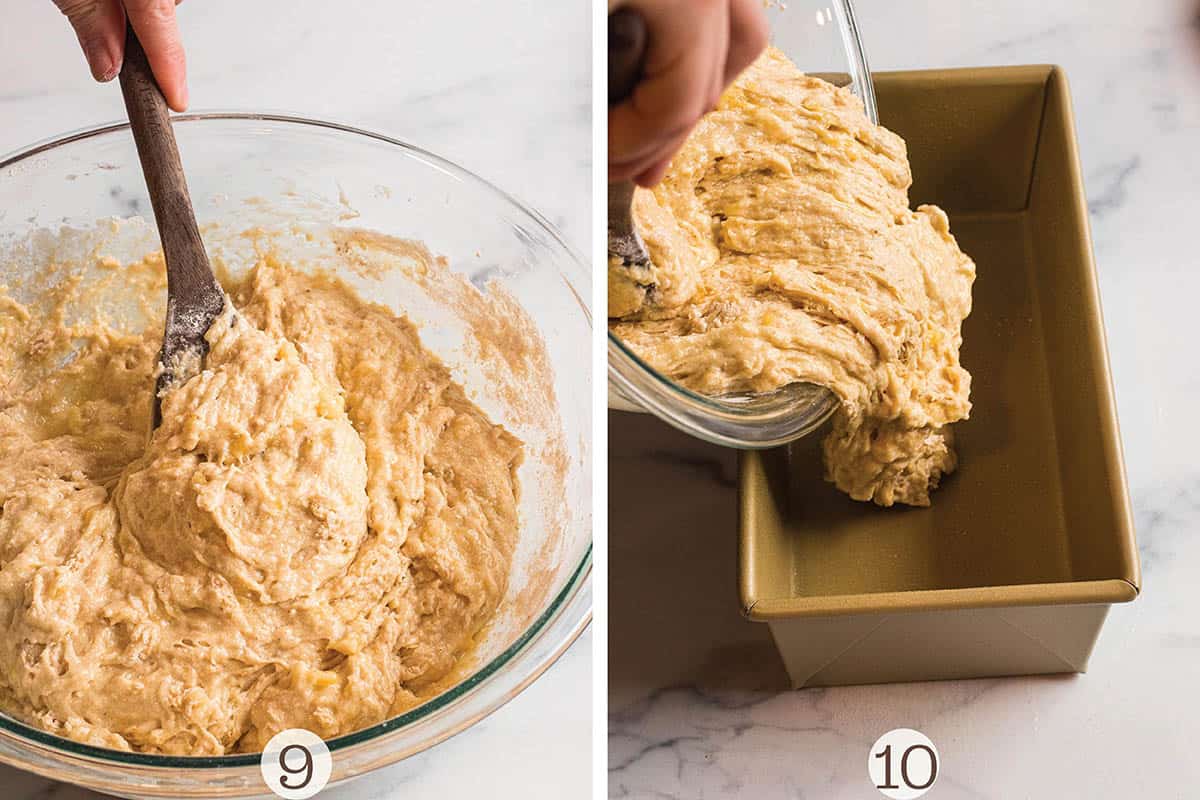 Step 9: Dump in the flour mixture, and with a wooden spoon, fold everything together until the flour is fully incorporated.
Use a spoon or spatula at this point because we don't want to overmix the batter. That can lead to a dense texture. (Image 9)
Step 10: Pour batter into the prepared 9 x 5-inch loaf pan and using a spoon or spatula scrape the bottom of the bowl so all the batter makes it in the pan. (Image 10)
⏰Baking Instructions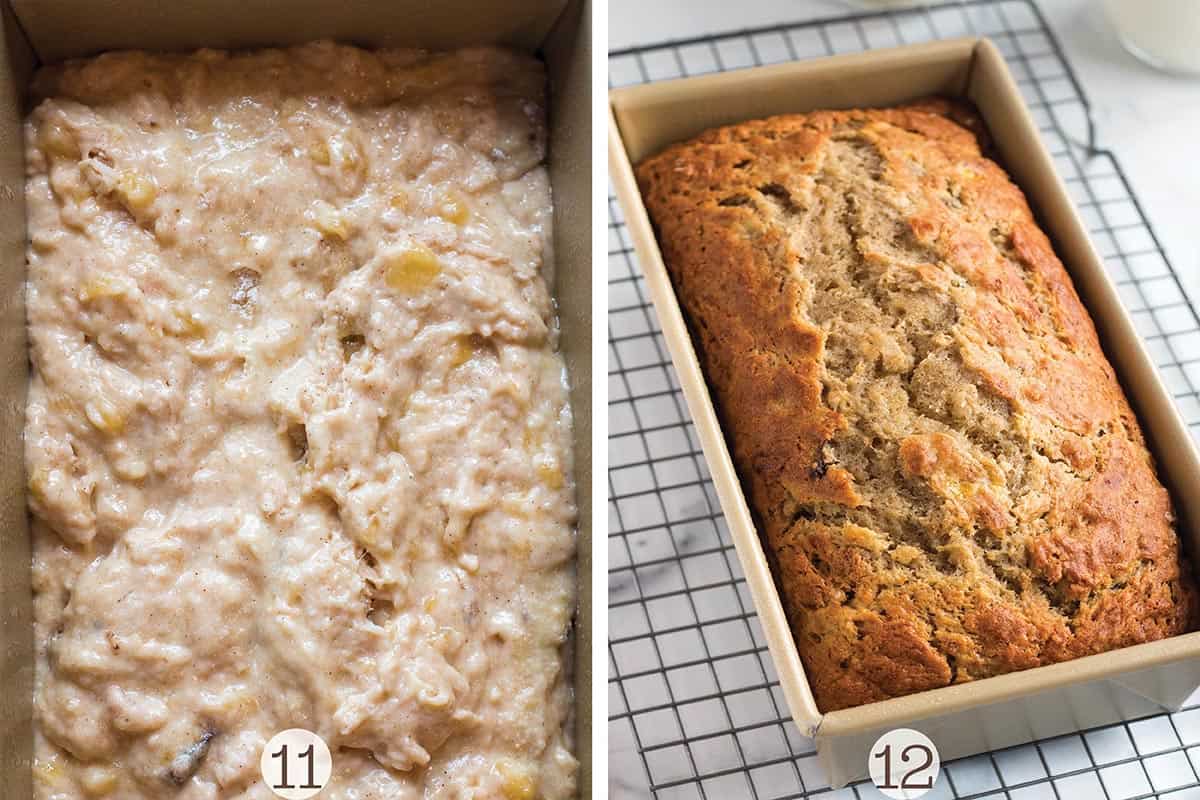 Step 11: Before baking, give the pan a good shake so the batter settles and is evenly distributed. The top of the batter should be even and as smooth as possible. You can also use a spatula to spread it out.
Step 12: Place pan in the preheated oven and bake for 55-60 minutes.
Top Tip: If the top of the bread starts to turn get a little too dar, make a tent out of tin foil and place it over the top. This will allow the inside of the bread to continue to cook but will protect the top from burning.
The bread is done when a toothpick is inserted into the center of the loaf and comes out clean.
Step 13: When done, place the pan on a wire rack and allow the bread to cool inside the pan for 10 minutes. (Image 12)
Take a knife and run it between the bread and the side of the pan. Just to get any piece that may be stuck.
Remove loaf from the pan and allow it to cool. If you can wait...
Slice and serve with a little butter and enjoy!
🍪Other Sourdough Discard Recipes
📋Recipe