Make a crowd pleasing turkey that even your non-turkey eaters will love! Smoked and roasted on our Traeger Grill but can also be roasted in the oven.
This post may contain affiliate links. Read my disclosure policy here.
I have to make a confession that I didn't actually cook my very first turkey until about three years ago. Every year for thanksgiving and Christmas we have always had two, or even three different places to go and family to visit, so I never had the opportunity to prepare one myself. Even if I did we had so many turkey dinners we were turkeyed out.
Cooking a turkey had always intimidated me and the thought of cooking 16-20 pounds at one time, with the potential of failing miserably, absolutely freaked me out. So when it was my turn to host family, I figured my first time cooking a turkey shouldn't be the day I had 12 people over, so we did a trail run. I have had all types of turkeys but one thing is always consistent, dry turkey sucks. I have to be honest and say what we are all thinking. So this was my mission to make a fall off the bone turkey everyone will love.
Here is what we did:
In our house we are obsessed with our Traeger and we have cooked just about everything on it, and I was intrigued with the idea of smoking my turkey as well. The first time we did it we were hooked! The combination of a couple hour smoke and then baked to perfection just cannot be beat. It was amazing but could have been better. If you do not have a smoker that is okay this recipe should work just as great in the oven.
One thing to keep in mind if using a smoker is it can easily dry your turkey out. For that reason we brine ours every time now before cooking. You can even brine before roasting in the oven as well. For a 13-16lb turkey I only brine for about 24 hours but anything larger I have let it go 2 days in the brine mix. Brining does several things: it helps retain moisture (essential with smoking), tenderizes and flavors the meat. If your turkey always turns out dry add this step next time.
I have had several non-turkey eaters say they actually loved mine. That is always the ultimate compliment when you can convert someone from a food they do not like. Those that don't like turkey always say the same thing: Its dry and flavorless. It doesn't have to be that way. Dry, flavorless turkey is not appatizing. But a turkey with a deep rich flavor and meat that falls off the bone, there is just nothing better.
The Key is in the Brine
The first time we brined our turkey, and then cooked, we went to take it out of the roaster and my husband dropped it back in causing the juices to splash everywhere. This happened because he picked it up down by the legs and they FELL OFF! We both looked at each other, as he is holding both legs in his hand, like what just happened. It is now a two man operation to remove a turkey for carving or carving takes place in the pan. Which is hard for my patience when all I want is to get to that juice to make my gravy. We had a 22 lb turkey for 12 people and had very little leftovers. We were hooked.
Im writing this in April because I couldn't wait to share this turkey recipe, and while on covid lockdown we have a little extra time to prepare dinner. I was talking to a friend recently about dinners for the week and she mentioned she had a frozen turkey that didn't get used during thanksgiving she was going to cook. She's a genius! Luckily my local stores had some available, and for pickup with Easter around the corner. This was the best quarantine dinner. It was cheap ($11 for 16 lbs), we made several lunches and dinners with it and I also froze multiple quarts of bone broth to store for future cooking. Why wait for the holidays to have a turkey. My family actually prefers turkey over chicken any day, so it might have to become a regular thing.
Here is how I make my crowd pleasing turkey:
Brine:
1. Let it thaw in the refrigerator. Check your label and see how long your size turkey needs to thaw. Its usually about 24 hours for every 4-5 pounds.
2. The day before (or two depending on the size) brine your turkey.
Add all the brine ingredients to a large pot and bring to a boil until the sugar and salt dissolves. Let cool.
While your brine is cooking take your turkey out of the package and remove the neck and other packets.
In a food safe bucket add about 1 gallon of cold water and dump in the brine. This will help finish cooling.
Carefully lower turkey into the mix, legs up, and continue to fill the bucket with water just until it covers the turkey.
Secure lid and put in the fridge for the night. This requires a little planning and organizing to make sure you have space.
3. Cooking Day
Before I even remove my turkey from the fridge I like to prep everything I can. I have a clean kitchen with everything put away.
I also chop all the veggies, prepare my roasting pan and prepare the butter spread.
Chop all the veggies and garlic and place about half on the bottom of the roaster.
I like to make my own gravy with my turkey so I add about a can of chicken broth to the bottom of the roaster with the layer of veggies. As you smoke or roast, the veggies will cook into the liquid and drippings from the turkey will make the absolute best broth for gravy. Or if your not making gravy save this broth for another meal. It's cooking gold.
4. Make the Butter Spread
1: Take ½ cup of butter (1 stick) and bring to room temp.
2: Crush your garlic.
3: I like to make a little pile of all my spices, garlic and salt and chop everything together. Saves time from chopping several things and is a good way to infuse all those flavors.
Step 4: Once chopped, mix in with the butter.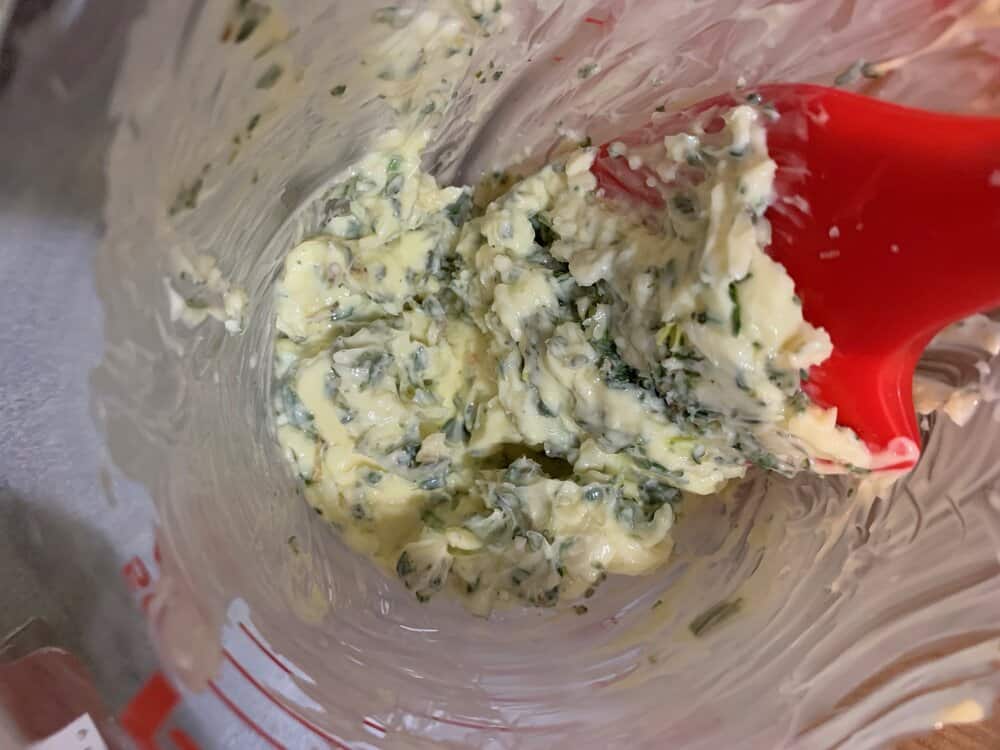 5. Prep the Turkey
Step 1: Carefully remove the turkey from the bucket and drain all the juices. There will be liquid in the cavity, so don't forget to dump that to. I forgot once and dumped it all over my kitchen. Added about an hour to my Christmas cooking schedule just to clean it up.
Step 2: Place the turkey on top of all the veggies. This will help keep the turkey out of all the juices. You want a moist turkey not a soggy one.
Step 3: I then like to stuff the inside with more garlic, onion, carrots and celery. Any extra veggies you can stuff in around the turkey on the sides, or I place more under to help level it out.
You will see I'm wearing blue gloves in the next photos.. This is a personal choice for me because I do not like touching raw poultry. Its just a weird habit of mine. I can make meatballs, my own hamburger, prepared raw fish, clean clams and crab and i've even processed a couple deer with no issues. Just something about raw poultry I can't get past.
6. Now we add the butter
I like to spread the butter as best I can all over the breasts and legs.
Then carefully separate the skin from the breast and pack the butter compound inside. Once inside you can move it around from the outside to evenly cover.
Give the butter spread one more check and spread as needed. Don't stress to much over this. It will melt and move around.
7. Tie the Legs:
I like to tie the legs with baking twine to trap in the flavors from the veggies.
8. Put on the Grill
Then place in your smoker or oven and cook until the internal temp reaches what is recommended on the package.
I do not baste when I cook this turkey. I feel like it isn't necessary since it was brined, but please feel free to do so.
Time to Cook your Turkey!
We like to put a good smoke on it and let it go at 180 degrees for about 2 hours. Then we bump the temp up to 350 and cook until it comes to temp. For a 16 pound turkey we did a 2 hours smoke and then cooked at 350 for another 3 hours.
We have a digital probe that works so well. It has a remote screen so we can carry it around the yard or in the house to keep an eye on the temp. Do not overcook your turkey!
This is the probe we use with our Traeger and it is so nice. We just plug it in and can monitor our food from the house or around the yard. You can even use it in your oven. Inkbird IRF-2SA 500ft Wireless Remote Grill Thermometer, Digital Cooking Meat Thermometer with Backlight, Alarm, Timer Food BBQ Thermometer for Smoker, Roasting, Kitchen, Oven, Drum, Dual Probes
If you are cooking in an oven refer to your label for temperature and times.
Final Steps:
Remove from the grill or oven and let rest on the counter for 10-20 min. We like to take a damp towel and put over the top to trap in the heat and moisture.
After rested it's time to care and enjoy!
I have to be honest that this method does not produce the best crispy skin. Its good but not the best we've had. That doesn't bother us because there is so much goodness inside. I actually had someone say, "wow a turkey I can actually eat". If that isn't a compliment to the chef I don't know what is.
You can see in this photo the leg is already starting to fall off.
Since I have actually never made a turkey in the oven, I would love to see if you have tried this. Leave a comment, send me a photo or tag me on Instagram so I can see.
Crowd Pleasing Turkey Recipe
Ingredients
For the Brine
8

Cups

Water

1.5

Cups

Kosher Salt

4

Garlic Cloves Roughly Chopped

1

tablespoon

Black Pepper

¼

Cup

Worcestershire

½

Cup

Brown Sugar
Butter Compound
½

Cup

Butter, 1 stick at room temperature

1

teaspoon

Kosher Salt

1

tablespoon

Fresh Rosemary

1

tablespoon

Fresh Thyme
Other Ingredients
1

Large Yellow Onion Diced in larger pieces

4

Garlic Cloves Roughly Chopped

4

Large Carrots Peeled and Quartered

5-6

Celery Ribs Quartered

1

14.5oz

Can of Chicken Broth
Instructions
Brine
Make sure you give your turkey plenty of time to thaw before putting in the brine.

The day before you want to cook (or 2 depending on size of bird), Prepare the brine mixture.

Bring all the brine ingredients to a boil until the salt and sugar has dissolved. Let it cool.

While it is cooling prepare your turkey according to package directions. 

Once brine is cooled down add to a food safe bucket along with 1 gallon of cold water. The water will help finish cooling the brine. 

Carefully add in the turkey legs facing up to the bucket and fill with more water until it is completely covered. 

Carefully add in the turkey legs facing up to the bucket and fill with more water until it is completely covered. 
Preparing to Cook
On the day you want to cook your turkey  prepare all veggies, butter compound and roasting pan prior to taking the turkey out of the fridge.

Place half the chopped veggies in the roasting pan and add 1 can of chicken stock.
Butter Spread
Make sure the butter is at room temp

Make a pile of garlic, rosemary, thyme and salt and chop everything as fine as you can.

Combine spice mix with the butter
Prepping the Turkey
Carefully remove turkey from fridge and drain all the juices

Place turkey on top of the veggies in the roasting pan

Then stuff the inside of the turkey with more of the veggies and tuck the rest around it.

Spread half the butter mix around the outside of the turkey covering the breasts and legs.

Then carefully separate the skin from the breast and stuff with the remaining butter. 

Tie the legs with baking twine
Cooking on Pellet Smoker
Place roaster in the smoker

Smoke at 180 degrees for the first 2 hours

Increase temp to 350 and cook for another 3 hours (this was for a 16lb turkey so you may have to adjust)

Watch the temperature of your turkey to make sure you don't over cook

When finished remove turkey from the grill and cover with a damp towel for about 20 min. 
Cooking in Oven
Follow directions on turkey package for temp and cook times.