Salmon made with a garlic herb butter sauce served with asparagus, lemon garlic rice and dill sauce. Can be baked in the oven or on a smoker grill.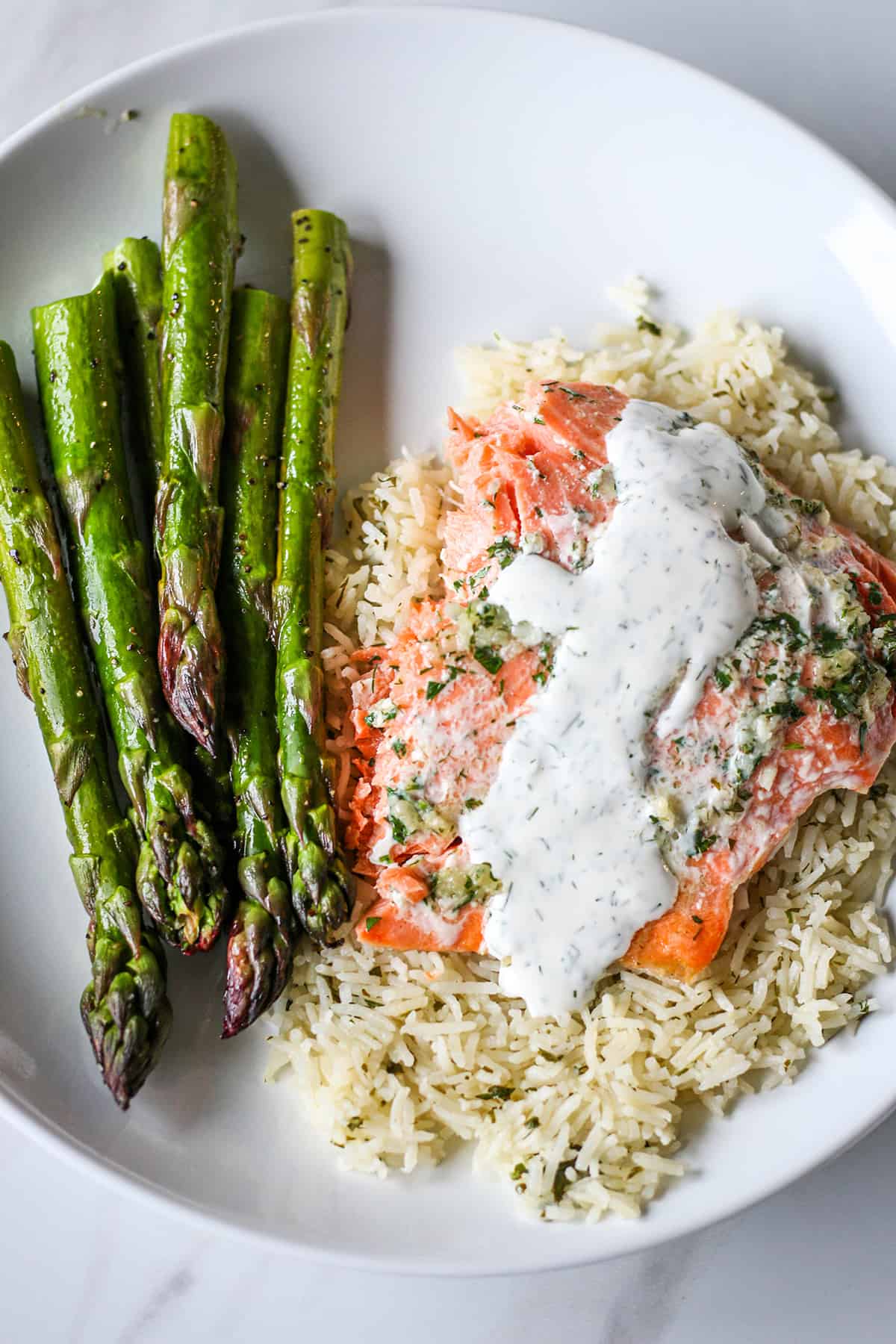 Ways to Prepare Salmon
We have a few different ways we like to eat salmon. We have steamed, baked, grilled, smoked and have served it with many different options. One thing we like to consider before we cook salmon is the type.
Pink or Humpy
If it is a pink or humpy salmon we usually save those for a batch of smoking. They do not have the best flavor but once you brine and smoke for 4 hours it really doesn't matter. That is why I would never smoke a king or coho. You really dont want to cover up the fresh flavors of those cuts.
If we do cook our pink salmon, I tend to mix it up with a pesto or creamy sauce or make some fish tacos.
King or Coho
If we are lucky enough to bring home a king or coho there is only one way to prepare it. That's with garlic, lemon, and some dill. King salmon is so flavorful we do not like to mask it with a lot of heavy flavors. I like to stick with fresh citrus and herbs. I typically think the darker the meat is the fewer ingredients I use to cook it.
Trout
If we catch trout its almost always cooked over a camp fire, pan fried or smoked.
Today I am sharing our go to garlic herb butter salmon recipe with a side of lemon garlic rice and dill sauce. We love to cook our on our Trager grill but this will work just as great in the oven. As the summer goes on I will share some of the other ways we like to cook fish.
We use the big game food saver to package all of our meat. We used to have a standard one but we were constantly getting freezer burns or the seals would break. This one is working so much better so far. It's a lot of work to clean, debone and vacuum seal fish, so having it go bad wasn't an option anymore.
Ingredients
For the Salmon
1 lb Salmon Filet
½ Diced onion
2 tbsp Butter Melted
2 Garlic Cloves Pressed or minced
1 tbsp Fresh Parsley Finely chopped
1 tbsp Fresh Dill 1 teaspoon if dried
1 Lemon Cut in half
½ tsp Sea Salt
For the Asparagus
1 lb Asparagus ends trimmed
1 tbsp Olive Oil
½ tsp Sea Salt
¼ tsp Pepper
For the Garlic Lemon Rice
1 tbsp Olive Oil
2 Garlic Cloves pressed or minced
1.5 Cups Vegetable Stock
1 Cup Basmati Rice could also use Jasmine Rice
2 tbsp Fresh Parsley finely chopped
2 tbsp Fresh Lemon Juice
Serve with a fresh and tangy lemon dill sauce.
When you look at the ingredient list you might be a tad overwhelmed. Please don't worry! Most of them are the same for each component so there is a lot of crossover.
With that said, this dish is super easy and fast to make because you can prepare your garlic, dill, parsley, and lemons at one time for all the components. You can also prepare the rice and sauce while the salmon is cooking.
For this demo, I had to use dried dill but I strongly recommend fresh dill. Unfortunately, my grocery store was completely out.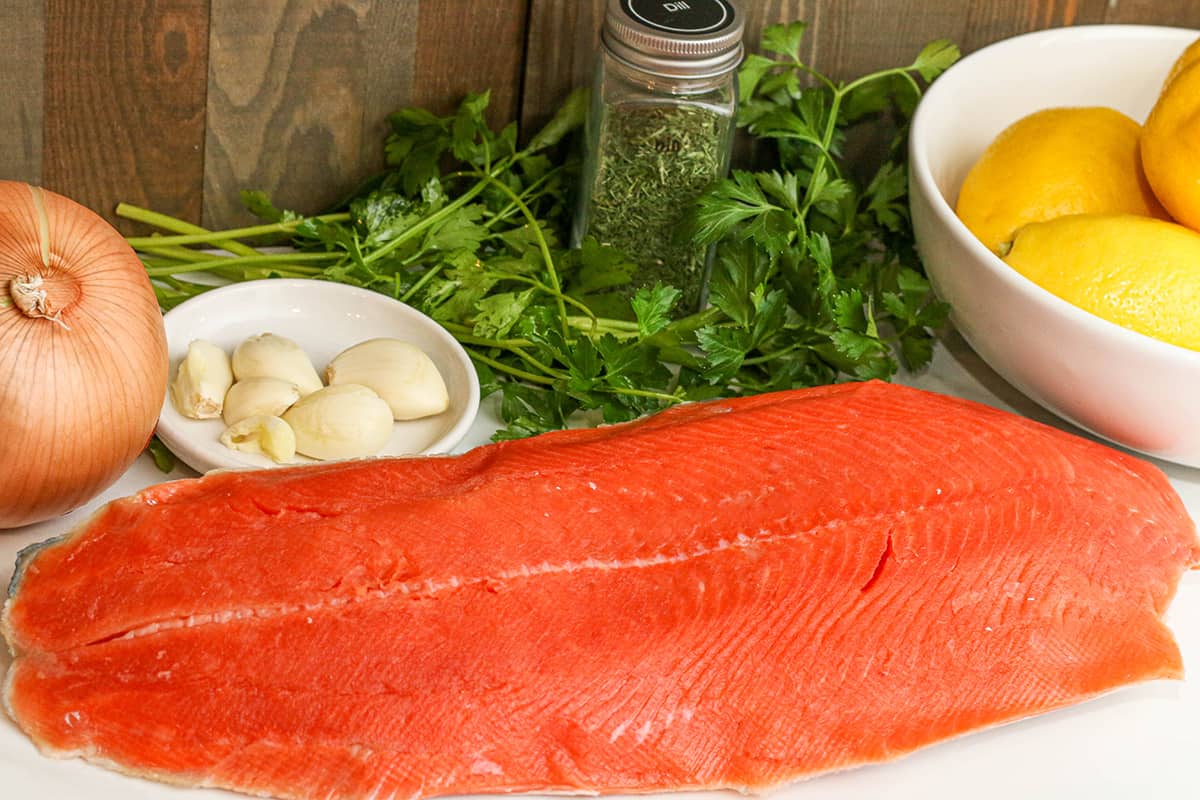 Iinstructions
Prep your asparagus and salmon first.
Start with the asparagus by cleaning and removing the ends. Then toss in olive oil, salt and pepper.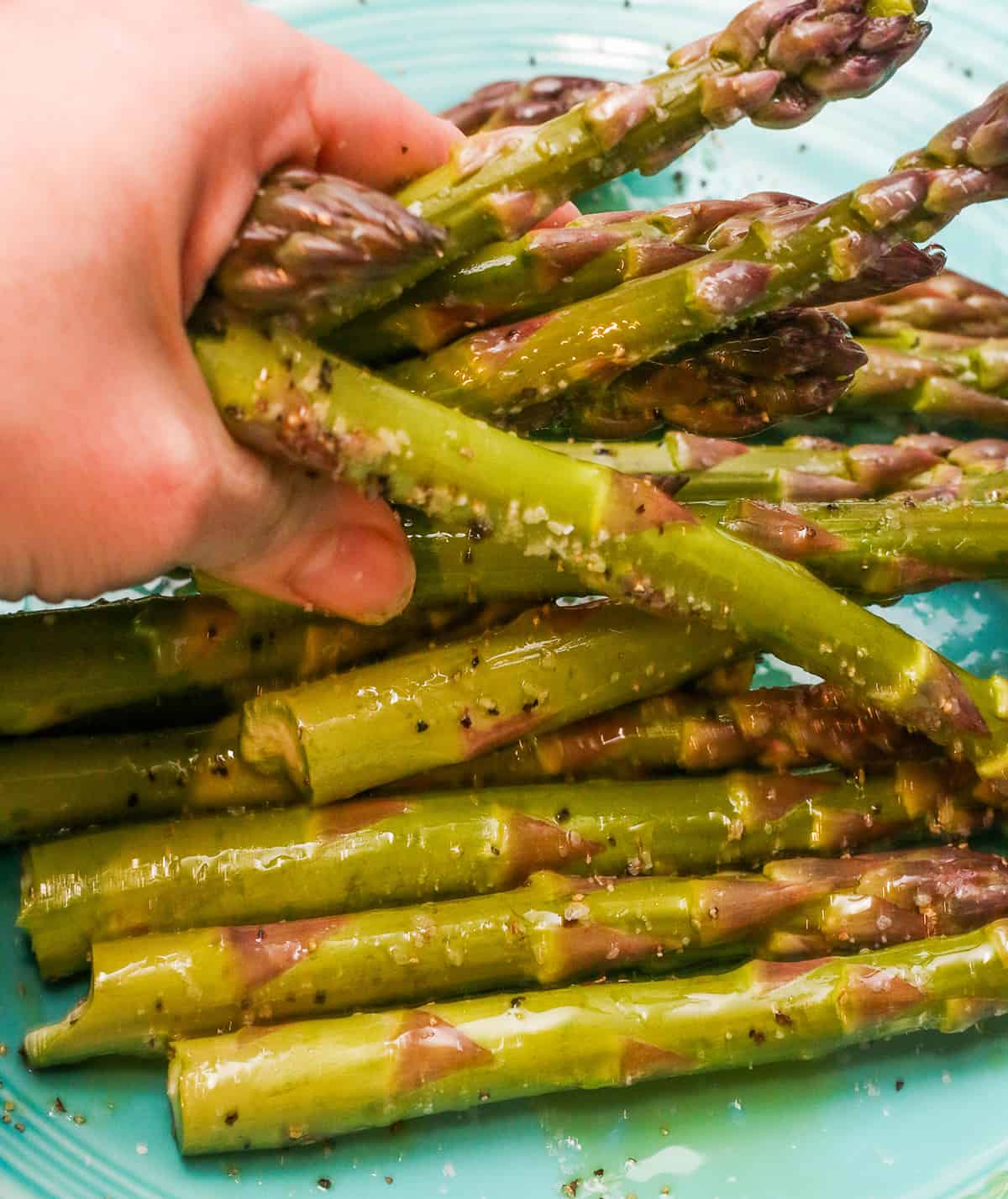 Next, make your butter spread for the salmon. I prefer to press my garlic for this step as it really brings out all the juices of the garlic. You can also mince it. When I make the rice I simply mince it since it's being sautéed down.
Arrange your baking sheet with the salmon in the middle, onions around it, and then asparagus. If you don't like onions you can skip those.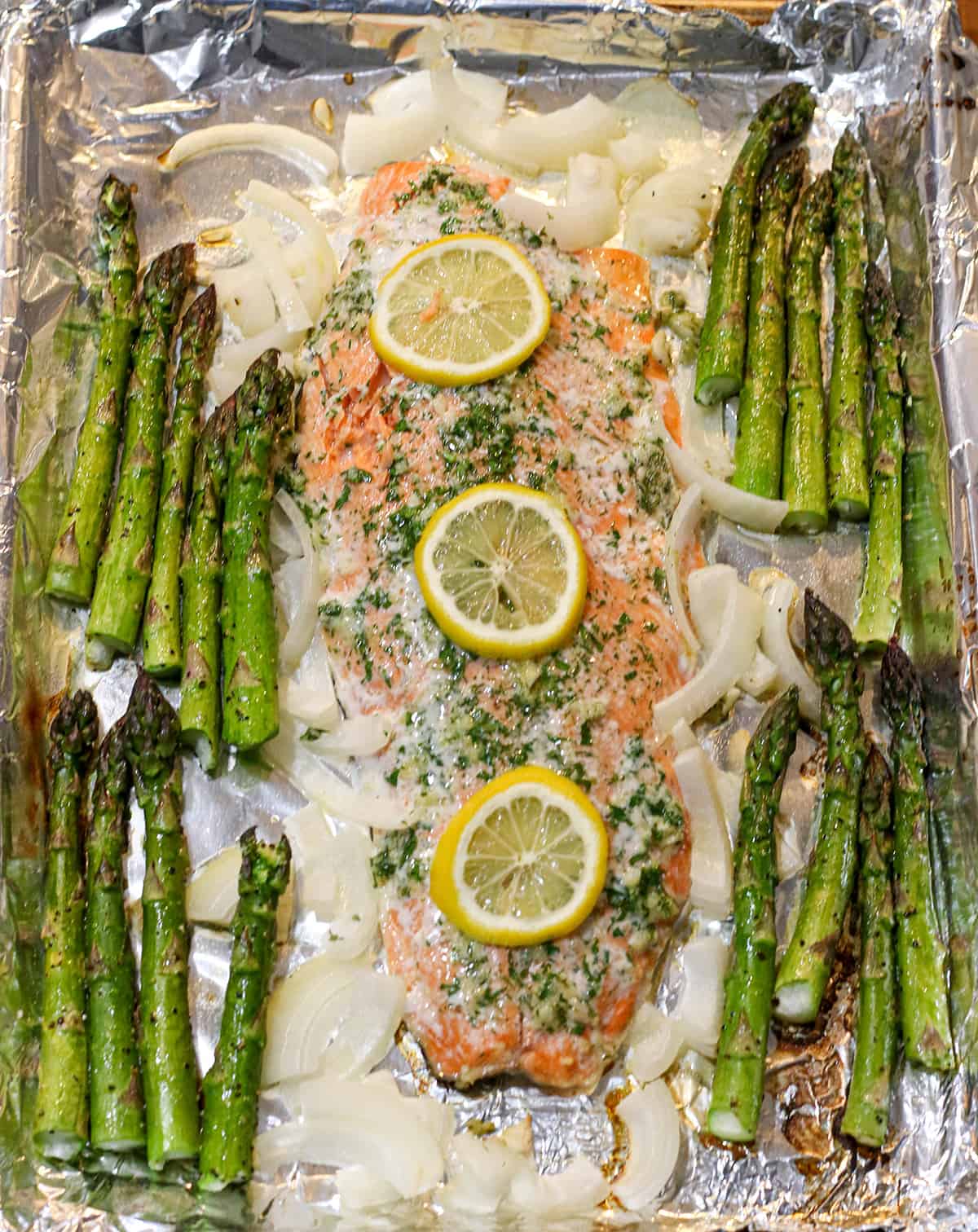 Coat salmon in the butter spread and squeeze half of the lemon over the entire baking sheet. Make sure to get the salmon, onions, and asparagus. Take the other half of the lemon and cut thin slices to place on top of the salmon.
While the salmon is cooking, start the rice. Heat up the olive oil in a small pot and add in the garlic. Sauté for 30 seconds.
Then add in the vegetable stock and rice. Bring to a boil, reduce to simmer, and cook covered for 10 minutes.
When the rice is done remove it from heat. Fluff it with a fork, add in the parsley and lemon and cover until the salmon is ready
Of course, nothing makes it to our dinner table without some kind of sauce. Prepare the dill sauce by combining the mayo, greek yogurt, dill, sea salt, and pepper in a small bowl.
You know when your salmon is done when it is opaque and flakey. Very important you do not overcook salmon.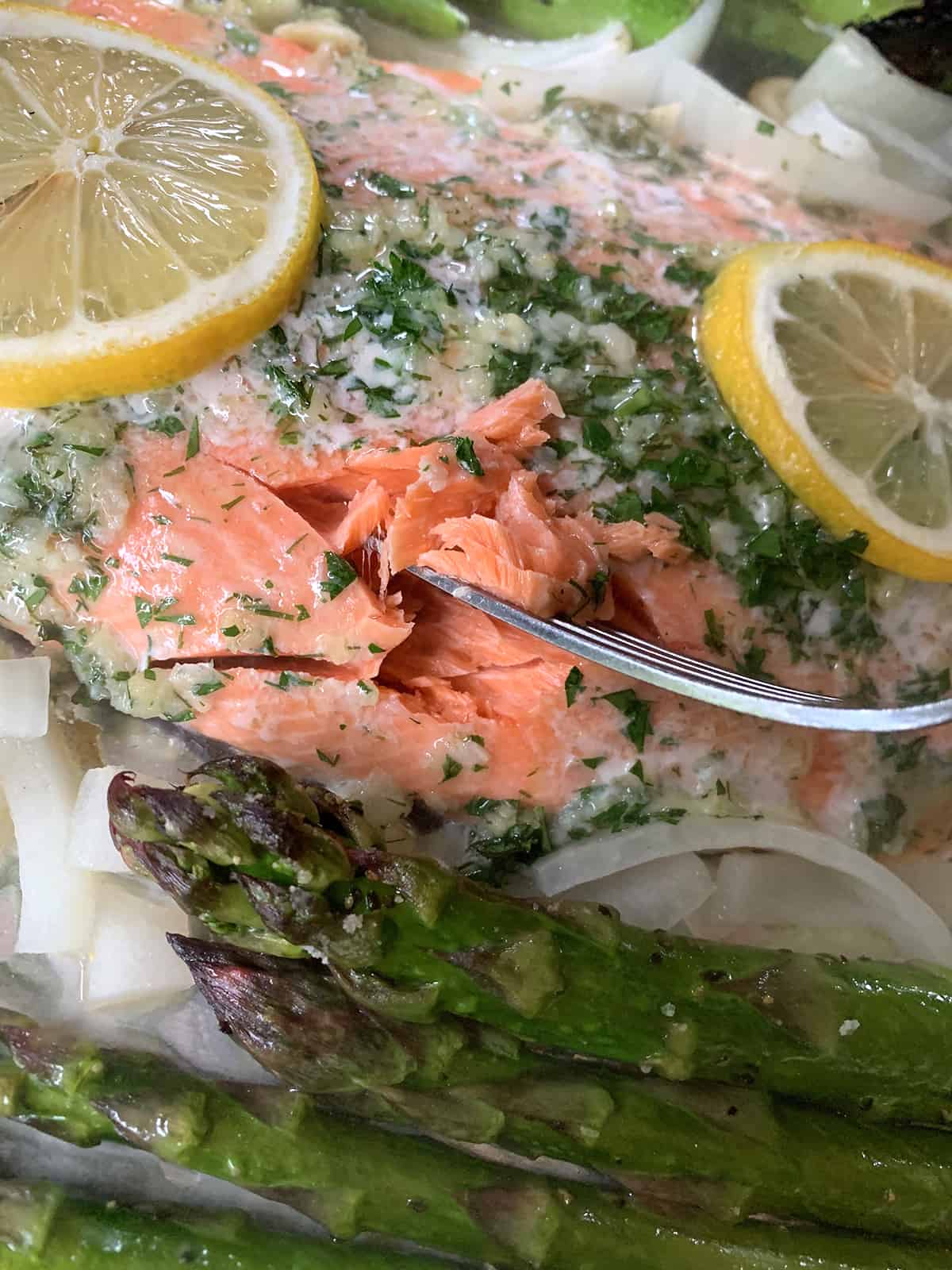 When the salmon is finished serve with rice, asparagus, and dill sauce.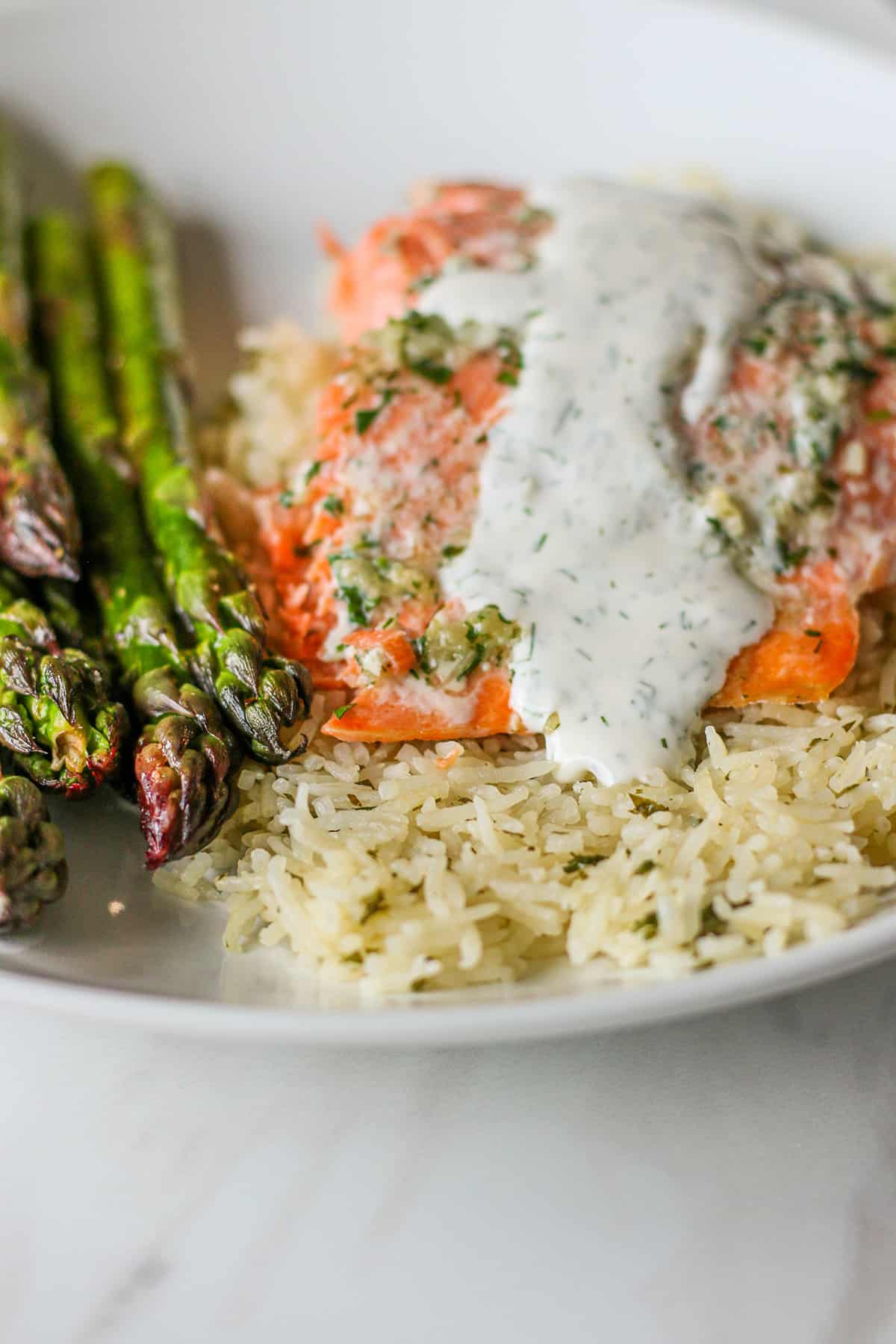 Tip for serving kids: When serving fish to kids, what I always like to do is make sure they get the pieces closest to the tail. There is a greater chance that they won't get any pin bones that may have been missed.
Shop This Post:
FoodSaver Vacuum Sealer GM710-000 GameSaver Big Game Sealing System, reg, Black
Other Seafood Recipes:
📋Recipe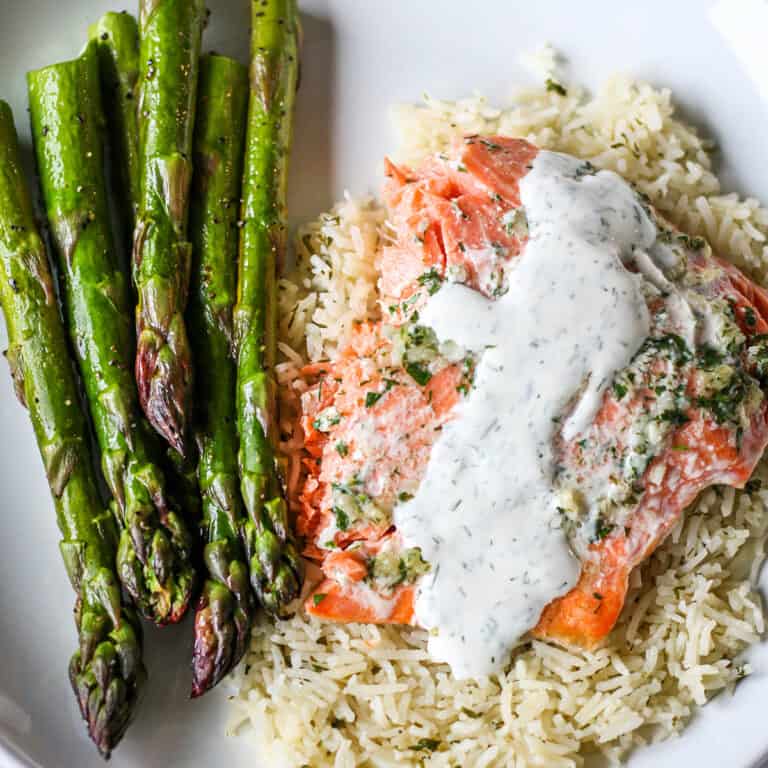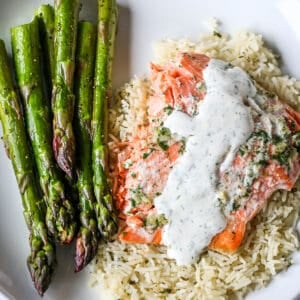 Garlic Herb Butter Salmon
Fresh salmon filet coated in a garlic, herb butter sauce and served with a lemon, garlic rice and dill sauce.
Ingredients
For the Salmon
1

lb

Salmon Filet

½

Diced onion

2

tablespoon

Butter

-

Melted

2

Garlic Cloves

-

Pressed or minced

1

tablespoon

Fresh Parsley

-

Finely chopped

1

tablespoon

Fresh Dill

-

1 teaspoon if dried

1

Lemon

-

Cut in half

½

teaspoon

Sea Salt
For the Asparagus
1

lb

Asparagus

-

ends trimmed

1

tablespoon

Olive Oil

½

teaspoon

Sea Salt

¼

teaspoon

Pepper
For the Garlic Lemon Rice
1

tablespoon

Olive Oil

2

Garlic Cloves

-

pressed or minced

1.5

Cups

Vegetable Stock

1

Cup

Basmati Rice

-

could also use Jasmine Rice

2

tablespoon

Fresh Parsley

-

finely chopped

2

tablespoon

Fresh Lemon Juice
Instructions
Prep all of your ingredients before starting. Mince or press all the garlic and chop all the parsley.

Preheat your oven (or Treager) to 350 degrees

Line a baking sheet with foil and set aside
Prepare the Asparagus
Wash and trim the ends of the asparagus

Lay out on a plate and drizzle with olive oil

Toss with salt and pepper to evenly coat
Prepare the Salmon
Remove salmon from package, pat with a paper towel and place in center of the prepared baking sheet.

Double check for any pin bones and remove.

Add onions all around the salmon

Then place the prepared asparagus on the baking sheet

Make the butter spread by combining the melted butter, pressed garlic, fresh herbs and salt.

Spread all over the salmon giving it an even coating

Then take half of a lemon and squeeze the juices all over the sheet pan. Making sure to coat the salmon, onions and asparagus. Before you start this step make sure to pick out the seeds.

Take the other half of the lemon and cut thin slices and place on top of the salmon

Place in your oven or Traeger and cook for about 25 min until the salmon is opaque and flaky. Do not overcook!
For the Rice
While the salmon is cooking take a small pot and heat 1 tablespoon of olive oil

Add in the garlic and satuee for 30 seconds.

Add in rice and vegetable broth and bring to a boil

Reduce temperature to low, cover and cook for 10 min

Once done remove from heat, fluff with fork and mix in fresh parsley and lemon. Cover and let sit until the fish is done.
Nutrition
Calories:
460
kcal
Carbohydrates:
52
g
Protein:
29
g
Fat:
15
g
Saturated Fat:
2
g
Polyunsaturated Fat:
4
g
Monounsaturated Fat:
8
g
Trans Fat:
0.02
g
Cholesterol:
62
mg
Sodium:
1191
mg
Potassium:
901
mg
Fiber:
4
g
Sugar:
7
g
Vitamin A:
1353
IU
Vitamin C:
16
mg
Calcium:
85
mg
Iron:
4
mg
Did you try this recipe?
Leave a comment and rating below.