Two different ways to store parsley for a longer shelf life. Whether it is from your home herb garden or from the grocery store, keep that cut parsley fresh for as long as possible.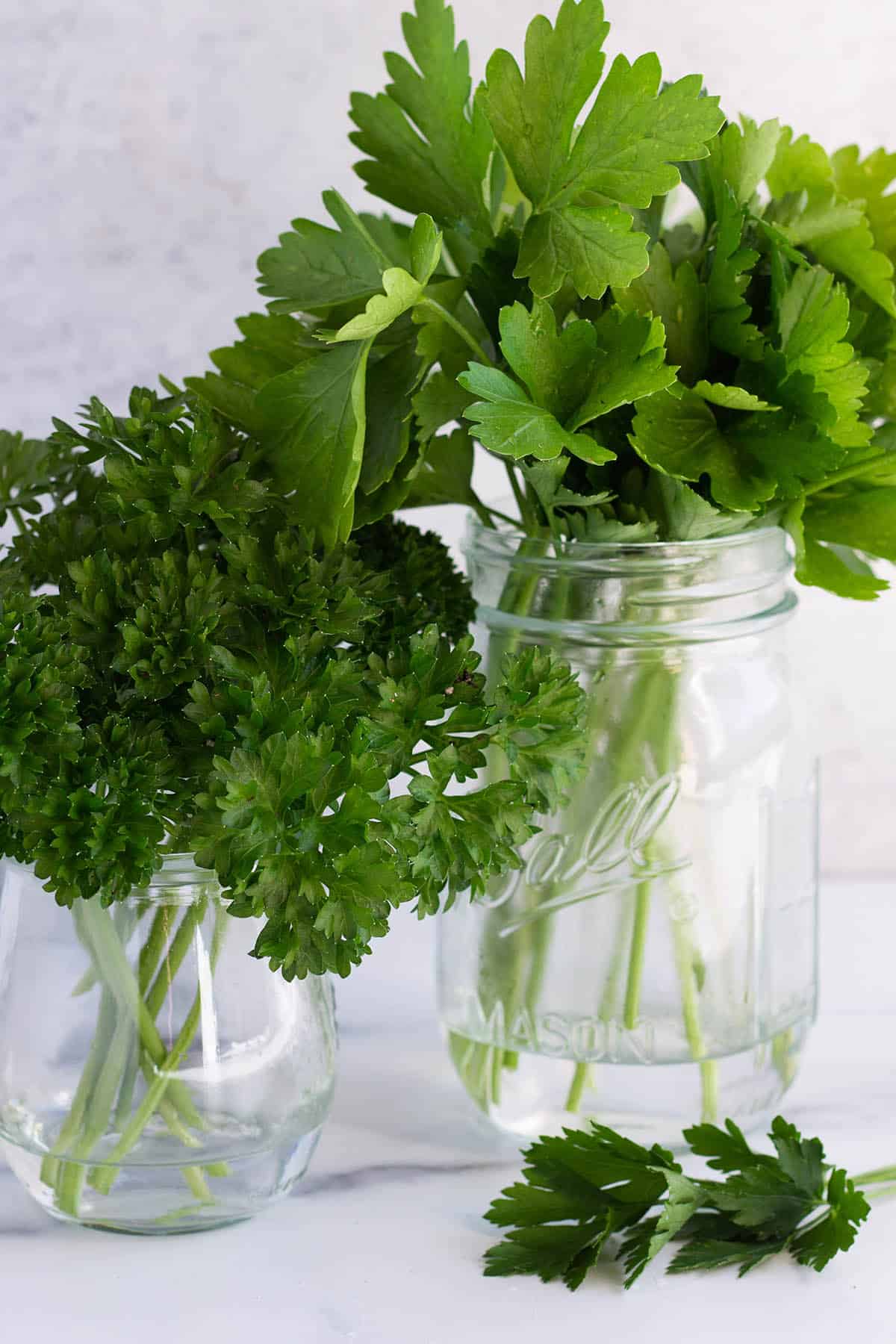 Fresh herbs are the one thing that can take a recipe from good to wow! Just sprinkling on some fresh parsley leaves can really elevate a dish. It can also make an attractive garnish.
The difference between fresh and dry parsley is no match. Fresh is a clear winner and should be used whenever possible.
Parsley is also a really easy herb to grow at home, and when harvested properly one parsley plant can last all growing season.
Fresh parsley can easily be added to homemade soups, sauces, dips, or even right into a salad. It doesn't need much cooking to release its flavors, so adding at the end or using as a garnish will give you all the cooking powers of this herb.
A lot of people shy away from purchasing fresh herbs because they have a short shelf life. While they do not last forever, there are things you can do to prolong the life of your parsley.
Jump to:
Types of Parsley
There are two different types of parsley that are the most commonly used. Curly leaf parsley and flat-leaf parsley. Curly-leaf is often used as a garnish and is not as common as flat-leaf.
Flat-leaf (or Italian parsley) is the more popular option and the one that is most used for cooking.
Flat-leaf parsley will be the option you want to use in a majority of recipes unless it specifically calls for curly parsley.
Whether you have curly or flat leaf, they should be grown, harvested, handled and cared for the same way.
How Long Does Parsley Last?
Once cut from the plant, parsley will last 7-10 days in the refrigerator, if stored properly. If not stored properly it will only last a couple of days.
If left on the kitchen counter at room temperature, parsley will go bad even sooner.
That is why when it is purchased at a grocery store it seems to go bad so quickly.
When parsley is grown at home in your herb garden, it will last a bit longer. Since it is going right from the garden to the kitchen, thus not sitting on a store shelf it will typically have a longer shelf life.
Learn more on how to grow your own parsley at home and how to harvest it.
How Do You Tell Parsley Is Bad?
Parsley is a delicate herb that if not stored properly can go bad really fast. Parsley should not be eaten once it starts to go bad and will need to be thrown out.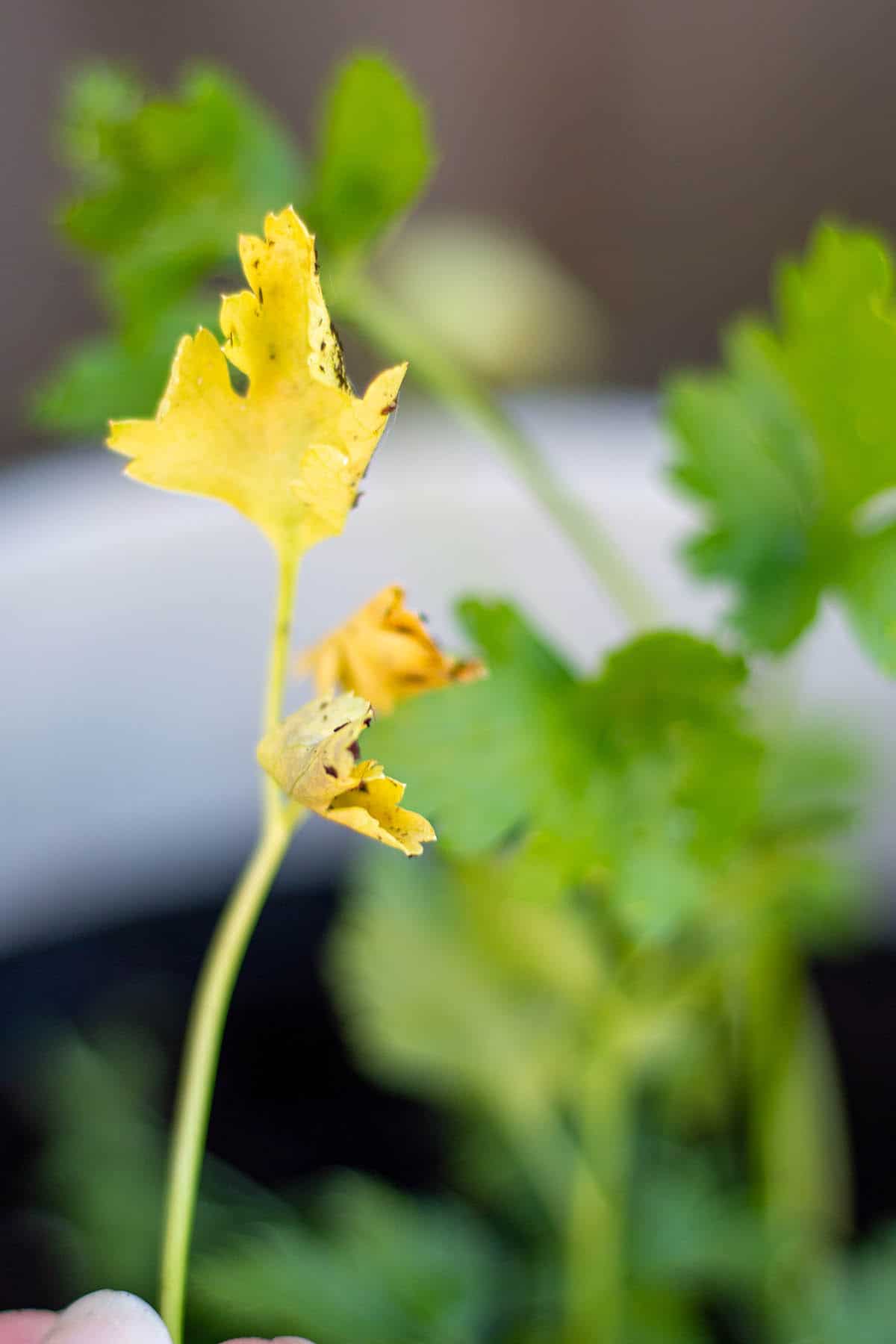 Here are the following ways you can tell your parsley has gone bad:
Starts to turn yellow or brown. Parsley should have a bright vibrant green color and when it starts to discolor at all, it is going bad and time to toss.
Leaves get soft. When parsley starts to dry out the leaves will start to wilt and become really soft. Fresh parsley will have crispy leaves that hold their shape.
Slime. Parsley will go bad and develop a green slime. This is a for sure sign it needs to be tossed.
Smell. If your parsley smells anything other than fresh and fragrant it's time to toss.
How To Keep Parsley Fresh?
When parsley is purchased at the store it typically comes in a plastic bag. This will eventually lead it to develop a slimy texture and go bad really fast.
Remove the parsley from the bag right when you bring it home and follow one of the two methods to keep it fresher, longer. If stored in the plastic bag it will go bad in a matter of days.
In a Glass Jar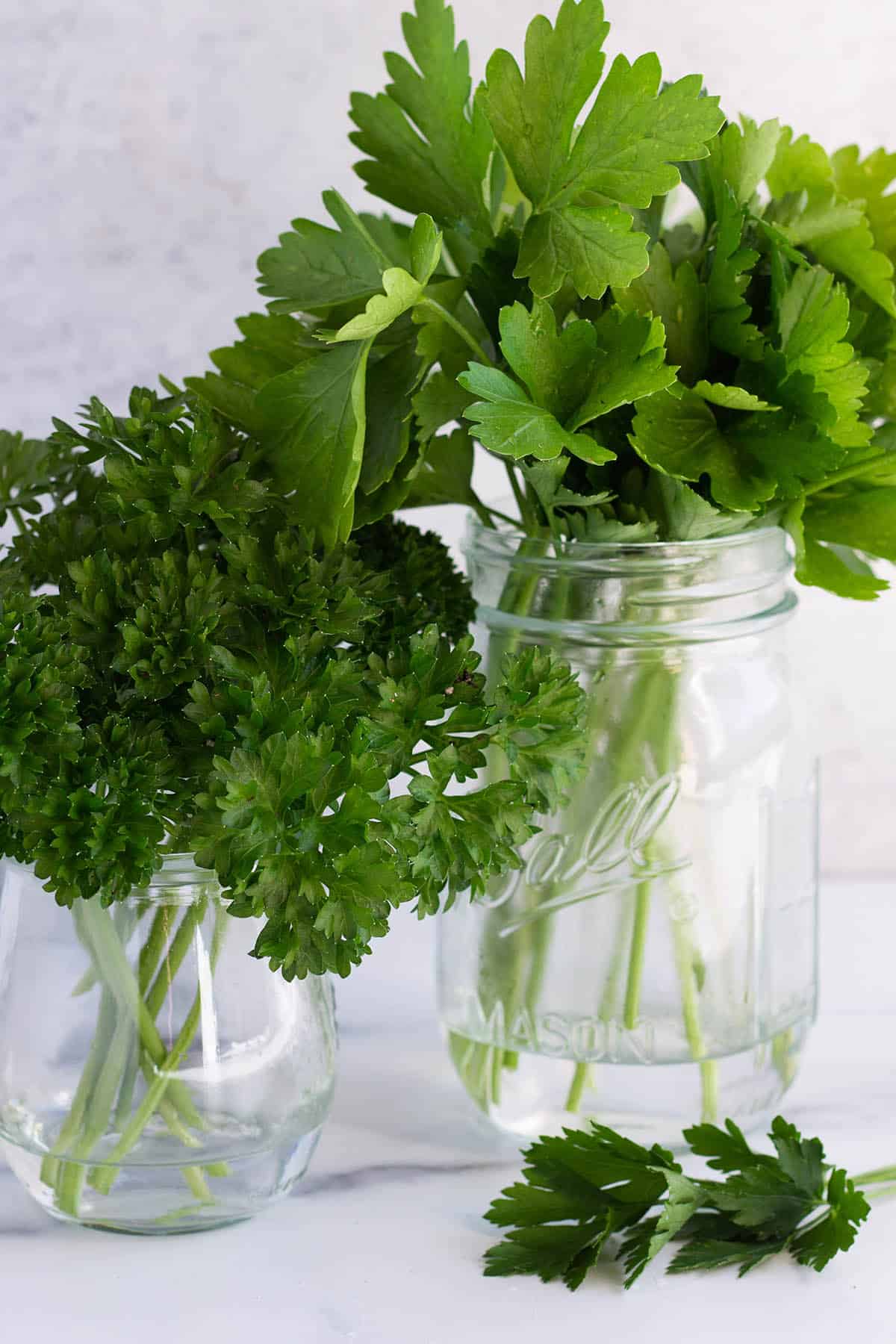 The best way to keep parsley as fresh as possible is to store it in a glass of water in the refrigerator. Follow these simple steps to get the most life and use out of your parsley:
Take a clean jar and add about an inch of water.
Take the bunch of parsley, remove the rubber band or twist tie and cut the ends of the stems.
Place in the jar and store in the refrigerator. Make sure the bottom of the stems are submergered.
Replace the water daily.
The fresh-cut stem helps it absorb the cold water from the glass keeping that vibrant green color and preventing it from wilting. Just make sure it's enough water that the base of the stem is submerged. Excess water will cause it to become slimy.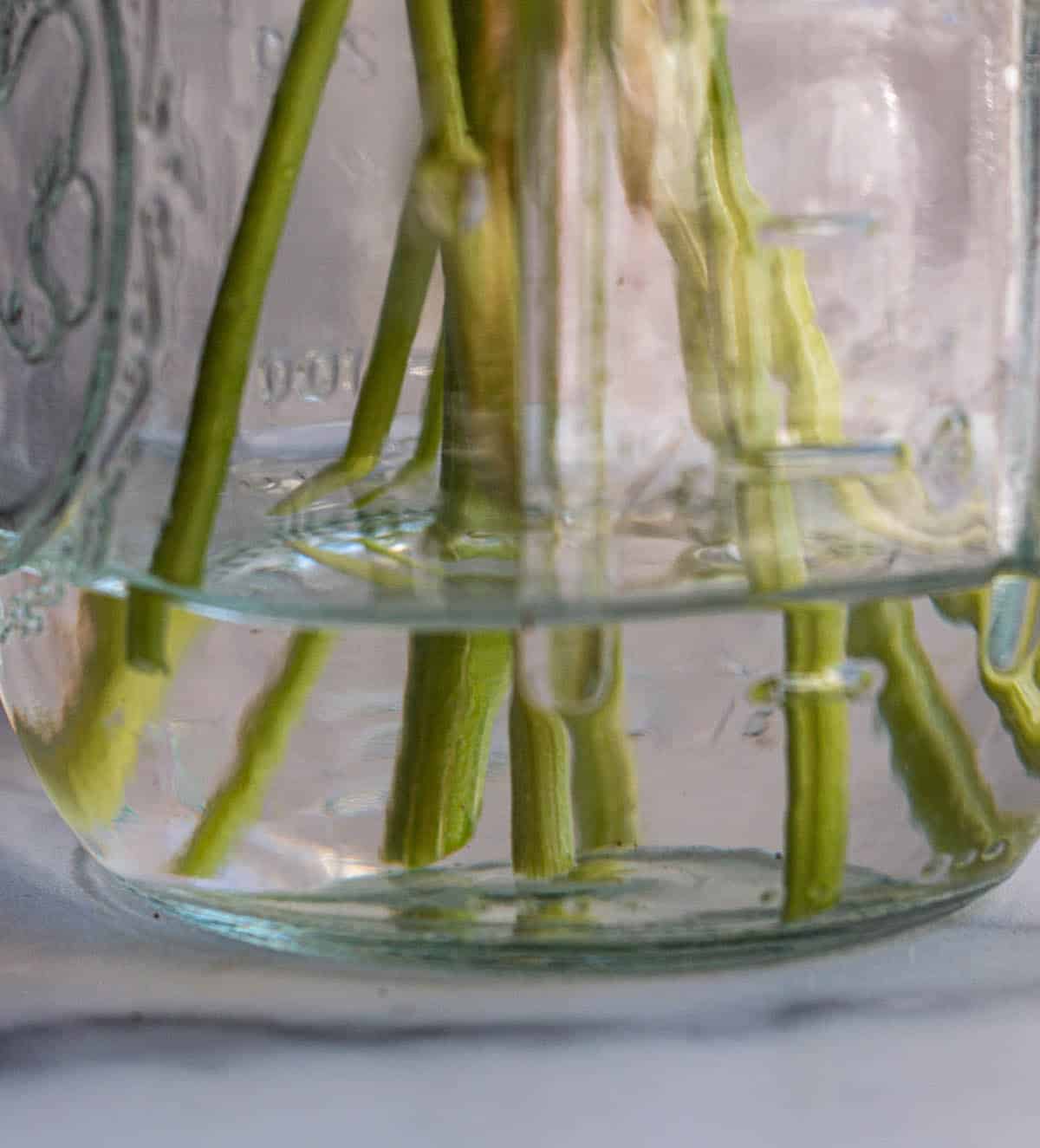 I prefer to store my parsley in a large mason jar.
When cutting the ends make sure it's enough so that the jar comes right up to the base of the leaves. This will help keep the parsley from drooping over the jar.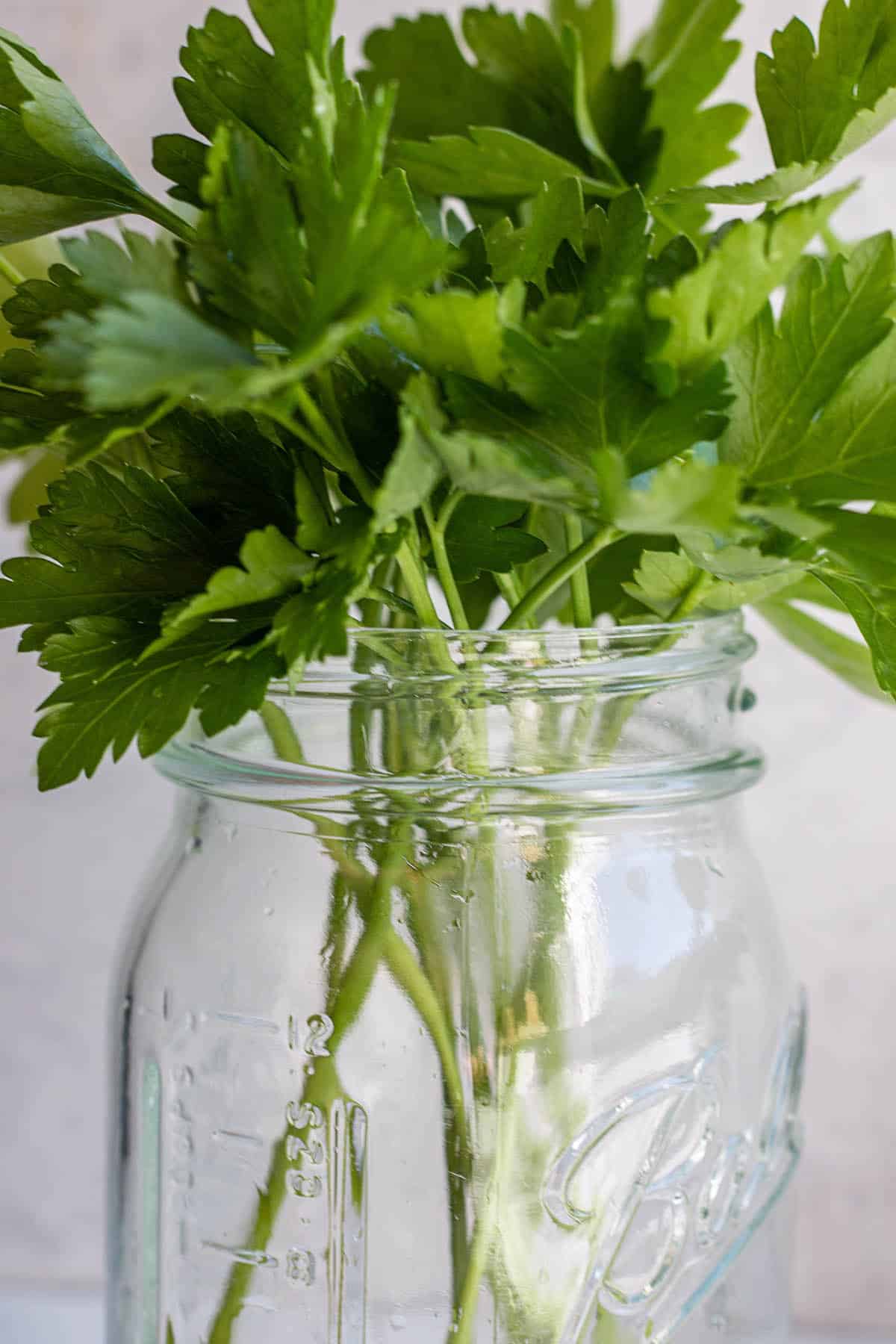 In a Wet Towel
Another great way to keep parsley fresh is to wash and store in damp paper towels. This will also help absorb water into the herb and keep it from wilting. Here are the steps if using this method:
Remove parsley from bag and give a good wash.
Take a paper or kitchen towel and get it wet, ringing out the excess moisture.
Wrap up the parsley and put in a ziplock bag. Seal and place in the refrigerator.
Replace the towel as it dries out.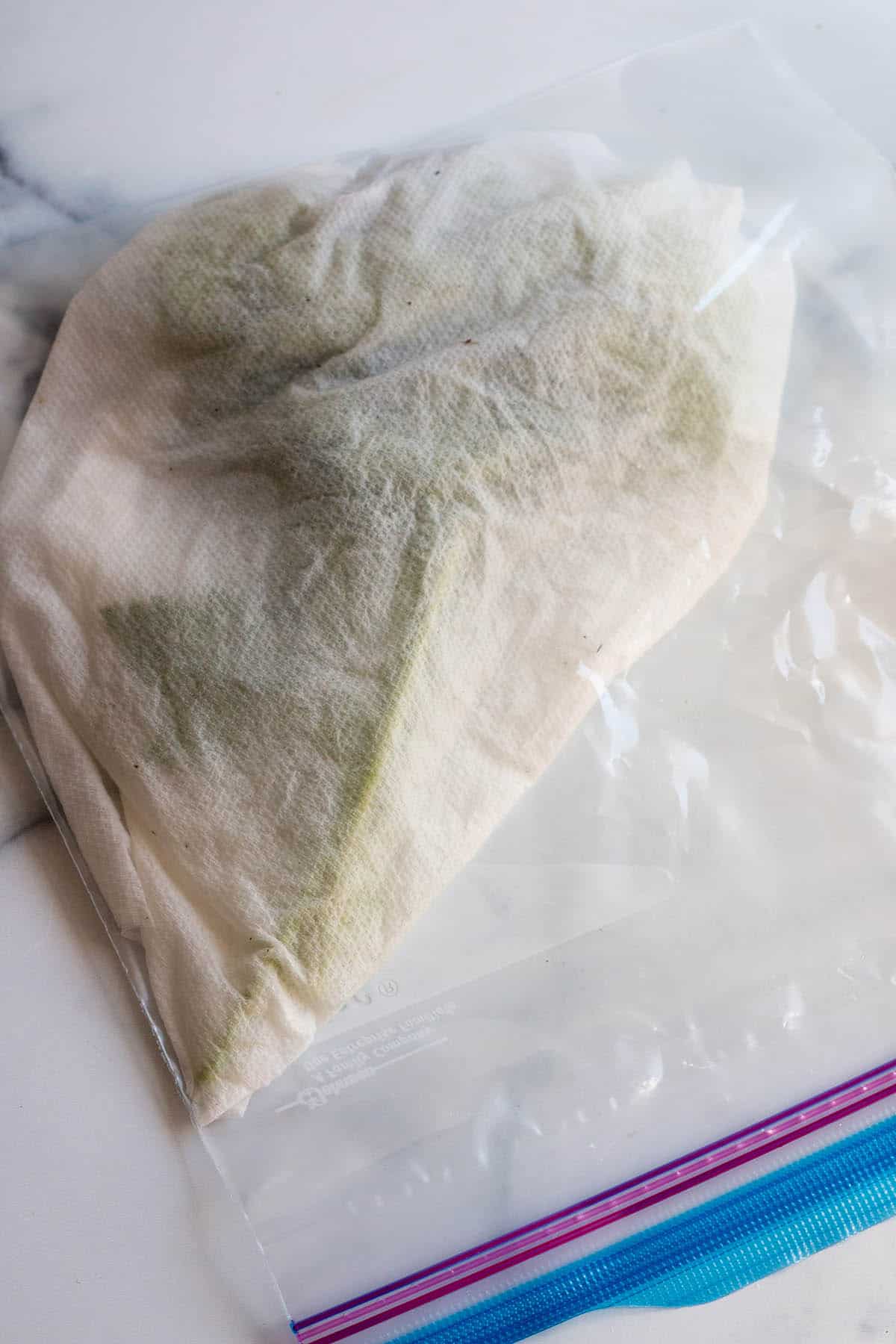 Both are effective ways and will definitely help keep that parsley fresh for longer, but I find the best method is with a glass of water. Especially if the water is regularly changed out and kept in a dry place in the refrigerator.
How to use Fresh Parsley
Typically when a recipe calls for fresh parsley they are referring to the leaves. While the stems can be eaten, and have a lot of flavor, they can tend to be on the more bitter side.
When you are ready to use it, give the leaves a good wash and pat dry with a paper towel or run in a salad spinner to remove the water.
Remove the leaves from the stem, place on a cutting board and chop up to desired size. Add to your dish and allow to cook.
Fresh parsley does not take long so adding it at the end is the best way to incorporate it. It also makes a great garnish so consider setting some aside to top your dishes with as well.
If you are needing a lot of parsley, for a sauce, chimichurri or parsley pesto, it can also be ran through a food processor.
Recipes that parsley can be added to: