The difference between flat-leaf parsley vs. curly-leaf parsley and when should each be used? While both come from the same family they should be treated differently. This is a look into these two varieties of parsley and how you can use them in your cooking.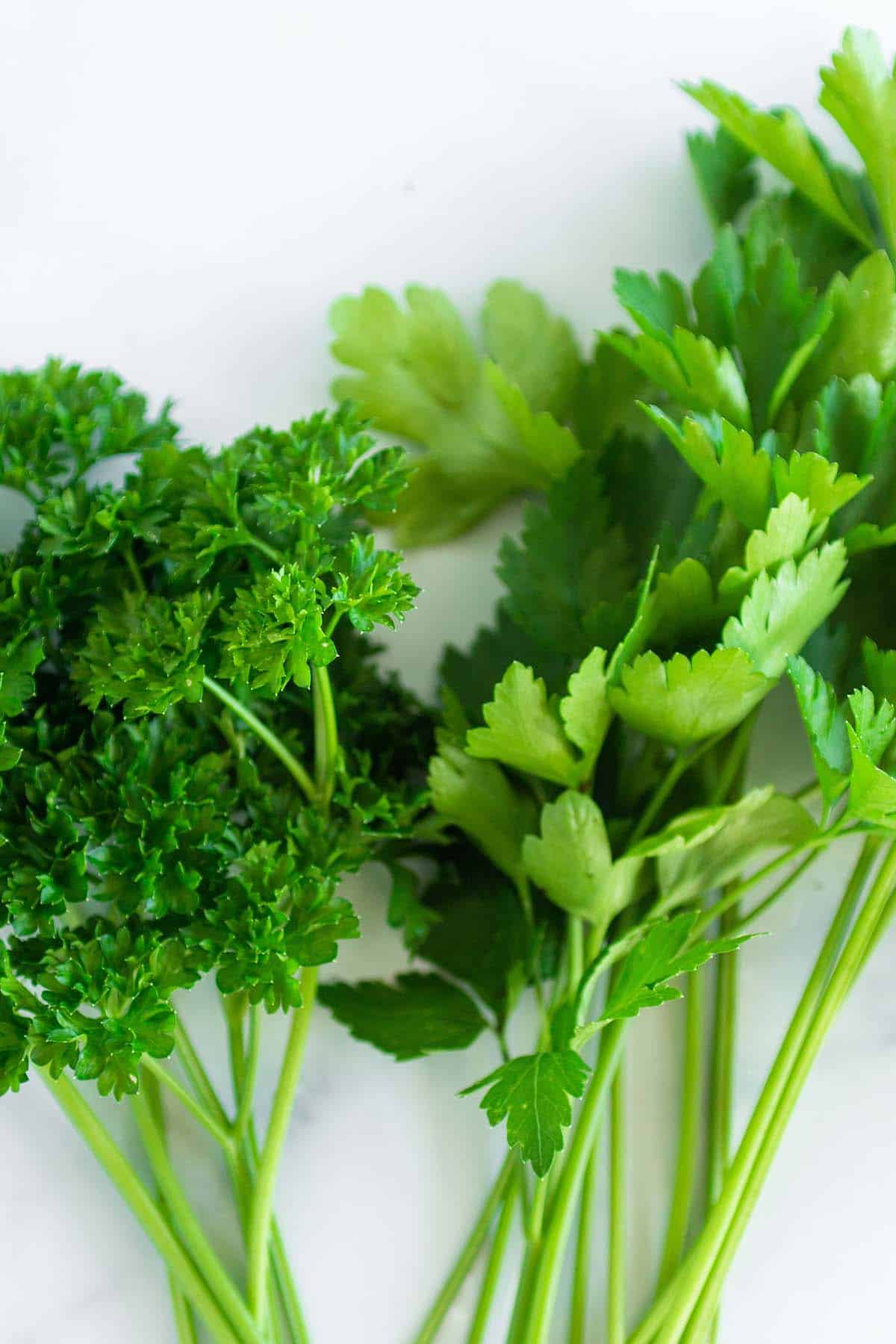 Want an easy way to elevate your cooking, add more intense flavor or a pop of color? Consider a leafy herb like fresh parsley.
Whether from a grocery store or grown in your home garden, parsley is a great herb to always have on hand. It goes well with Italian dishes, Mediterranean cooking, or in salads for added flavor.
This is a look into the two more popular types of parsley and when each should be used.
Jump to:
What is Parsley?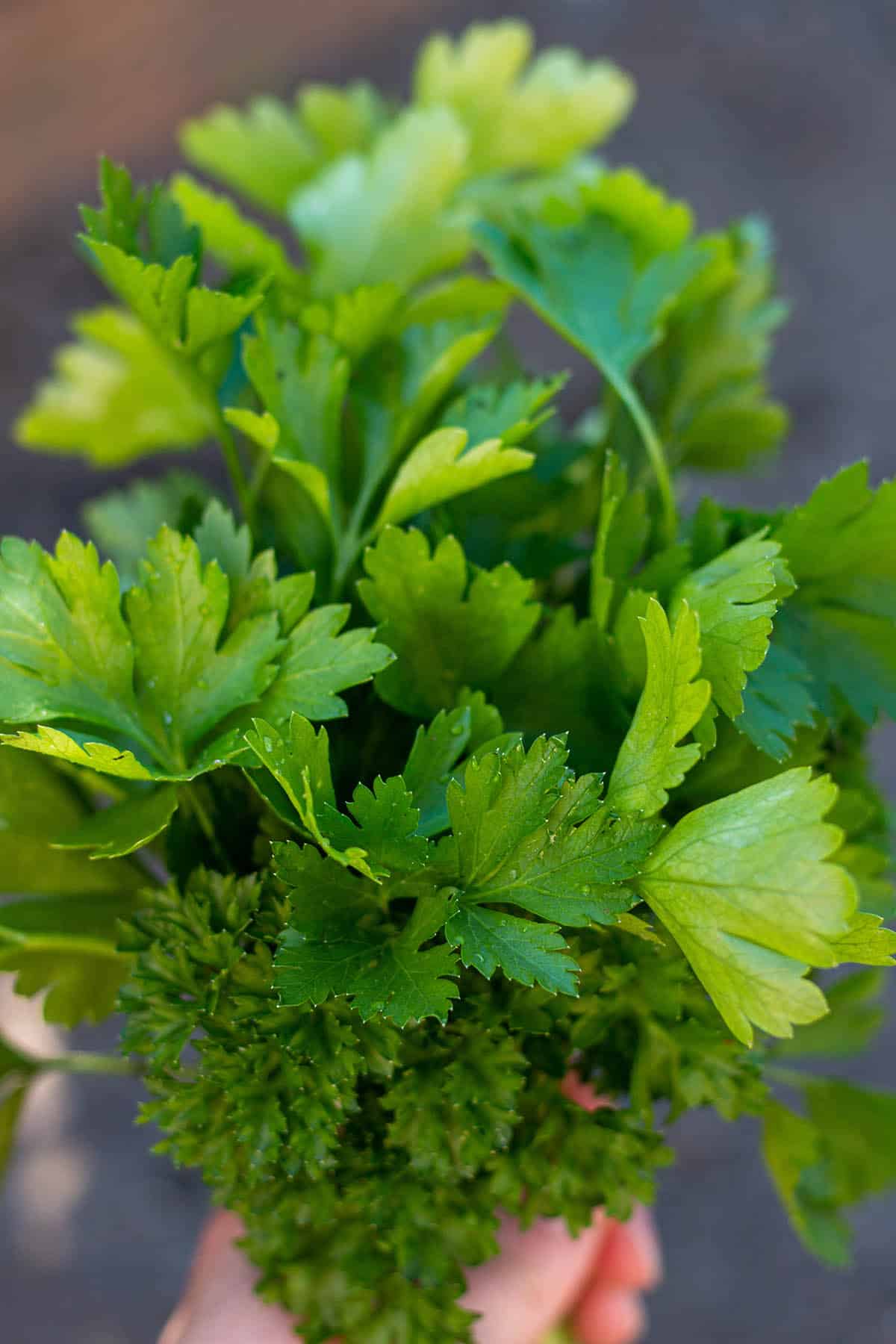 Parsley is a fresh herb that is adored by home cooks and professional chefs. It can often be found growing in gardens, windowsills, and even apartment balconies.
This versatile herb adds a fresh flavor to soups, stews, and sauces, and makes a great garnish as well. It's widely versatile and is the best way to elevate just about any pasta dish or sauce.
Parsley originates from the Medaterrian region and is a staple in European and Middle Eastern cuisines.
Parlsey is full of vitamin K, A and C. So, not only does it add a robust flavor to your dishes, it's actually good for you! Read more about the health benefits of parsley.
Types of Parsley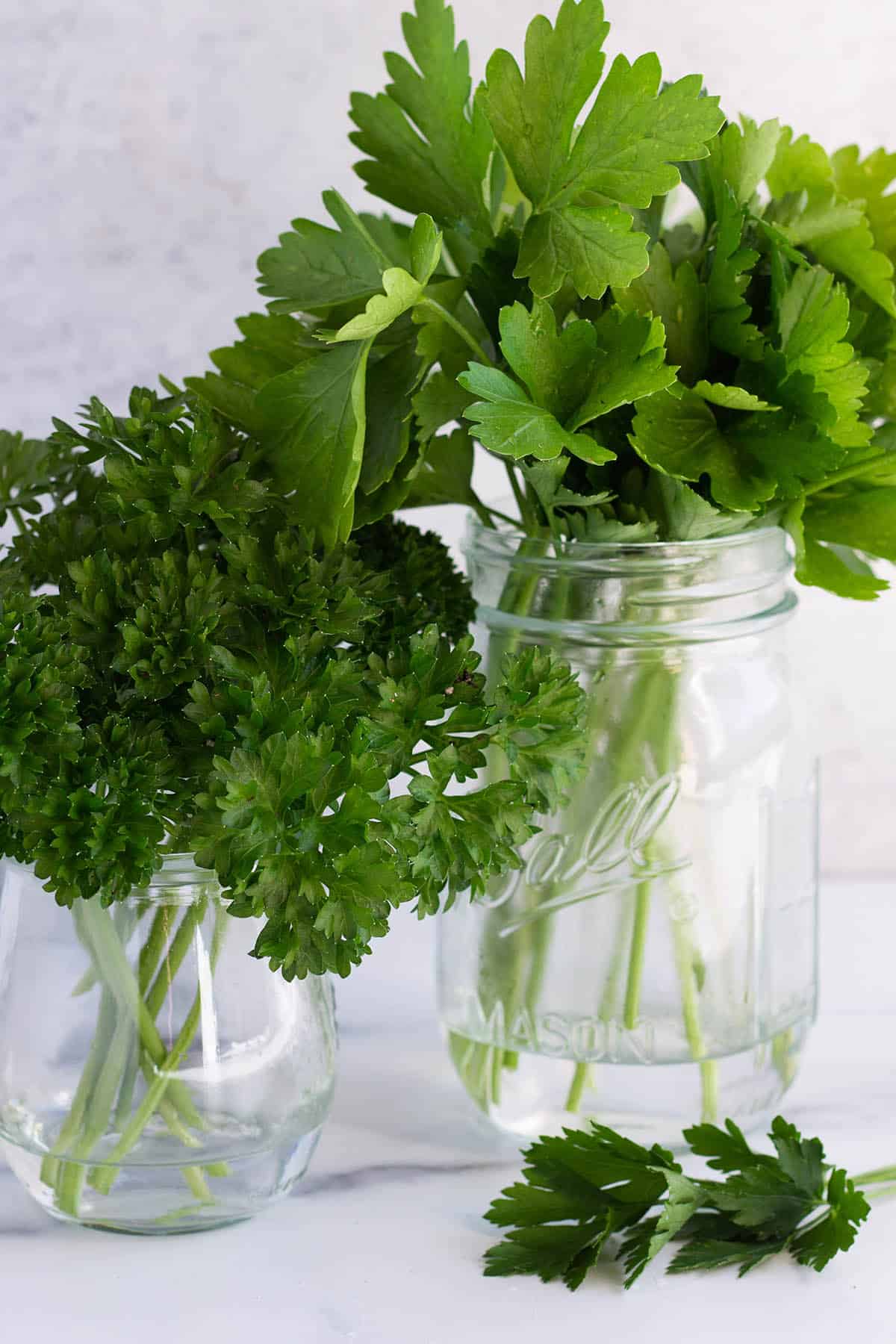 There are two different types of parsley that are most commonly used.
Flat leaf parsley ( also known as Italian flat leaf parsley) and curly leaf parsley.
There is a major difference in both appearance and how they should be used.
Flat Leaf or Italian Parsley
Flat-leaf parsley is the type with flat leaves and bright green in color. It has a peppery taste and can often resemble cilantro.
This is going to be the most popular choice and what is more commonly used for cooking. Italian parsley leaves will give off the most flavor.
Curly Leaf Parsley
Curly parsley is just that. This variety has ruffled leaves and a bolder, darker green color. Curly leaf has a much milder flavor than flat-leaf parsley.
Curly parsley is not a suitable substitute when a recipe calls for Italian parsley. It has a much more muted taste and the recipe will be lacking in flavor.
When to use Flat Leaf Parsley
Flat parsley is going to have the stronger flavor of the two. It is the variety that is used in most Italian dishes and is also used for dried parsley. It packs the most punch.
When reading a recipe that calls for parsley, unless specified, use flat-leaf Italian parsley.
It pairs well with pasta sauce, chicken, steamed salmon with herbs and lemon, or in a comforting bowl of soup.
When to use Curly Leaf Parsley
Even though both parsley's are from the same family, and have a lot of the same properties, they shouldn't be treated equally.
Curly-leaf parsley will be much milder in flavor and not offer the same taste.
Curly-leaf parsley is better used as a garnish. Add to a charcuterie board for a pop of green. It can be used to help flavor stocks or chopped up and added to a salad.
The curly variety is also used in French cuisine.
How to Keep it Fresh
There are two ways to keep parsley fresh.
Wrapped in wet paper towels and then stored in a plastic bag.
In a glass of water.
Get a full tutorial on how to properly store parsley.
How to Cook with Parsley
Fresh Parsley
Fresh parsley requires very little cooking time. In fact, if left to cook too long, fresh parsley can quickly break down and lose some flavor.
Both curly and flat-leaf parsley can be included in a bundle of fresh herbs (bouquet Garni) to help flavor soups, stews, and broths.
When cooking with fresh parsley, it's best to save it closer to the end. Add it to your dish just as it is finishing or save as a garnish.
Dried Parsley
Unlike fresh, dried parsley requires longer cooking time and should be added much sooner in the cooking process.
It needs more time for the herb to release the flavors and season the dish.
Dried Parsley is not a good option for garnishing.
Was this guide helpful? Please leave a comment below if this helped and what you are cooking with your fresh parsley!
Other Information on Parsley
Recipes that use parsley: