How to grow mint in your home garden? Just a few simple tips to have an endless supply of mint all summer long.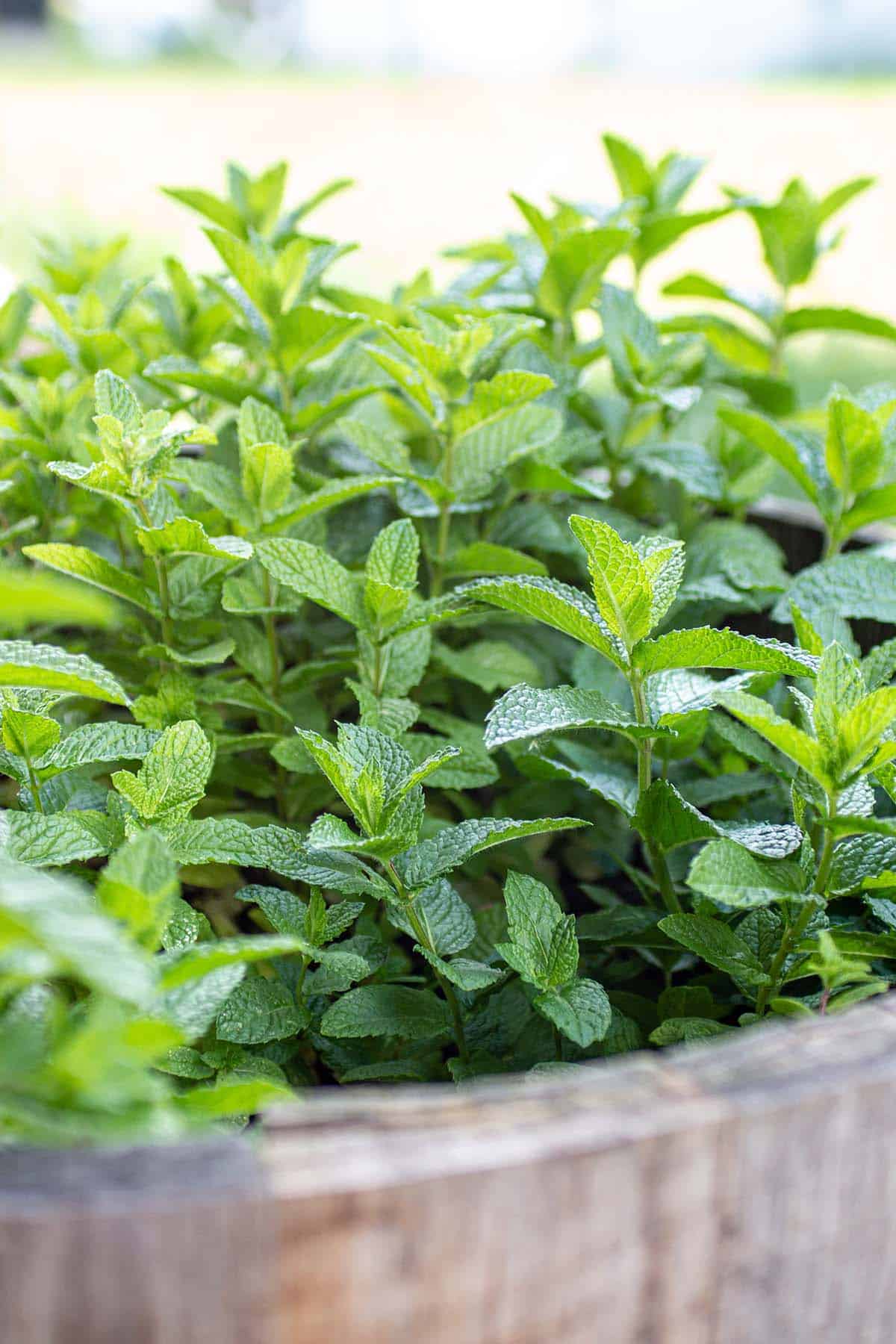 Growing mint in your home backyard or patio garden is a great way to get started with gardening, as well as having an endless supply of fresh mint!
Planting mint is always a great addition to any herb garden. There is nothing like the fresh taste and smell of homegrown mint.
It's easy to care for and comes back every year bigger and better.
Fresh mint is perfect to add to summer lemonades, watermelon fruit salad, and other recipes. 
Growing herbs such as mint and oregano is a great way to save money and incorporate more fresh flavors into your recipes.
The price of one plant is typically the same as a bundle of the same herb in the grocery store. And that one plant will come back every summer bigger and fuller.
Jump to:
Types of Mint
Mint is a perennial herb which means in the fall and winter the plant dies off but the roots will live under the soil.
Then in the spring, it will start to regrow. Often bigger than the previous year.
Here are a few mint varieties you can grow in your garden. Selecting a few will give you different flavor profiles for various uses.
Peppermint
Mojito
Spearmint
Watermint
Apple mint
Chocolate Mint
Cooking with Mint
Mint is great to add to all kinds of dishes. The fresh leaves are full of flavor and add so much freshness to all kinds of recipes.
My favorite way to use it is in this mint lemonade, watermelon limeade, watermelon fruit salad, sauces and ice cream. I also like to dry it out to use throughout the winter in a hot cup of tea.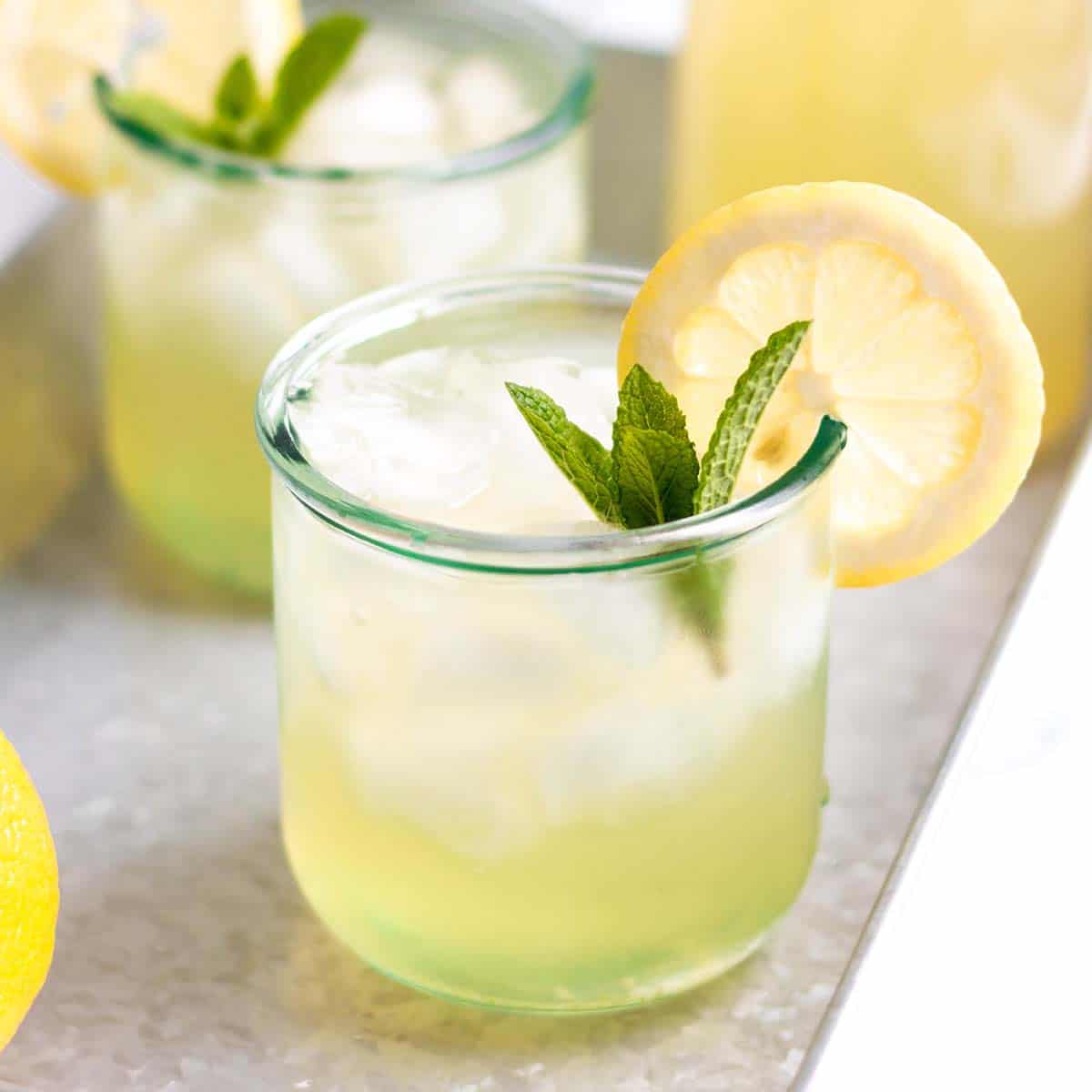 I often catch my kids just eating the fresh mint leaves right off the plant!
Recipes using mint:
Is Mint a Perennial or Annual?
Mint is a hearty perennial plant meaning it comes back every year.
They will go dormant in colder areas and die off, but new stalks will reappear in early spring.
Typically, mint is one of the first things that come back in my garden.
Tips for Growing Mint
Mint is super easy to grow, but there are a few things to keep in mind when planting and caring for your mint plant.
When done correctly, your plants will come back healthier every summer giving you more mint than you will know what to do with.
Here are some tips for growing your own mint:
1. Plant in Pots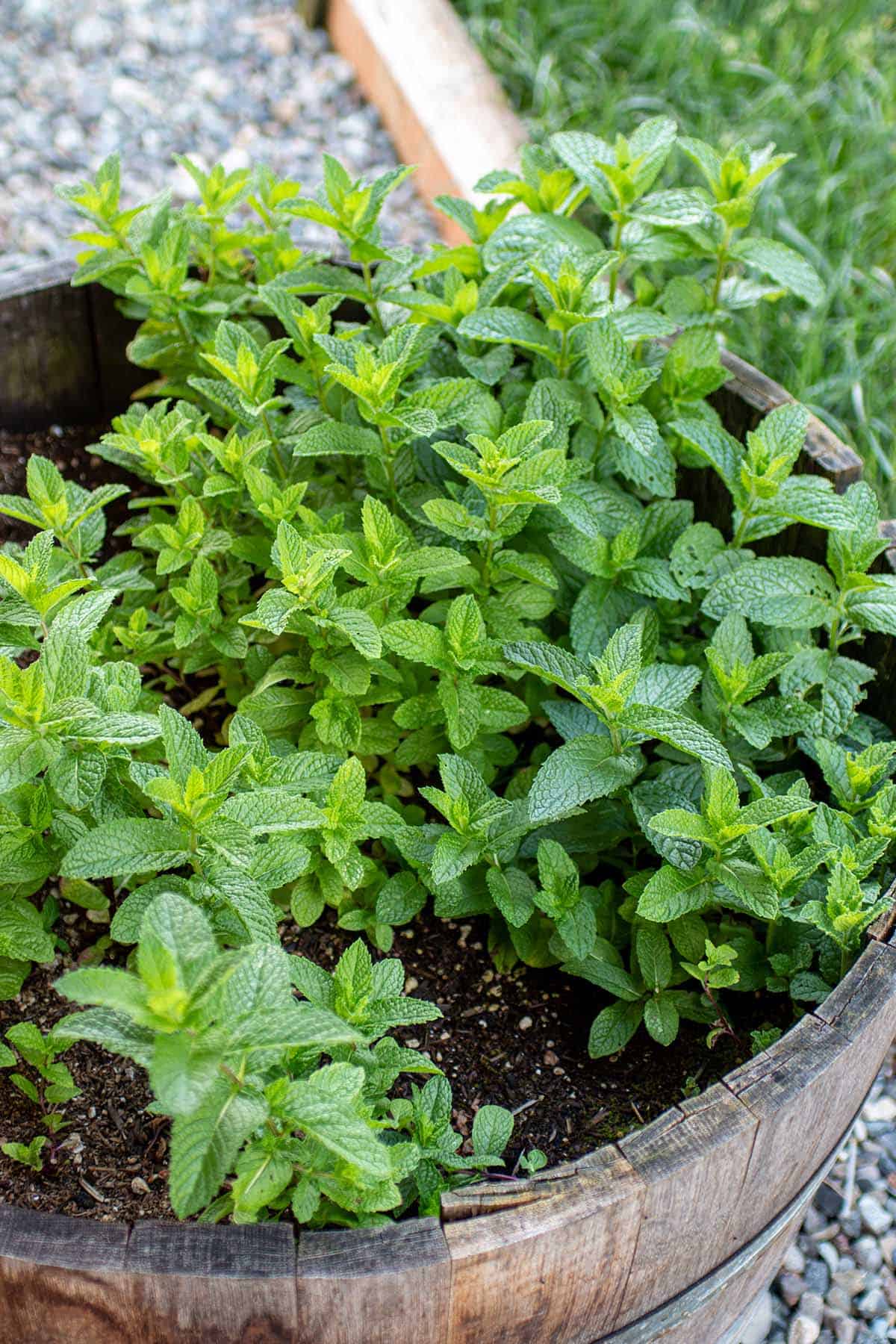 The most important thing to keep in mind about mint is that it is an extremely invasive plant. Do not plant in the ground unless you want to be digging up and pulling mint for years.
Growing in pots or containers really is the best way. It controls the roots and prevents it from spreading into other garden beds.
Make sure the pot has drainage holes so standing water doesn't accumulate.
Be sure to select a larger container for planting your mint. It grows quickly and likes to spread out, so give it some room to grow.
2. Do Not Plant in the Ground
It is always a good idea to NOT plant mint directly in the ground. As mentioned above, pots or containers are really the only way to go.
While it can be used as a ground cover and would grow really well, just be prepared for it to get out of control and take over everything around it.
To avoid years of headache trying to remove this invasive plant, just leave mint out of the ground.
3. Plant in Fertile Soil
Mint is a perennial plant that will return each year. To give your new mint plant the best start, be sure to use good fertile soil mixed with organic matter.
4. Plant in Full Sun
Mint does best when planted in full sun but can also handle partial shade. Make sure it has at least 6 hours of direct sunlight.
They do well with an afternoon shade. Sometimes the direct intense sun in the evening can wilt the leaves.
Mint is pretty hearty and can grow just about anywhere with enough sun exposure,
5. Start in Early Spring
If starting new plants, be sure to wait until the last frost date to transfer outside.
Check the USDA hardiness zone map to see when your expected last frost date will be in your area.
6. Watering
Mint does need evenly moist soil, but not too much excess water.
Water your mint once the soil in the top 1" has started to dry out. But make sure it has good drainage to help prevent root rot.
The soil should be damp but not soggy.
7. Propagate from Stem Cuttings
Growing mint from seeds is a bit complicated so the best way to get a new mint plant is from root or stem cuttings.
Just cut a couple of stalks and put them in a glass of water until the roots start to develop.
Change the water every couple of days.
In about two weeks you should have a few inches of healthy roots. Just plant the mint in a pot and watch it take over.
8. Harvest Often
Mint can and should be harvested throughout the growing season. Harvesting will encourage new growth, so pick often.
Just make sure to never cut back more than ⅓ of the plant at one time.
How to Harvest Mint - 3 Ways
Wait until the mint plant has reached at least 4" tall before picking.
#1: Just the Leaves:
If you only need a couple of leaves, just pinch off from the stalks at the base of the leaf. Select the leaves just above the first or second set.
#2: Cut the Stalk at the Base
The entire stalks can also be harvested. Just select the tallest stalks first and cut them at the base right above the soil.
This will encourage new growth and within weeks you should see new shoots coming up.
#3: Half way up the Stalk
For a bushier plant cut the mint stalk just bout half way up. Cut the stalk right at the top of the 3rd or 4th set of leaves.
New shoots from that stalk will grow creating a fuller plant. You will see in this photo that two new stalks grew in a Y shape from where it was cut.
While mint can really be harvested at any time, the best time of year is right before the flowers start to form. This is when mint leaves are at their peak flavor. This usually happens in late summer.
In the fall, cut the entire plant down to the soil and cover it with mulch to preserve the roots during the winter. In the spring, new stalks will start to grow.
Storing Fresh Mint
Before storing mint, give it a good rinse and shake off all the excess water.
Once mint stalks are cut and cleaned, keep them in a glass jar with about 1" of water coving the bottom of the stems. Store in the refrigerator.
Replace water every couple of days to keep them as fresh as possible.
You can also take a damp paper towel and wrap up the fresh mint and store in a ziplock bag. Change the paper towel every couple of days.
Was this helpful? If you found this information or any others on Dirt & Dough helpful, please leave comment below. I love hearing from you!
*Let's Connect! Follow along on Instagram, Pinterest or subscribe to receive emails!
Recipes That Use Fresh Mint:
Other Herb Garden Resources:
See more Gardening Resources→