How to grow sugar snap and snow peas in your backyard garden. Peas are really easy to grow and are fun for the whole family to enjoy. This cool season crop is a great way to get an early start to your gardening season.
Peas are a very popular crop for home gardeners for lot's of reasons. They do well in cool weather, are easy to grow, fun to harvest, and delicious to eat. Peas really are the perfect addition to any vegetable garden.
They are the perfect crop to start your growing season and store-bought peas just can't match the taste of fresh peas.
Garden peas are going to be bigger and full of so much more flavor.
Peas can also be grown in two seasons. Plant in late winter or early spring for an early summer harvest, and then again in late summer to have a fall harvest.
Looking for more gardening insiration? Learn how to grow onions, blueberries and raspberries this season. Or check out all my tips to start your very first garden.
Jump to:
Types of Peas
While there are many varieties of peas that can be grown in your garden there are three main types: sugar snap, snow and shelling.
All three are going to grow tall pea vines that will need to be supported and need similar growing conditions.
Sugar Snap Peas or Sweet Peas: This variety has large peas inside edible pods. They make a great snack and have a sweeter taste to them.
Snow Peas: Similar to sugar snap, snow peas also have pods that are edible but are much flatter and the peas themselves are smaller.
Shelling Peas: Also known as English peas, this variety is similar to sugar snap peas but the shell is not edible. This variety does need to be shelled.
What do Peas Need to Grow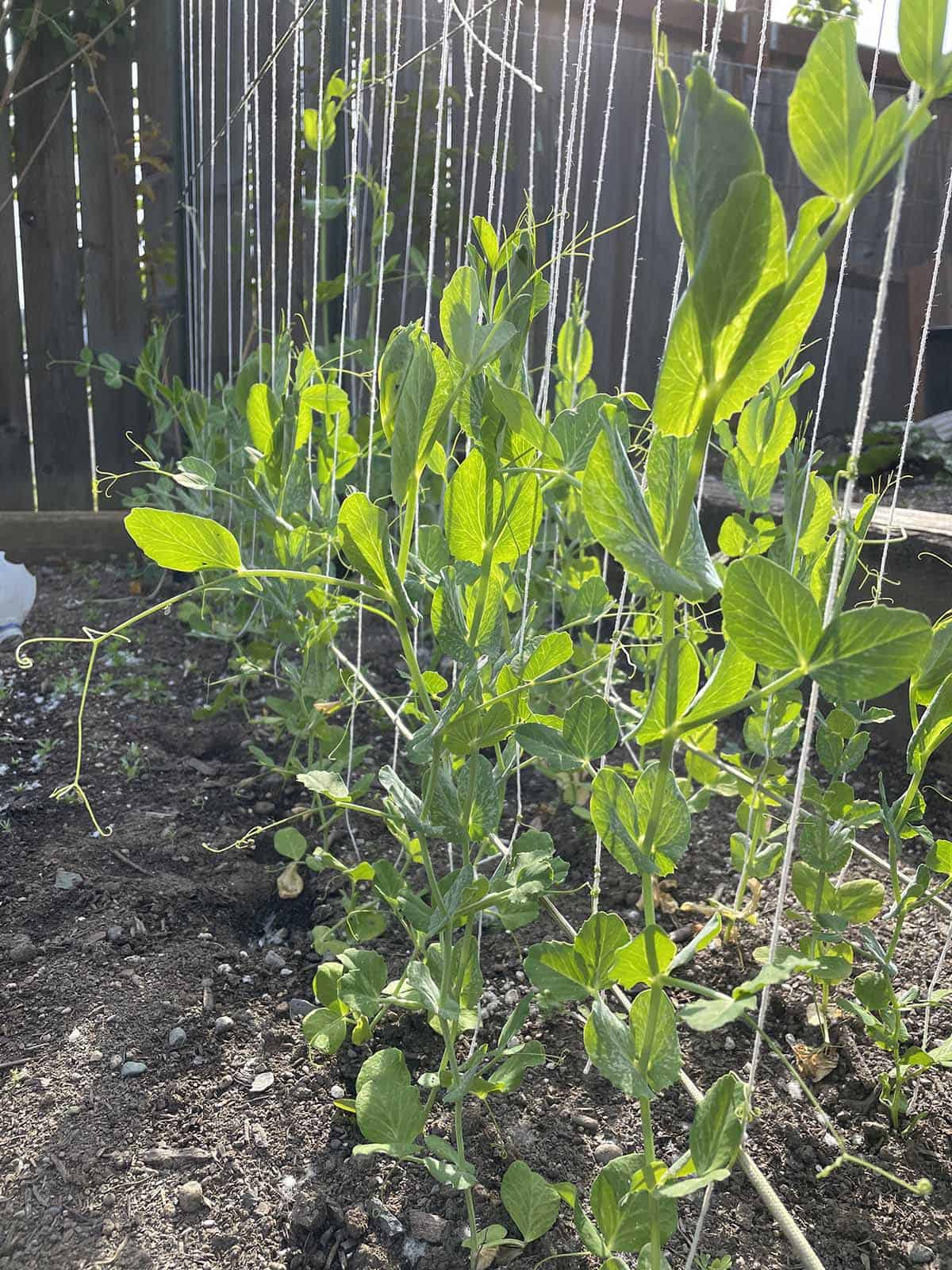 Peas are a cool-season crop that can be grown in early spring and then again in the fall. Here are the basic needs to grow peas:
Sun: Peas need full sun to thrive. 6-8 hours of direct sun is ideal. Peas can grow in partially shaded areas but they will not produce as much.
Soil: Plant peas in well-draining soil that has been mixed with organic matter. While this is a cold-weather crop, the soil temperature should be at least 40-45 degrees before planting. They thrive in cold soil.
Do peas need a trellis? Yes! Peas need to have a trellis. They can grow 5-6' tall and their small stalks will not stand on their own. A trellis can be just about anything. I have used bamboo stakes, chicken wire, cattle fencing, and poles with twine. Whatever you choose, just make sure it is tall enough for your plants.
Even young plants will need support or they will fall over and the stalks will break. Make sure to have your trellis in place, starting at the bottom of the plant before planting your peas.
Water: Peas like moist soil, but too much water can cause the roots and stems to rot. Just make sure the soil is damp and they are getting plenty of water. Especially in the beginning.
Regular Harvest: Picking peas regularly will signal the plant to grow more. Regular harvest is a must to produce the most peas.
How to Plant Pea Seeds
Growing peas from seeds is really simple. Just simply sow the seeds directly into the ground in late winter or early spring. Plant a second round in late summer to get a fall crop.
Depending on your area, sow peas directly into the ground 4-8 weeks prior to the last frost date. Find your frost dates.
They can also be started indoors and transferred outside once the ground has thawed. The right time will depend on your area and climate. They can handle a light frost and colder temps.
Plant 2-3 seeds per hole in a single row. Plant 2-3 inches apart and 1" into the ground. Cover with dirt then water, ensuring the soil has good drainage.
Once they start to sprout, thin to one plant per hole.
Trellising will be important so make sure to provide support right away. Ensure the trellis reaches the base of the plant to provide the best support.
For fall planting, again, depending on your area, start seeds outdoors 4-8 weeks prior to the final frost date. Again, peas love colder climates so they will do well once the temperatures begin to drop.
As peas begin to develop, make sure to harvest them regularly. This will tell the plant to grow more. So the more you pick them the more the plant is going produce.
This is a general guideline but all the information you need will be on the seed packet.
Where to Buy Pea Seeds
My favorite pea seeds are from the True Leaf Market. They grow really well and seem to produce tons of peas. Shop sugar snap peas and snow peas.
They can also be found in just about every garden center or hardware store.
Cooking with Peas
Sugar snap peas are the ideal snack! They have a crunch, are on the sweeter side and so irresistible.
Snow peas are also great for snacking but go so well in salads and stir fry's.
Frequently Asked Questions
What month do you plant peas?
Late winter or early spring as soon as the ground has thawed and able to be worked. Peas love cooler temps. A second round can be planted in late summer/early fall.
Do Peas Need to Climb?
Yes. All peas will need some kind of support or they will fall over and the stalks will break.
Do Peas Prefer Sun or Shade?
Peas will need full sun to grow. 6-8 hours is ideal.
Was this information helpful? Leave a comment below if you are growing peas this season!
*Let's Connect! Follow along on Instagram, Pinterest or subscribe to receive emails!
Other Gardening Resources: