Have you ever wanted to learn how to grow onions? The process is very simple and perfect for beginner and experienced gardeners. They are easy to grow, harvest, cure and store. You can pick onions just about any time throughout the growing season but also wait until maturity to cure and save for later.
*Disclosure: I only recommend products I would use myself and all opinions expressed here are my own. This post may contain affiliate links that at no additional cost to you, I may earn a small commission. Read full privacy policy here.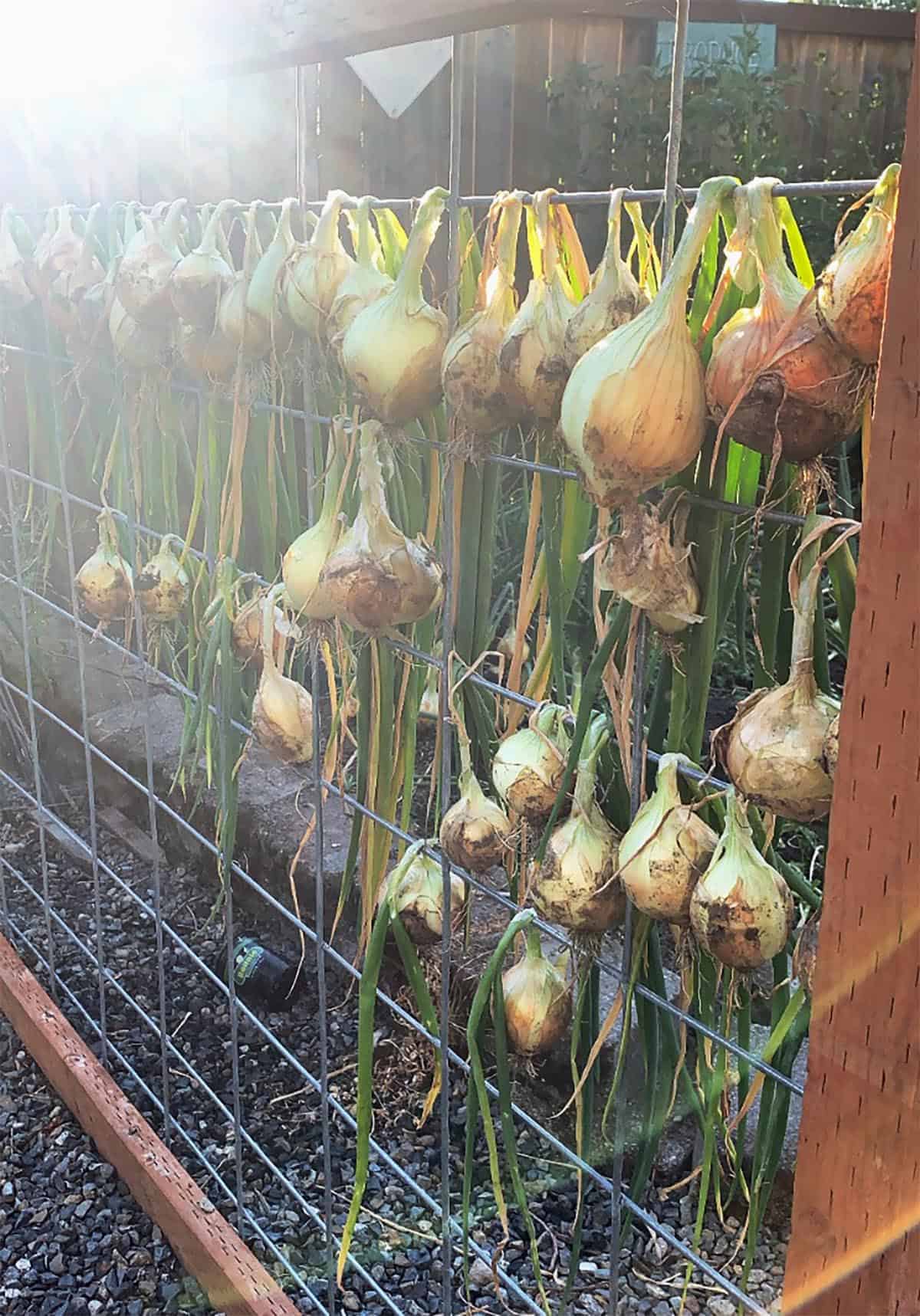 One of my favorite things to grow in my backyard garden is onions! They are typically one of the first things to be planted and once harvested and cured they will last months in my garage. There is just something special about preparing Thanksgiving or Christmas meals with onions I grew in the summertime.
Onions are unique because you can harvest at just about any time during the growing season. For most produce you have to wait until they are fully ripe to pick and enjoy. Not onions. You can essentially harvest them at any time stage of development. Sure they will be smaller, but they still pack a ton of flavor.
From experience, I can say that onions will grow just about anywhere. While it is not recommended or ideal for maximum growth, I have grown successful onions in the worst of conditions.
Last season I purchased from our local supplier what I thought was 50/50 dirt compost, which was in fact full of rocks. I'm not talking a rock here or there but thick rocky clay I could barely get a shovel in. But I didn't have time to amend so I went with it.
Guess what? My onions STILL grew. They did not get to the size that they have in the past, and some didn't even make it at all. But they still grew, and they were still delicious.
Onions are hardy, easy to grow, and require minimal additional care. And they just look stunning.
Cooking with Onions
Before we talk about what kinds of onions to plant, the first thing you will want to decide is what you are going to use most.
Yellow, sweet, white, red, scallions, shallots or pearls. Determining which ones you use the most will help pick the right ones to plant. Yellow onions are great for a classic French Onion Soup.
When deciding what onions to grow, first determine what you would use the most in your cooking. I tend to cook with more reds in the summer. They go great on the grill and in salads. But in the long run, I tend to use more sweet and yellows. I am a Washingtonian so Walla Walla sweet onions are a must. These are the three I use the most in my dishes, so it's what goes in the garden.
Onions are without a doubt extremely important in just about every culinary cuisine. They are used all over the world in a variety of different ways. See my Cooking with Onions Post to read more about the power of the onion and which is the right one to choose for each dish. COMING SOON! Sign up for my email list to be the first to receive new posts.
How to Grow Onions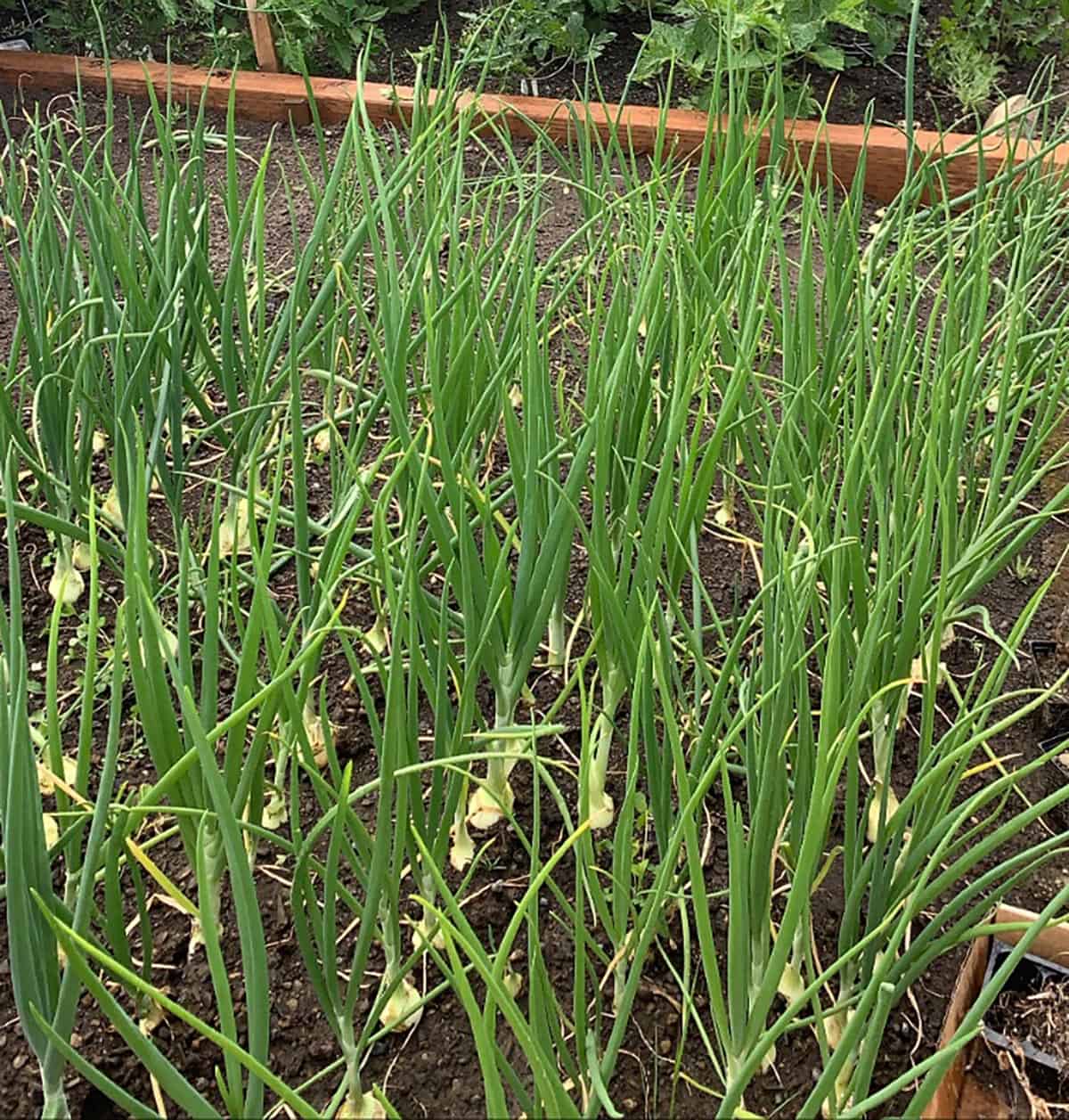 Types of Onions for Planting
When it comes to growing onions there are three different types to keep in mind: Short day, Long Day and Neutral Day. Deciding which ones to grow depends on where you are located and how many hours of sunlight there are in the summer.
Short Day - Southern Region, with 10-12 hours of summer daylight.
Long Day - Northern Region, with 14-16 hours of summer daylight.
Neutral Day - Central Region, with 12-14 hours of summer daylight.
If you are purchasing your onions from a local feed store or nursery you really don't have to worry about day length. They should have the right onions to grow in your area. If you are ordering your onions from a seed company such as True Leaf Market, be mindful of your day length to make sure you are getting the proper seeds for your region.
Sets, Seeds or Seedlings
There are three different options to getting your onion garden going. Onions are grown from sets, seeds or seedlings (transplants). Choosing which to use is a personal choice. If you are just starting out I recommend transplanting seedlings. They are inexpensive and have a shorter growing season than seeds.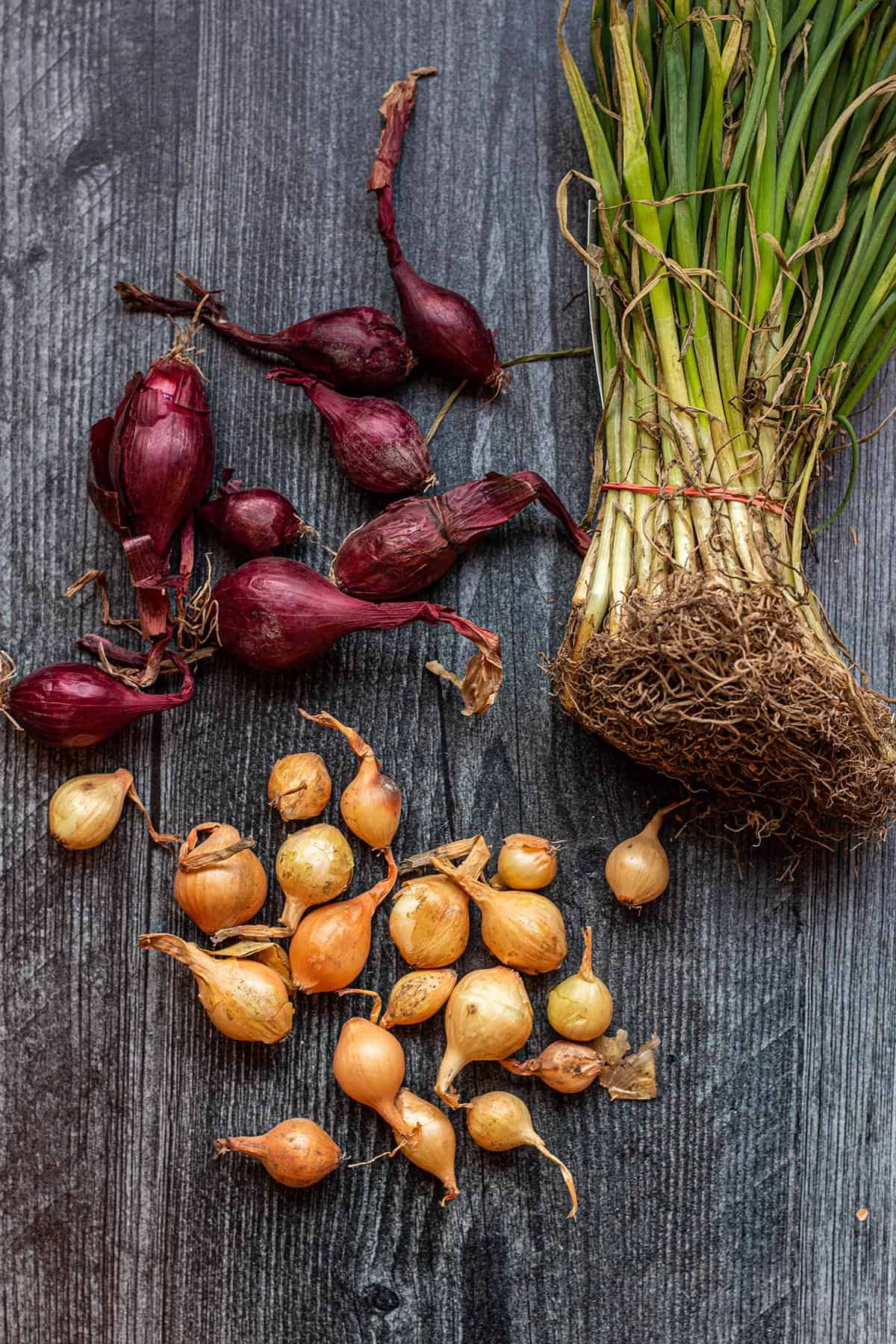 Seeds - Planting onions from seeds is the more economical approach but it can also take a lot more time. Growing from seeds is always the best option if you have the time and space for it but it's not always ideal.
Seeds also help ensure success. Transplanting sets or seedlings may not be as successful or produce the biggest bulbs. Seeds will always give you the biggest onions.
The downside to planting onion seeds is they do take a lot more time. If you have the ability to start from seeds this is the preferred method, but sets and transplants are also a great way to get started.
Sets - Onion sets are small bulbs that look like small onions. They are really easy to transplant and establish very quickly. The downside to sets is they are more prone to bolting. Because they have a more rapid rate of growth they tend to bolt and flower a lot faster than seeds or seedlings.
Onions that have bolted should be harvested and used right away. They will not keep long.
Onion sets are in their second year of growth. They are started in the past season, hardened off, and stored over winter. Once planted they reestablish a root system and take off. Sets are very successful but may not get as large as those started from seeds.
If you have sets that are too large they are more prone to bolting. So when selecting make sure they are on the smaller side.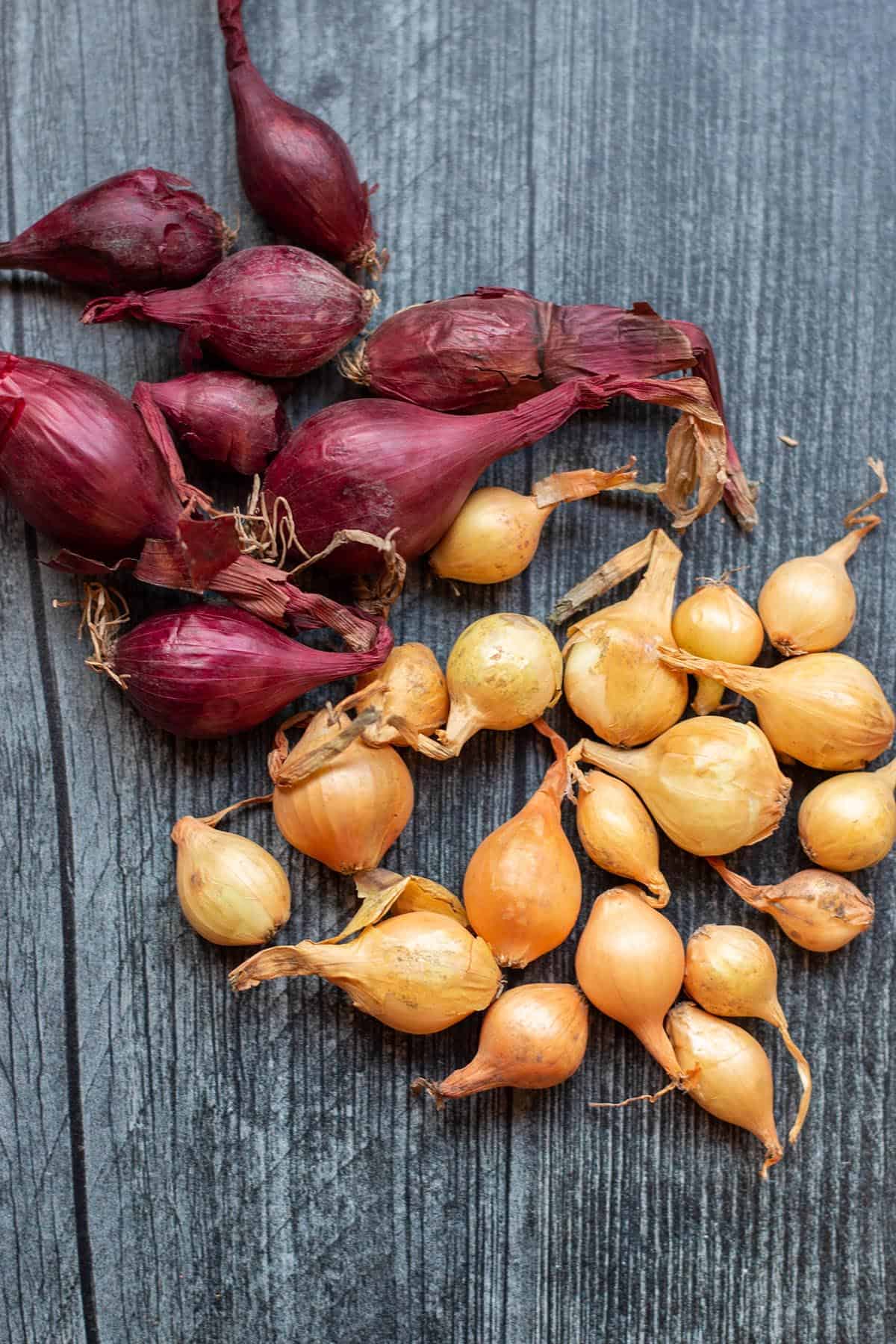 Seedlings (Transplants) - Seedlings are onions that were started in the current growing season and ready to be transplanted outside. They can often be found in large bundles at feed stores or nurseries.
Seedling transplants are my preferred method for starting onions. They are inexpensive and easy to plant. I also do not have to worry about starting onion seeds. Since they are already in their growing season they establish and take off quickly. Onion seedlings are not as prone to bolting as sets are. I do not recall any of my seedlings ever bolting.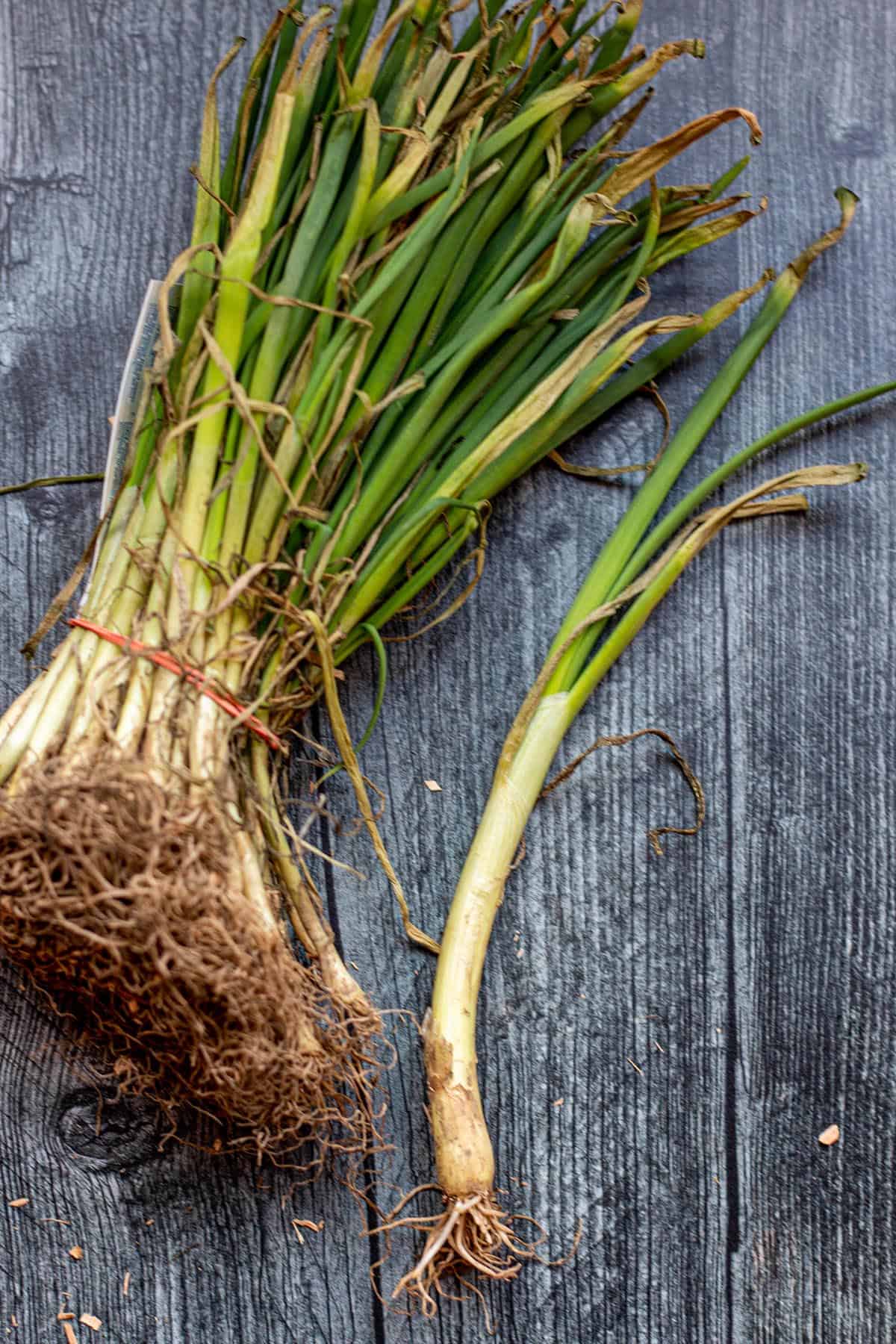 Soil, Sun and Nutrients
Onions need a sunny spot with good draining, fertile soil.
Onions do need a lot of sun to thrive. Six hours or more is ideal. When selecting a location make sure it is free from shadows off of buildings or other plants and has good air circulation.
The soil needs to drain well and be loose. If the dirt is too compact, the onions will have a very hard time growing. And if it does not drain well, the standing water will cause the bulbs to rot. Keeping up on weeds is also crucial. They can take a lot of the water and nutrients onions need to thrive.
To get the biggest bulbs out of your onions make sure to mix in aged compost in the fall or spring prior to planting. You can also use organic matter such as a bone meal. Additional feedings of nitrogen-rich fertilizer weekly is recommend to achieve larger bulbs. Stop feeding once the onion emerges from the soil.
Watering - They do not have the greatest root system so ensure they are getting plenty of water. Make sure you water your onions regularly but not so much that they are sitting in soggy soil.
Planting
Onions are hardy plants and can withstand cold temperatures. In zone 8b I can plant my onion seedlings in March and by mid-summer, they are fully mature and ready to harvest.
They can also be planted in the fall. Just be sure that they have a few weeks of cooler weather to establish before the extreme cold rolls in. They will then go dormant until springtime.
Onion seeds, sets and seedlings will all come with instructions on how to plant but here is a general guideline.
Seeds - Onion seeds need to be started indoor 6-8 weeks before they can be transplanted outside. Follow instructions on your onion seeds to make sure you have the ideal conditions. Once mature enough to plant outside follow the transplant guide for seedlings.
Sets - Plant sets in a trench that is around 1" deep and space 4-5" apart. Rows should be around 12" apart. Place the bulb with the point end up and cover it with dirt. Make sure to not plant too deep. The tops of the sets should be just under the soil.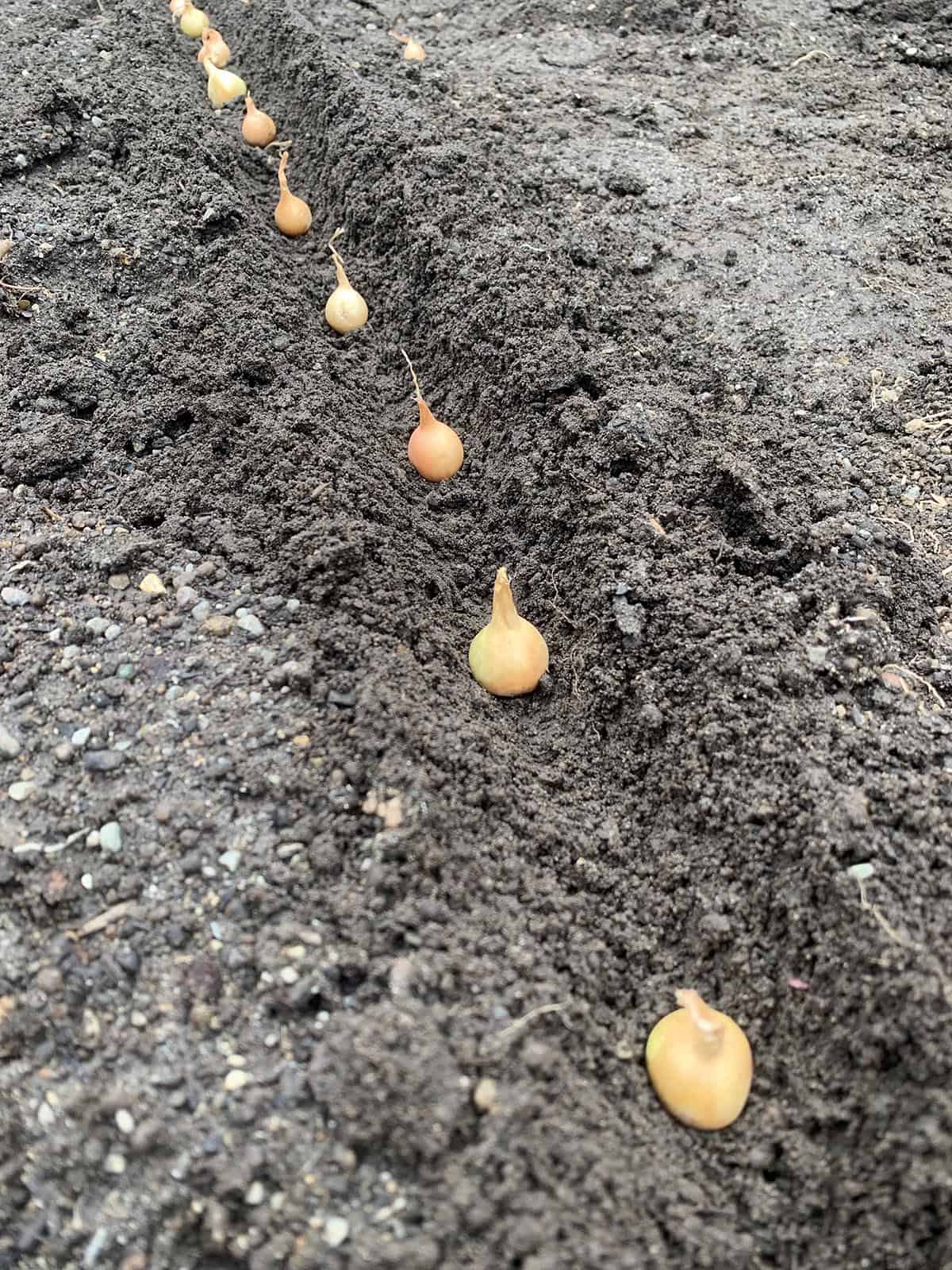 Seedlings (transplants) - Seedlings are onions that were started in the current growing season and ready to be transplanted outside. Or you can purchase them in bundles. Plant each seedling 4-5" apart with rows 12" apart.
You can also plant seedlings closer together (1-2") and thin out to enjoy smaller onions throughout the season.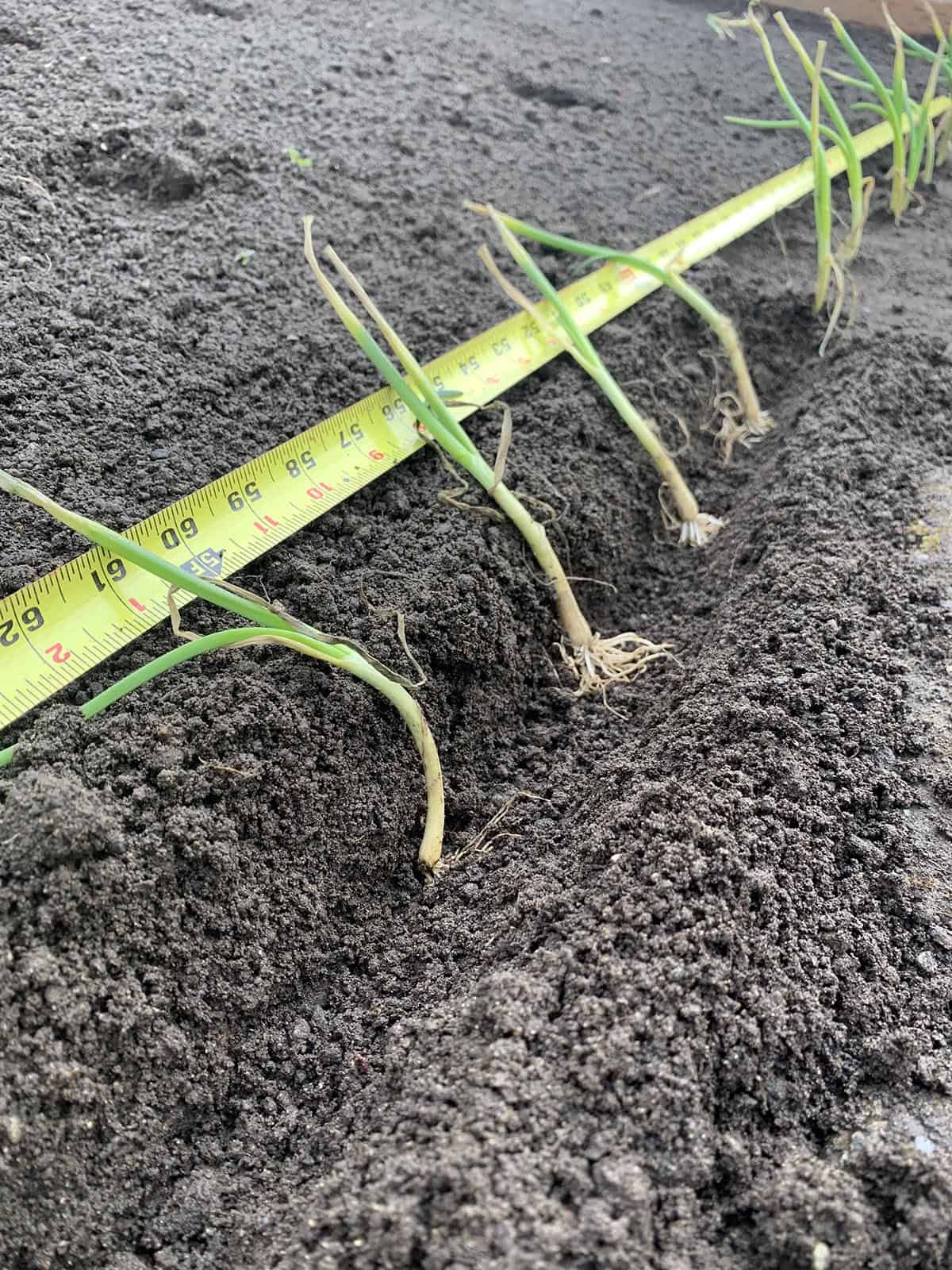 Another method is to poke a hole with either your finger or stick about 1-2" deep, drop the seedling in, and fill it with dirt.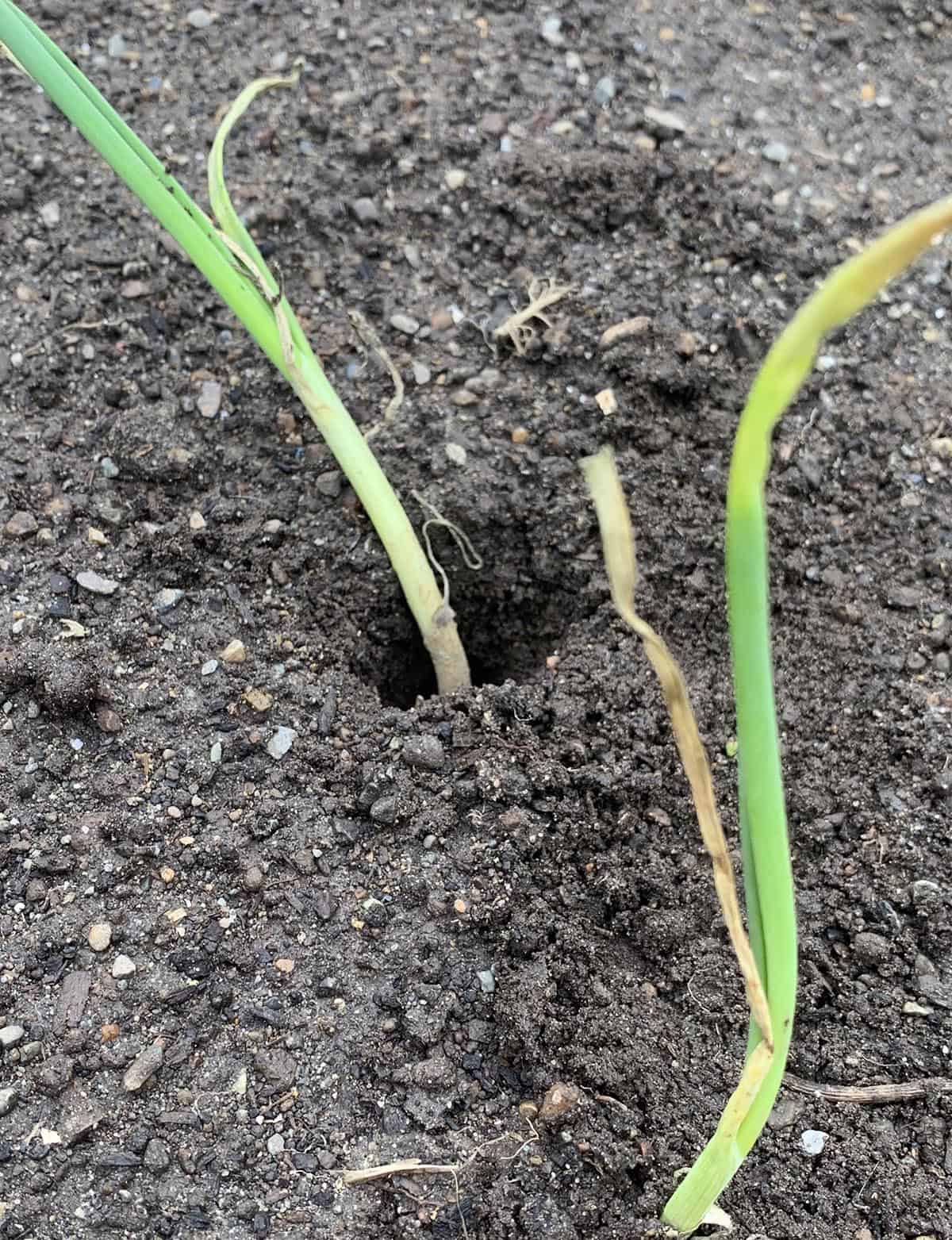 It is also recommended that once the bulbs start to develop to add a layer of mulch on top. This will help with water retention and keep weeds from growing.
When the onions start to push out of the ground do not cover with more dirt and stop all supplemental feedings. This is what onions need to do so don't worry if they all start poking out of the ground.
Harvest
While you can pick onions at any time during the growing season, they will also tell you when they have reached maturity. Even the seedlings can be harvested early and used as green onions.
At the end of the growing season the tall green onion stalks will start to turn yellow and fall over. Once all the leaves have completely fallen over (sometimes they need a little help by pushing them over) allow your onions to sit for a few more days in the ground to start the curing process.
If an onions starts to bolt and flower, pull immediately and use right away. These will not store as long.
Harvest your onions on a dry day and be sure they do not get wet while curing. They will not dry properly and may rot.
Using a small shovel gently loosen the soil and dig out your onions, shake off the dirt and hang (or layout) to cure. Some gardeners will even just pull them and leave in the garden beds to finish curing. Just make sure rain won't be an issue. Being in Washington I don't take this risk.
Cure and Storage
Once your onions are pulled it's time to cure and store. This basically means they need to completely dry out. Any remaining moisture will cause your onions to go bad.
You can leave onions in a warm, dry spot for a few days to allow for this to take place. I like to hang mine on the garden fence as long as it isn't raining.
Once the leaves (or neck) around the onion start to shrivel and the outer layer of the bulb is dry they are done and ready for storage.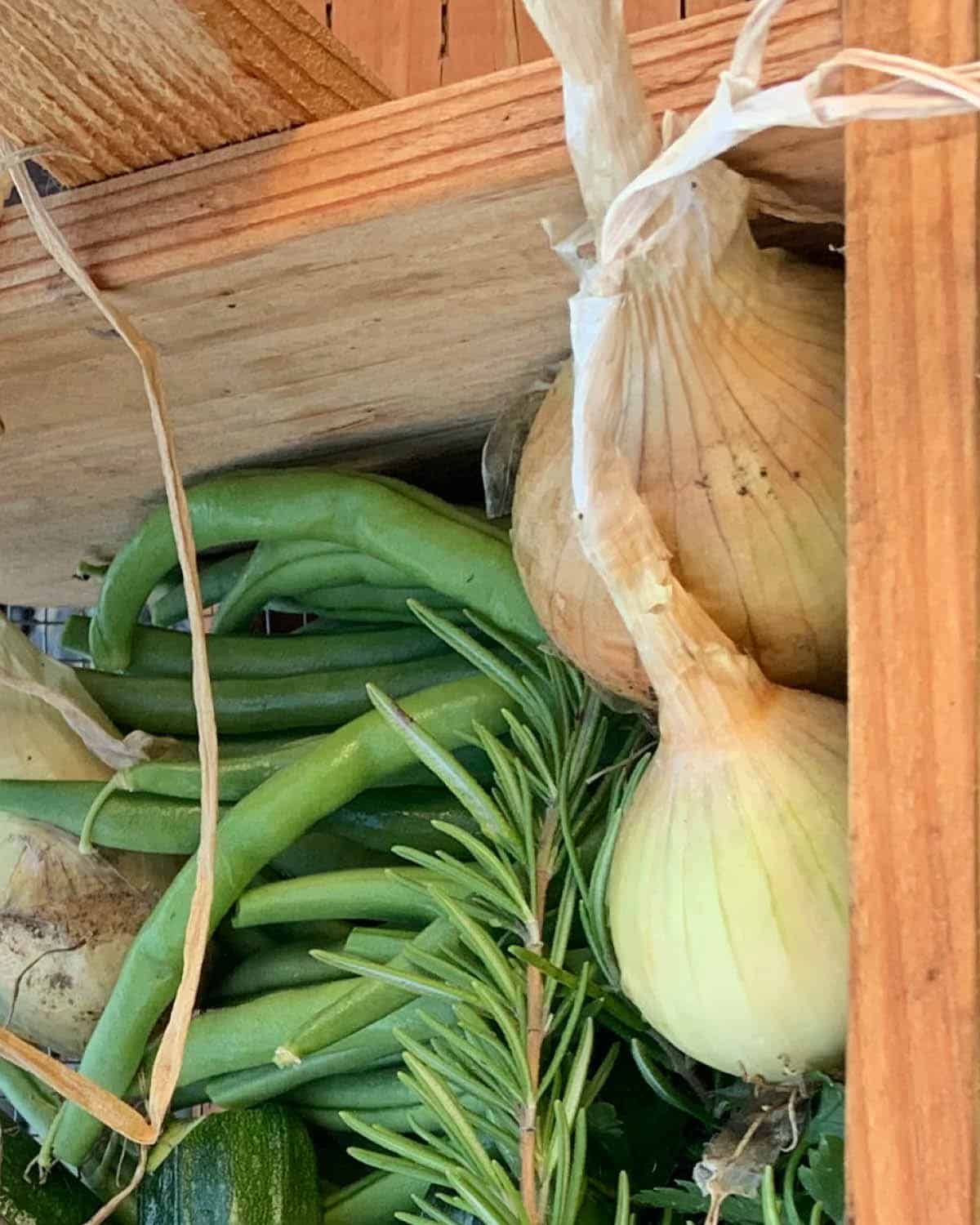 When done properly onions will last for months in a dry, cool location. Make sure they have good air circulation so they don't build up moisture.
A great way to store is to braid the dried out stalks and hang or keep in a mesh bag, just like the ones you purchase your onions in at the store.
Keep an eye on your onions and inspect for any that may be rotting or sprouting and remove right away.
Recipes and Cooking
Onions complement many recipes and are a staple in just about every cuisine. Use them to flavor a soup, taco, or eat alongside a salmon. Or let the onion be the start of the show with this Classic French Onion Soup. Onions are a staple in every home cooks pantry.
Are you ready to take on your own onion garden! Leave me a comment below telling me what ones you are the most excited to grow. For me, it's all about the Sweet Walla Wallas.