When are onions ready to harvest and how to pull, cure and store. Growing onions in a home garden is really simple and makes a great addition. Learn when onions are ready to be harvested and how to store them for months.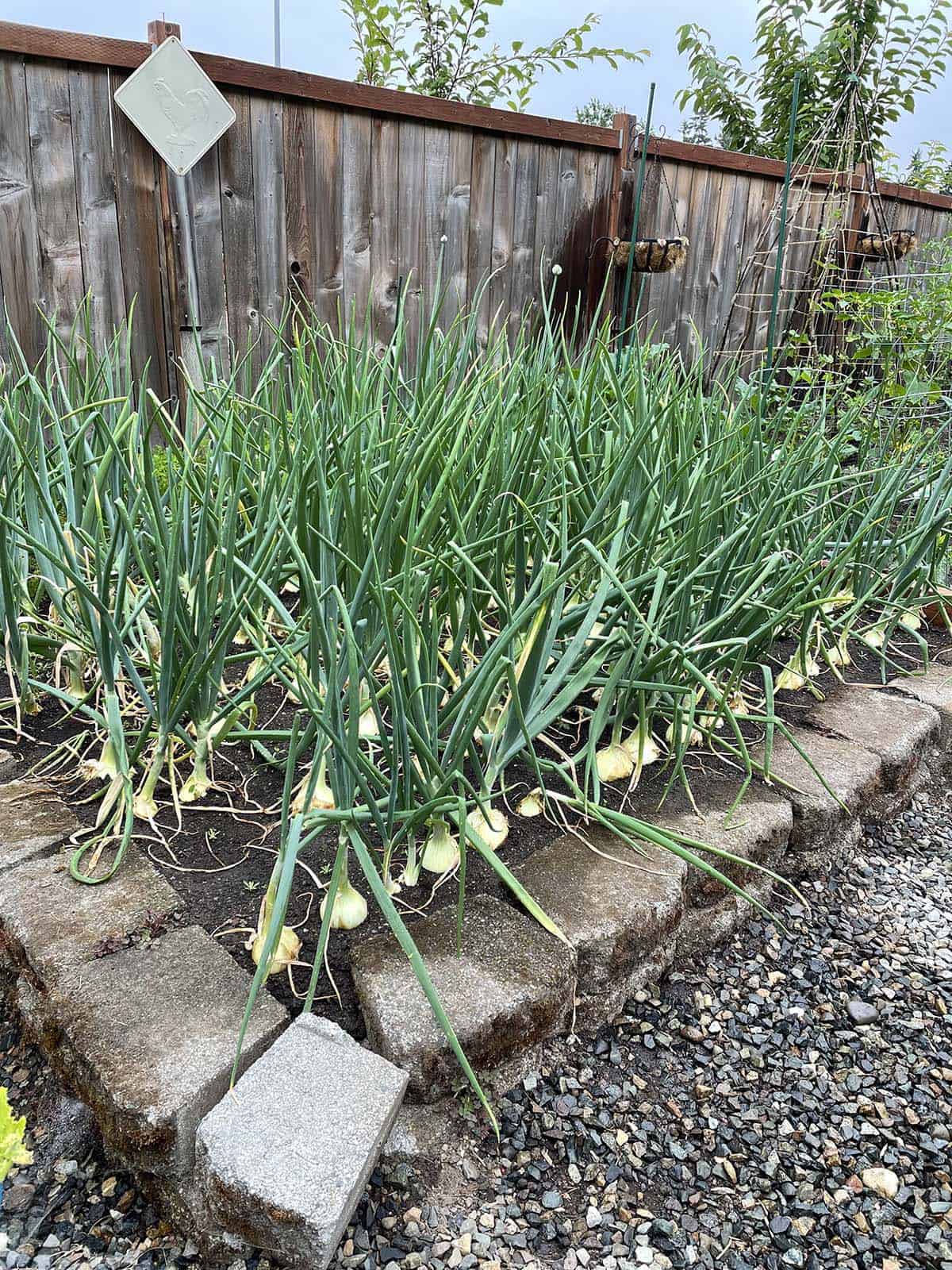 Growing onions in a home garden really couldn't be any easier.
They just need a good sunny spot, some well draining soil and time. Onions can be grown from seeds or from bulbs (sets) that have already been developed.
Onions are really unique because they can be harvested and enjoyed at any stage in their life cycle. There is no need for them to fully ripen or develop before eating them.
For this reason, onions can be enjoyed all summer long!
Start off with smaller bulbs to use fresh on salads or as a garnish or wait until they are fully mature to pull.
Either way, a homegrown onion is a great way to add even more flavor to your dishes.
Learn how to grow onions in your own home garden.
Jump to:
When Are Onions Done Growing
As mentioned, onions can really be pulled just about anytime. However, there are two signs that an onion is done growing and ready to be harvested.
They Flower or Bolt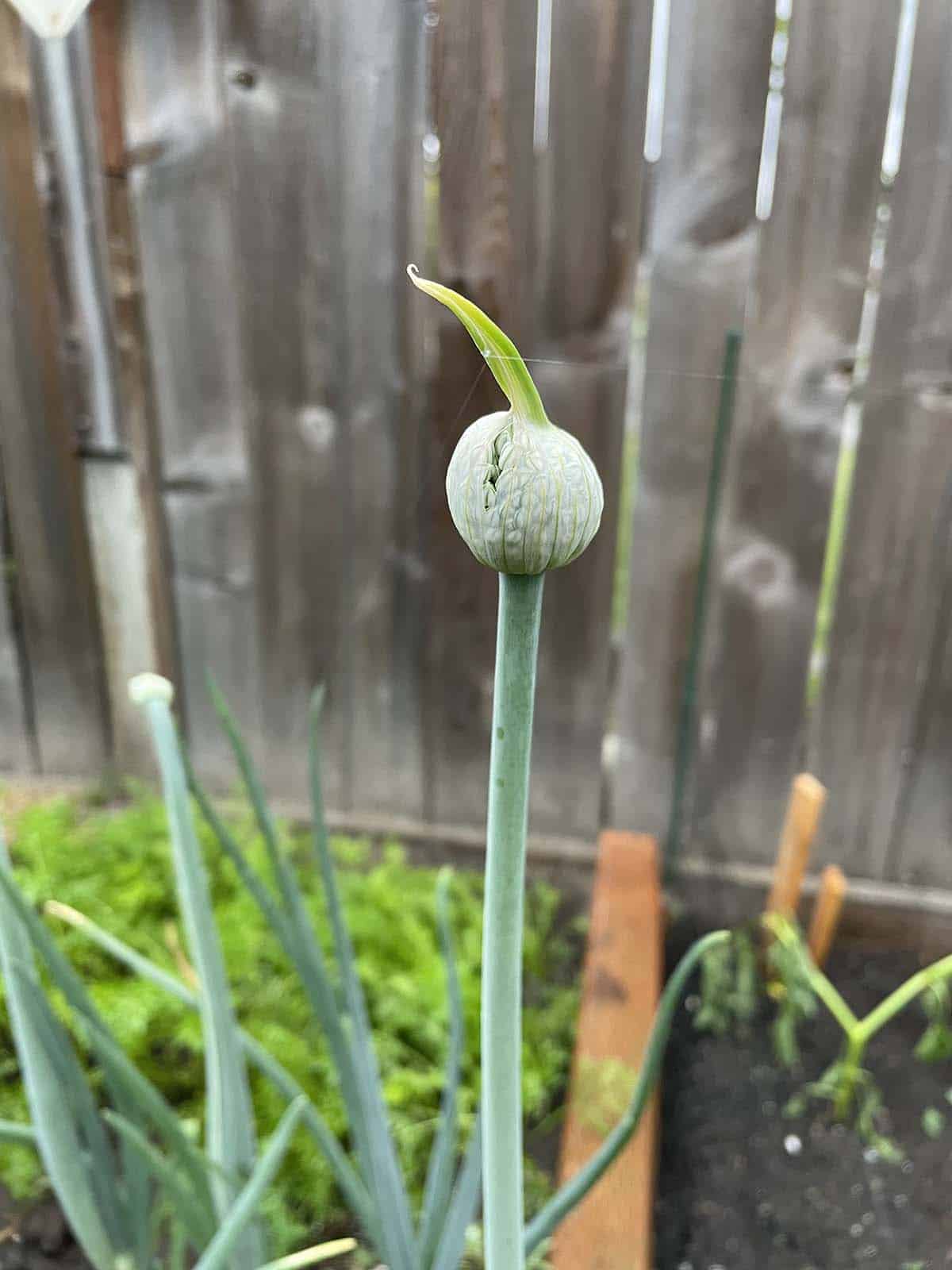 Onions have a two year life cycle. In the second season they will grow flowers and drop their seeds. These can be collected and used in future planting.
However, if the plant is under stress it will prematurely sport flowers. This is called bolting.
When bolting occurs, the onion will no longer grow and is a good sign it is under stress.
When an onion flowers, it's saying I can no longer grow. They drop their seeds so the next plant can grow.
You can either pull right as you see signs of this or let it go to flower and save the seeds for the next season.
Since all the energy is going to producing the seeds it takes it all away from the bulb. This may result in the onion having less flavor.
If you want to retain the most flavor in your onion bulb, pull as soon as you see they are starting to develop flowers.
Read all about onions that bolt or flower.
They Flop Over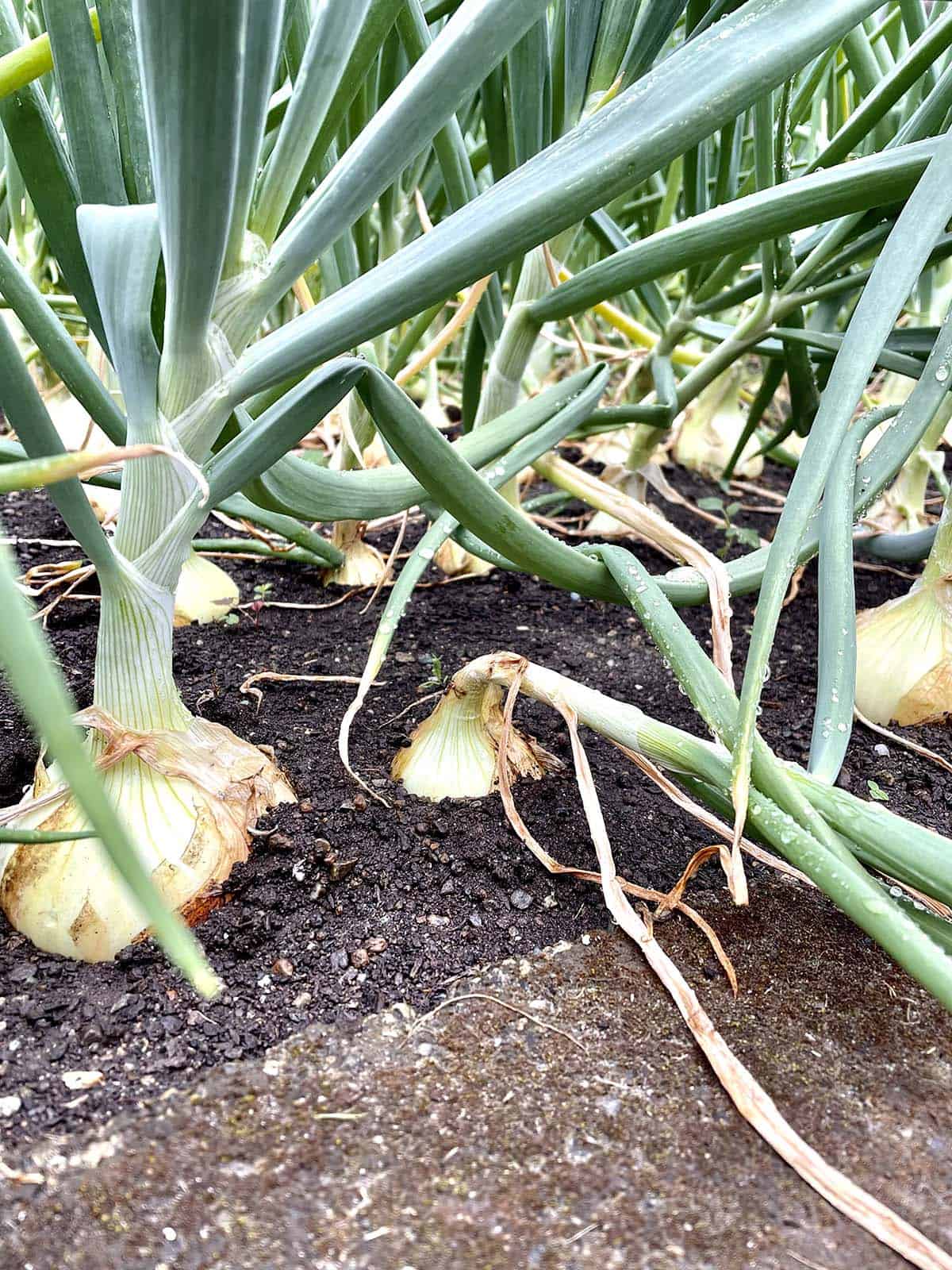 This is the sign that means the onion is completely done. The bulb will no longer grow and it will not go to seed.
When an onion has finished growing and is ready to be pulled, the stalk will flop over and the bend will be right where it meets the bulb.
This is the sign that it has used all its energy and will no longer grow and will need to be harvested.
Growing Too Close Together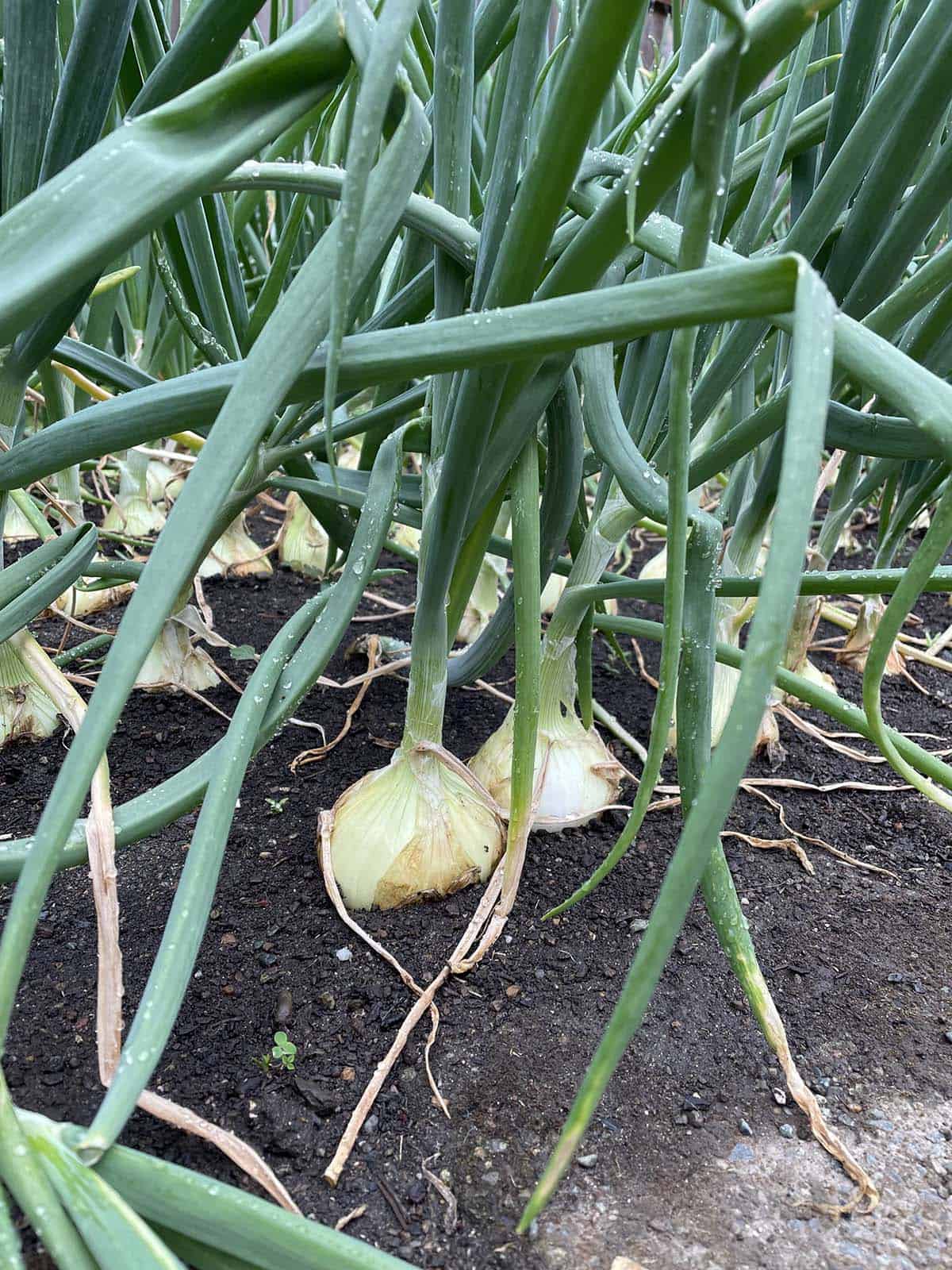 Onions that are planted too close together will start to take over. They will fight for nutrients and water and impede the growth of each other.
It's important, as onions are growing, that you thin out any that might be too close to each other. This will allow the onions left behind to get even bigger.
But don't worry! Even the smallest of onions can still be enjoyed.
How to Harvest Onions
Once the onions flop over, wait a couple of days for the stalk to dry out a little.
If the stalks haven't completely fallen over you can press the stalk down all the way. This will help speed up the process.
Then, using a shovel, gently loosen up the dirt around the base of the bulb being careful to not disrupt the roots of the onions around it.
Gently pull it out and shake off the extra dirt.
Curing and Storing Onions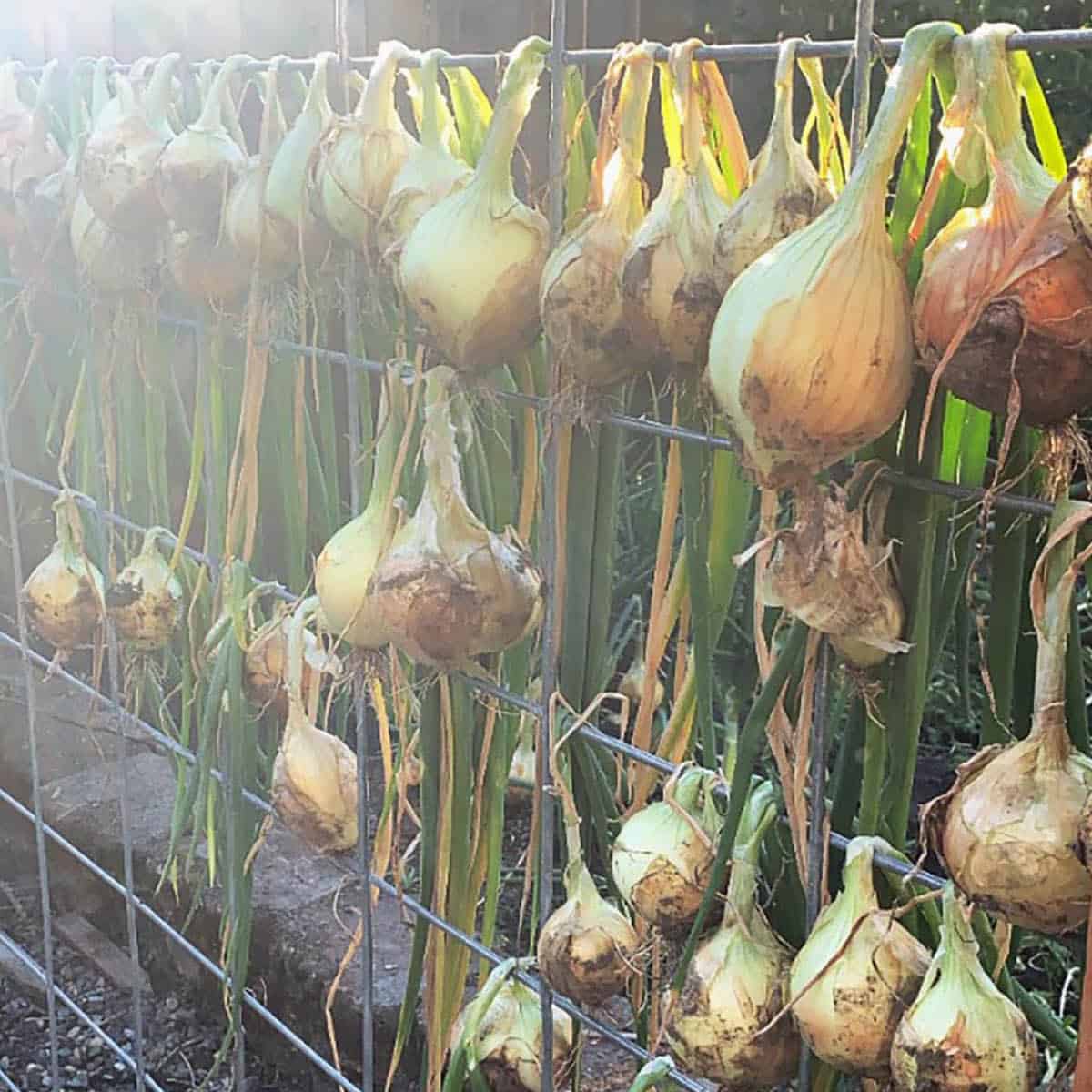 Before onions can be stored, the necks need to completely dry out.
They can be hung or laid out in a warm, dry location.
Once the green stalks have completely turned light brown and have a papery consistency they can be safely stored.
Keep in a cool, dark and dry location. I like to use a mesh potato or onion bag and store them in my garage.
They need lots of ventilation to prevent molding, so avoid things like a cardboard box which doesn't allow air to move around.
Other Onion Resources and Recipes:
Other Garden Resources: