There is nothing better than growing your own blueberries right in your own yard. They are easy to care for and produce lots of fresh berries each summer. Blueberries are not just delicious, they are also full of all kids of nutrients, antioxidants and fiber. They are good and good for you.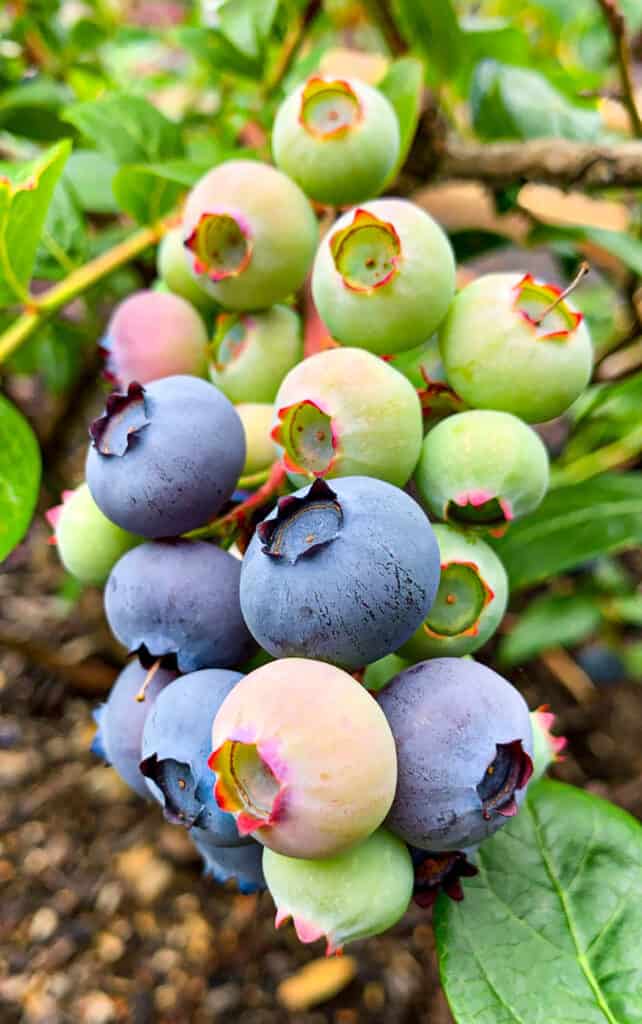 *Disclosure: I only recommend products I would use myself and all opinions expressed here are my own. This post may contain affiliate links that at no additional cost to you, I may earn a small commission. Read full privacy policy here.
Nothing quite says summer to us like fresh homegrown berries. Everyone in the family loves them and we can't get enough. That is why we grow our own!
Berries can be so expensive in the store. And I don't know about you, but when I spend $5 on a small container of berries that get devoured in about 5 minutes, it just doesn't seem worth it.
What if I told you that you could have endless berries all summer long? That each morning you can go pick that container size for FREE from your own yard? Day after day.
Well that is the case with my blueberry garden. I have 6 plants that produce hand fulls for blueberries daily throughout the summer. We get so many blueberries from my very young plants that we even freeze them for the winter months.
I am sharing all my tips for growing your own blueberry plants this summer!
Why You Should Grow Blueberry Plants?
They Are Easy to Care For
When it comes to my garden and choosing what plants I grow and maintain, I follow two basic rules: Does it produce food and is it easy to maintain? I have two young kids that keep me very busy so I really do not have time everyday to spend maintaining plants.
I like to water first thing in the morning and maybe pull a weed here or there. But thats really all I have time for.
Blueberries fit both of these criteria. Besides a basic pruning and fertilizer in early spring, they don't require a lot of care.
They get Bigger and Better Every Year
When you get your first blueberry plants do not be surprised if you get only a few berries (or non at all). This is very common. The plant needs to spend its first few seasons developing a strong root system and doesn't have the ability to produce large amounts of berries.
It's recommended that you pull the flower buds the first couple of years to prevent berries from developing. This is so the plant can spend it's energy on strong root development those first years.
Do not give up! Berries are a long game and year after year they will just come back bigger and better.
My 2020 blueberry season was the year they took off. We harvested around 8lb of fresh berries. And this does not count for what was consumed right off the plants. I didn't keep track of previous season but I guarantee you it wasn't half that.
If you care for your blueberry plants they will keep returning with bigger harvests each year.
Fresh Berries all Summer (and Winter) Long
Blueberries are the perfect summer snack but can get really pricey if not in season. Growing your own means you could have access to hand fulls of blueberries all summer long.
Different blueberry varieties will produce fruit in different times during the summer. Pick your plants right and you can have fresh berries from July – September. More on that later.
They Freeze Really Well
Blueberries are so easy to freeze and work so well in baked goods such as scones. We make these blueberry lemon scones or beet and blueberry smoothie all winter long from our homegrown blueberries.
Freezing blueberries are very easy if done properly. You do not want to just throw them in your freezer bag and toss it in in freezer. This will result in the berries getting smashed and turn into one big brick of berries. Here is the proper way to Freeze Berries:
How to Freeze Blueberries:
Do not wash! Freeze your berries before you wash them and save that step for when you are ready to use or eat them.
Lay out to dry completely. You do not want excess water on the berries.
Take a baking sheet lined with parchment paper and lay out a layer of the berries. Make sure the berries are not stacking on top of each other.
Examine and remove any stems or leaves.
Put in the freezer for a couple of hours until they are completely frozen.
Transfer to your freezer bag.
Remove as much air as possible. Trick: I will take a straw and manually suck out as much air as I can.
Seal, date and stick in the freezer
Use this method with all kids of fruit you want to freeze.
Frozen blueberries will last a year in the freezer.
They look good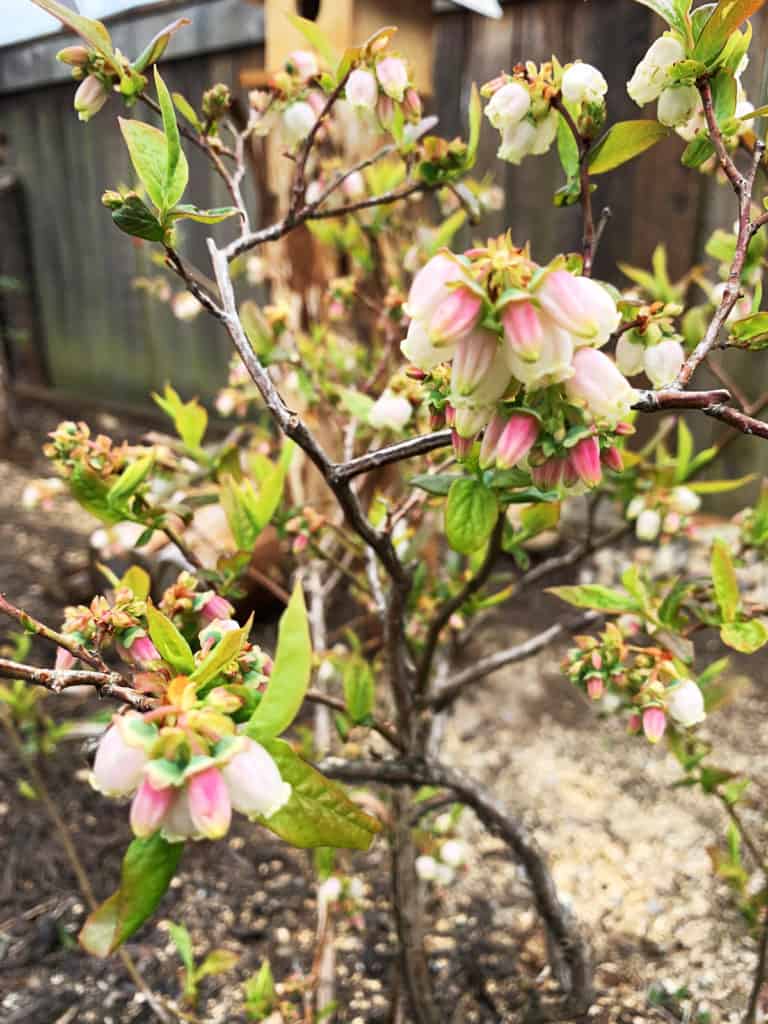 This may not necessarily be true in the winter, but blueberry plants are so pretty in the spring and summer months and the fall leaves are just stunning.
Consider blueberry bushes instead of other shrubs to your landscaping.
Tips for Growing Blueberries
Grow Multiple Varieties of Blueberries
Blueberries really need at least two varieties for pollinating. So if you are considering growing blueberries select at least two varieties to ensure proper pollination. This is very common in fruit trees as well.
When selecting your blueberry plants make sure you get 2-3 different varieties and plant them next to each other.
I also like to get plants that produce fruit different times during the summer. This ensures that we have berries from July-September.
Blueberries come in a variety of seasons. Meaning the fruit is ready at different points in the summer. Some include: very early, early, mid, late and very late season. Planting one in each season will extend the time you have fresh summer blueberries. When one of my plants is done the other is just ripening. Pay attention to this when selecting your varieties.
Container or Ground
Blueberries are very versatile and can be grown in containers or straight in the ground depending on the variety.
Containers are a great option when you are unable to plant right in the ground. Again just make sure you have at least two different plants going at the same time, in the same area.
Look for container friendly blueberries when selecting your plants.
If planting in the ground it is best to raise your bed around 12″. Blueberries need good drainage so if you ground is on the rocky or clay side this is highly encouraged.
Planting your Blueberries
Blueberry plants have a very long lifespan, some living up to 40-50 years! Because of this, it's important that you take the proper care when you first plant to ensure they have a the longest, healthiest life they can.
But don't stress! The plant will come with all the planting information you need. And if purchased from a nursery they will be very knowledgeable at what nutrients are needed for your particular situation.
Full Sun
Blueberries require full sun to grow properly. Keep this in mind as you are selecting a spot to plant your blueberries.
Try not to plant around trees, buildings or other large structures that can block the sun.
Soil
Blueberries require a more acidic soil with a pH around 4.0-5.0. When planting your blueberries add in a peat moss and some soil amendments to help develop a healthy root system.
They also require well draining soil so make sure you don't plant in tough soil or clay.
This will be different for every environment. Consider speaking to your local nursery or county extension to determine what is best used for your area or for your particular soil. Or consider getting a soil test prior to planting so you know exactly what needs to be added.
Remember, these plants will last you almost 40 years so it's worth taking these extra steps to ensure you get the most out of these plants as you can.
Water
Blueberries have shallow roots and require around 1-2 inches of water each week. If the weather is hot and not raining as much this may need to be increased.
It is also recommend to have a few inches of wood or straw mulch on your blueberries. This will help retain moisture.
Caring for your Blueberries
Blueberries require very little care and why they are one of my favorite things to grow. Just a little pruning and paying attention to the soil each season will give your plants a long healthy life.
Pruning
Blueberries do require a pruning at the start to each season. Just make sure your plants are at least 4-5 years old before the first prune. This is to make sure the plant has a healthy root system and growing well.
The best video on pruning your blueberries is from Melissa K. Norris. I pruned my blueberries for the first time last year and my plants have never looked healthier, or produced so much fruit.
I was very nervous and overwhelmed to prune for the fist time but Melissas video took all the guess work out of it for me and was really easy to follow.
Feeding your Blueberries
Blueberries are very hardy plants but do require some additional nutrients. They are also sensitive to over fertilization so there is a fine balance when fertilizing your blueberries.
Nitrogen rich fertilizers are ideal such as blood meal, fish meal or azalea/rhododendron fertilizer. I just apply used coffee grounds once every spring to add a little more acid to the soil.
Provide Support
Weaker blueberry branches may be unable to withstand the weight of all those berries. Support may be necessary. Especially for younger plants.
I use these garden steaks to hold up my branches that may droop from too much weight.
Harvesting Your Blueberries
Know When They are Ready to Pick
Blueberries are not ready when they turn blue! While it is so tempting to pick once they "look" ripe. You need to give it a few more days so they are at their prime.
When blueberries are ripe they fall off really easy. If you have to pull them off the branch they are not ready yet.
To test if they are ready, simply place your hand under a bunch of berries and do a "tickle" to the clusters and the ripe berries will just fall into your hand. The ones that don't are not ready.
Watch the Birds
Berries are not just loved by us but by wildlife as well. Birds love ripe blueberries and will beat you to them if given the chance.
I personally have not experienced this issue, but others will have their entire harvest taken by birds.
There are things you can do!
Consider some bird deterrent such as a scarecrow or reflective tape. You can also put netting around your plants once the berries start to mature. Typically, if you are picking everyday this should not be an issue.
Recipes to Make With Your Home Grown Blueberries
If you by chance have some blueberries left over here are some recipes I like to make with mine.
I would love to hear if you are considering growing your own blueberries this year! Leave me a comment below and share your progress.
Pin for Later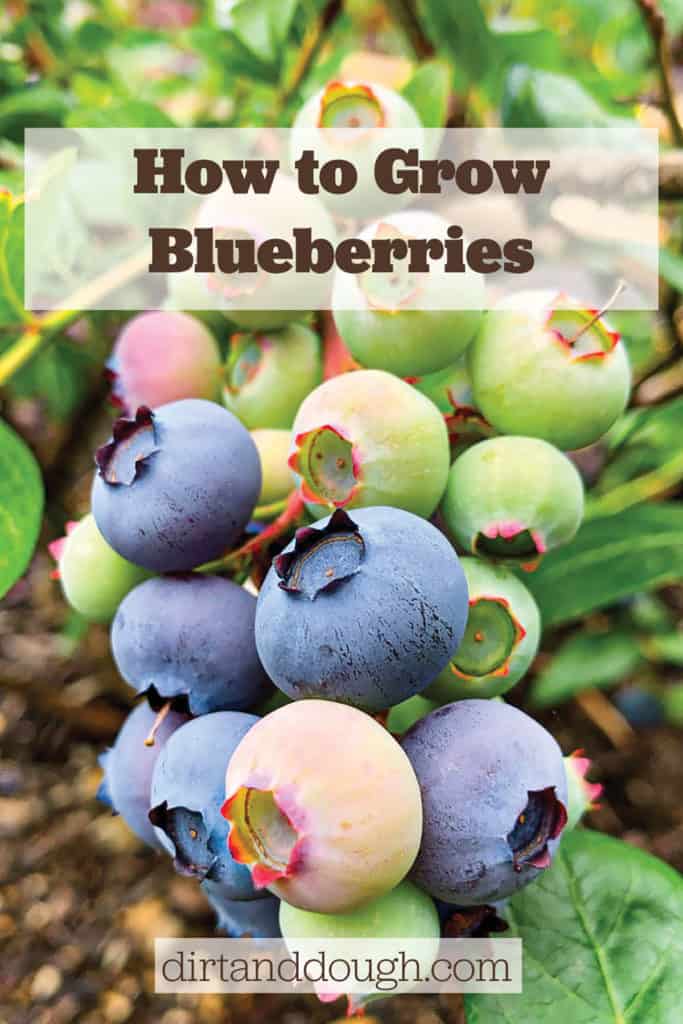 Start a Garden
Want to start a vegetable garden of your own? Check out my other posts to get your started.
14 GARDEN BENEFITS AND WHY YOU SHOULD START ONE
HOW TO START A GARDEN AND TO HAVE A SUCCESSFUL SEASON
Sign up for my Newsletter and receive a FREE 2021 garden planner.
Gardening Resources
Heirloom and organic Seeds from True Leaf Market
All gardening and chicken needs from Tractor Supply