How to freeze fresh and store-bought blueberries to have a supply for the rest of the year. Do you end up with mushy berries? Follow these steps to keep them as fresh as possible. Fill your freezer full of this amazing berry that you can add to smoothies or a variety of baked goods.
*Disclosure: I only recommend products I would use myself and all opinions expressed here are my own. This post may contain affiliate links that at no additional cost to you, I may earn a small commission. Read full privacy policy here.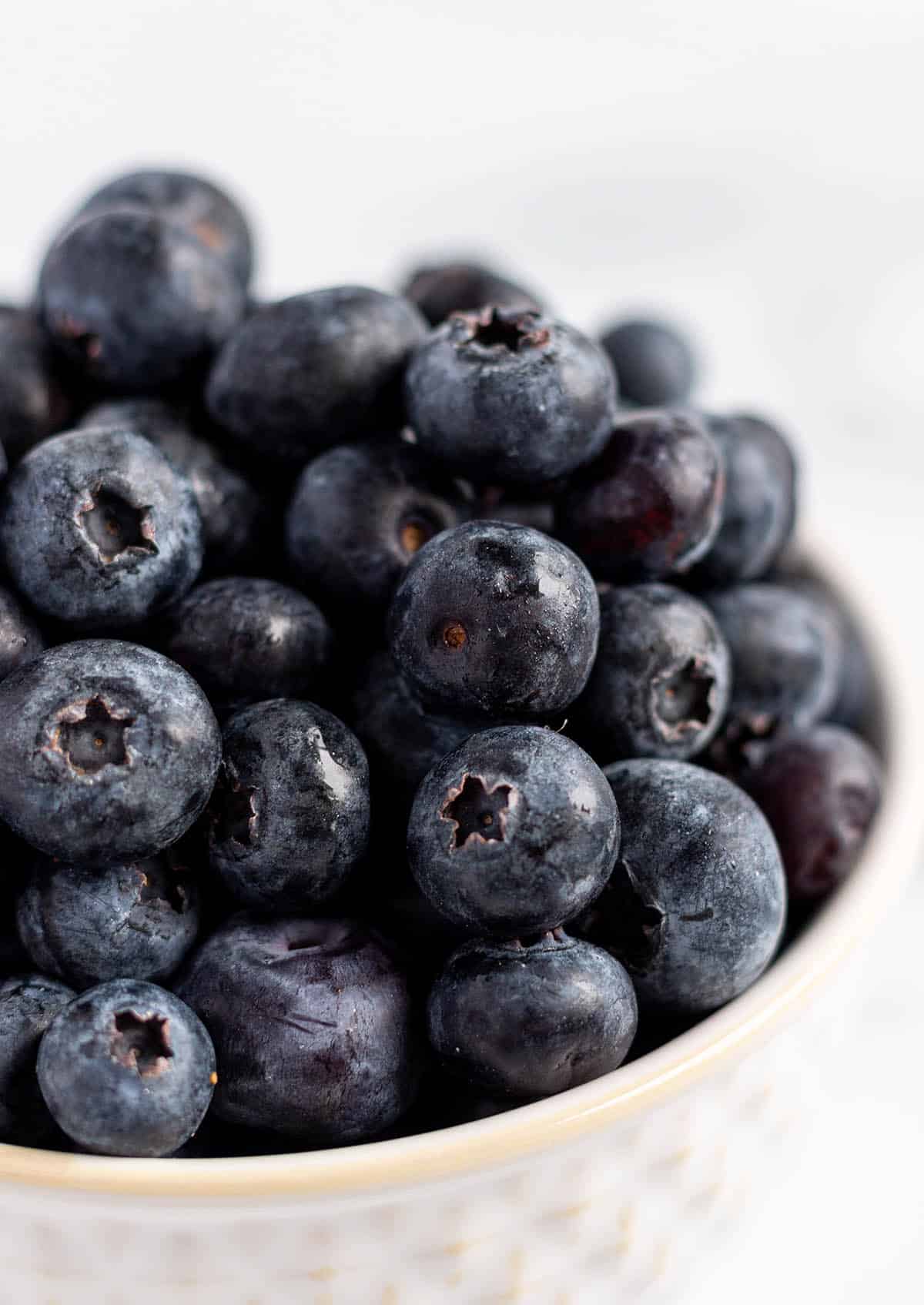 Blueberry season is a big part of our summer. Not only do we pick, eat, cook with and freeze pounds of blueberries straight from our garden but all the local U-picks allow us to enjoy fresh blueberries all year long.
How is that possible?
In the heart of summer blueberries are relatively inexpensive and can be bought but the pound or flat. If you have a local farm in your area consider doing a blueberry U-pick or picking some up at a farmers market. It is a great way to get the family out while stocking up your freezer with fresh blueberries.
If you have ever wanted to start a blueberry garden of your own it is relatively easy and a great way to have fresh berries of your own every year. Homegrown blueberries are nothing like the ones you can find at a grocery store, and once you try them, there is no going back.
Juicy blueberries are full of so much flavor and provide lots of health benefits.
Another benefit of blueberries is they are by far the easiest fruit to freeze, and when done properly they do not get mushy and retain a lot of their flavor.
So whether they are from your own backyard, or you got a great deal at the market, keep those berries as fresh as possible all year long.
Should you Wash Blueberries Before Freezing?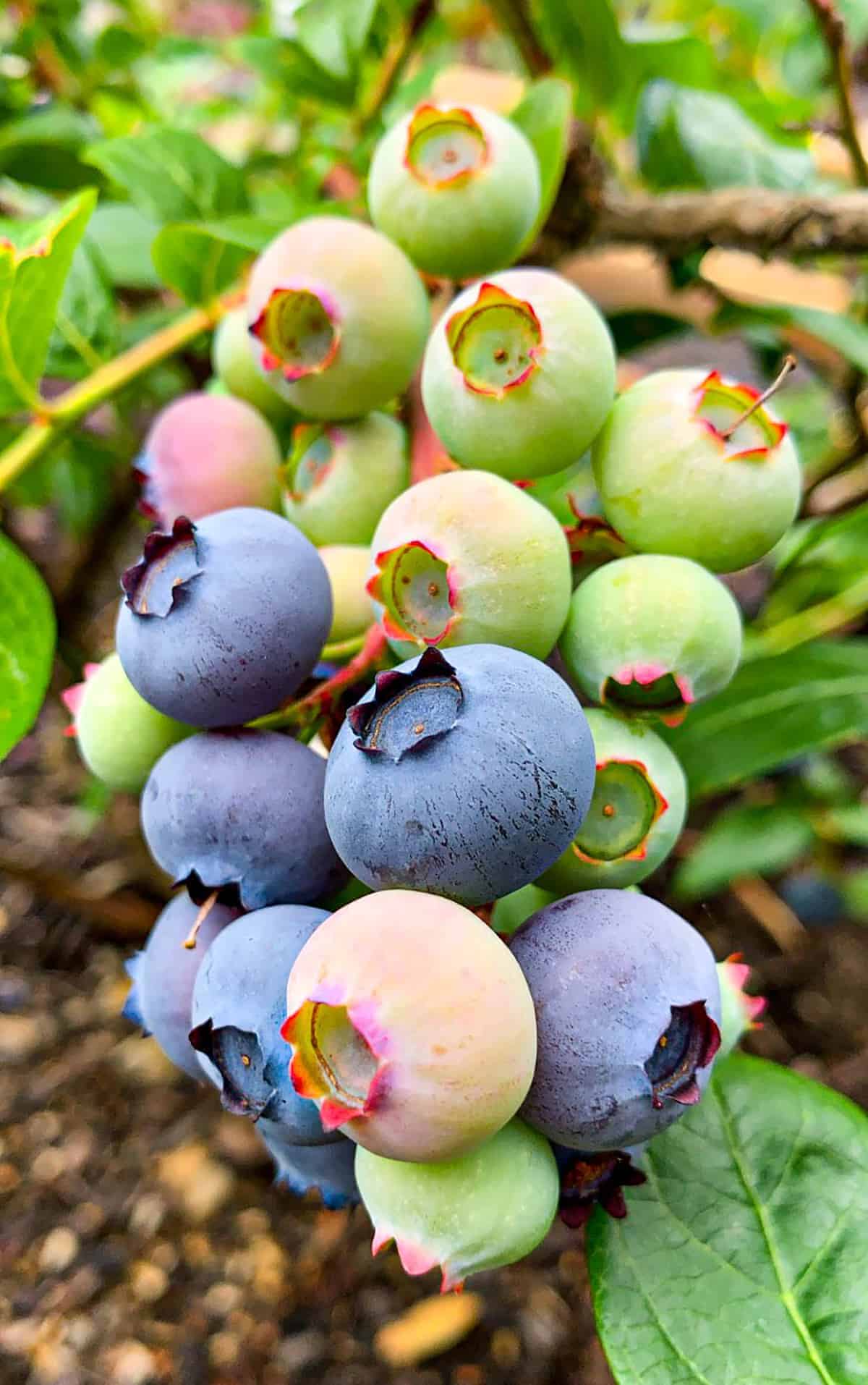 While it is a good practice to wash all produce before using that is not really the case with blueberries. Blueberries already have a protective coating called a bloom that helps keep them clean. Very similar to fresh eggs. It also acts as a natural non-stick that helps repel pests and other unwanted things.
When it comes to freeing blueberries washing them can actually cause them to stick together and create a big brick of berries. Even with the tiniest bit of water. So even if you think they are completely dry they really may not be.
Washing them will also cause the berries to be frozen with ice so then when they are added to baked goods such as blueberry pancakes, sones, or a blueberry pie it will add too much moisture leading to things not baking properly.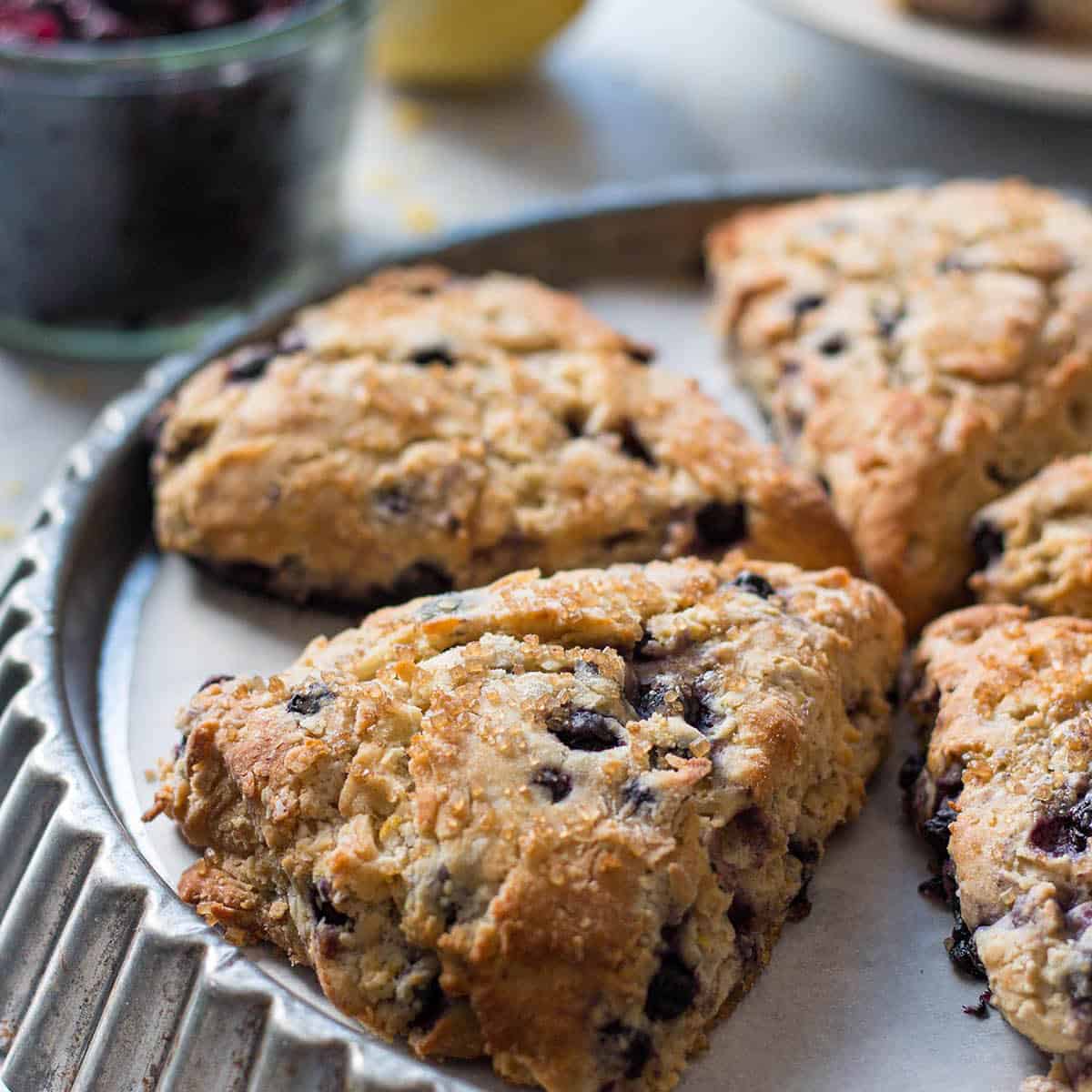 If you still want to wash them, gently run them under cold water to give a quick rinse. Lay them out on a paper or kitchen towel and make sure they are all completely dry. Make sure all the water is gone.
Avoid using salad spinners to dry them, as they can make the berries mushy.
Not washing blueberries will also keep them safer from developing freezer burn.
When ready to use, frozen blueberries can be gently rinsed right before being added to smoothies or your favorite recipe.
Instructions for Freezing Blueberries
The best way to freeze blueberries is to first freeze them on a cookie sheet and then store them in a container or bag. This is a super simple process and ensures that the berries will not get mushy or freeze in one big clump. Just 4 easy steps:
Step 1: Take a rimmed baking sheet and line it with parchment paper. Layout the berries in a single layer.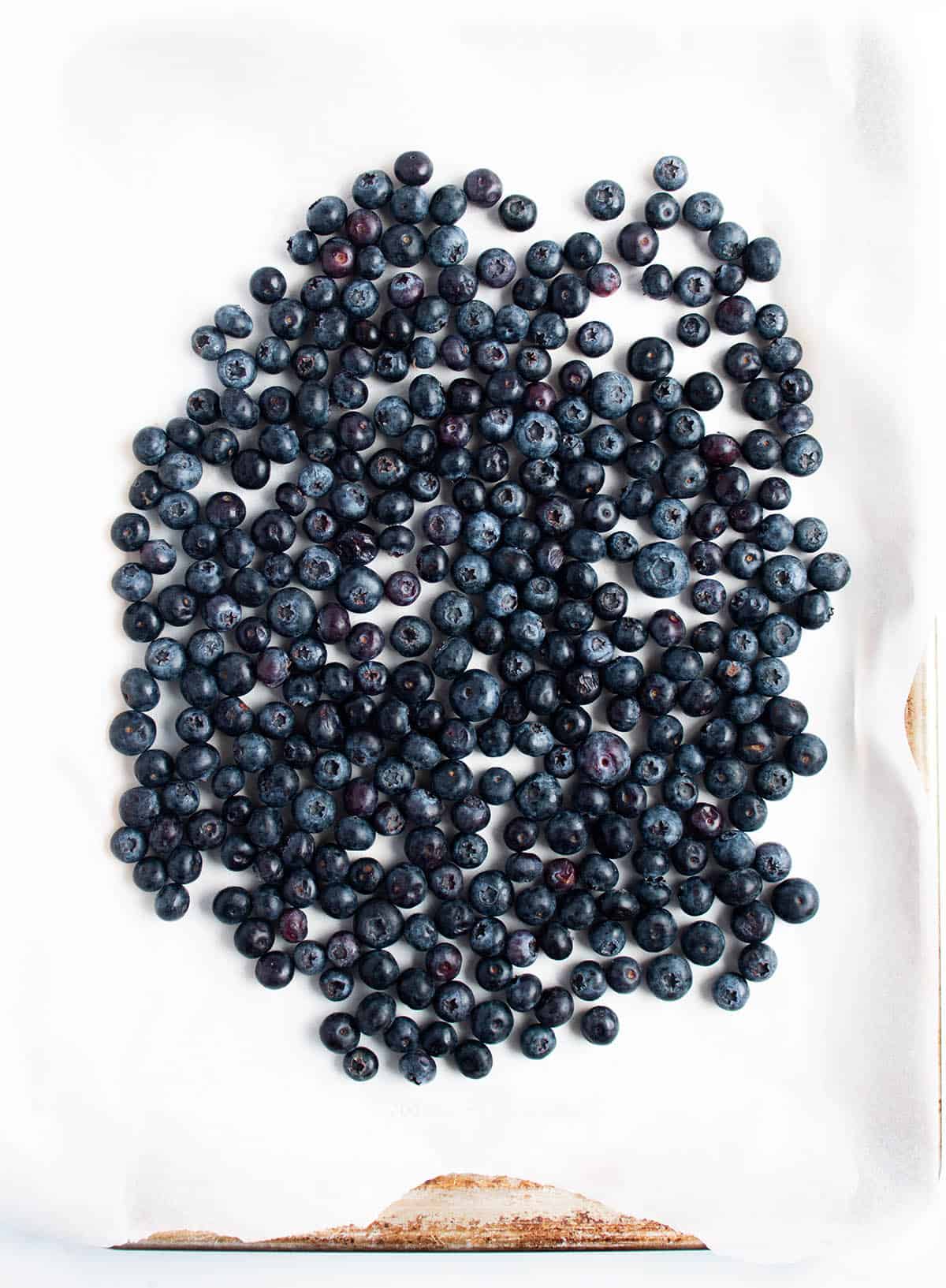 Step 3: Inspect for any leaves, stems, or anything else that needs to be removed. Refrain from washing the berries if possible.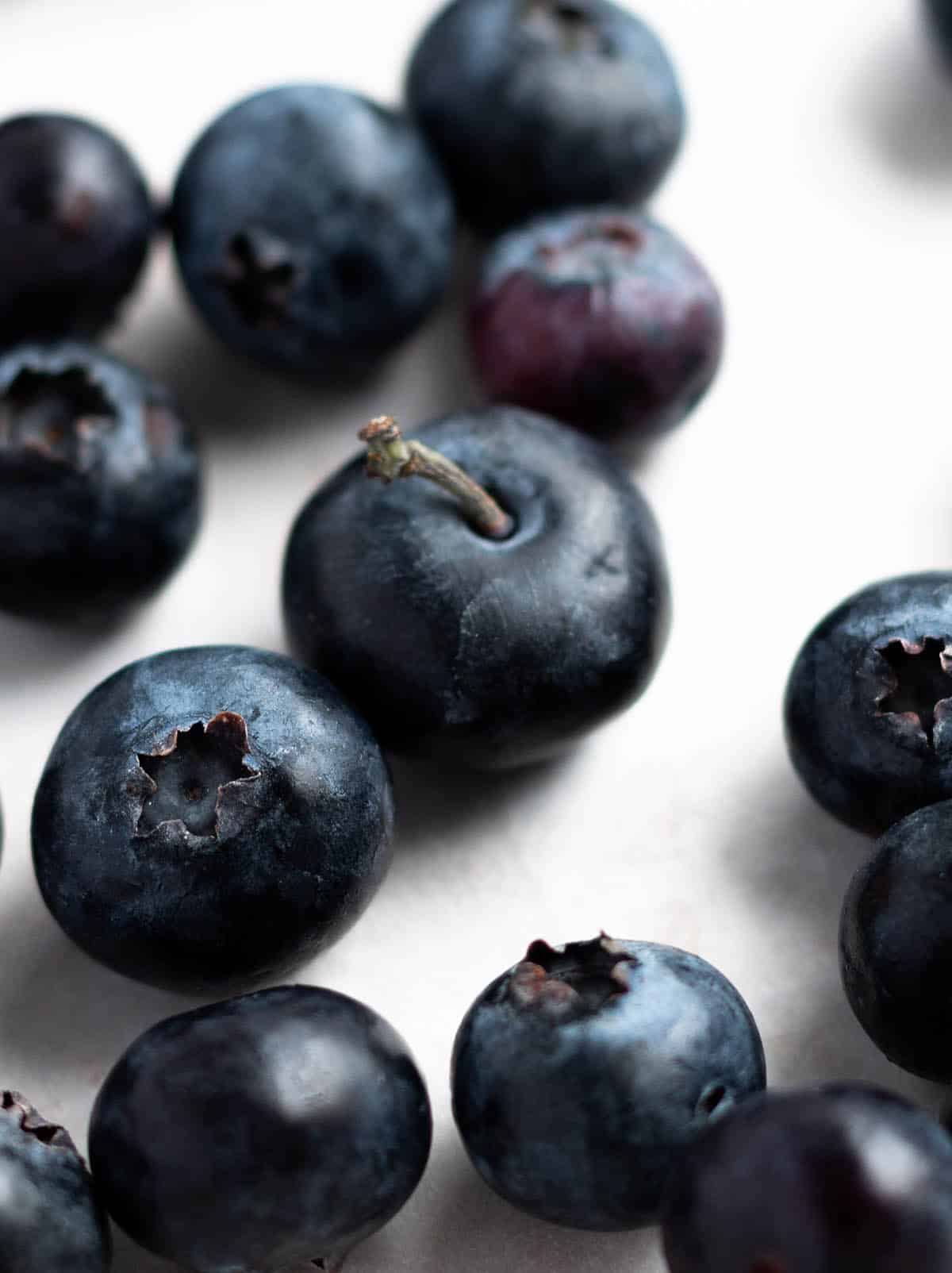 Step 3: Place the sheet pan in the freezer for a couple of hours. I like to wait about 4 hours or until they are completely frozen.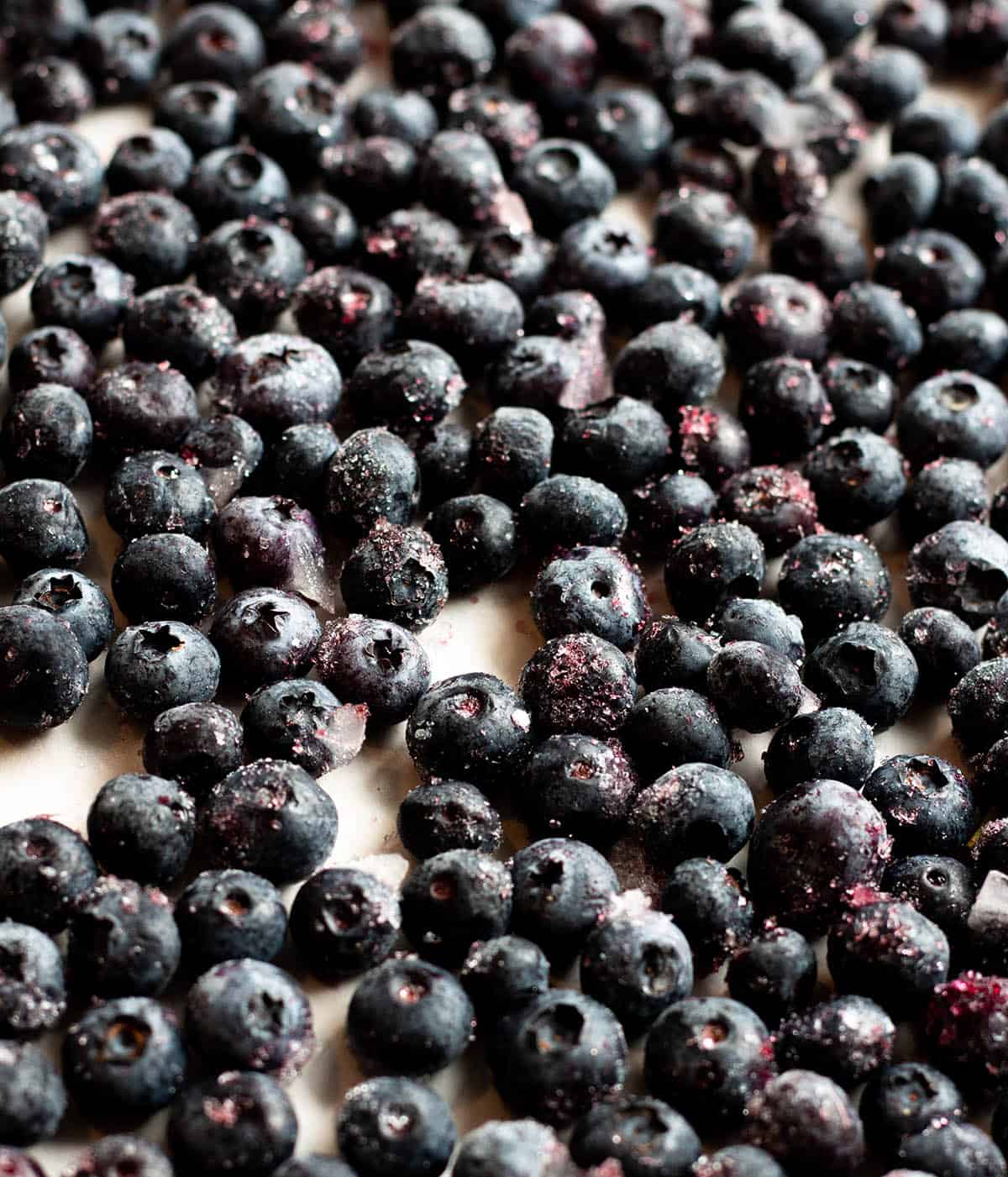 Step 4: Transfer the frozen berries to a freezer-safe bag or other airtight container. Break apart any berries that got stuck together. Write the date and place the bag back in the freezer.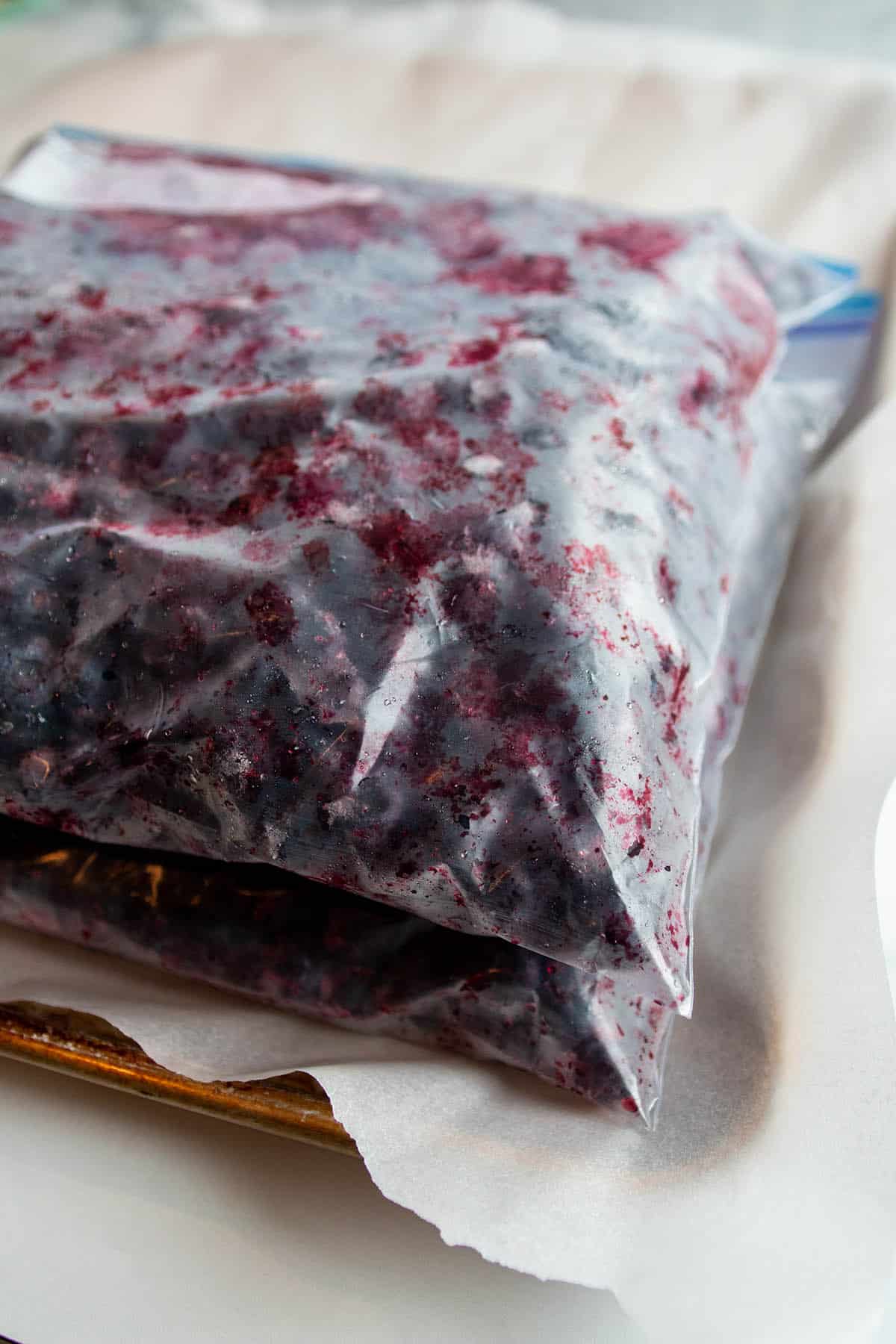 This can be done in one big batch or break it up on multiple baking sheets. The most important thing to remember is to make sure the blueberries are in a single layer when laid on the baking sheet.
How to Store Frozen Blueberries
Once the berries are completely frozen transfer and store in a gallon-size Ziploc plastic bag. This is the best and easiest way to keep them.
When storing in a Ziploc bag, make sure to remove as much air as possible.
One trick that works well is to take a straw and place it in the very corner of the bag (the rest of it is completely sealed). Then manually suck out all the air, quickly remove the straw and seal the corner. The more air that is removed the better.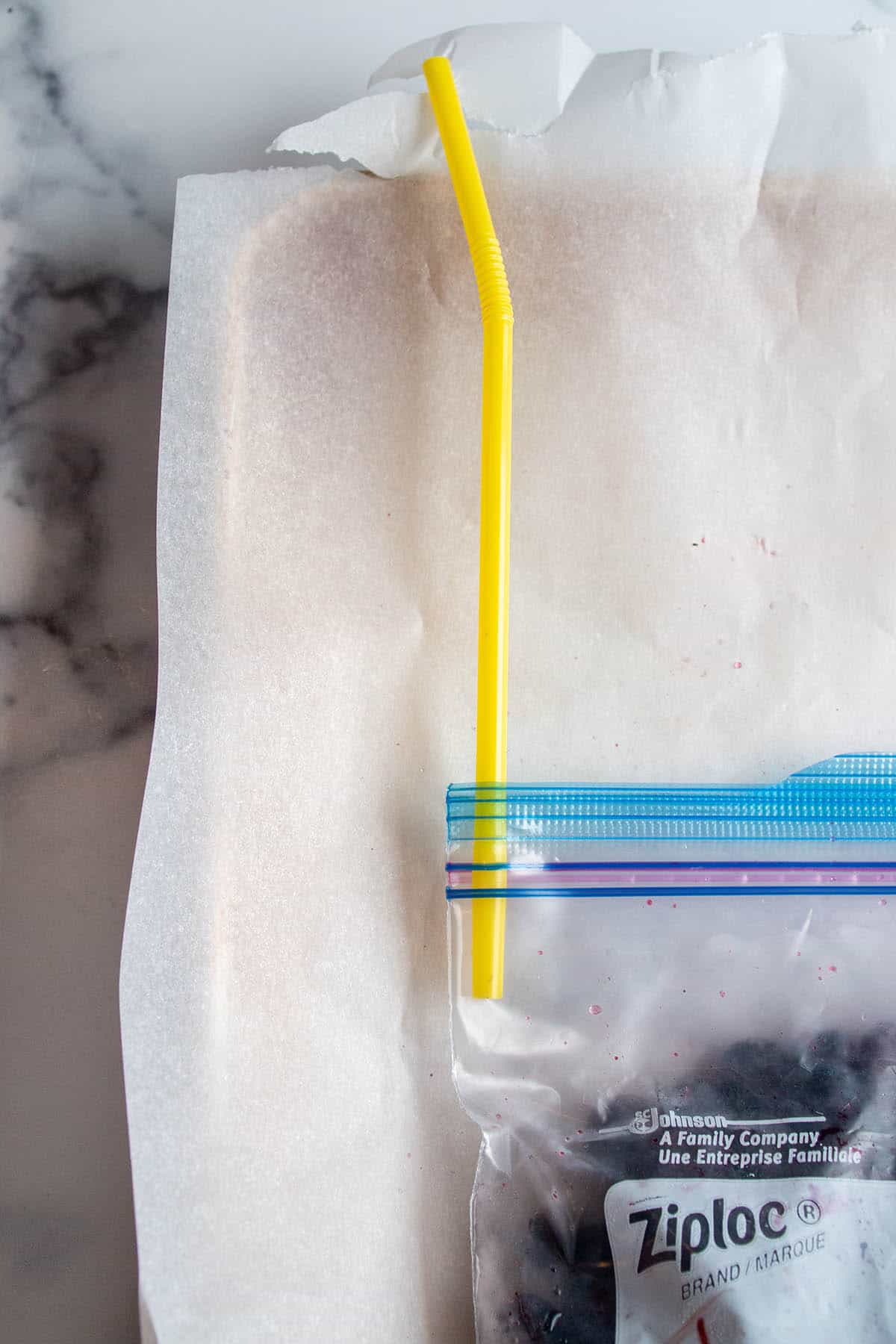 This is why bags work the best. While freezer-safe containers work as well, the air cannot be completely removed like it can in a bag. The berries may not last as long in a different container.
In a bag they can also lay nice and flat, maximizing your freezer space.
How Long Do Frozen Blueberries Last?
If the freezing process was done properly blueberries have a long life in the freezer. If they start to develop freezer burn, it's best to use them up right away.
Once blueberries are properly frozen and stored they will last 10-12 months in a freezer.
Using them within the 12 months will also ensure you will have enough freezer space for the next year's harvest.
Using Frozen Blueberries
A lot of times frozen blueberries can be used straight from the freezer and most recipes will say if they should be frozen or fresh.
If using frozen blueberries just give a quick rinse, pat dry with a clean paper or dish towel, and add to your recipe.
How to thaw frozen blueberries:
Place berries in a bowl
Cover with cold water
Allow to sit for 30 minutes, or until soft
Dump into a strainer
Lay berries on a paper or kitchen towel to dry.
Add to the recipe, top on ice cream, or pancakes, or eat on their own.
Supplies Needed to Freeze Blueberries
Only three common household items are needed to freeze blueberries. Such a great way to preserve food without the complexities and equipment that come with canning.
Rimmed Baking Sheets: These are used in the first part of the freezing process. Having a rimmed baking sheet is important so the berries don't roll off.
Parchment Paper: Helps keep the berries from sticking to the baking sheet.
Ziplock Bags: The best way to store the berries once they are frozen.
Blueberry Recipes:
Use your fresh blueberries in a variety of ways. Add to a smoothie, baked goods, and top on some ice cream, or fresh homemade pancakes.
Are you planning on freezing blueberries this year? What do you love to add frozen berries to? Share your favorite recipes bleow!