One of the best things you could grow in your own backyard is your very own row of fresh raspberries. With one planting and regular pruning, raspberry plants will produce a constant supply each season. Grow enough raspberries for fresh daily eating, canning in jams and jellies, or freeze for winter baked goods. It's simple to grow your own raspberries in your own backyard!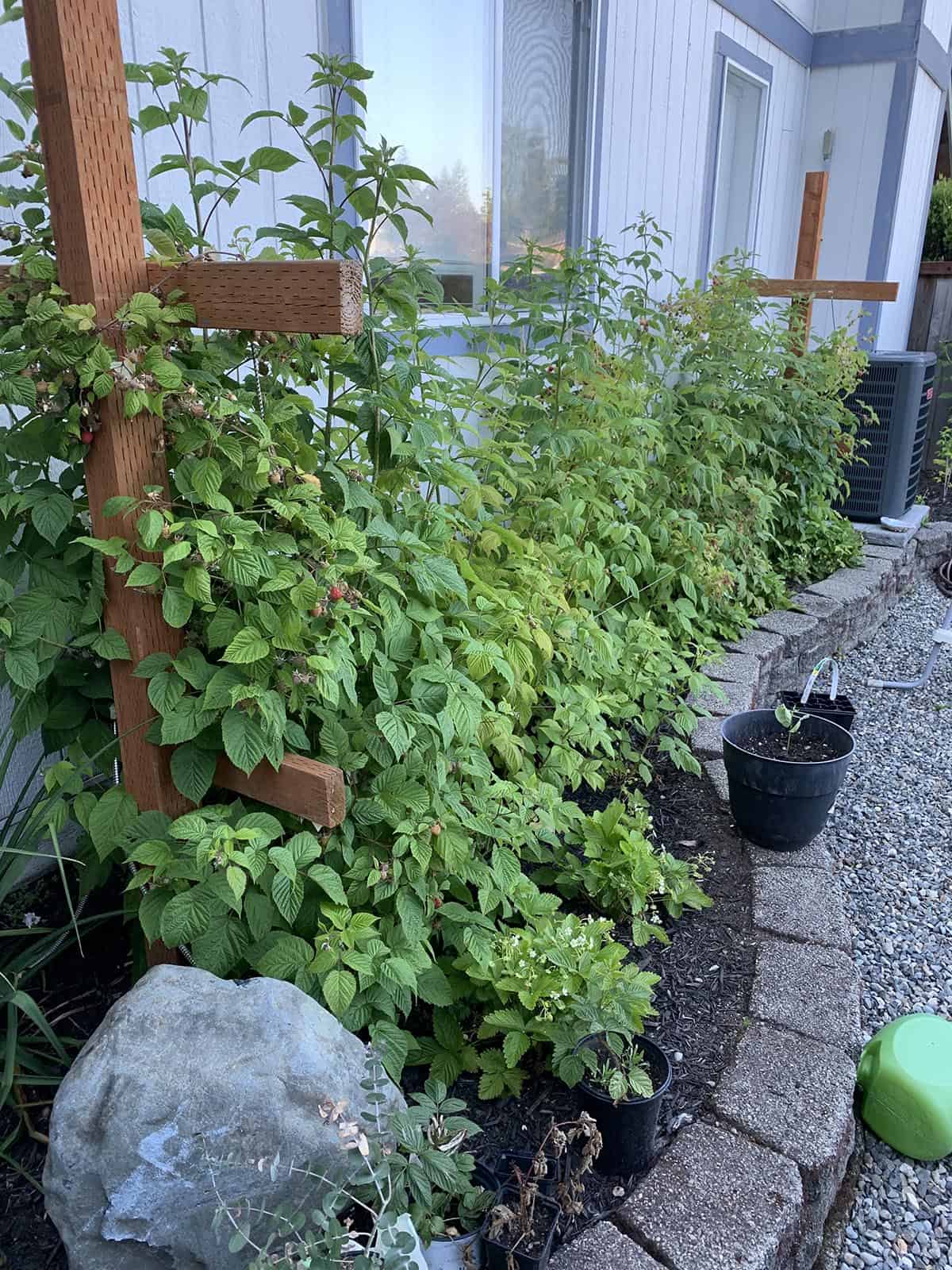 Growing a garden, no matter where you are is such a rewarding experience. There are so many benefits to gardening but the best part is having fresh produce right at your fingertips.
Raspberries are one of the most expensive berries you can buy in the store, and for good reason. They are delicious, full of nutrients, and have even been linked to disease prevention. But for the high price, you get such a small container.
We love to grow them, go picking at local farms or find them at our local farmers market. However, nothing beats growing our own. Homegrown raspberries put grocery store ones to shame.
Raspberries are a seasonal food, meaning they only produce a crop once or twice a year in either the early season, late season or both. Even though the plants only produce fruit for a short amount of time, there are ways you can extend the raspberry season.
What if I told you for just a few dollars you could get a few raspberry plants and have your own supply of fresh berries every summer? For less than the cost of a container of raspberries, you can buy one root that every year gets bigger, better, and produces more fruit.
And it doesn't stop there. Raspberries are very easy to preserve and use all year long. It's February, as I write this and we just finished off our berries I picked last year. Talk about getting the best bang for your buck!
If you are convinced, let's go over everything there is to know about growing, maintaining, harvesting, and using raspberries.
Types of Raspberries
When selecting the type of raspberries you want to grow, one thing to keep in mind is the type of plant it is. Raspberries come in two different varieties in a range of different colors.
One thing to keep in mind is that raspberries are perennials, meaning you only need to plant once and they will grow back each year. However, with raspberries the canes are biannual, meaning it grows new canes every season and the cane will only live for 2 years.
This post focuses on red raspberries varieties and not black raspberries. The two types of red raspberries are:
Summer-Bearing: Summer-bearing raspberry plants will produce just one harvest in the second season. A cane will start to grow in the spring but won't produce fruit until the following year in late summer. Once these stalks grow fruit they are now done and can be cut back. New canes will grow and produce fruit for the next year.
Ever-bearing: Ever-bearing raspberry plants will give you two rounds of fruit. They will grow in the spring, produce a fall crop, go dormant, and then produce a second crop the following summer in late June to late July. That means you get two rounds of fruit out of each cane. The fall fruit is typically at the top of the cane and the second summer crop will be on the lower part of the cane. After the second round of fruit, these cans can now be cut back.
Raspberry stalks will produce flower heads that will then turn into berries. These flowers are great at attracting pollinators.
Raspberries are also self-fertile meaning you don't need different varieties to have proper pollination. Blueberries are a great example of plants that are not self-fertile and need 2 or more varieties in order to develop berries. Learn all about how to grow blueberries in your backyard.
Where to Grow Raspberries
Raspberries need full sun. So select a spot that gets at least 6-8 hours a day of direct sun (8 is best). They will also grow well in partial shade but keep in mind more sun equals more fruit.
Keep them away from buildings, big trees, or anything else that will block sunlight.
When selecting a location for raspberries it's really important to keep in mind how large they get. I had to move my raspberries this winter because the space I put them in was just not large enough. They exploded.
New canes grow every year and for the first 3-5 years they will continue to get bigger each year until they are fully established. Don't be alarmed if you get very little to zero berries your first or second year. This is normal but it's worth the wait.
Below is a photo of what just one year's difference is. The left photo was the year they were planted and the second was the very next year. They can get out of control very quickly.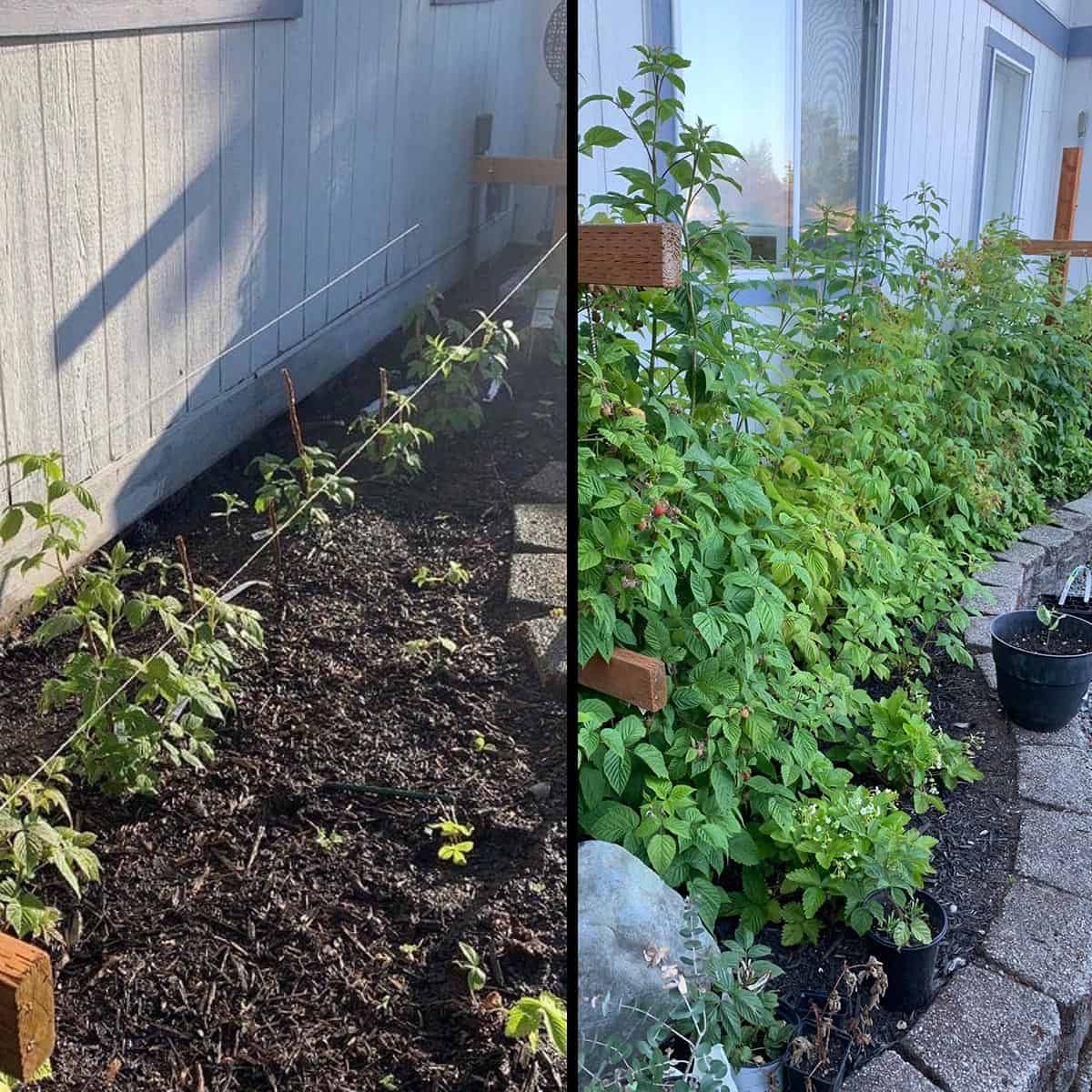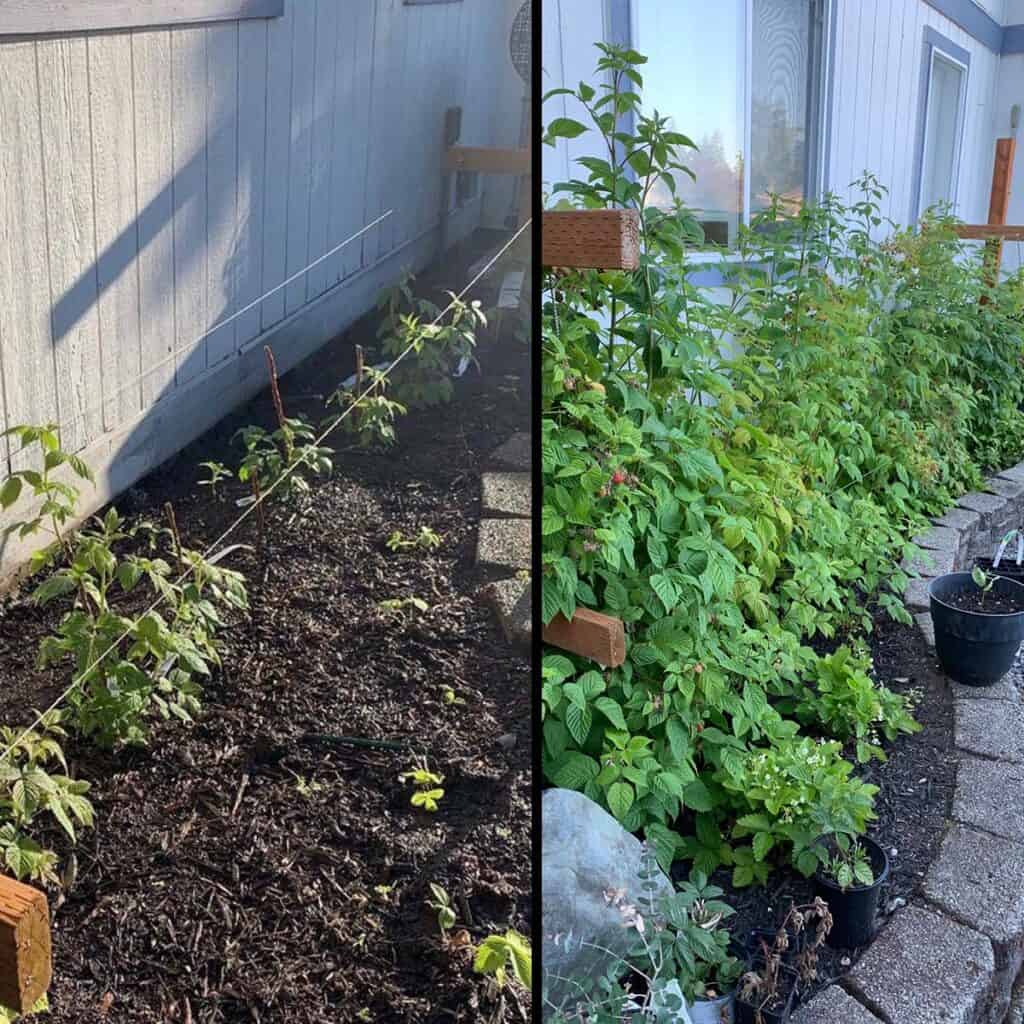 When to Plant Raspberries
The best time to plant raspberries is in early spring once the ground is workable. The best place to get raspberry canes is your local nursery or farm store. Typically, once they are for sale in your area they should be ready to plant.
Every area is different so it's a good idea to speak to someone when purchasing your raspberries.
How to Plant Raspberries
This information is for red raspberry varieties only. Black raspberries will be different.
Select a location that gets at least 6-8 hours of sun.
Make sure the soil is well draining.
Use good fertile soil with a compost or fertilizer.
Plant each raspberry cane 3-4 feet apart in rows that are about 1.5-2 feet apart.
Dig a hole big enough to fit the roots with a little extra space.
Place the cane in and cover back up with soil, keeping the crown of the plant right above the ground.
Provide some kind of trellis or support system to give the plant something to grow on.
The best nutrients for raspberries are nitrogen, phosphorus, and potassium.
Raspberries need good fertile, well-draining soil. Root health is especially important for raspberries. Every year the plant will produce new canes so it's vital that water drains properly.
Raspberries also need a good layer of mulch. This helps retain some of the moisture, keeps weeds down, and helps protect the roots.
How to Prune Raspberries
Pruning raspberries sounds really daunting, but it's necessary and crucial for proper growth and health for the plant. The old stalks that will no longer produce fruit need to be removed so nutrients can go towards the new growth.
There are three parts of the raspberry plant that are crucial to remember
Primocane: These are the new stalks in their first year. They will start growing early spring and will either produce in the fall and second crop the following summer (ever-bearing) or one crop in the second summer (summer-bearing). They new stalks are typically green.
Floricane: The Primocane becomes the floricane in the second summer and once it produces the summer fruit it will need to be cut back. It will have a brown, barky appearance.
Suckers: These are little runners that poke up away from the plant and are usually much smaller. Pull these as soon as they pop up. They will just suck and draw away nutrients from the important parts of the plant.
How to prune ever-bearing
Since ever-bearing plants will produce two separate harvests (one the first fall another the second summer). Do not prune these stalks after the fall harvest. They will turn brown, go dormant and then produce fruit the following summer.
Ever-bearing raspberries will grow fruit on the top part of the plant the first fall and then on the lower part of the plant the following summer. When pruning in late winter (Feb-march) look at the tops that have died off and prune them back to the healthy part of the plant.
Once ever-bearing plants are finished fruiting after the second season cut them back all the way to the ground. It's best to wait until November-February to cut canes back.
How to prune summer bearing
Like ever-bearing, summer-bearing raspberries will live for two summers. The difference is they will only fruit the second summer. The second summer new primocanes will grow and that will be the next summer fruits. Once summer-bearing berries are harvested those canes can be cut back as they will no longer produce.
It's best to cut back the canes in November-February.
Other things to consider when pruning raspberries:
Raspberries can easily become overcrowded which will lead to poor berry development. When pruning, look for these things to cut back as well:
Thin weak canes: For the canes that are thin, short and just dont look strong, cut those back down to the ground. They will not produce much fruit and will just take nutrients from the main canes.
Canes that shoot out of the row: Keep rows about 1.5-2 feet wide. Any canes that grow out of this area should be removed.
There are tons of different theories on pruning raspberries. Do a good search to determine which is best for you. Because of my area, I like to prune in February before the growing season whereas in other areas it's best to do it in the fall.
When and How to Harvest Raspberries
When are raspberries ready to be picked? That will vary depending on location, weather conditions, and the variety of raspberries. For my Pacific Northwest zone 8b, raspberries are typically ripe in early July.
Regardless of all these things, there are a few signs when they are ready. They should be softer (not mushy), consistent in color and they should just fall off when given a little twist.
Color consistency means that the berry is the same color throughout. If you are growing a red raspberry, all the little bumps (called drupelets) should be roughly the same color. If the ends of the berries on the stem are still light in color they still need some more time.
Similar to ripe blueberries, raspberries should easily pull off when ready. If you have to hold the stem and pull it off, they are not ready. Just give the berry a little twist and it will slide right off with ease.
Unripe berries will be bitter and not full of the sweet juices that ripe raspberries will have. For the best flavor wait until they are fully ripe and ready to be picked.
I typically like to harvest my raspberries in the morning when it's cool. It's also best to harvest when it is dry out. If I wait until later in the day they tend to be a bit mushy.
When harvesting, use a berry box or colander so they can be rinsed in the same container.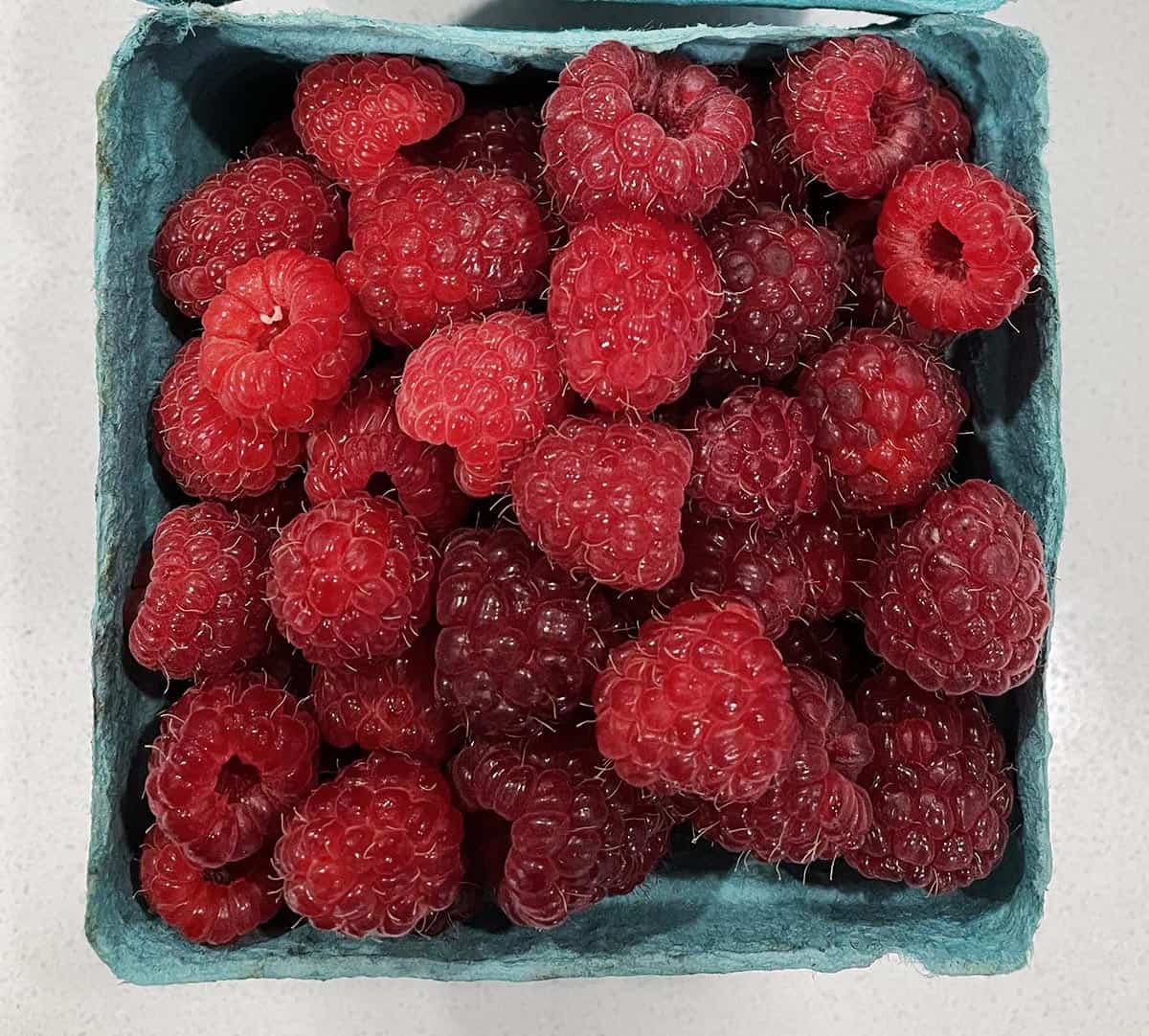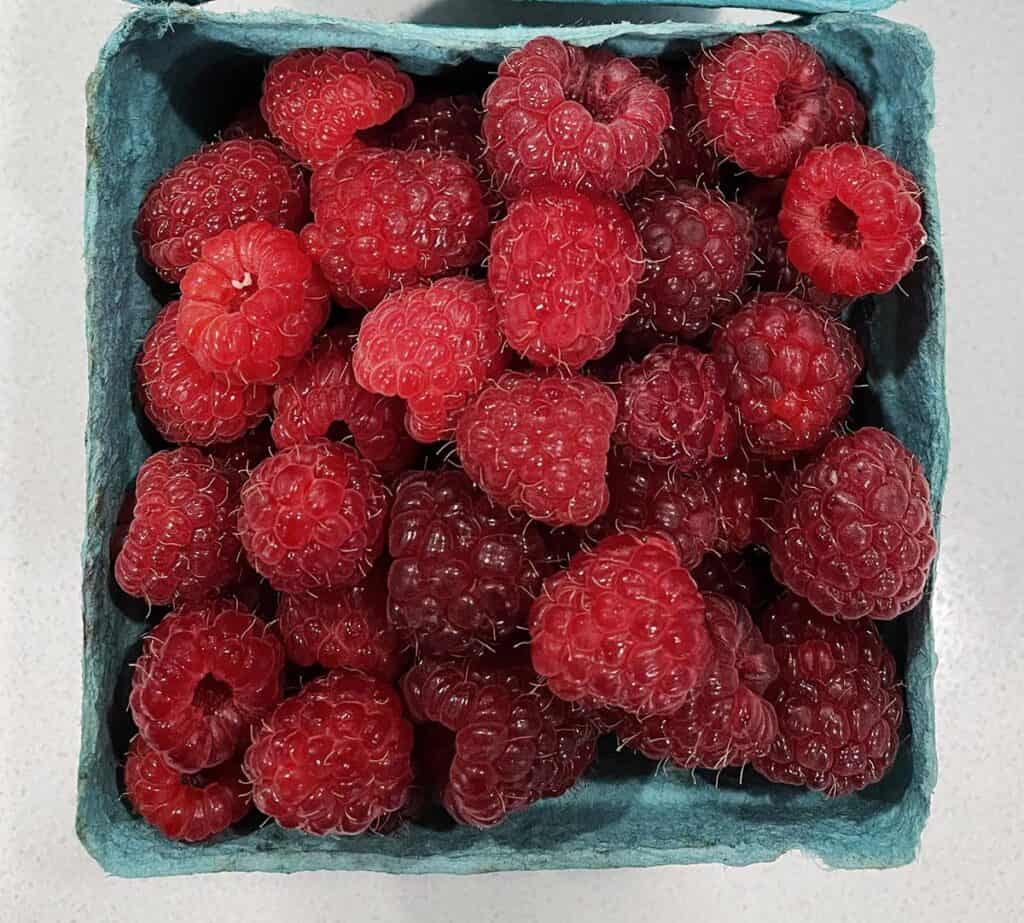 I like to use ceramic berry containers. With them, you can go right from the garden, washed, to the breakfast table, to the fridge, then rinsed and reused when empty. They also look really nice on the breakfast table as well.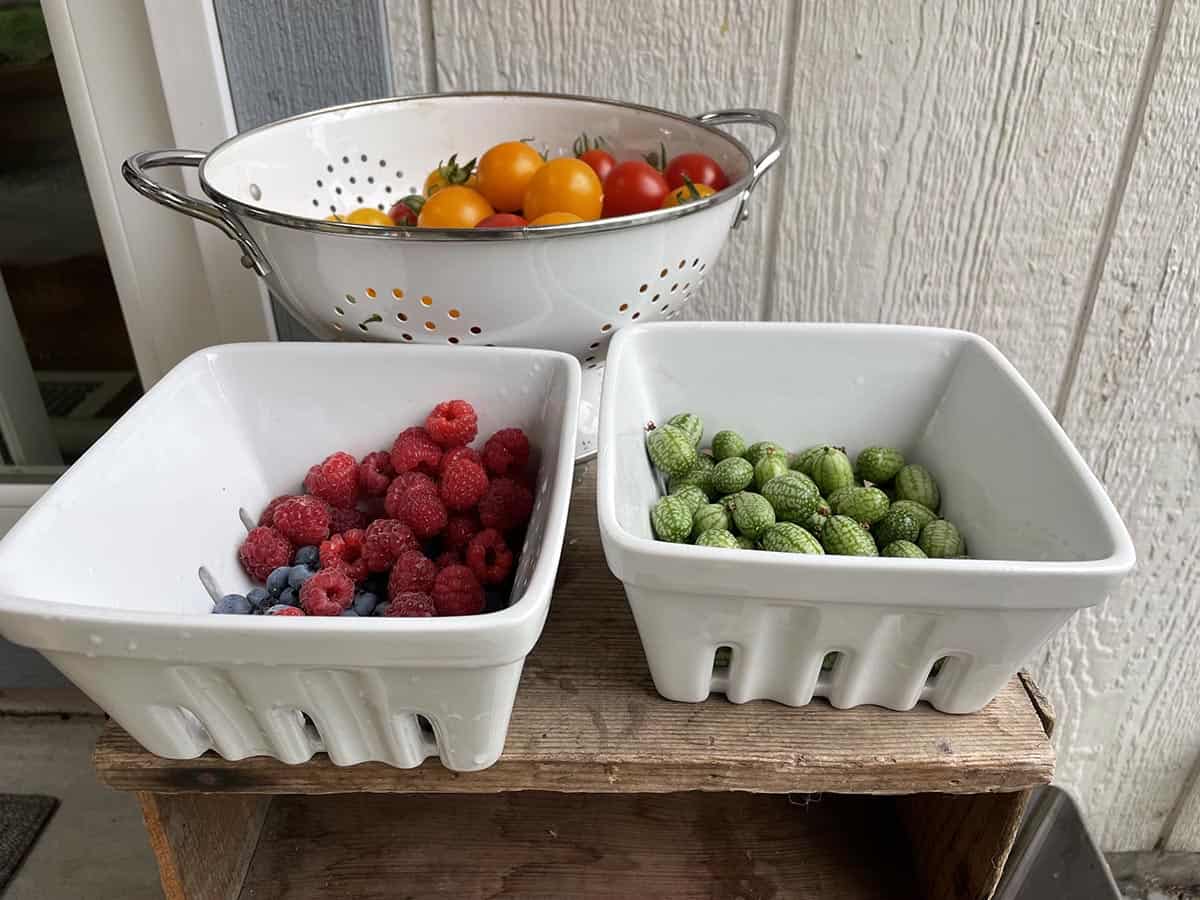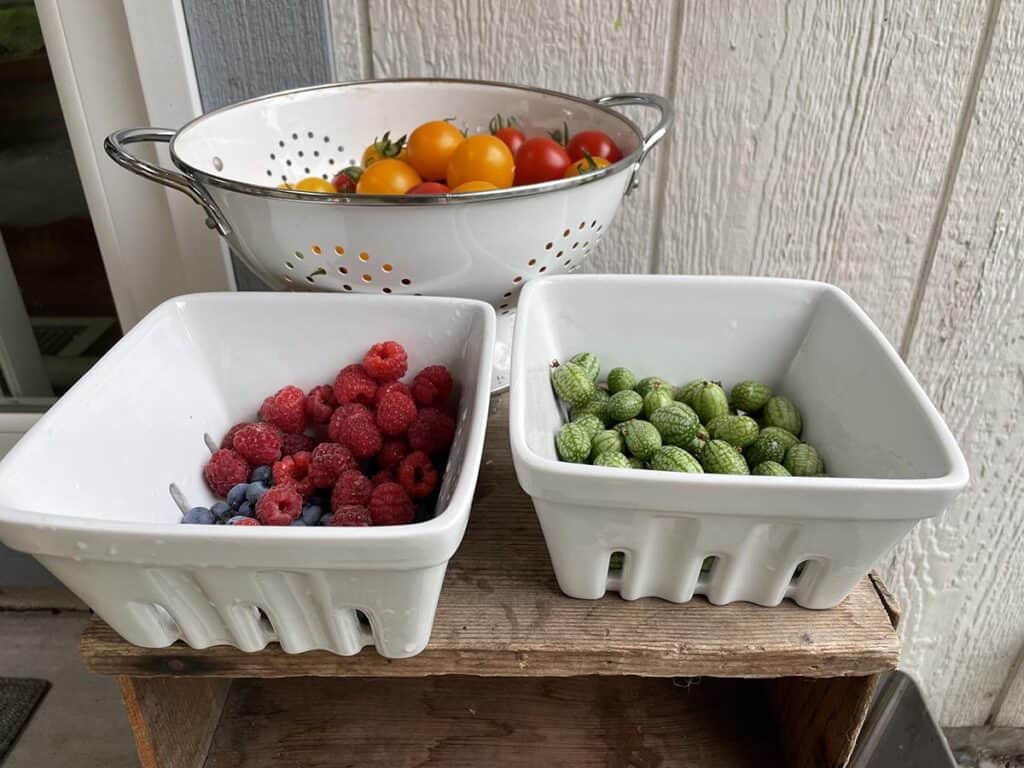 Cooking with Raspberries
The best way to eat raspberries is by the handful right off the vine. If we have anything that makes it inside we will add them to dutch babies, ice cream, smoothies, cobblers, and other baked goods. Raspberries pair so nicely with citrus fruits as well. So consider adding fresh lemons or limes with your fresh berries.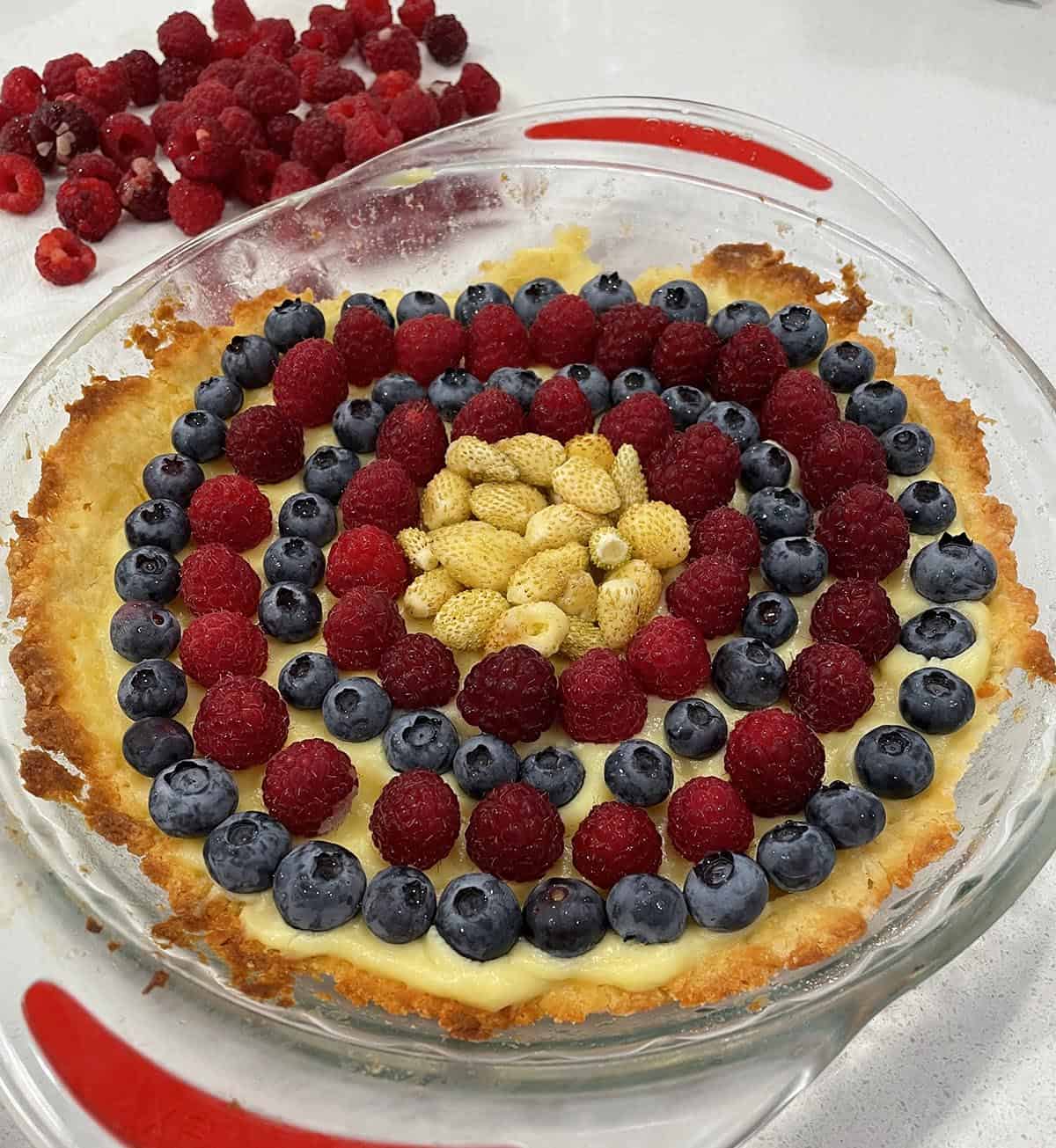 Once a summer I also love making freezer jam with freshly picked raspberries. It's a great way to enjoy them all year long. Making freezer jam is also a lot easier process than canning!
Raspberries do have a high water content so keep that in mind when adding to baked goods.
Raspberries are also great for freezing and hold up really well when done properly.
How to Freeze Raspberries
The best way to extend your raspberry season throughout the year is by freezing them. It's a very simple process and can be a great way to enjoy this amazing berry all year long. Freeze enough to get you to the next raspberry picking season and never run out.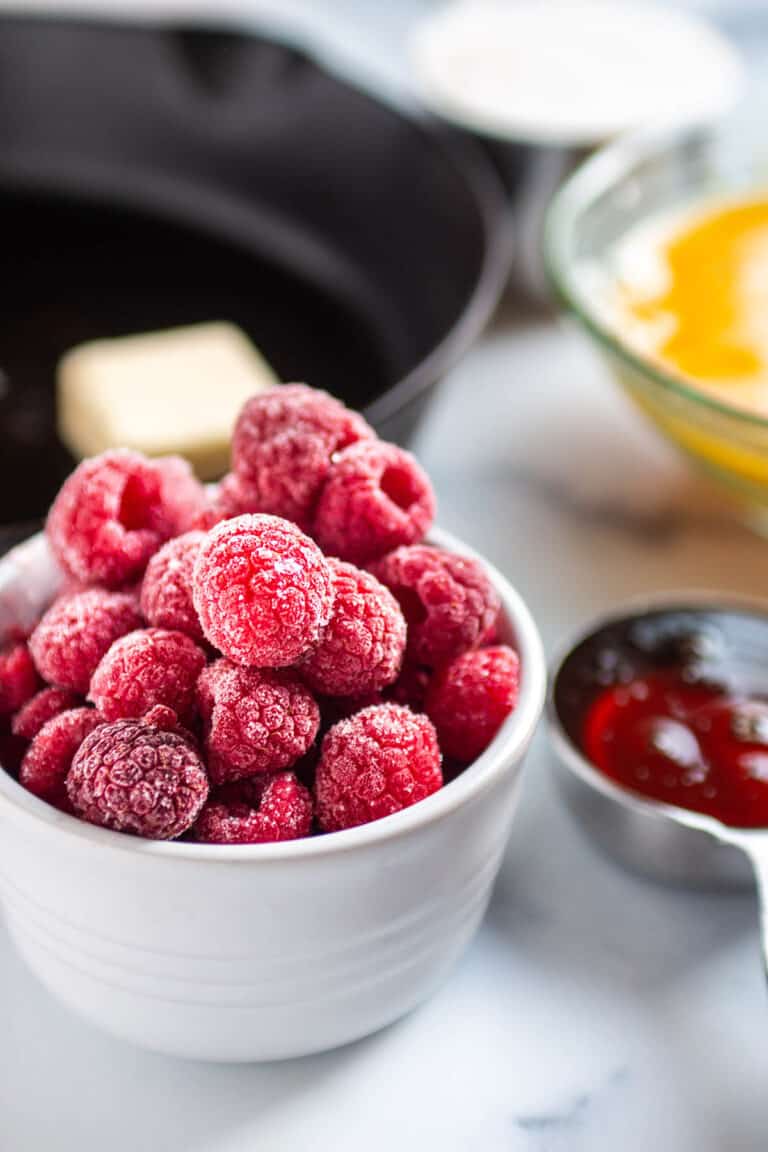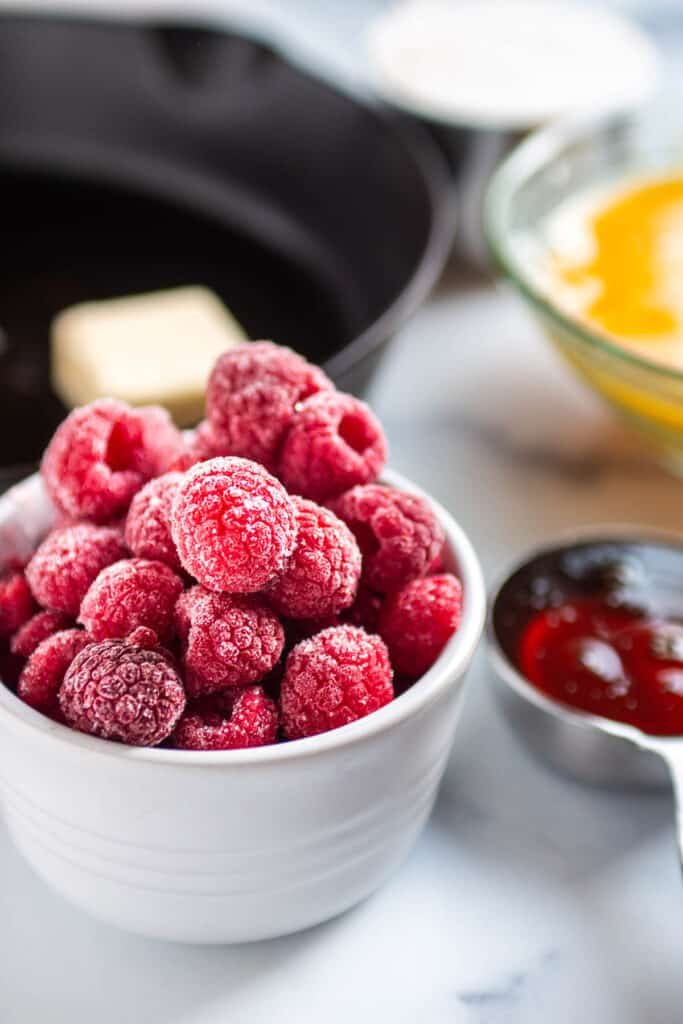 Wash raspberries and remove the stems, leaves and dirt.
Lay out on a towel and allow to completely dry.
On a cookie sheet lined with parchement, lay out the raspberries on a single layer.
Put in the freezer for 3 hours, or until berries are compelety frozen.
Remove from freezer and dump raspberries into a gallon freezer bag. Date and try to remove as much air as possible.
Berries will keep up to 1 year in the freezer.
To use frozen raspberries, leave them out at room temperature to thaw or put them directly into your baking dish. Raspberries will lose their shape and firmness after being frozen so they are best used for cooking and baking once frozen.
I would love to help get you started on your gardening adventure! Whether you are brand new to it or looking to expand, I'm here to help.
Lets Connect!
Looking to start a brand new garden? Check out my gardening for beginners to help you plan out your new space.
I also have a gardening planner available to my email subscribers. Fill out the info below to get that free download.
I would love to connect on social media and see your progress on raspberry patches, gardens, and what you are cooking with your fresh homegrown produce. Tag me in photos on IG @dirt.dough so I can cheer you on.