This post may contain affiliate links. Read my disclosure policy here.
How I organized my disaster of a spice cabinet to a clean and organized collection of spices. Take a cabinet full of mismatched spice containers and organize them so they are uniform and keep your cabinet mess free.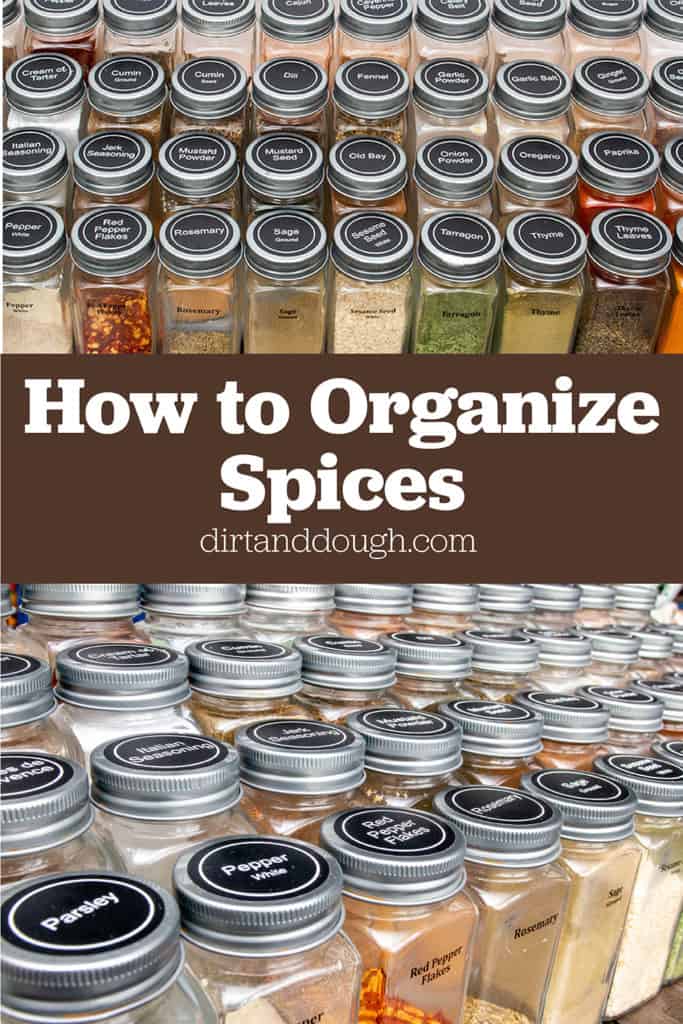 When I was first learning how to cook one thing that needed major help was my spice inventory. All we ever really had on hand was table salt, pepper, taco seasoning and Johnny's Seasoning Salt for everything else. Spices were overwhelming and scary! Way are there so many salts and how do you use any of them? Over the years I have slowly acquired so many spices I'm busting at the seams.
Before I knew it, It was overflowing. The biggest issue I was finding was I had very limited space for storage. I always had a hard time finding the spices I needed while cooking. The worst part was, I easily lost track when I was running out of something. Or, didn't have it on hand at all. I needed a change.
Before: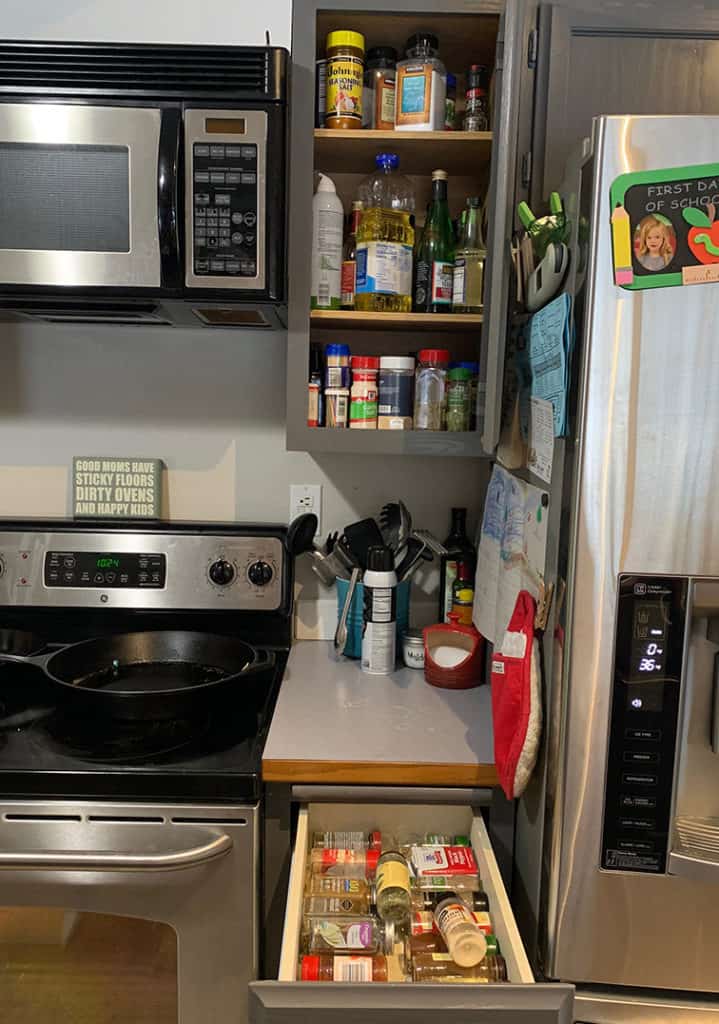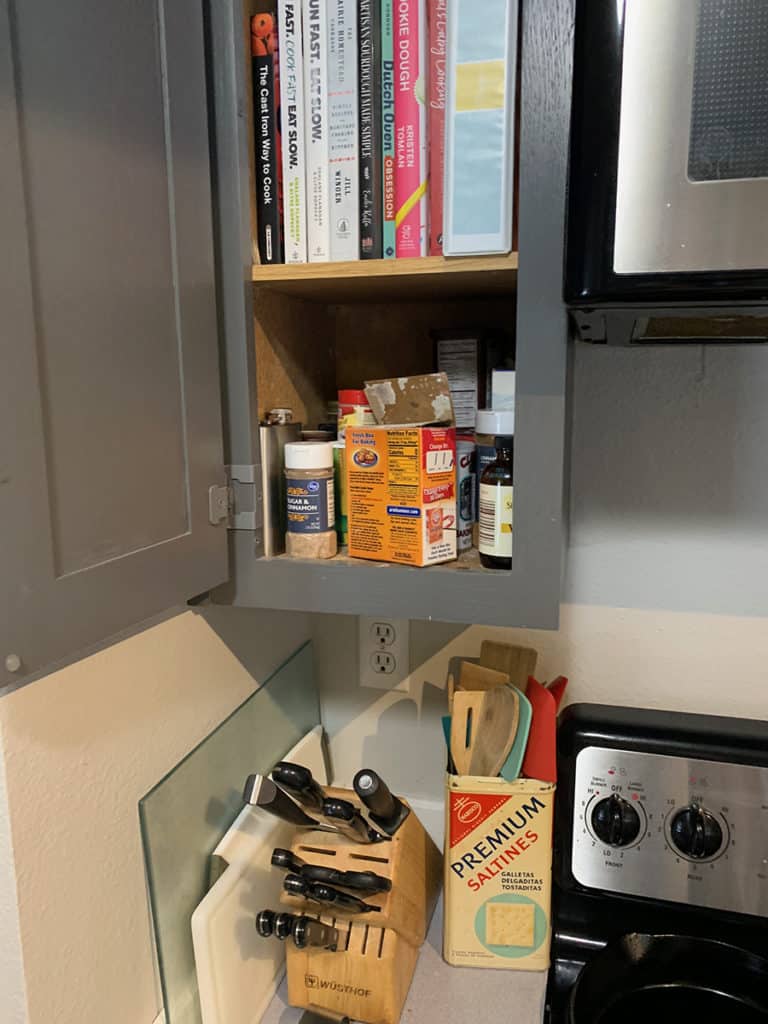 I had two cabinets overflowing with spices, oils, vinegars and other random baking supplies. It was a mess and I could never find what I needed.
I originally moved most of my smaller spices into a drawer so the labels could be seen easily.
This was a great solution for those items but not great for everything else. I still had boxes and large containers taking up tons of room. So I decided to decant and put everything in clear, uniform jars.
Uniform Containers
I researched all kinds of different options for jars and this pack on Amazon just couldn't be beat.
Aozita 36 Pcs Glass Spice Jars with Spice Labels - 4oz Empty Spice Bottles.
I love making my own labels, but what I got in this package just made everything so simple. It comes with pre-printed circle labels as well as smaller ones for the front of the jars. The top circle labels were perfect for my drawer.
The jars have other uses as well. I love storing my homemade spice blends such as taco, greek, old bay, or fresh cut herbs from my garden. I find I'm using all my extras all the time.
This storage has been a game changer. It is so quick and easy to find what I need. Not just for me but also for my husband and daughter. I do all the cooking so just instinctively know where everything is. However, when my husband needed something it was hard to find. Now each spice has a label and stored alphabetical order making it so much easier for everyone.
After: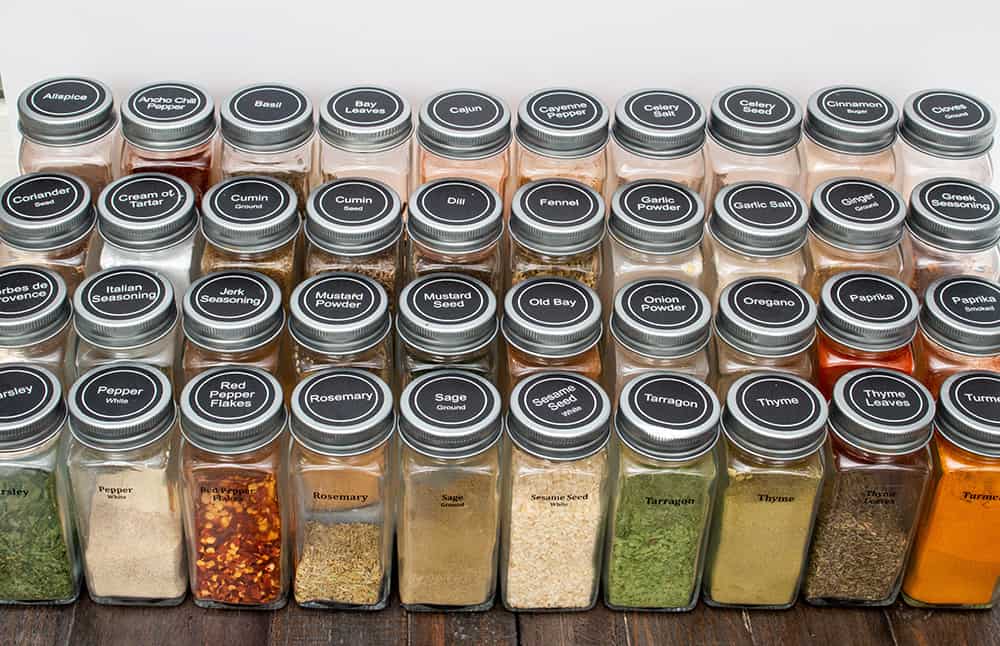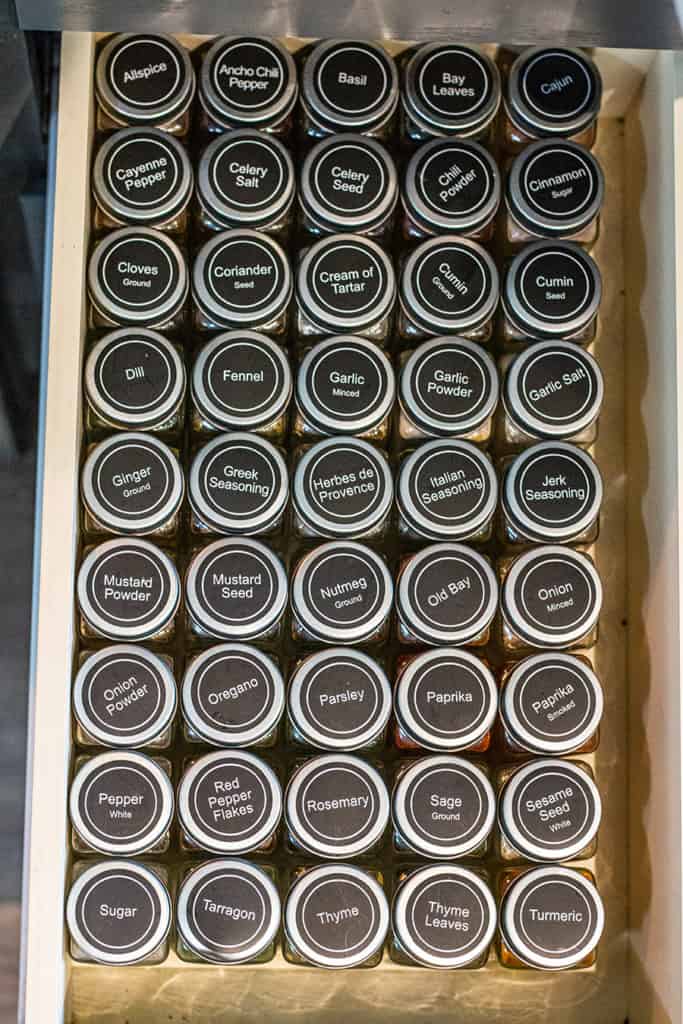 This cabinet now stores my sourdough starter and some of the larger containers I use on a regular basis without things getting lost behind them.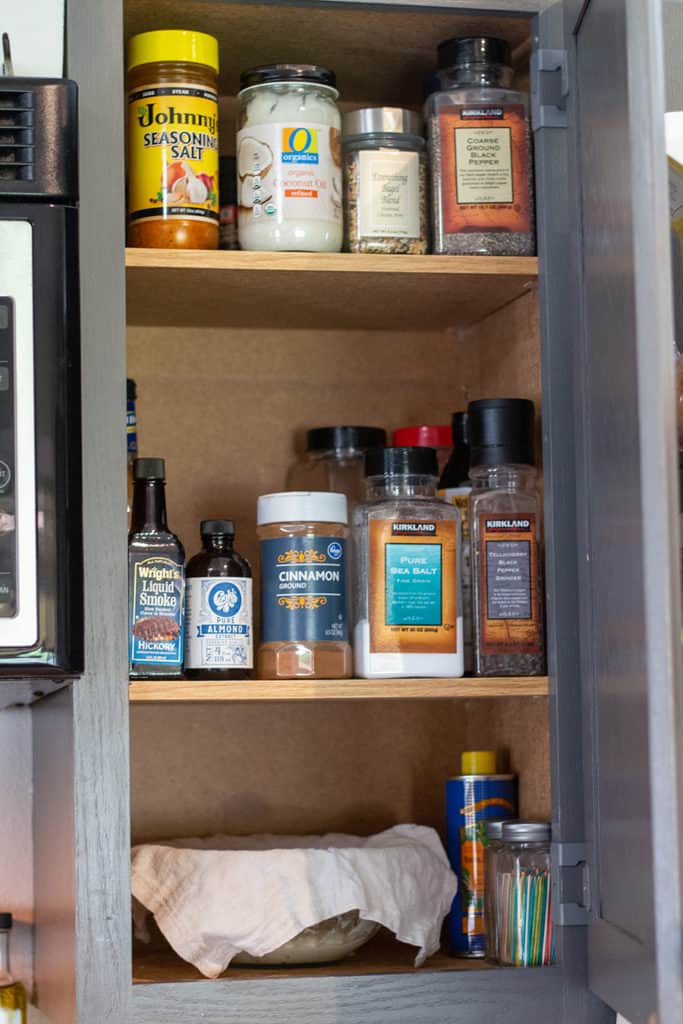 The below cabinet used to hold all the baking essentials. Things such as vanilla extract, cinnamon, baking power and baking soda. I now have extra space to hold all my liquid measuring bowls and my cookbook collection. I also have room for more.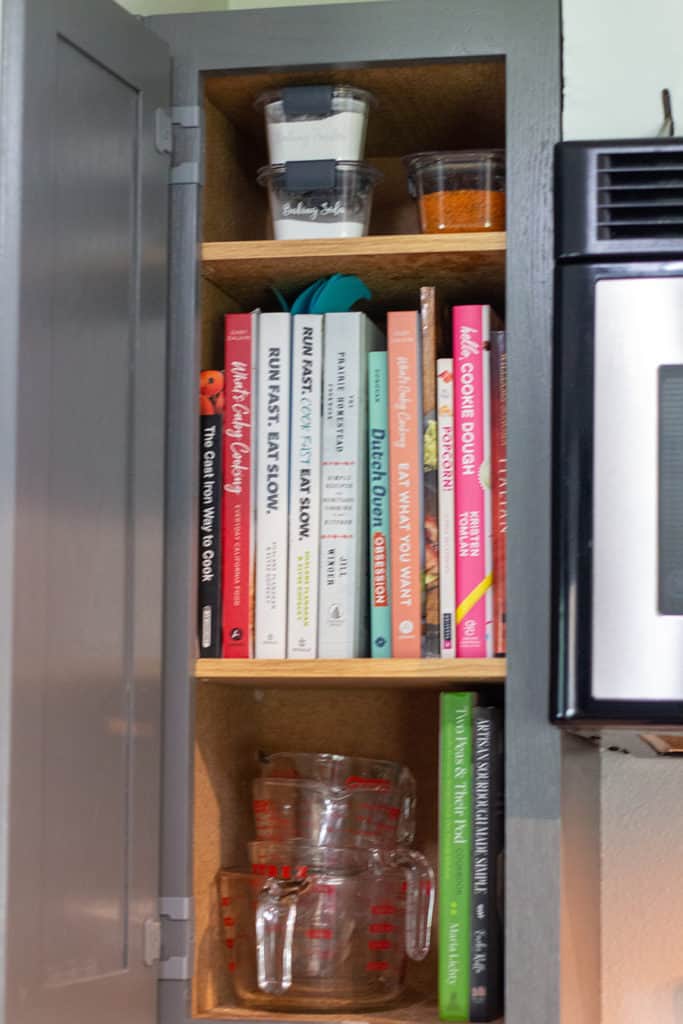 Certain things like my salts, I like to keep in crocks right on my counter. Since I use them all day everyday that is one thing that doesn't make sense to store in the drawer. I also used these smaller Rubbermaid containers for a rub mix and baking powder and baking soda.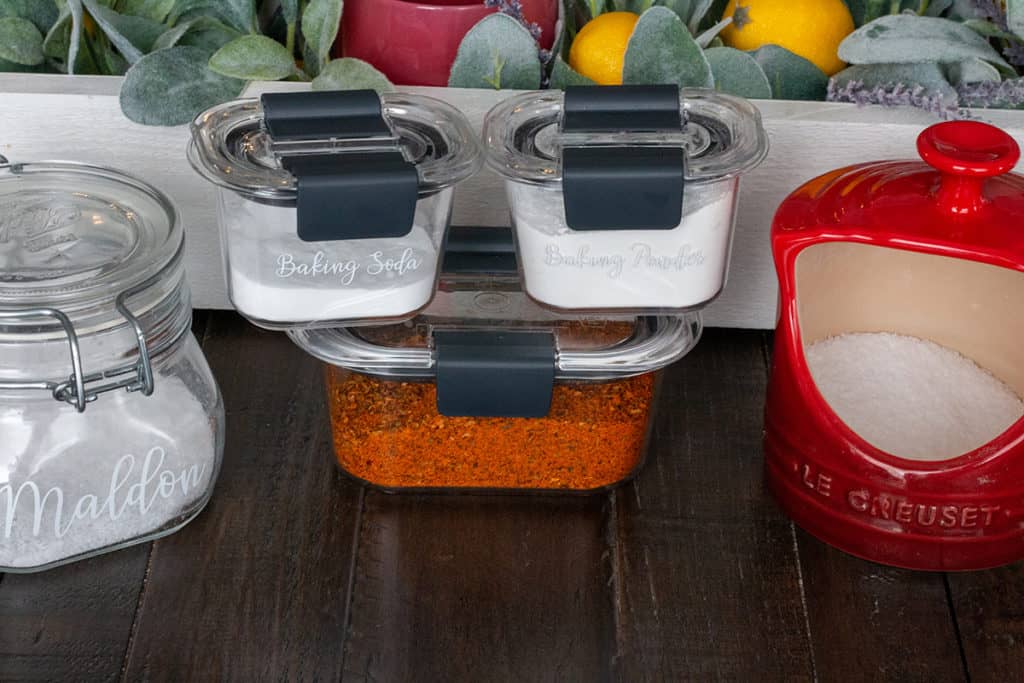 Larger containers are kept in the garage so it's not taking up valuable space in the kitchen.
One last perk, but has to be my favorite, is I can now purchase spices in bulk. Things I use the most I am able to buy larger packages which in the long run saves money.
How to Organize a Spice Cabinet or Drawer
1. Inventory All Your Spices
This is the one step I did not do when organizing my spice cabinet. I ordered the 24 pack thinking there is no way I have more than that. Well guess what, I ended up needing the 36 pack as well!! I was so shocked that I actually needed that many. So don't skip this step.
Take out all your spices to inventory. Toss the ones you don't need or expired and make a list of all the others. This will help determine how many containers you need. I didn't mind having to purchase two sets. It was just frustrating to start a project only to realize I didn't have enough and had to wait for the second set to arrive.
2. Purchase Containers That Fit Your Needs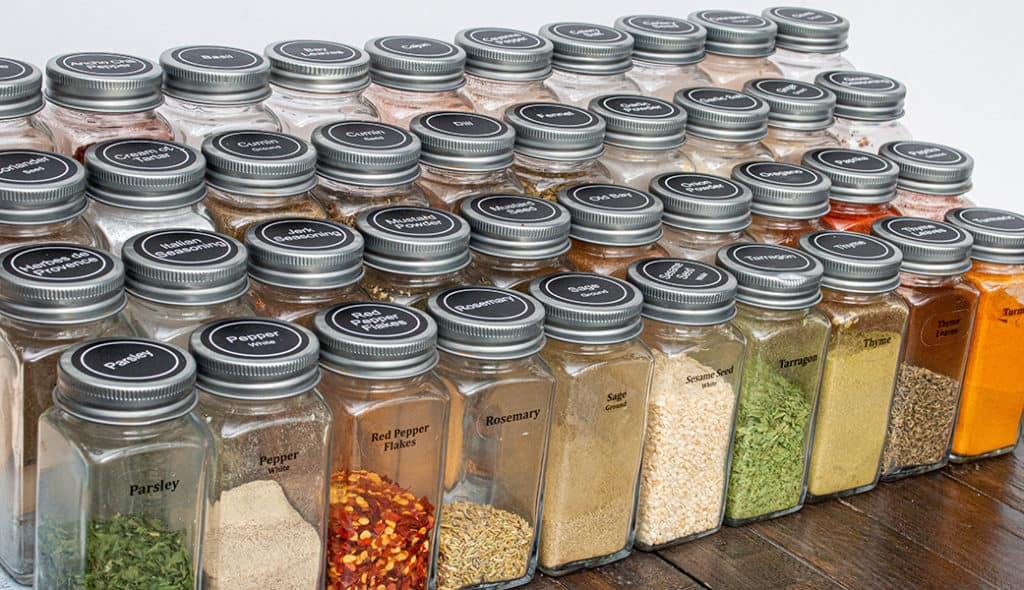 If you do not like the ones I used there are so many options out there. The cutest ones I have found are mini Mason Jars. If I had all the space and budget in the world, this is what I would get. However they just take up a lot of room. Don't get me wrong I have some on hand but keep them for more special uses.
I like these jars because they fit a 4oz spice container perfectly and they line up nice in my drawer. So take some measurements and see what jars fit your needs best. If you are keeping in a cabinet you may also need a riser. This will make everything easier to see. It's really simple to make your own as well.
I did something similar with my jars in the pantry. Its just a nice way to see all the rows. I also have a tutorial on how I organized my pantry.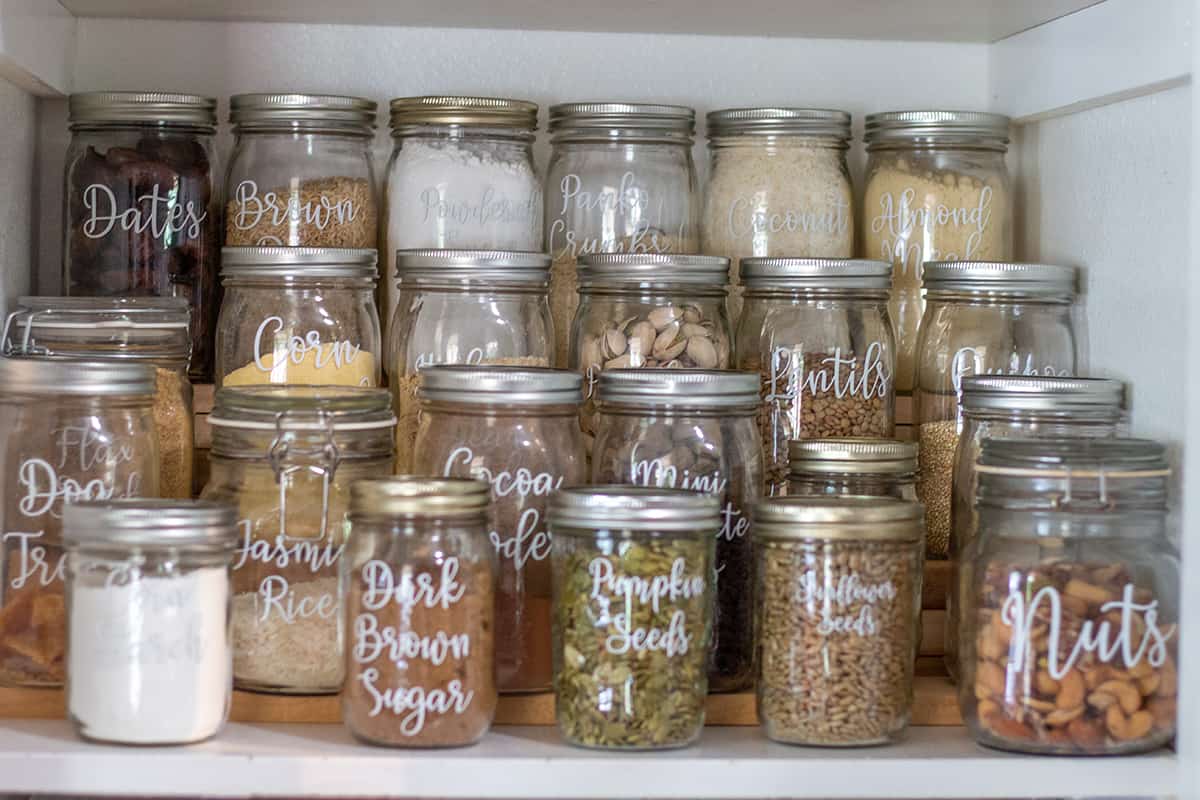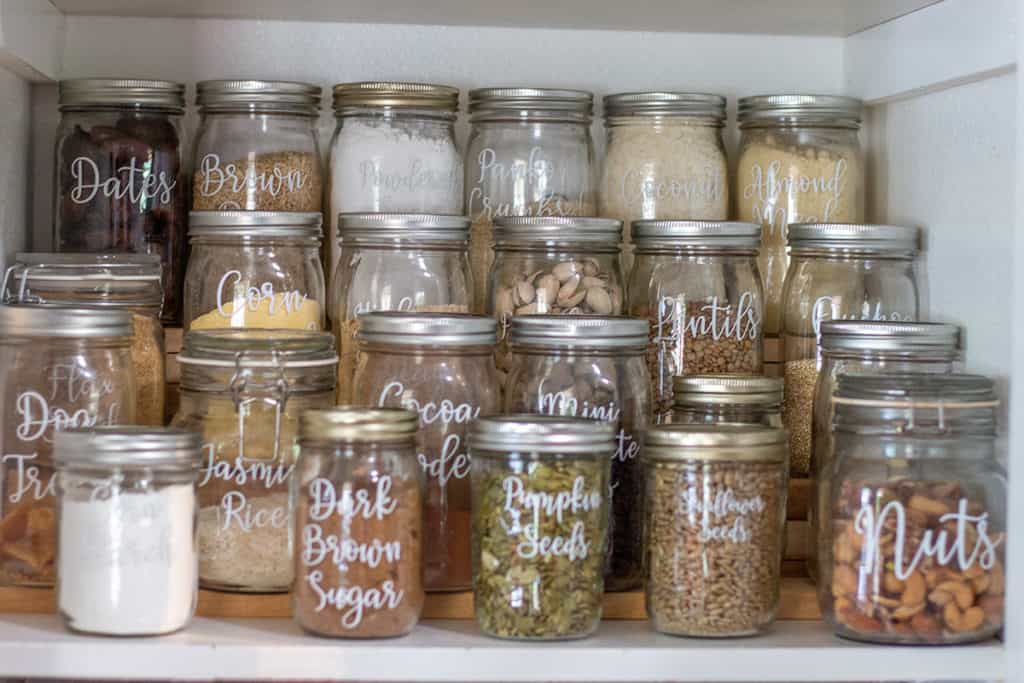 3. Wash Jars and Lids
I like to wash all new jars and containers before I put anything in them. Just give a quick wash with hot soapy water and make sure they are completely dry. Again, washing and drying them all at once makes the process so much easier. You don't want to stop and start over.
4. Determine Placement of Labels
Before your start labeling take some jars and determine how they will be stored. If its upright like mine you might want them on the lid.
Take things into consideration such as how they will look in a cabinet. If you have them on risers, place the label towards the top so they can easily be seen. If they are on the middle or down low you won't see them.
Once you have determined the perfect placement, put all the labels you plan to use on the jars. When I was looking at organization options I saw some photos where the jars were standing up in a cabinet but the label was on the lid. This did not make sense to me. I wanted to be able to see each label clearly. While I know what each spice looks like a couple are a little harder to tell apart. My daughter is also learning how to cook, so it's a great way for her to start recognizing what the different spices look and smell like.
5. Fill and Organize
Then fill each jar with the spices and throw all the mis-matched containers away! If you have kids one fun thing to do is add them to their play kitchens. Clean them out, glue the lid on let their imaginations take over.
I like to keep mine in alphabetical order. It just makes the most sense to me and my family. And when they get out of order it's perfect practice for my daughter to put them back.
A couple other ways you could keep them are by origin or what you use the most. You could also do dried herbs vs. ground spices. Organize them how they make sense to you.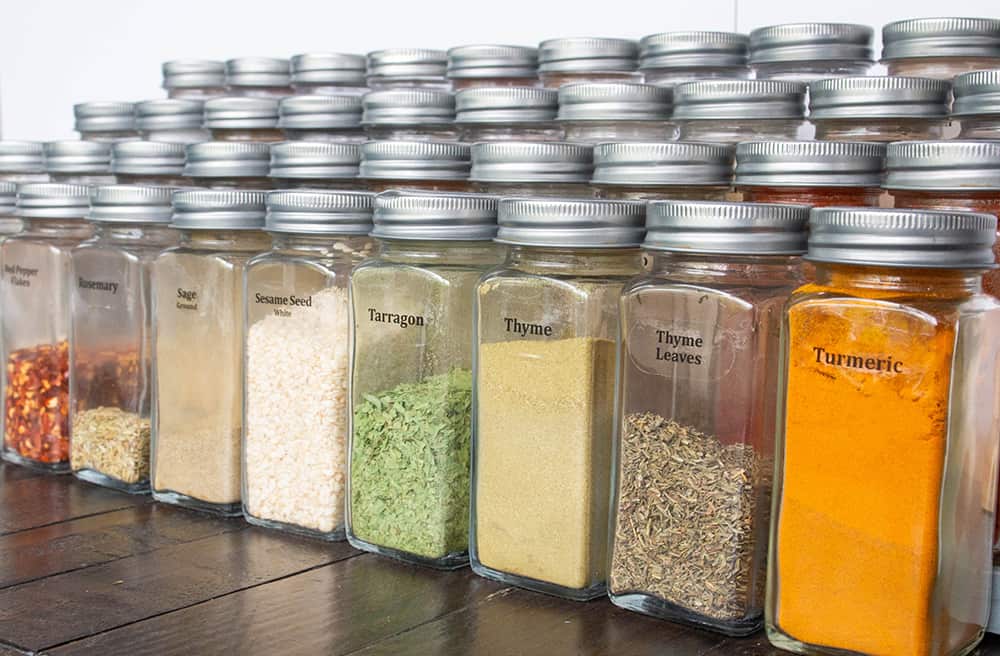 Conclusion
This has been such a game changer in my kitchen. No more clearing out cabinets to find what I need, or sadly find I'm out of something. I can quickly identify each one, use it and put it right back. It has also cleaned up my work space because each spice has a home to quickly return to.
This hasn't completely cleaned out my messy cabinets. I still store some larger containers I use regularly. Mainly things like salts that I would be refilling often. Lastly, spices I use only once or twice a year (Alum for canning) can also be stored in my garage. So really find what works for you.
Shop This Post
Aozita 36 Pcs Glass Spice Jars with 612 Spice Labels - 4oz Empty Square Spice Bottles
Aozita 24 Pcs Glass Spice Jars/Bottles - 4oz Empty Square Spice Containers with 612 Spice Labels
Other Kitchen Organization: