The easiest and best spice drawer organizer to keep all your spices in one location. Easy to use, fits most drawers and makes all your favorite spices easy to access.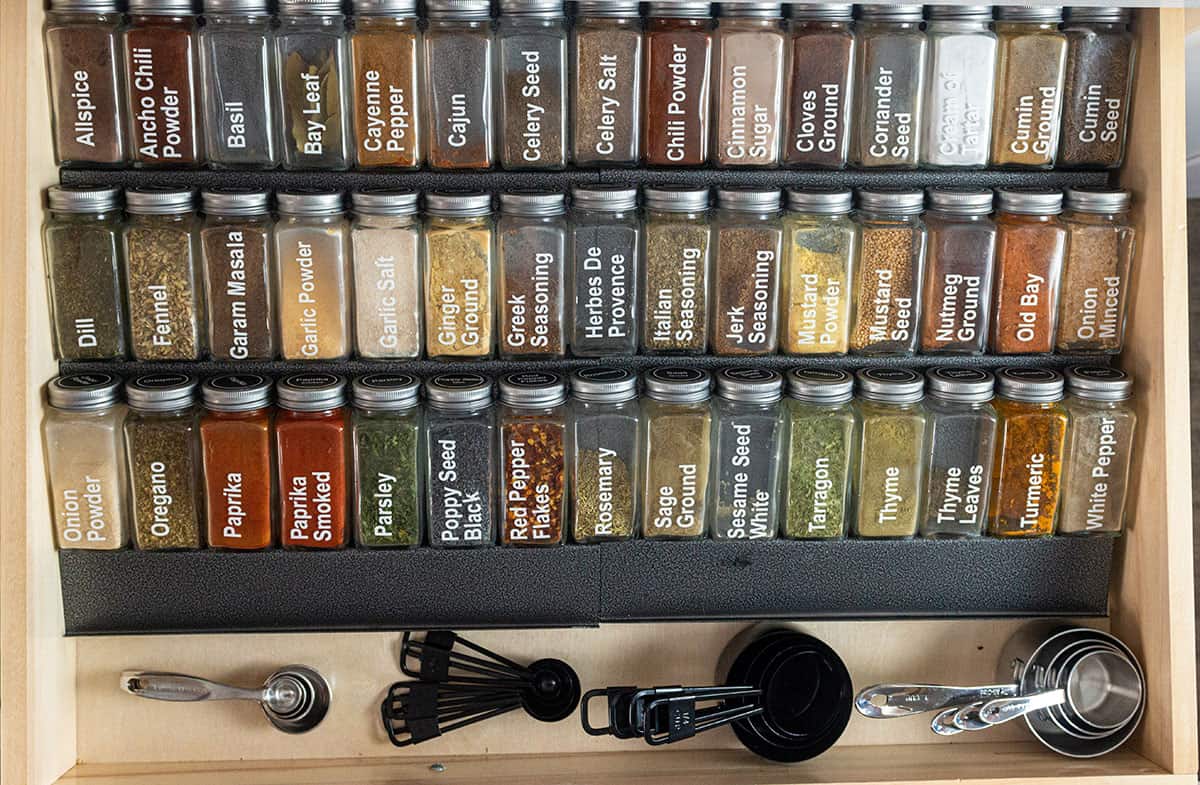 When I was going through a kitchen remodel the one thing that was at the top of the list was a perfectly organized spice drawer. Not because I wanted an Instagram worthy spice drawer, but because of the functionality.
Having all my spices in one clean organized space that makes it easy to find, use and put back has been a game changer in how I cook.
I no longer have to dig through cabinets or drawers looking for what I need, therefore saving me a lot of time.
This is a simple weekend project that will make a huge impact in your kitchen and I'm going to walk you through it.
Organizing Spices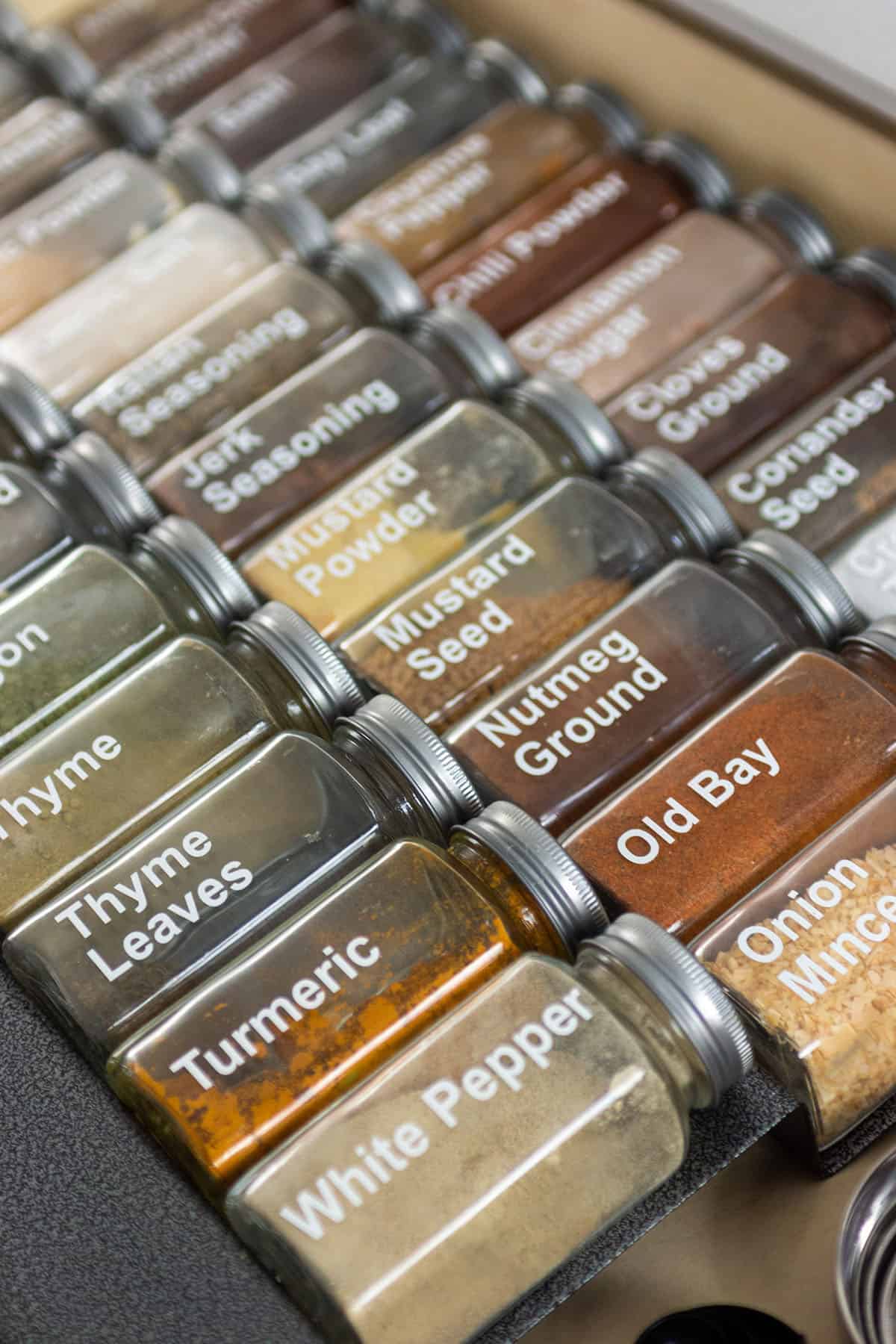 Spices are such an important part of any kitchen. Whether you cook occasionally, or are a blooming home cook, chances are you have a good selection of different spices.
Just about every recipe will call for some kind of spice and for this reason alone organizing them is so crucial.
One thing that can drastically improve your cooking and efficiency in the kitchen is to have all your spices organized so they are easy to find and use.
Before I organized my spices I would spend so much time digging and searching for what I needed. Now all my go to spices are in the same spot and take very little effort to use. This has made my time in the kitchen much more efficient.
It can do the same for you!
Using these jars is a great way to have them all in uniform, well labeled containers. This will allow you to also purchase spices in bulk and just refill as needed which will save you money in the long run.
Get my full step-by-step tutorial on how to organize your spices. I promise you, this will drastically change your kitchen.
Spice Drawer Organizers
While there are lot's of options on the market this particular spice draw organizer is sturdy, durable, expandable and can fit just about any drawer.
It's also in two pieces so can be used in two different locations.
This organizer paired with jars that have uniform labels will prevent you from ever digging through your spice cabinet ever again.
It will also hold the standard spice jars that you purchase in the store. So just this one organizer will completely change how you keep your spices.
The stair step design also maximize the space in the drawer giving you more room for even more spices than other designs.
It also has extra space that is perfect for keeping measuring spoons or your go to cooking tools.
If you don't like this particular one there are lots of similar options. Be sure to measure your drawer first to find the right size that fits your needs.
Clear: Clear, expandable spice drawer organizer.
Wood: Wood, expandable spice drawer organizer.
Multiple Configurations
What I love the most about this particular organizer is it can be configured to fit most size drawers.
It comes in two pieces and expandable, so it can be easily adjusted to full length or even separated into two different drawers.
There are options that are not expandable that are a bit cheaper. However, they do not offer the same functionality that the expandable ones do.
Below are just a few configurations that you can use to fit your needs.
Fully expanded to fit your largest drawer: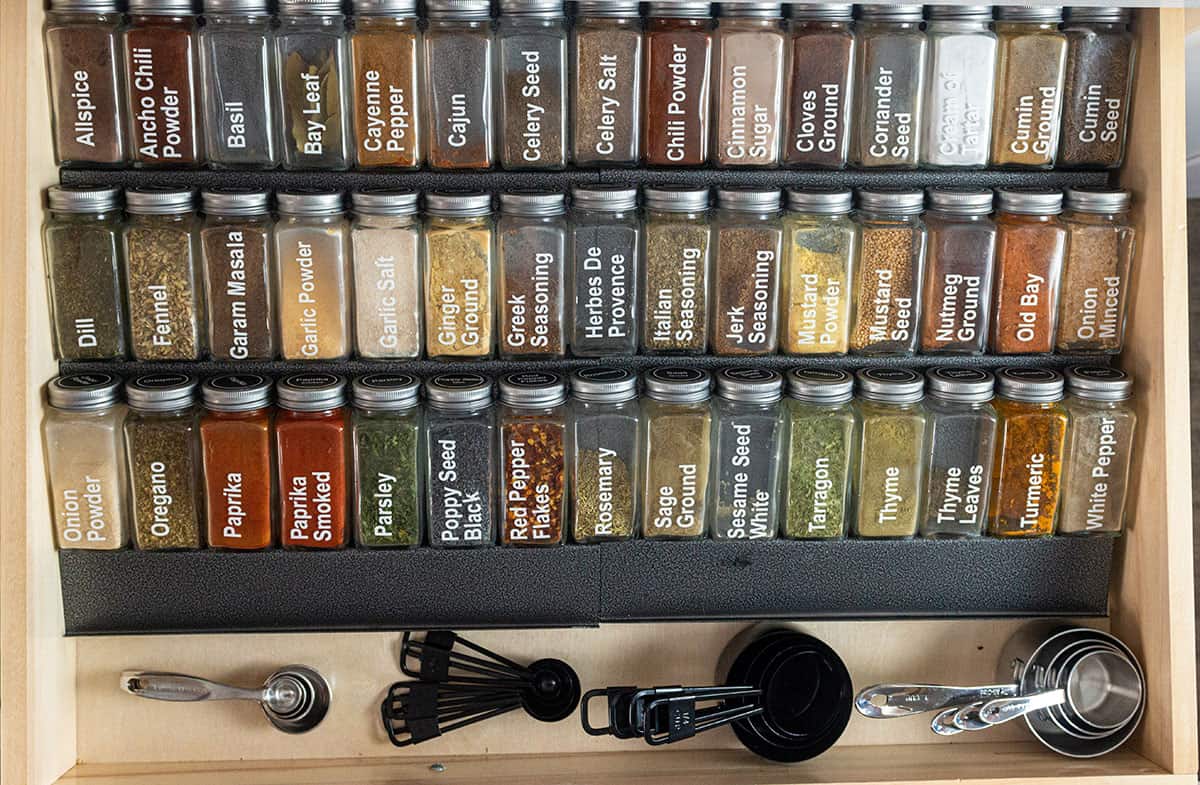 Shortened to fit that same drawer but have additional storage space: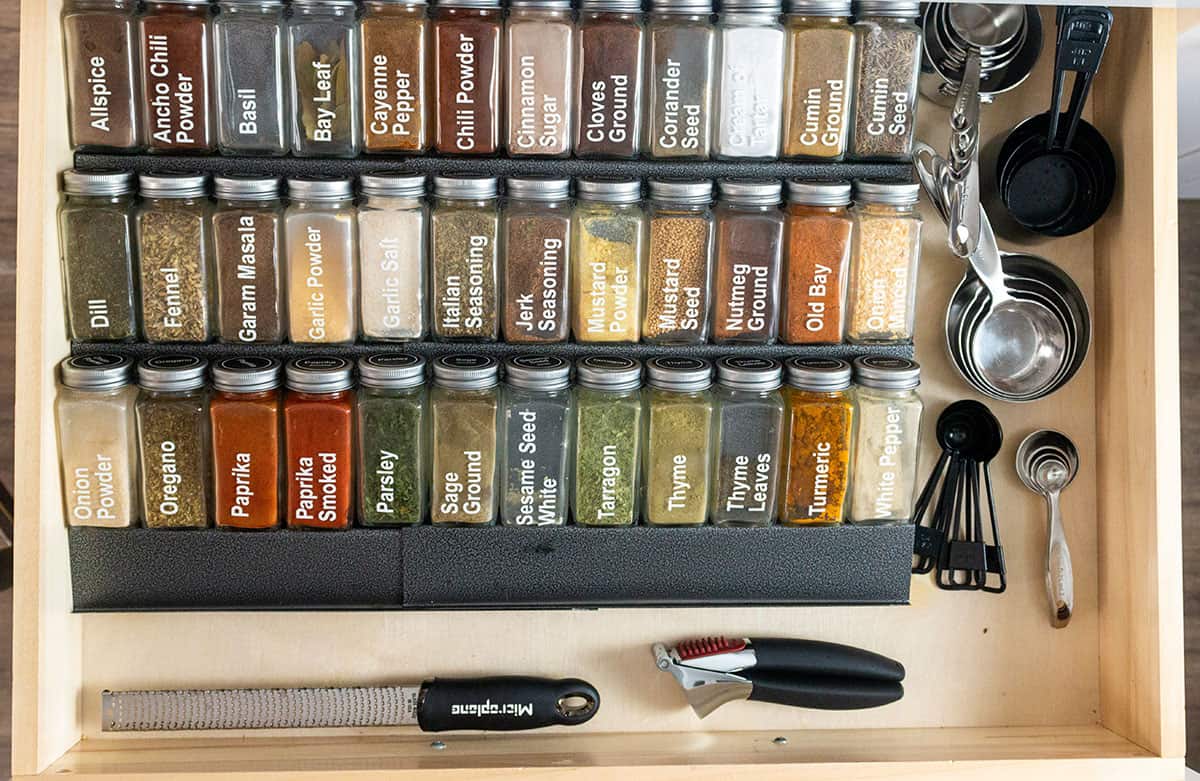 Separated to fit into smaller drawers: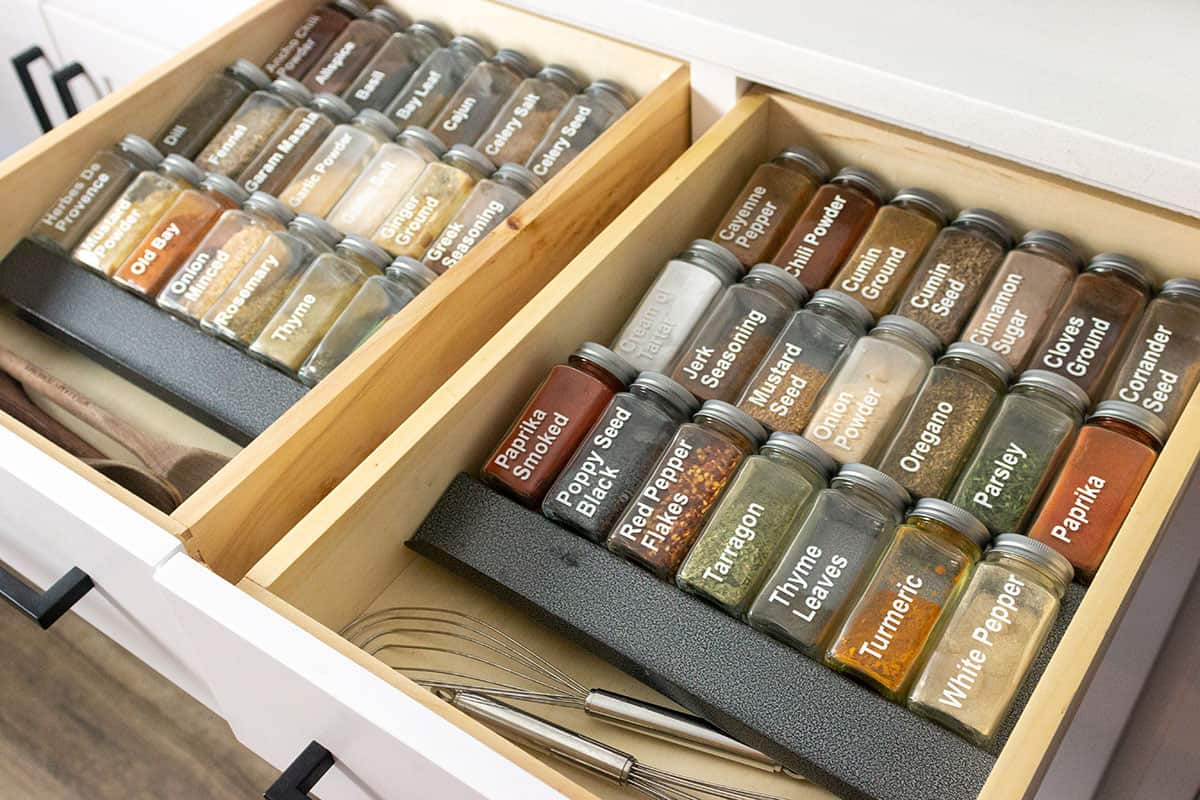 However you decided to use it, I promise it will completely change the flow and efficiency of your cooking. Plus it just looks so good!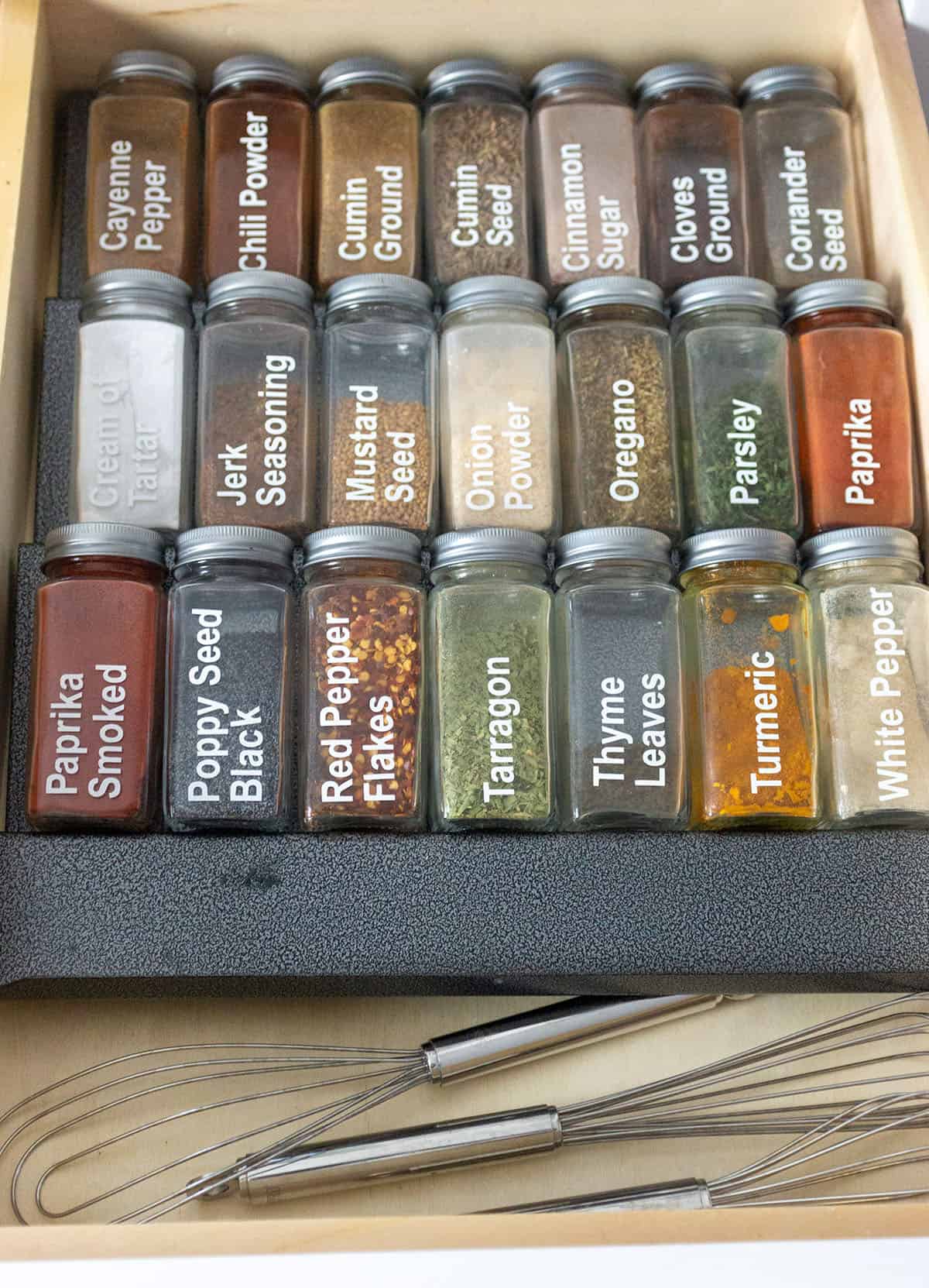 If you organized your spice drawer or cabinet, leave a comment below. I want to hear how it has served you in your kitchen.
I would love to connect! Subscribe to join my email list for recipes directly to your inbox. We can also connect on social media via Instagram, Pinterest, and Facebook.
Now that all your spices are beautifully organized, lets get cooking! Search the categories below to add to your next meal plan.
Recipes by category: