Can you bake a dutch oven in the oven, and other uses for this versatile cookware. A dutch oven is the ultimate stove-to-oven pot and an investment every cook should make. Learn how to safely bake with your dutch oven.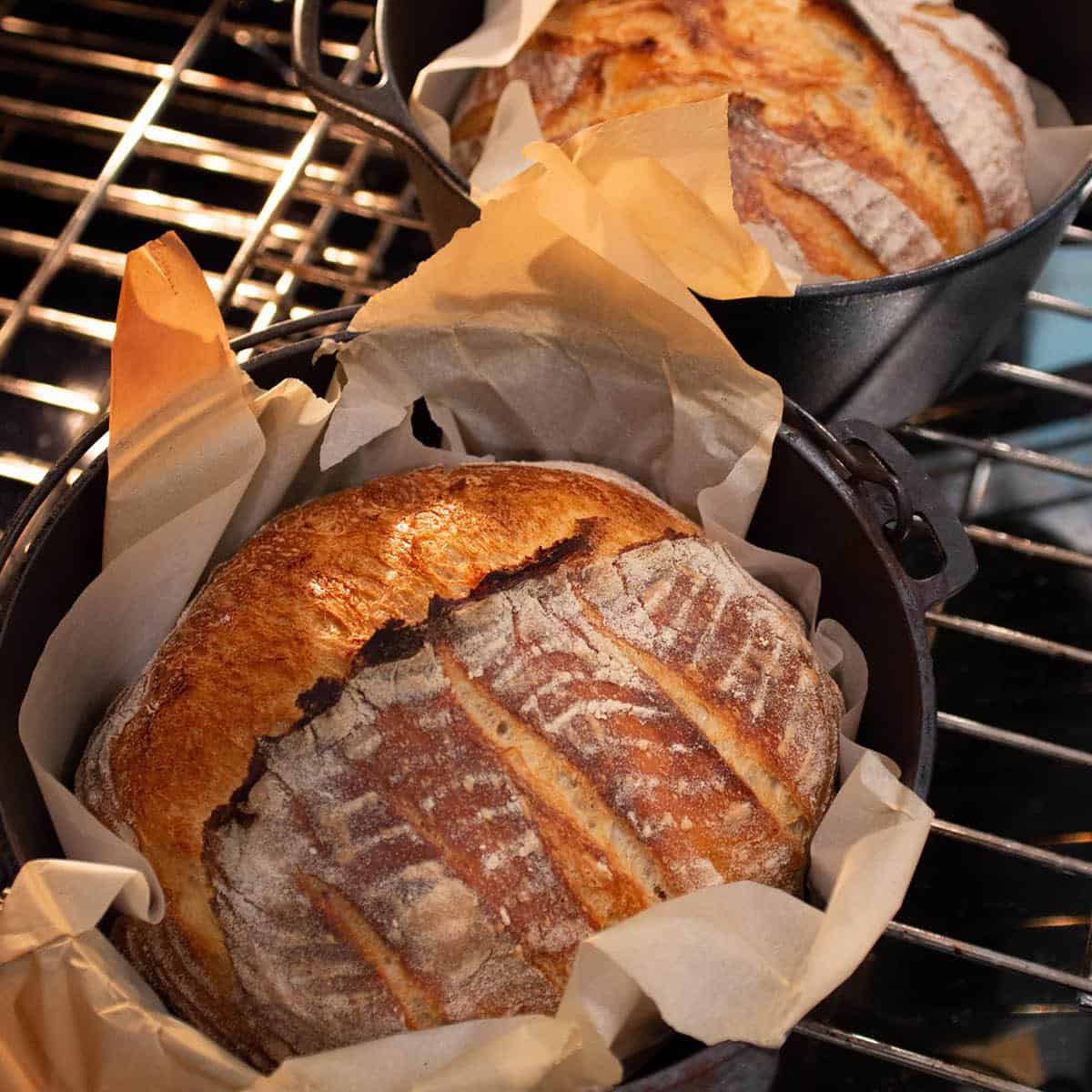 Whether you are cooking on high or low heat, stove top or oven, feeding 2 or a crowd, a dutch oven will be your best friend in the kitchen!
They are the most versatile pieces of cookware you can own and all home cooks should have at least one.
Bake bread, slowly cook a pot roast or corned beef, make endless one-pot meals or use it to make a quick and simple potato side dish.  
You can sear, simmer, saute, deep fry, make a pot of soup, or use it for slow cooking a larger cut of meat. Whatever method of cooking you prefer, there's a good chance a dutch oven can handle it. 
There are so many benefits to this pot and they can be used in a variety of different ways. There is nothing like dutch oven cooking! 
Jump to:
What is a Dutch Oven?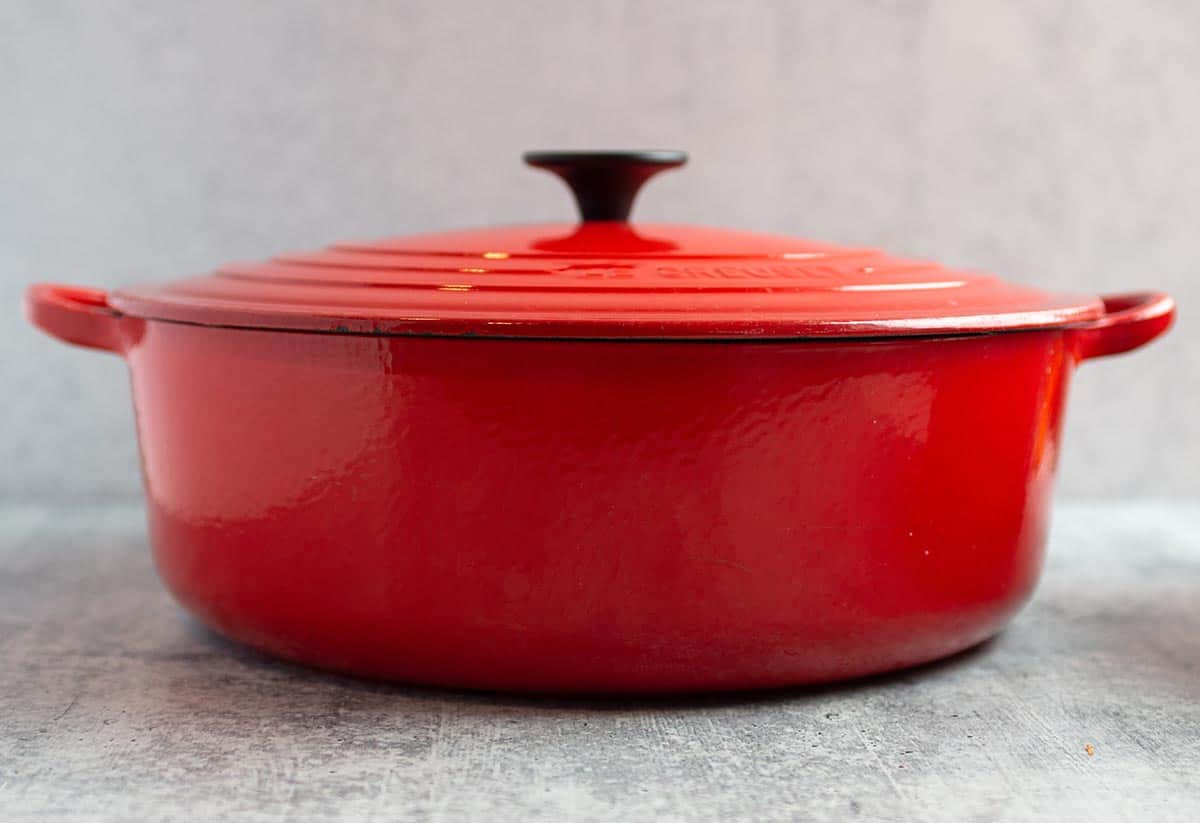 A dutch oven is a wide and shallow pot that is heavy, made of cast iron and has a tight fitting lid. They are made to handle all kinds of cooking, and are efficient at retaining heat.
The heavier they are the better, and often the price will reflect that.
The thick walls and a heavy bottom are optimal for controlling heat, resulting in even cooking.
Dutch ovens are also great for regulating a low temperature and can double as a slow cooker.
They have a tight-fitting lid that traps heat and moisture and retains heat throughout.
They come in sizes as small as 3 quarts and as large as 13 quarts.
The larger sizes are great for big batches of soup, making stock, or roasting.
Smaller sizes are great for sauces, rice, smaller sides, and bread.
Can it Go in the Oven?
A dutch oven is designed to work on the stovetop and an oven.
Most dutch ovens can go in the oven up to 500 degrees Fahrenheit. Check the manufactures manual to see how high yours can go.
Raw cast iron can handle the higher temps a little better. In my experience, higher temps have caused enamel dutch ovens to discolor.
Can a dutch oven go in the oven with the lid on?
This is also a yes! In fact, when cooking with a Dutch Oven at a really low temperature it acts as a slow cooker. It's one of the best ways to use it. The weight, even heating and tight lid make it the best slow cooker.
If the lid has a rubber knob, check to see recommendations for maximum temperature. A lot of time they cannot handle as high of heat as the rest of the pot, so high heat replacement knobs would need to be purchased.
Brands like Le Cruset will sell special knobs that can easily be swapped out that can better withstand higher heat.
Or, just remove the knob and fill the hole with some tin foil.
Always check the manufacturer's instructions for maximum oven temperature and care information.
Tips and Tricks:
These pots, even though sturdy, can be susceptible to thermal shock. Make sure you allow it to fully cool before washing. The hot cast iron when mixed with cold water can cause it to crack. 
Always use oven mitts when handling. Remember, they retain heat very well and can stay hot for a long time once removed from the oven.
Use a wooden spoon or spatula: Never use metal utensils in your enameled dutch oven. It can damage the enamel finish and cause scratch marks.
When cleaning, rinse with warm soapy water and a non-abrasive sponge.
If there are food particles stuck, boil some baking soda in water. This can help get those stuck on pieces.
Always stack your dutch ovens with felt in-between the lid and pot. This will prevent chipping and cracking.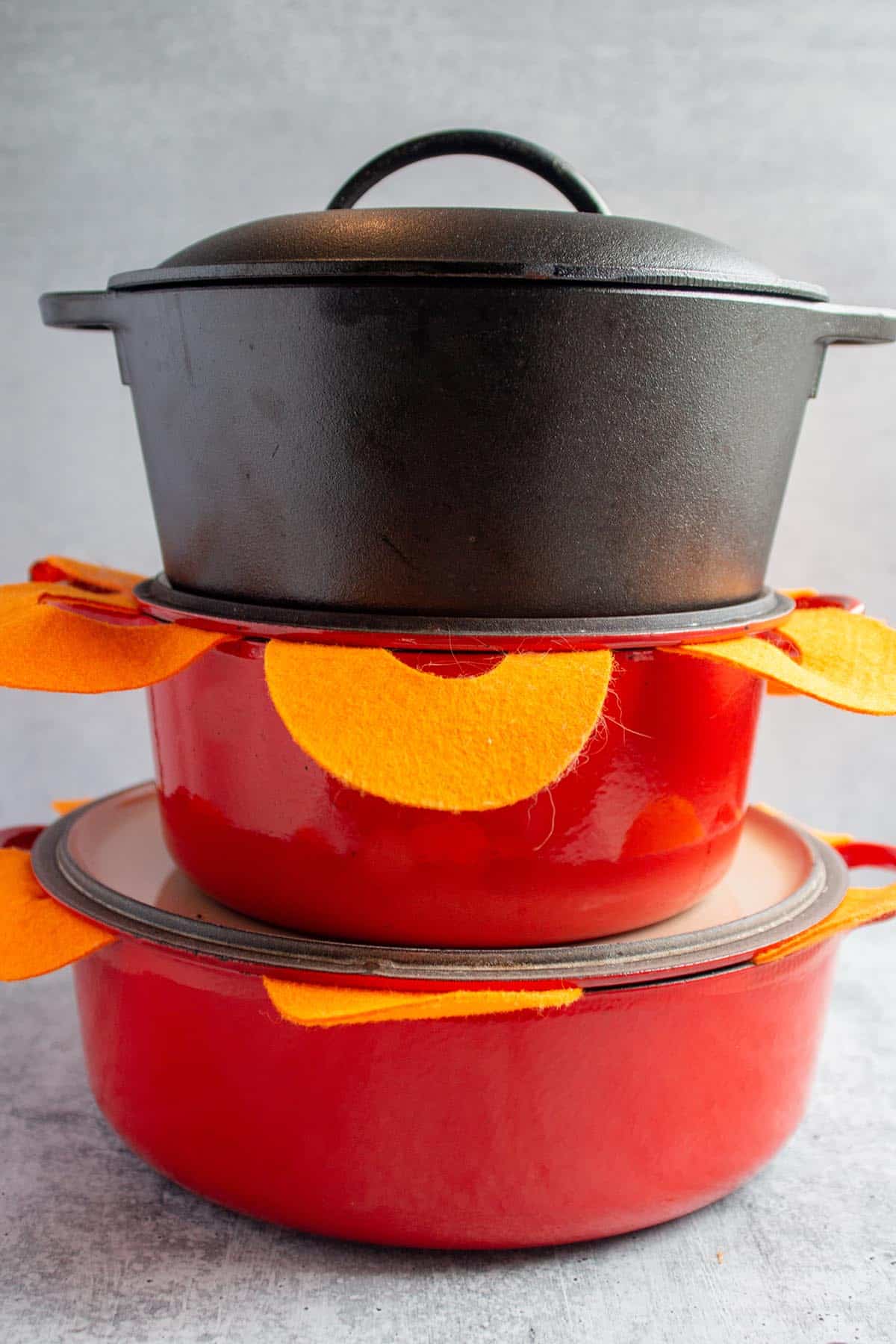 Learn how to make sourdough bread in your dutch oven.
Types of Dutch Ovens
Cast Iron Dutch Ovens
Cast iron dutch ovens are great for high-heat cooking and are the preferred type for camping and cooking on an open flame. Some even have lid designs that allow hot coals to be placed on top.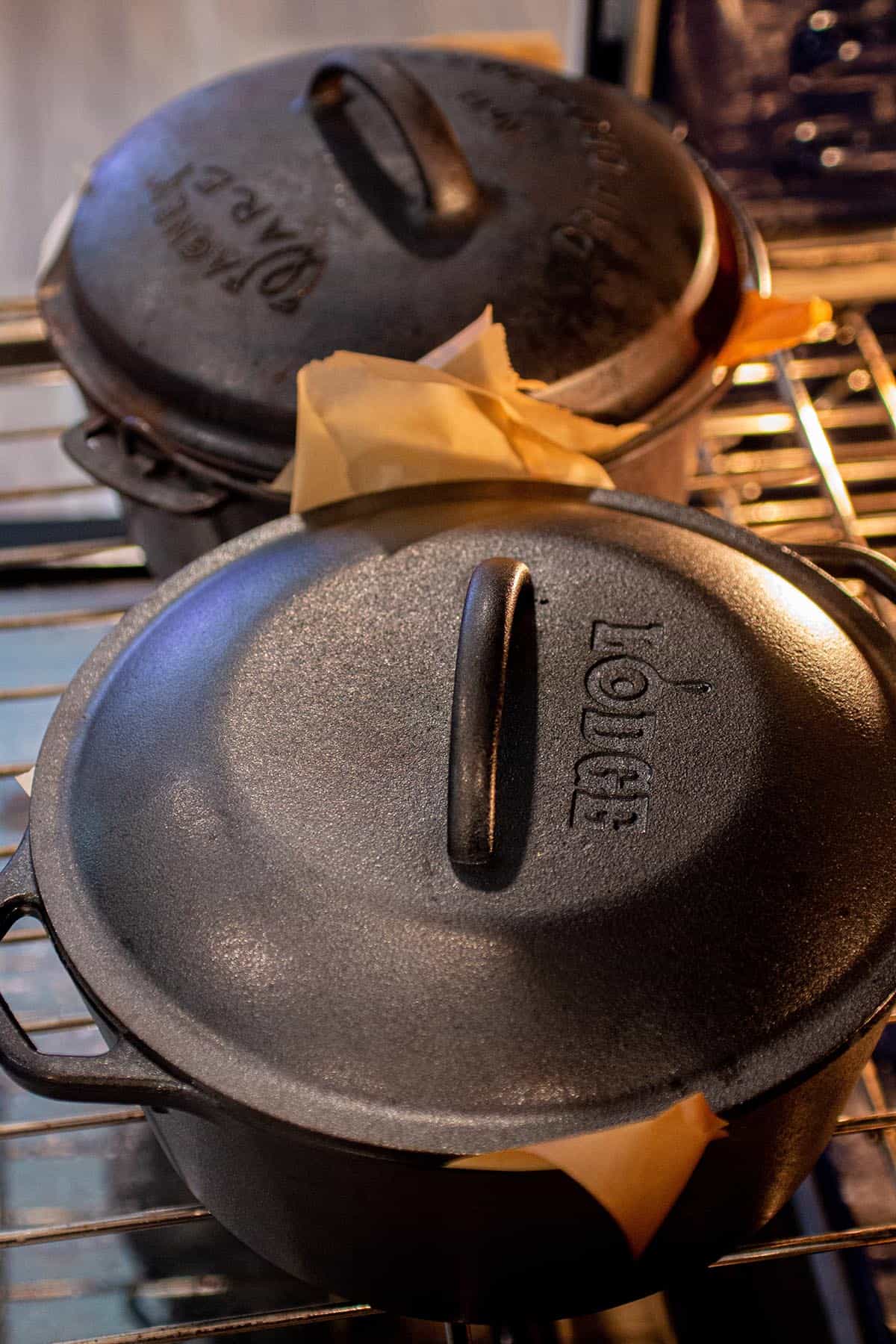 Raw cast iron is hardier and can handle higher temperatures. This version is also the best when making homemade bread.
They are not great for acidic foods such as tomato sauces.
These pots should be used and cared for similarly to any other cast iron pan. They require a little extra care and maintenance and will last you a long time if cared for properly.
2. Enamel Coated Cast Iron Dutch Ovens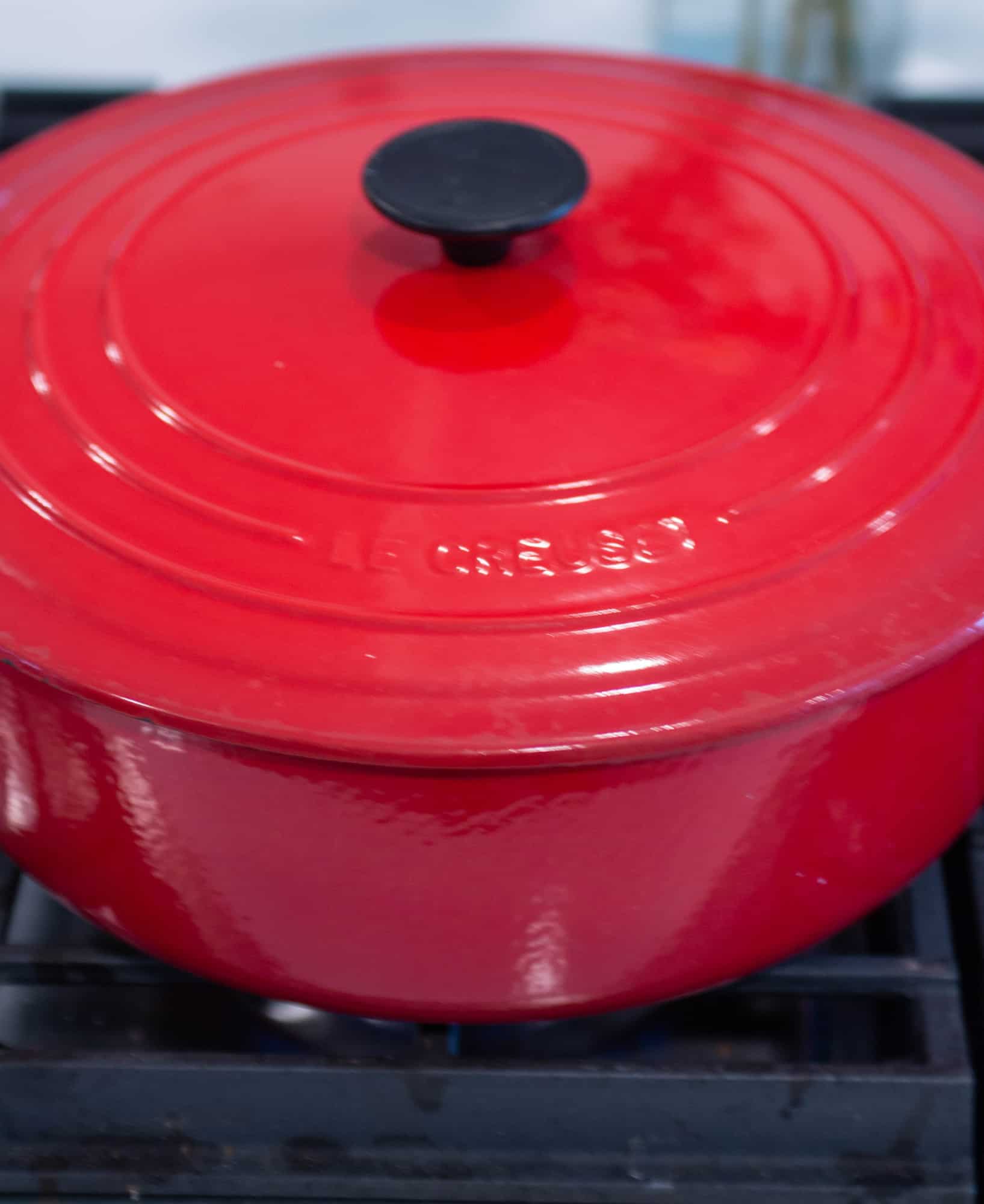 These dutch ovens are cast iron with an enamel finish. They are either circle or oval shaped, have more of a nonstick surface, and come in all kinds of colors. They require a lot less care and are easier to clean. 
If you like to cook, even just a little, this piece of cookware will become your new favorite.
Best Dutch Ovens
The best dutch ovens on the market are going to be Le Creuset and Staub. Both are high quality and definitely worth the investment.
There are more cost-effective versions, which are great options as well. 
Just know, you get what you pay for with enamel cookware. I have had to replace cheaper versions multiple times over 10 years, but my Le Creuset will last a lifetime.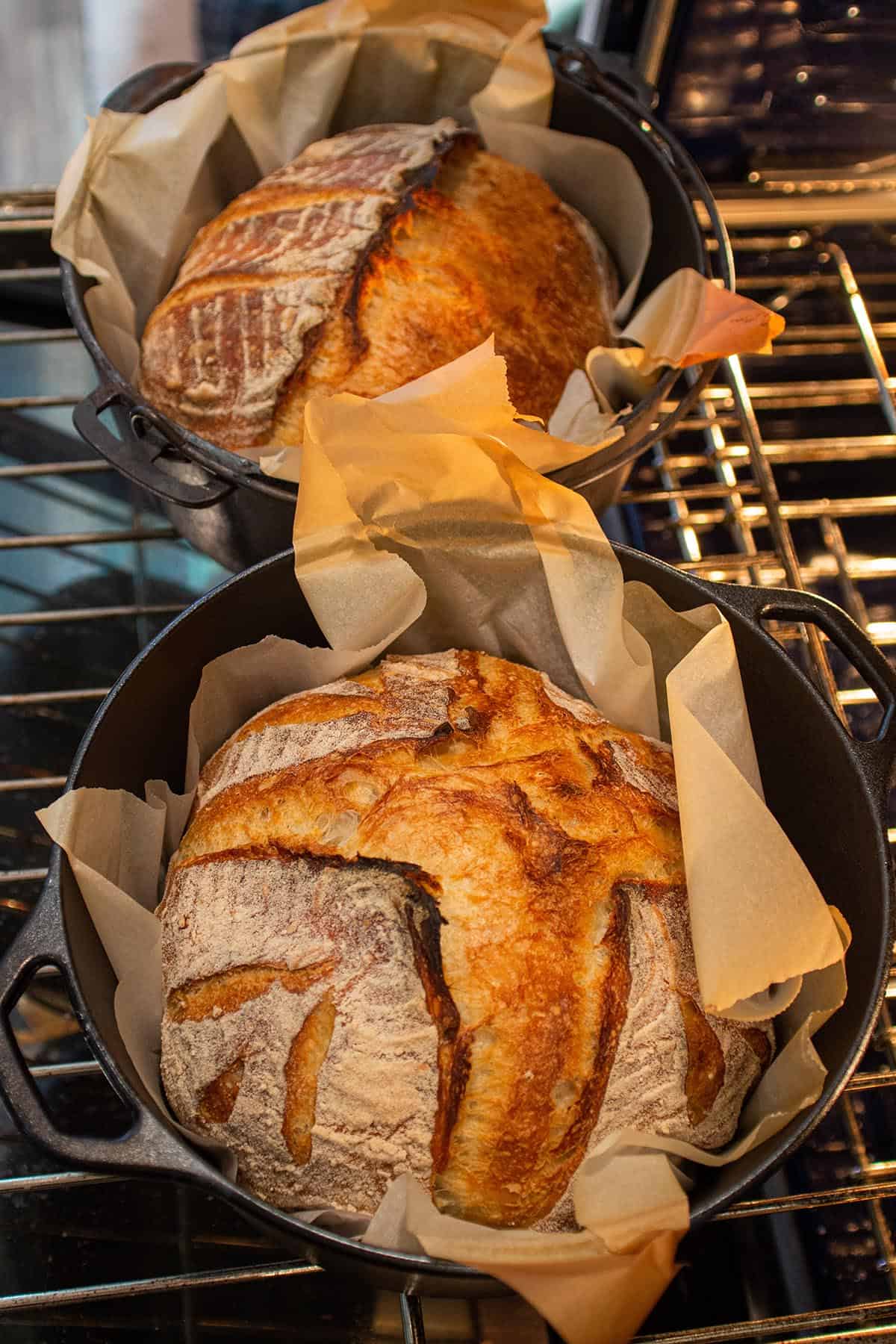 If you are looking for the best one for bread check out my full guide and recommendations.
Treat this as an investment. This is something that will be in your kitchen a long time.
Get the right size and style to fit all your needs. Here are a few brands I would personally recommend.
Le Creuset: a 5 quart is great for rice and smaller dishes and the 6.75 is for my soups and larger meals.
Lodge: The best raw cast iron. They also make great enameled versions as well.
Staub: Another great option that will last a long time.
Recipes to make in a Dutch Oven: