Need some ideas on what to serve with a crab dip? A good, cheesy, hot crab dip or cold crab dip makes a perfect appetizer! Here are all my recommendations on what to serve with it.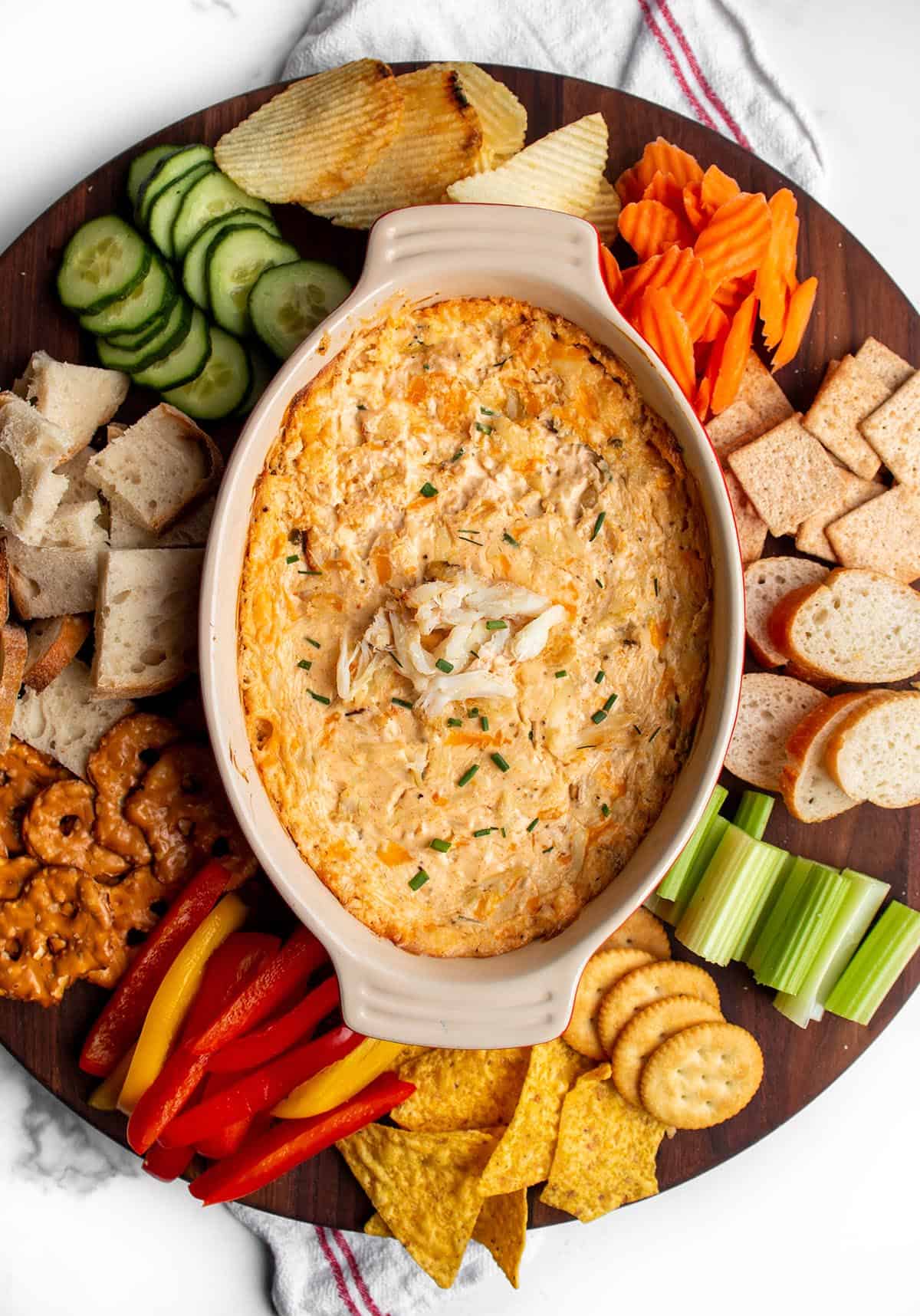 Fresh seafood is a staple in our house. From catching to cooking, I appreciate every step of the process.
I dive more into this topic with David from Cook Local Eat Local on his podcast where we talk all about local seafood. Get the show notes and listen.
There is nothing like a hot and cheesy crab dip. It's always a crowd favorite and super easy to make.
Another winner is also a cold crab dip. Doesn't require any cooking and is loaded with fresh herbs.
This post will cover how to make it, some recipe ideas and what to serve with it.
If you love crab, get all my recipes made with Dungeness crab.
Jump to:
What is in crab dip?
Typically, crab dip consists of a cream cheese base with sour cream and cheddar cheese. There are many different cheese options out there that would pair well with crab dip. It's usually a creamy dip that can be served either hot or cold.
Three types of crab can be used:
Imitation Crab
Fresh crab meat.
Canned Crab meat
Cleaning and cooking fresh crab can be intimidating. I have made it easy with a step-by-step tutorial. Learn how to cook, clean, and process fresh Dungeness crab for your next creamy crab dip.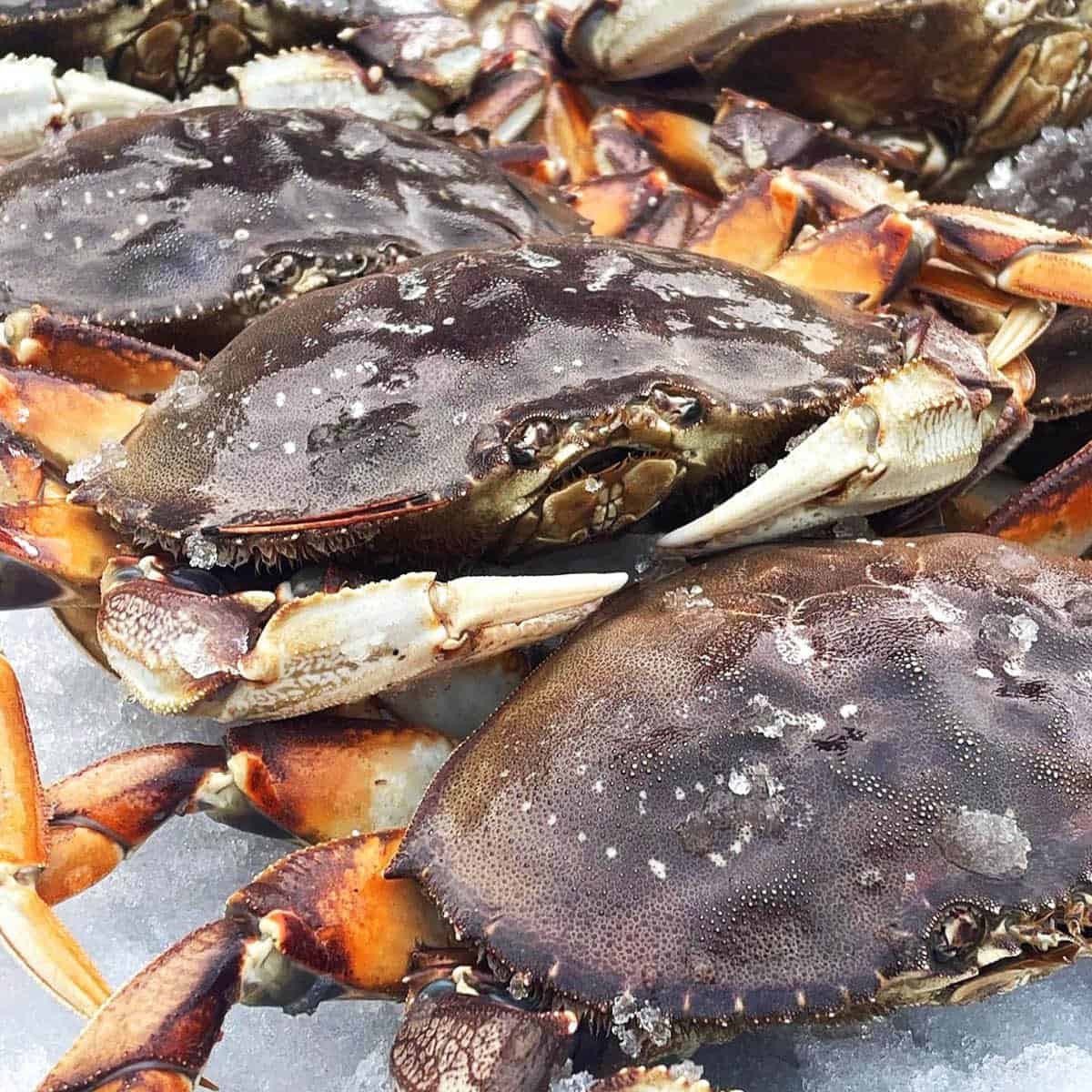 You can definitely follow a recipe or you can make it your own. Just start with a brick of cream cheese, add some sour cream then add in your favorite seafood seasoning, cheese and fresh ingredients like lemon juice and green onions.
Some great flavors that can be added to a crab dip are:
Worcestershire Sauce
Dashes of Hot Sauce
Diced Jalapeno
Old Bay Seasoning
Sea Salt
Pepper Jack Cheese
Parmesan Cheese
Monterey Jack Cheese
Mozzarella Cheese
This is my hot crab dip recipe and a cold crab dip version if you are looking for a good crab dip with a printable recipe card.
How Do You Make Crab Dip?
Crab dip is really easy to make. Just mix the cream cheese, cheddar cheese, sour cream, and seasonings. Then fold in the crab and spread in a small baking dish.
Then, serve it as is or baked in the oven. It can also easily be doubled for a much larger crowd.
Get my easy cheesy crab dip recipe that uses real crab meat.
So now that you have this delicious crab dip to serve at your next party, what goes with it? Below are my recommendations to serve with your warm crab dip.
Need another good seafood dip? Check out my smoked salmon dip or baked clam dip.
What to Serve with Crab Dip?
Below are some of the best things to serve with your dip. Create a platter with a variety of options from fresh bread to produce.
If there is something missing, please leave a comment below on what you like to pair your dip with.
Fresh Bread
Homemade Sourdough: There is nothing like homemade sourdough with a fresh crab dip. Learn how to make a loaf.
Bread Bowl: Scoop out a bread bowl and place the dip inside. Then, use the extra bread as a dipper.
Baguette Slices: Take a baguette loaf and slice thin.
Naan Flat Bread: Cut some flat bread into bite sized pieces.
Gluten-Free Bread: Keep in mind if someone is gluten-free and serve an appropriate option for them.
Really any fresh bread will make a great dipper.
Chips & Crackers
Having a good crunch with a creamy dip really provides a nice balance. Below are some good options.
Whichever you choose, just make sure it is sturdy. Crab dip can be a bit thick and a thinner chip or cracker could break.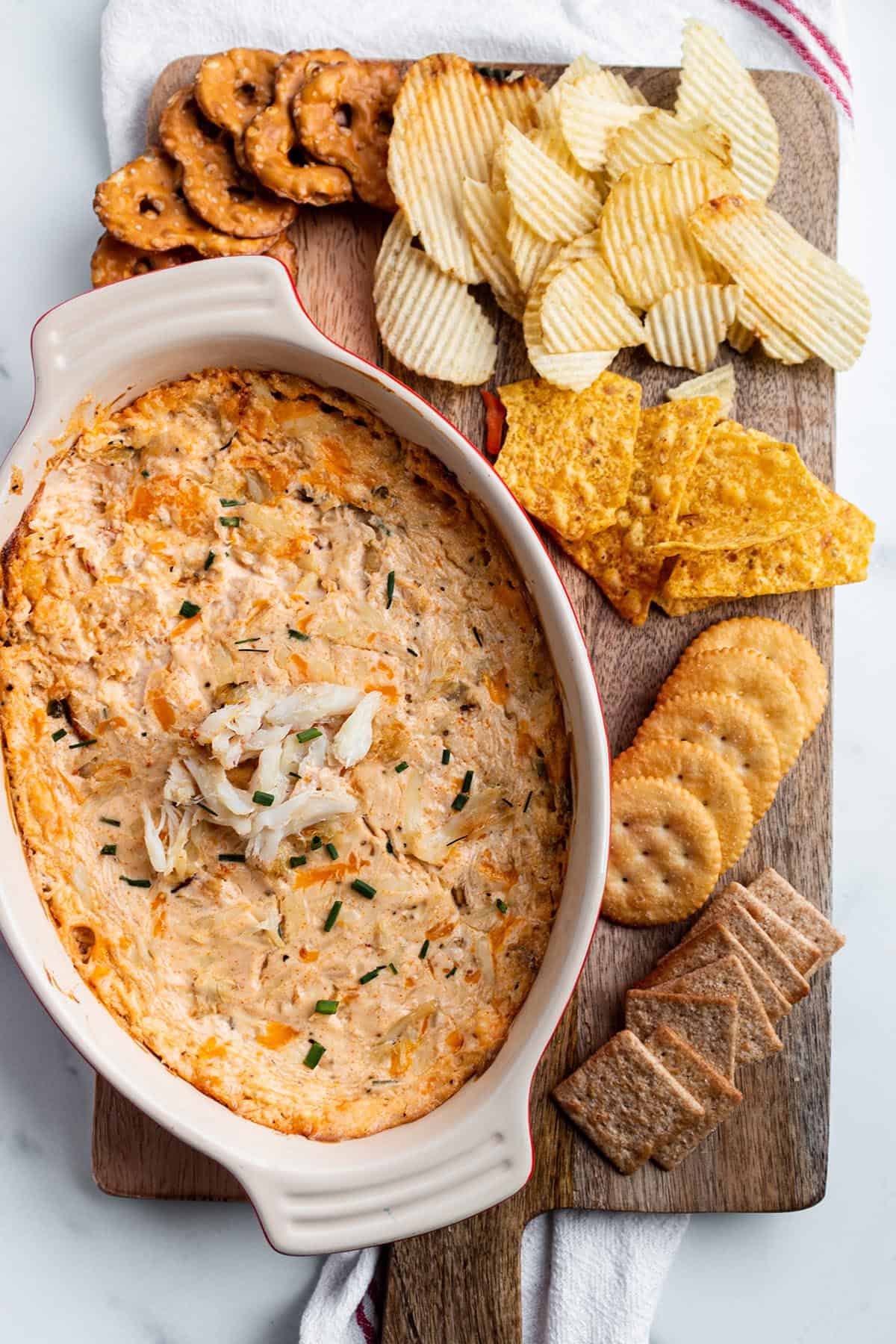 Tortilla Chips
Multigrain Chips
Pita Chips
Potato Chips
Ritz Crackers or Other Buttery Crackers
Pretzels
Wheat Thins
Triscuit Crackers
Fresh Produce
Fresh produce is a great option to use as a dipper.
Our personal favorite is cucumber slices. The freshness and crunch of the cucumber goes so well with the hot cheesy dip.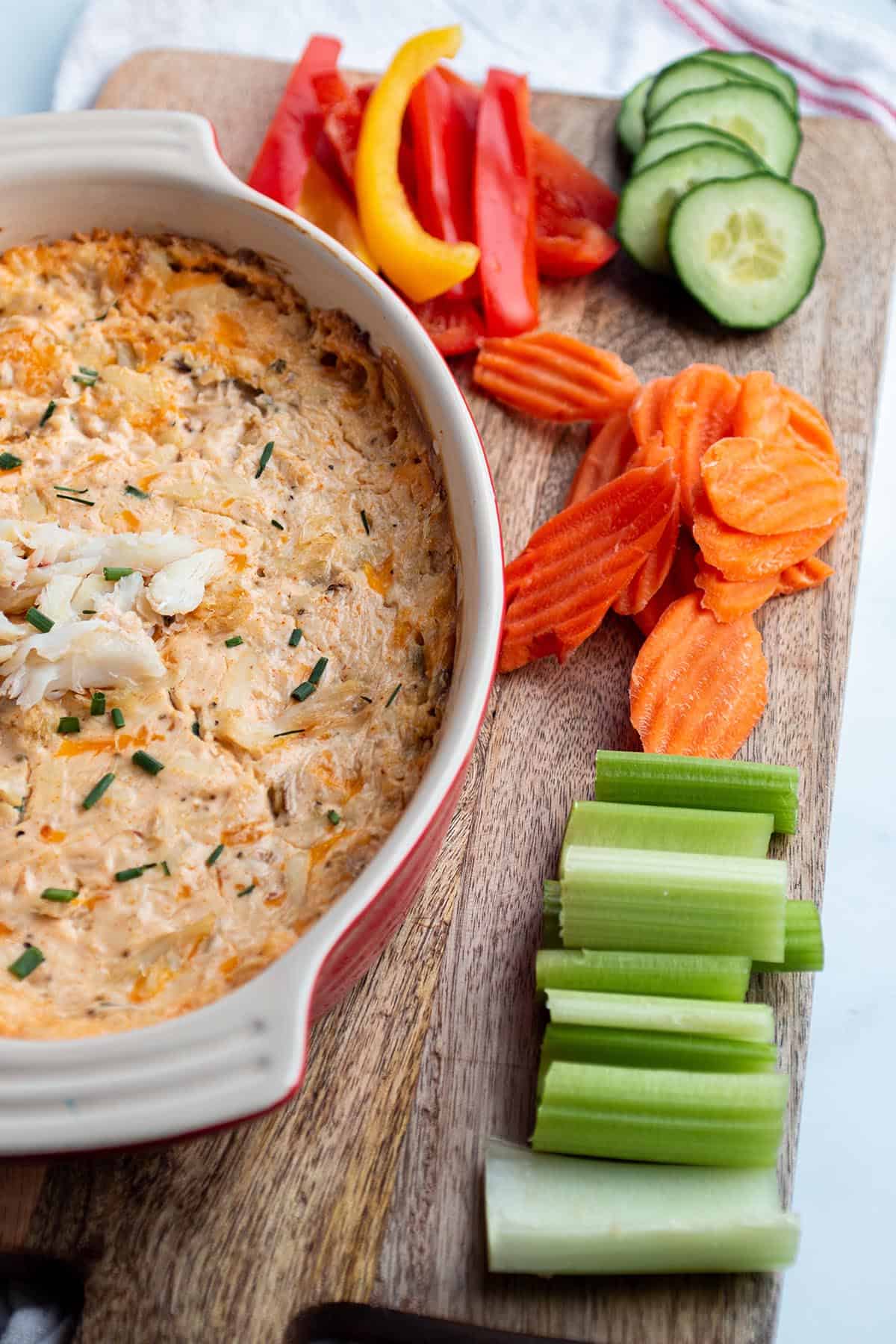 Some other great produce options are:
Cucumbers
Bell Peppers
Celery Sticks
Carrot Slices
Leave a comment below if you tried any of my recommendations and what one you enjoyed the most.
Do you like other seafood dips? Be sure to check out my smoked salmon dip or a baked clam dip.
Other Seafood Recipes:
📋Recipe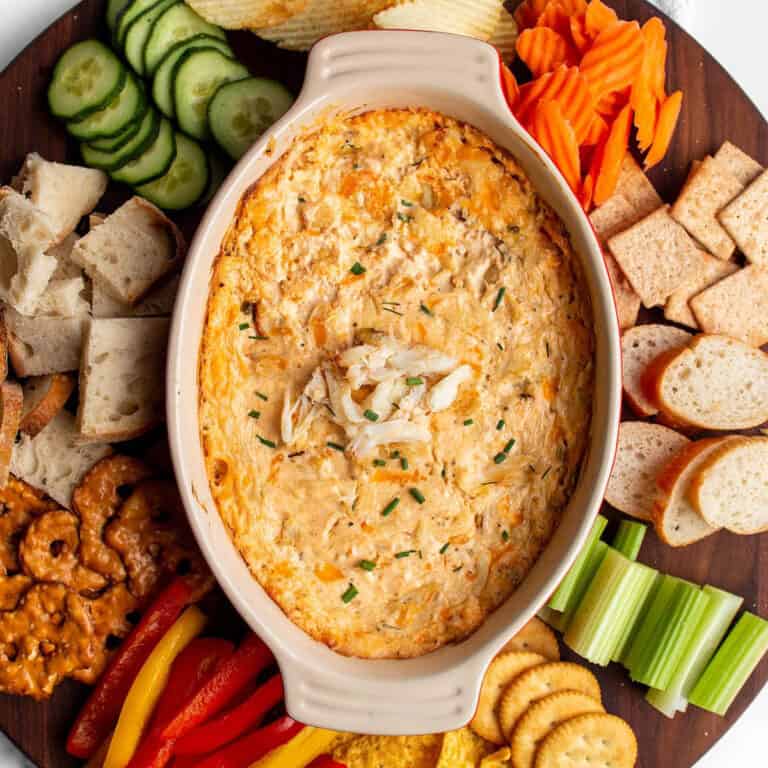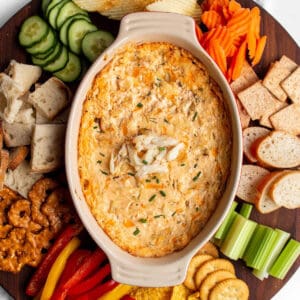 What to Serve with Crab Dip
Ideas to serve with your next hot or cold crab dip. From fresh homemade sourdough bread to crisp cucumber slices. Make an epic crab dip board to serve at your next gathering.
Ingredients
Fresh Bread
Sliced Baugette

Bread Bowl

Gluten Free Option

Naan Flat Bread

-

In bite size pieces
Chips and Crackers
Tortilla Chips

Multigrain Chips

Pita Chips

Potato Chips

Ritz Crackers

Pretzel

Wheat Thins

Triscuit Crackers
Fresh Produce
Cucumbers

-

Sliced

Bell Peppers

Celery Sticks

Carrot Slices
Instructions
Determine what you would like to serve with your crab dip.

Slice all produce or bread.

Arrange on a board or in serving bowls.
Notes
Notes: 
If you have anyone who is gluten-free, plan accordingly with a friendly option. 
Chips and crackers should be on the thicker side. A thin version will easily break. 
Need a good crab dip recipe? Check out my hot and cheesy crab dip. 
Nutrition
Calories:
448
kcal
Carbohydrates:
82
g
Protein:
16
g
Fat:
6
g
Saturated Fat:
1
g
Polyunsaturated Fat:
1
g
Monounsaturated Fat:
1
g
Trans Fat:
0.01
g
Cholesterol:
2
mg
Sodium:
992
mg
Potassium:
288
mg
Fiber:
5
g
Sugar:
8
g
Vitamin A:
2358
IU
Vitamin C:
28
mg
Calcium:
110
mg
Iron:
5
mg
Did you try this recipe?
Leave a comment and rating below.