Irish soda bread is the easiest bread to make and uses basic kitchen ingredients. It's a classic recipe that we often associate with Saint Patrick's Day. It has a biscuit-like texture and is best served with some Irish butter. It's bread anyone can make.
*Disclosure: I only recommend products I would use myself and all opinions expressed here are my own. This post may contain affiliate links that at no additional cost to you, I may earn a small commission. Read full privacy policy here.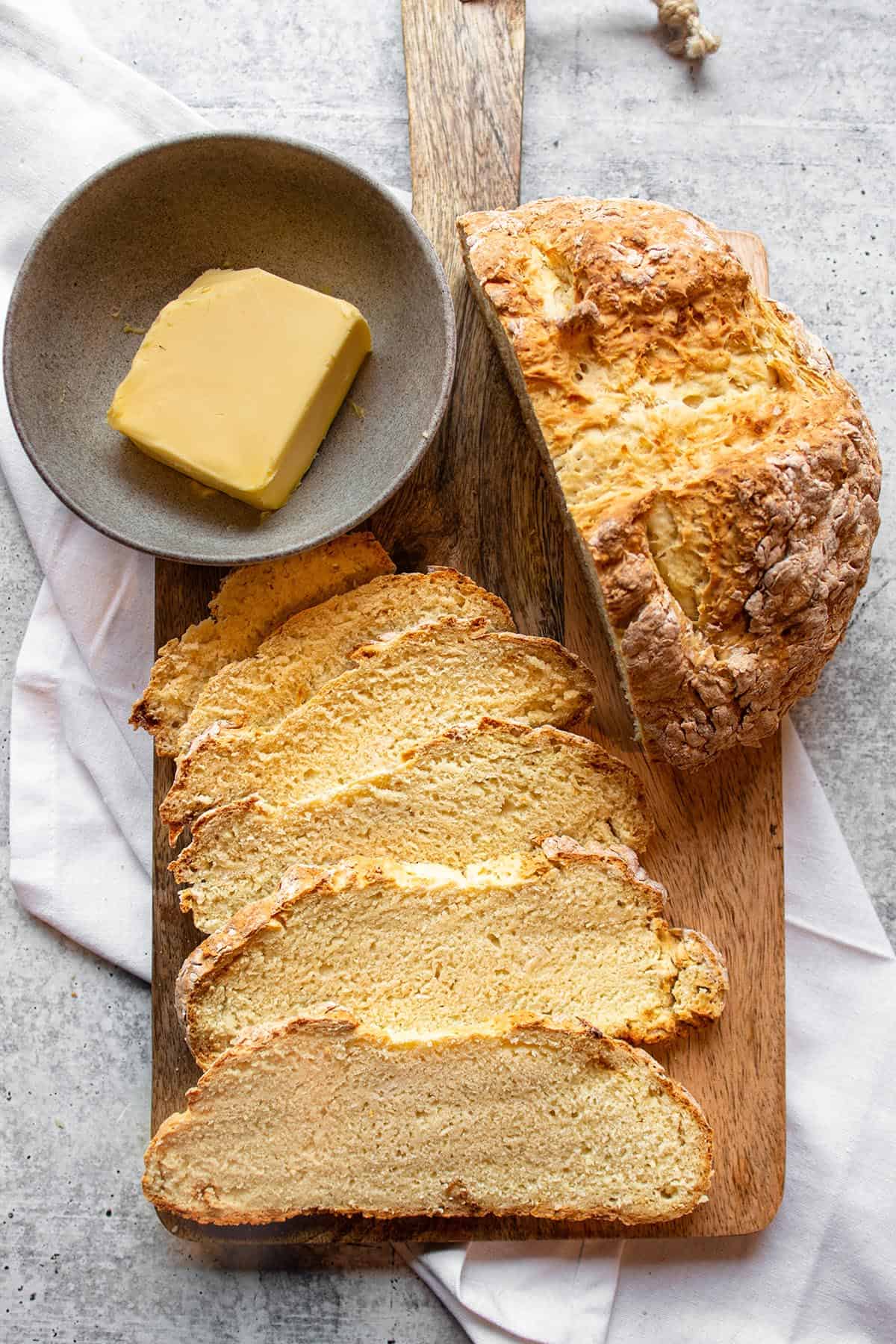 When we think about Saint Patrick's day often people think that it's a time to make corned beef and cabbage. While that is wildly popular in America, it is in fact not a traditional Irish Saint Patrick's day dish.
Soda bread however does have Irish roots and is a very popular bread for that region.
Why is it called soda bread? The word soda does not refer to a carbonated beverage but rather the baking soda that is added to the flour mixture. The baking soda paired with acidic milk acts as the leavening agent and causes the bread to rise. Very similar to other quick bread, it does not require yeast to ferment over time.
This bread requires very simple ingredients, takes 5 minutes to put together, and is a great side dish for your main St. Patrick's day meal. It is definitely the easiest homemade bread you could make.
If you are used to baking homemade yeast bread don't expect soda bread to turn out the same. It is a very different taste and texture. Soda bread almost has the same properties as a biscuit but is a tad denser. It is also more crumbly than other bread. Just spread on a layer of Irish butter and enjoy.
Jump to:
Ingredients
Few notes on ingredients.
The traditional Irish soda bread recipe is made with buttermilk, raisins, and caraway seeds. However, I don't always have real buttermilk sitting around. It is not an ingredient I use often or have on hand at all times. There is a workaround though!
The acidity in the buttermilk is what helps activate the baking soda, so by adding vinegar to our regular milk we can achieve a similar chemical reaction.
The total amount of liquid for this recipe needs to be 2 cups and the easiest way to achieve this is to take a 2 cup liquid measuring cup. First, add 2 tablespoons of vinegar. Then top it off with milk until the level reaches the 2 cup mark.
This particular recipe calls for bread flour and it really does make a difference. I have made a lot of soda bread with both all-purpose flour and bread flour and with a side-by-side taste comparison, the bread flour came out on top. With that said, if all-purpose is what you have it will also work. Bread flour is just the preferred choice.
Bread Flour
Milk
White Distilled Vinegar
Salt
Baking Soda
Butter
*Full measurements in the recipe card.*
Instructions
Preheat oven to 400 degrees. If using a cast-iron skillet place it in the oven at this time to start warming it up while the oven is also warming.
In a 2 cup liquid measuring cup, combine the milk and vinegar and allow to sit for 10 minutes.
Tip: Start off by adding the 2 tablespoons of vinegar and add milk until the volume of the liquid mix is 2 cups. The milk and vinegar combined shouldn't be more than 2 cups total.
In a large mixing bowl add flour baking soda and salt then mix together.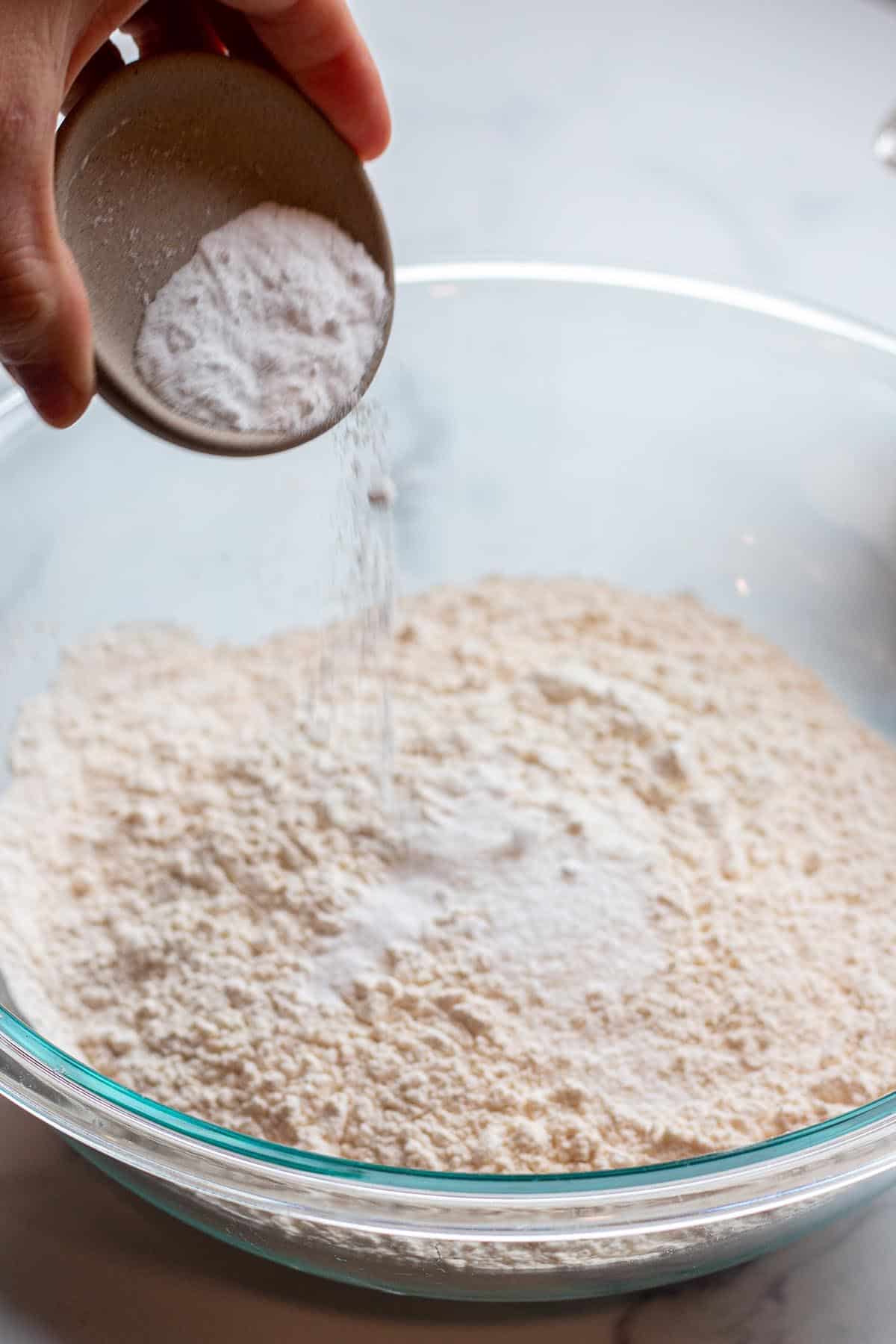 Slowly add in the milk mixture with a fork or danish dough whisk as adding.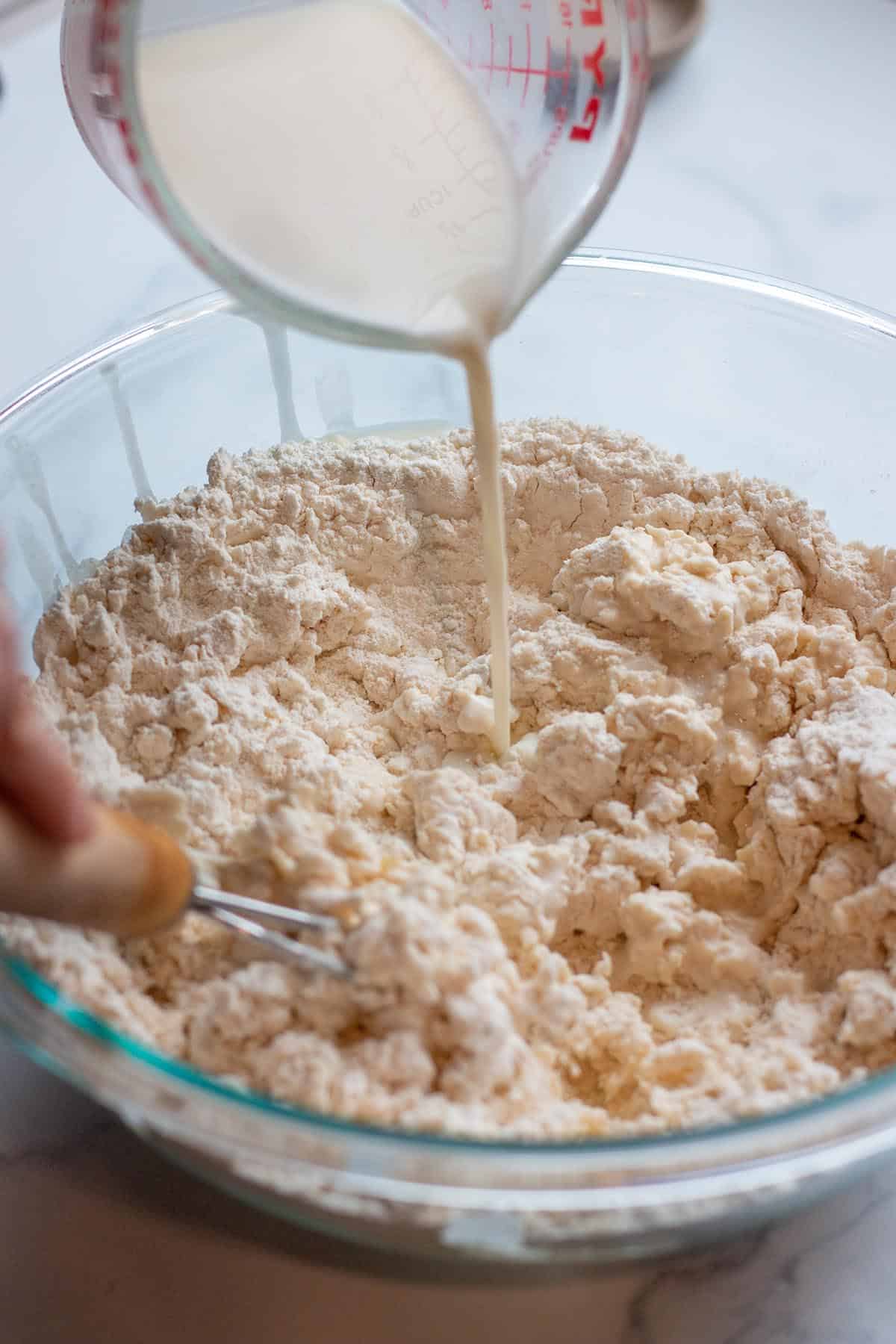 Mixing until everything is fully combined and starts to form a ball. Soda bread is a very sticky dough so make sure your hands and work surface are lightly floured.
On a floured surface, remove dough from the bowl and using your hands, form the dough into a round loaf.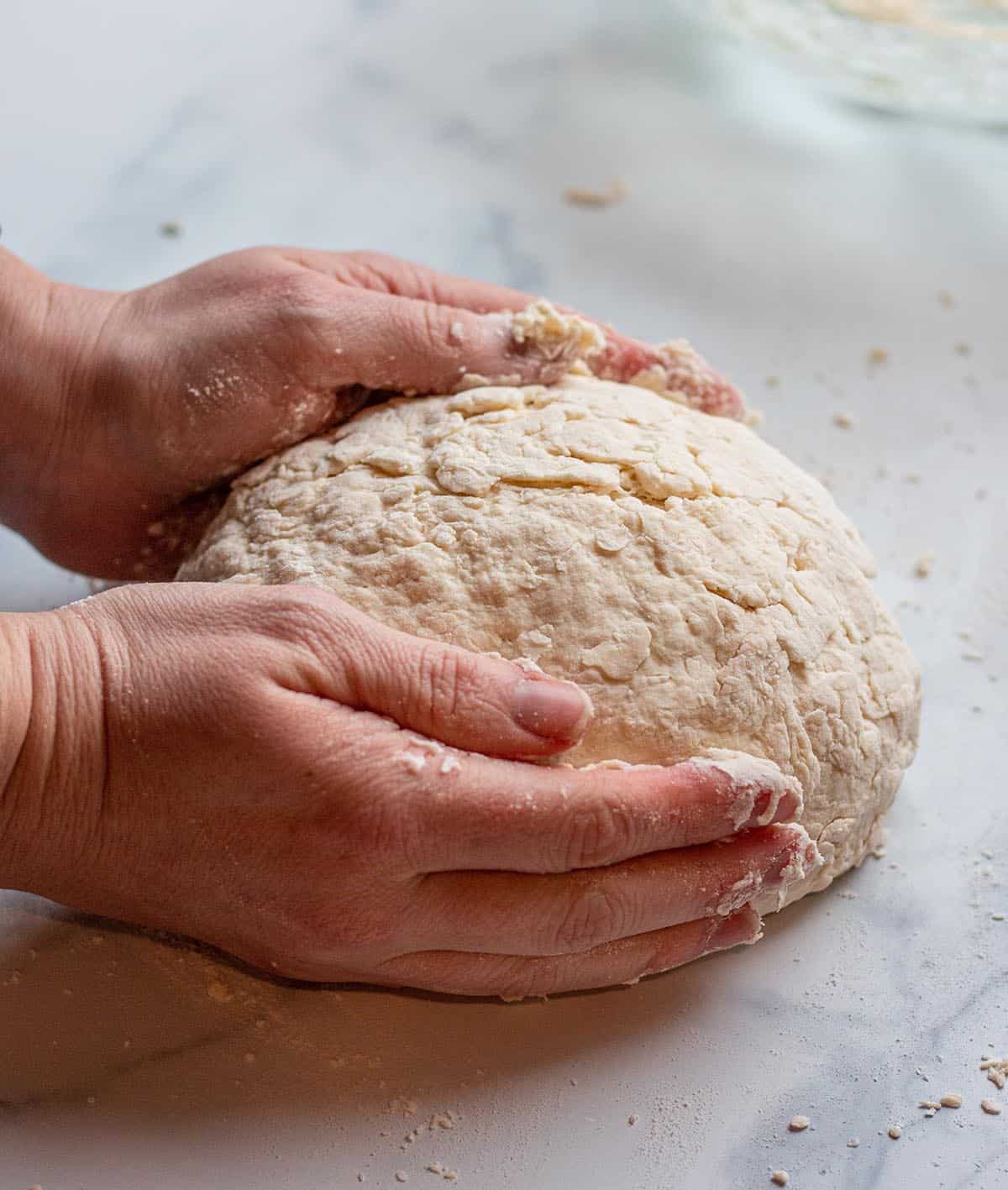 Remove the heated skillet from the oven and add in 1 tablespoon of butter. This helps the bread from sticking and gives it a nice crispy crust.
Add dough to the skillet and with a serrated knife cut a deep cross in the top of the bread. about ½-3/4" deep.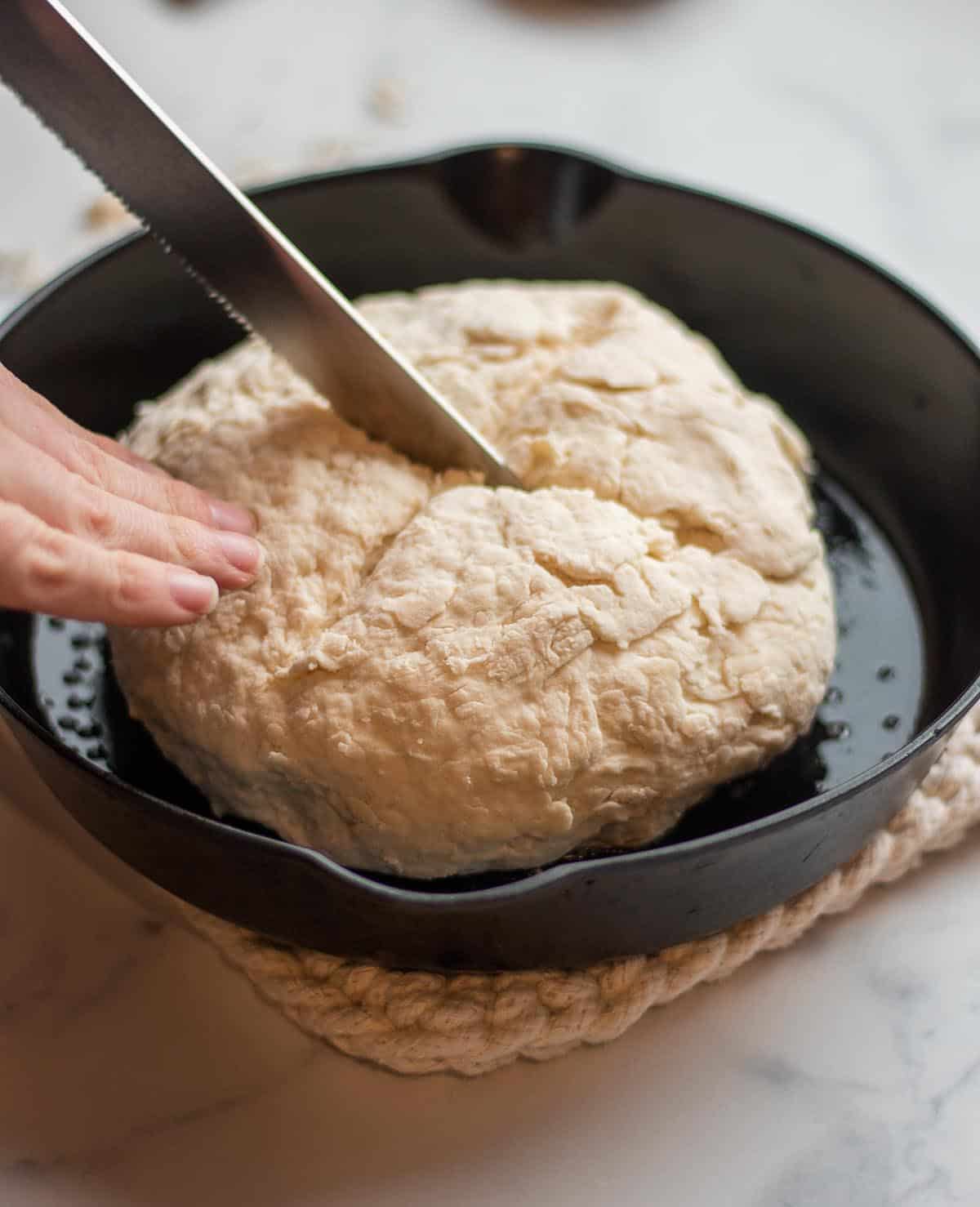 Return to the oven and bake for 40 minutes, or until the top is golden brown. If the top starts to get too dark you can lightly cover it with foil. This will prevent to top from burning.
Remove from oven and place bread on a wire rack and allow to cool.
Slice, then spread on some Irish butter and serve.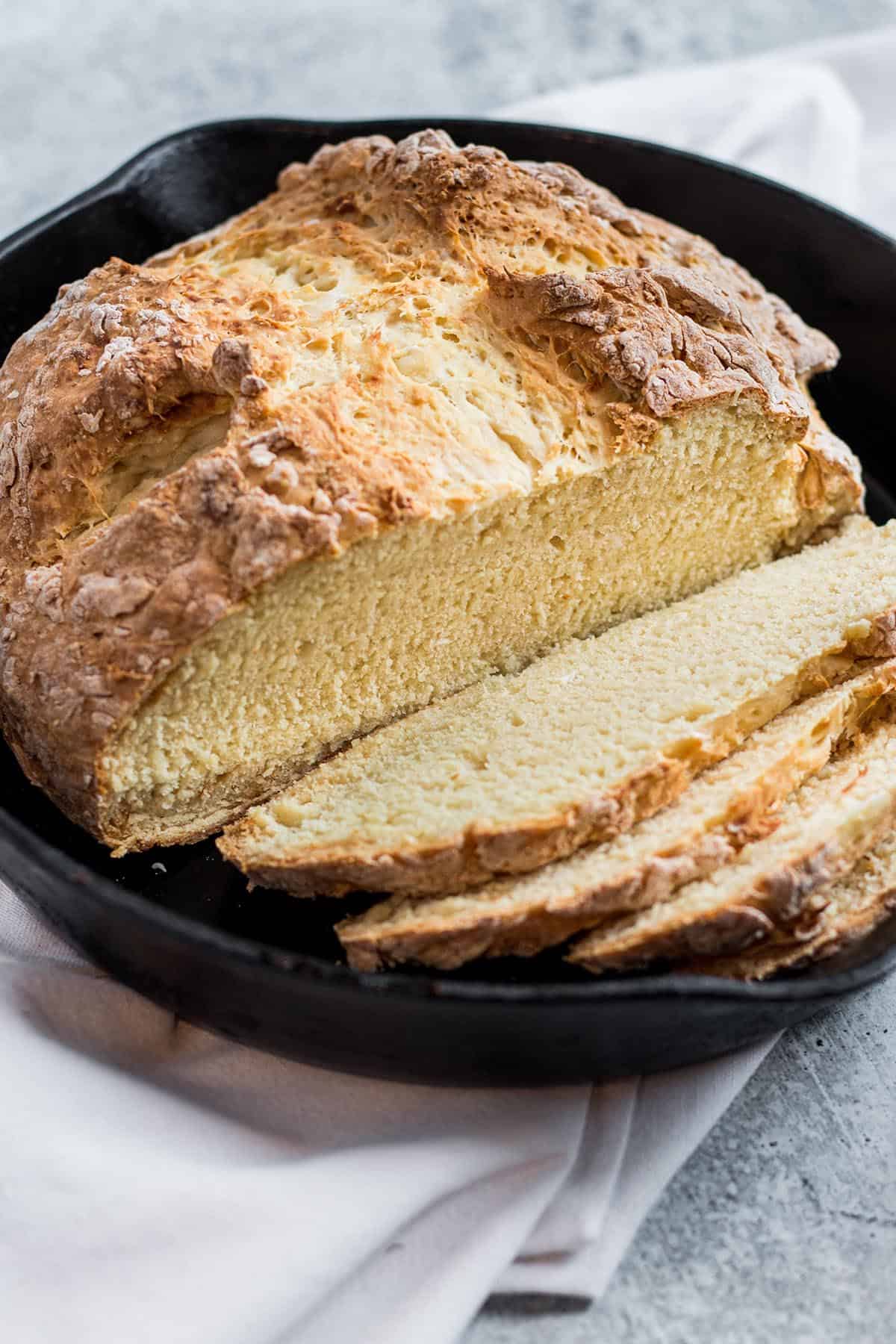 Substitutions
Buttermilk: If you do have buttermilk and want to make a more traditional loaf, just substitute the vinegar and milk for the same amount of buttermilk. 2 cups total.
Variations
A traditional Irish recipe will include raisins and caraway seeds. I have chosen to leave those out of this particular loaf. My family does not like either in our bread and I want to make bread they will love to eat. So if you want a true traditional soda bread go ahead and add these things. About 1 cup of raisins and 1 tablespoon of caraway seeds.
If you do not have a cast-iron skillet, this bread can still be baked on a prepared sheet pan.
Equipment
Cast Iron skillet: I prefer to bake soda bread in a cast-iron skillet. It can also go on a baking sheet and will achieve the same result. The preheated cast iron just gives the crust a more crispy texture.
Sharp Knife: To cut slices of bread.
Large Mixing Bowl: Use a large bowl to have enough room to mix the dough together.
Wire cooling rack: Allow the bread to cool on a cooling rack before slicing and serving.
Storage
Irish soda bread will last 2-3 days at room temperature. It will start to become dry each day so it's best eaten right away. Wrap it well in aluminum foil to help keep some of that moisture in.
Soda bread can be frozen for up to 2 months. It will not be as fresh if stored this way.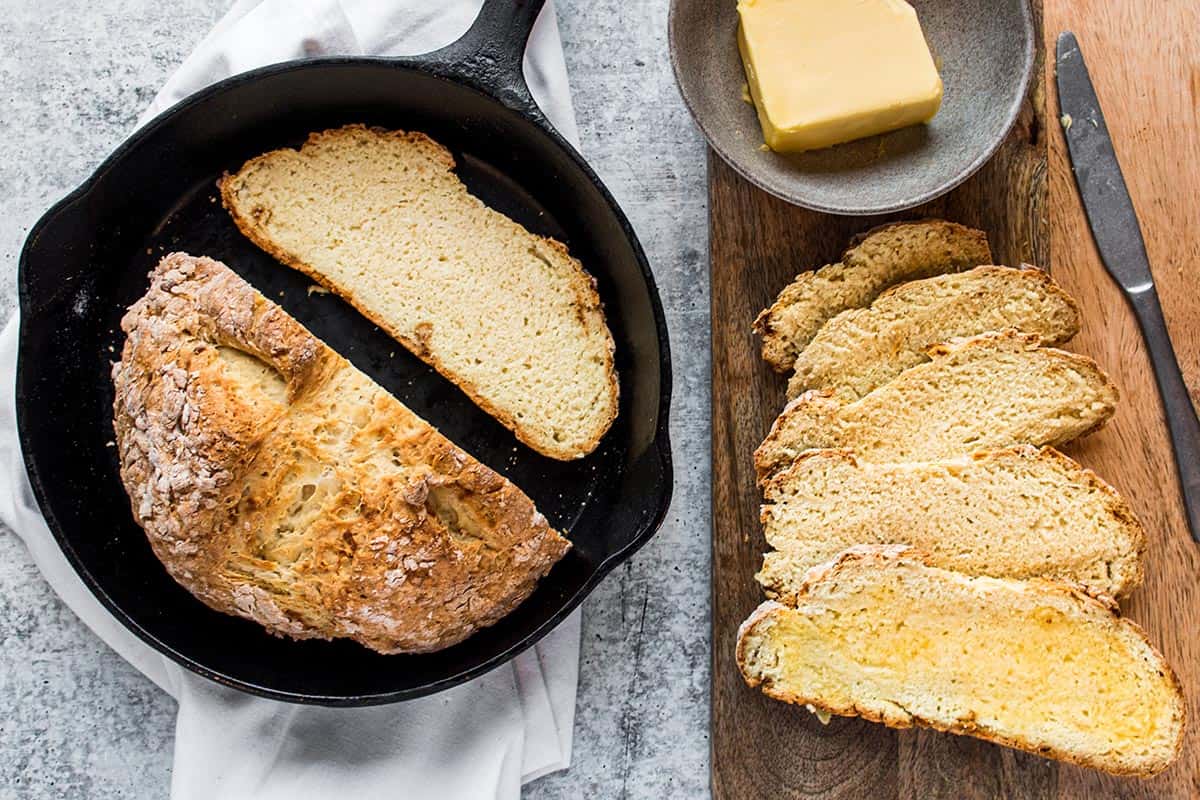 Want to complete your Saint Patricks Day dinner? Consider making corned beef and cabbage or a shepherd's pie. While these recipes are not traditional Irish dishes they are a fun way to celebrate.
Soda bread also goes great with soups, chili, and stews! Try out these homemade soups to go along with your bread.
Interested in learning how to make other homemade bread? Check out my sourdough tutorials and recipes and start making your very own homemade bread.
Did you try it? I would love to hear your thoughts on this recipe! Leave me a comment below or tag me on social media @dirt.dough.
Do you want recipes sent directly to your inbox? What about cooking tips and tricks, sourdough tutorials, and even some gardening inspiration? Sign up for my newsletter today. Don't worry. I don't spam. I just share my love and passion for all things food.