A trellis is a great way to add some charm to your garden space. It is also a perfect way to maximize yield by growing vertically. In this post, I'm going to show you how to build your very own garden trellis.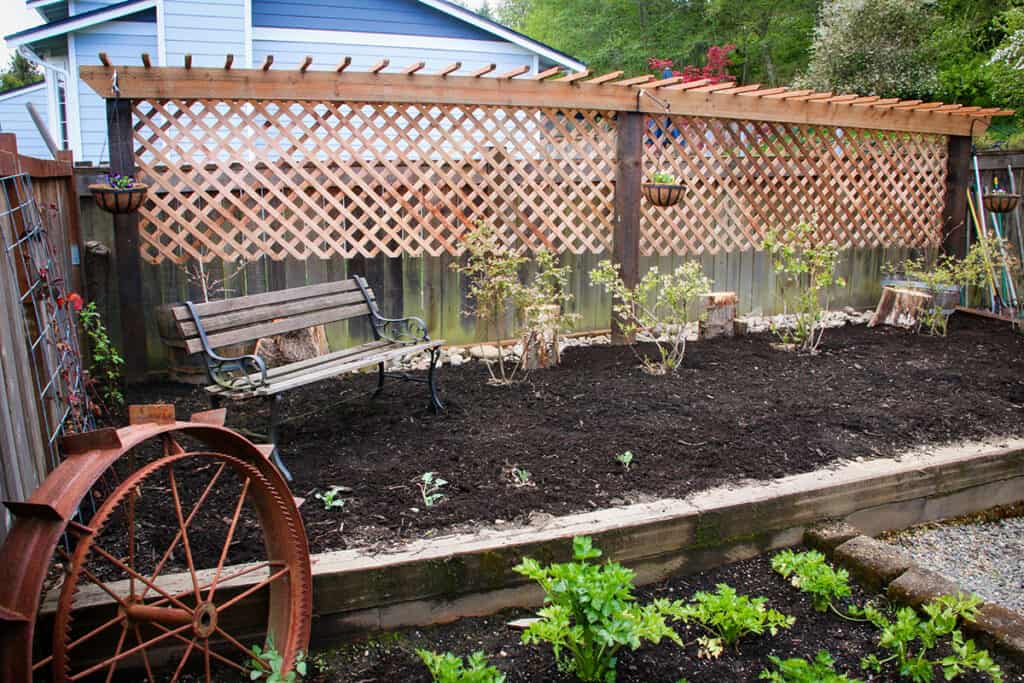 I'd like to think I have an eye for interior design but that would be a lie. Picking out tile, flooring and paint colors stress me out and I spend countless hours and money on samples and decision making. While I love a good updating project working inside is not my favorite. One thing that I have more confidence in is garden design. Renovating an outdoor area is a great way to give your yard some charm as well as functionality. And honestly its pretty simple.
Out With Old In With The New
This particular area of my garden has been an eye sore for a long time. When we purchased this house we had four over grown trees in this raised bed. It created so much shade for us, and our neighbor, that neither of us could grow a successful garden. So down they went.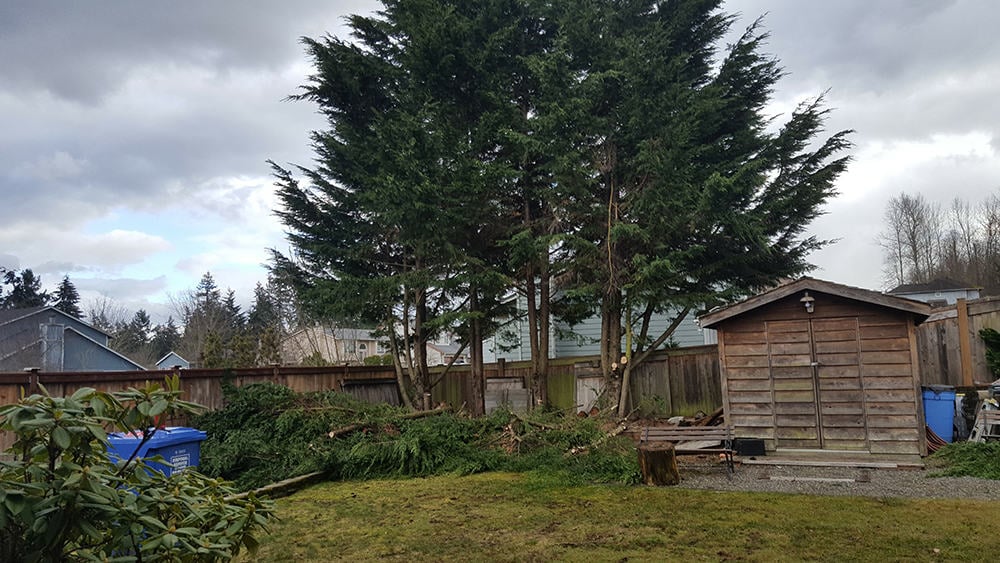 This freed up an entire raised bed for me to make into something new. And lucky for me it was connected to my existing garden. This is what it looked like once the trees were removed.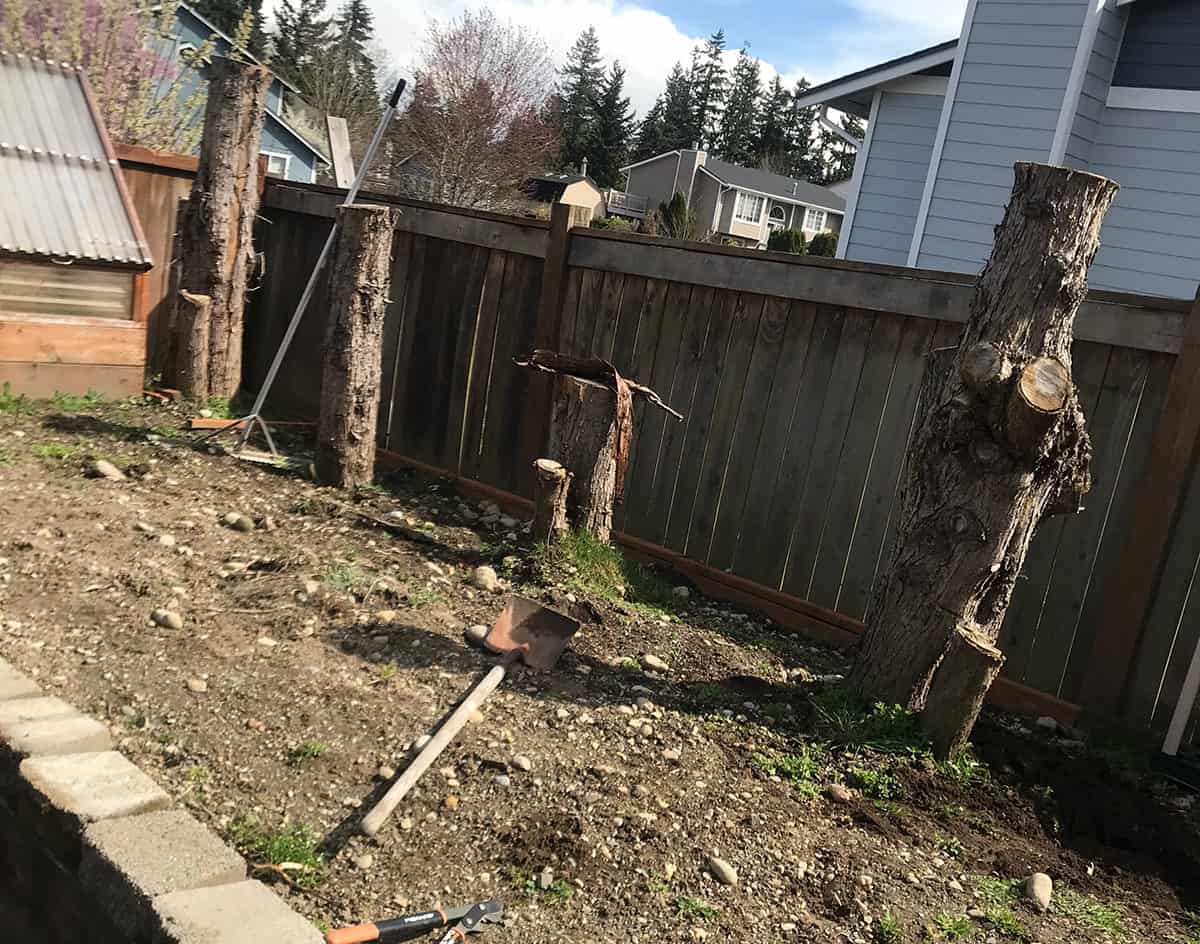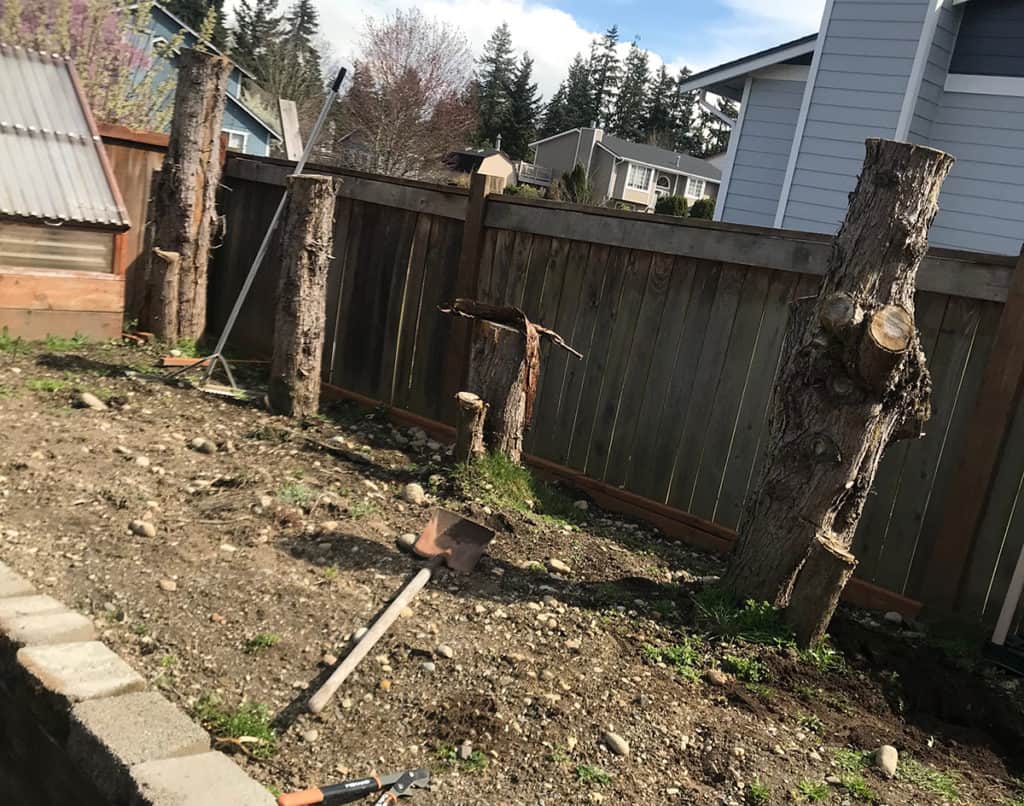 Needless to say... It was rough. I worked that summer cleaning it up by weeding and removing as many rocks as I could. It was also a great space to put my cold frame since it was now in full sun. The next Spring I made my first addition to this area by moving my two blueberry plants along with three others from my grandmother.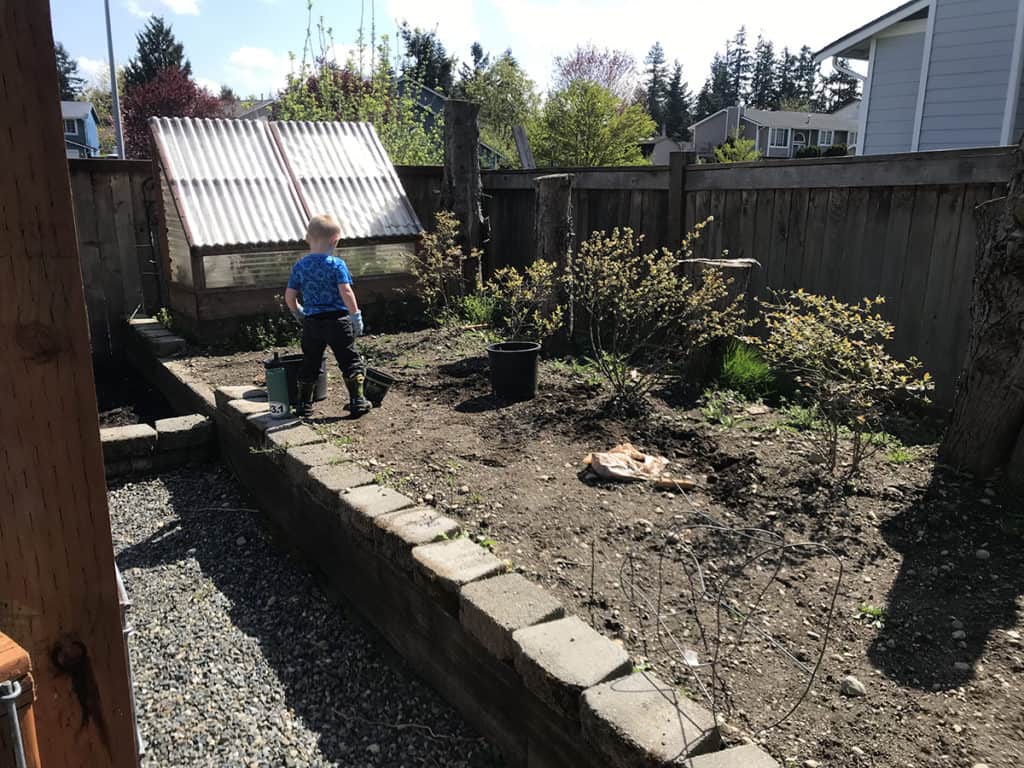 It really helped give this area a purpose but it still had a long ways to go.
Grape Plants
I love growing all types of plants but some of my favorites are fruits and berries. Everyone in the family loves them and it's so fun to watch my kids go out and pick their own snack or breakfast in the summer. We have all types of berries so last summer we decided to add a couple of grape plants to the mix. We had an old wine barrel sitting around that made the perfect container. So we purchased a second along with two varieties of grape plants.
When it comes to grape plants there are so many to choose from. I just went to my local nursery and they were very helpful in picking the right ones for us. We ended up with a dual purpose variety of grapes and I got one red and one green. I don't drink wine, but the idea of making my own someday was intriguing so I got a grape that was perfect for eating and also wine making. This is my second year with grapes so I am not an expert. Check out Creek Line House for some good information on growing grapes.
You could really grow any vining plant on a trellis. If grapes are not your thing there are lots of beautiful options out there.
Tips for Planting in Wine Barrels
If you are planting in wine barrels make sure they are exactly where you want them to go before you start. I can't stress this enough. When I planted these grapes, I didn't really have much of a plan, so when it was time to move them I was really wishing I had planned properly. They were so heavy it took me, my husband, a hand truck, a few tie downs and a ton of force to get them up on the garden bed. And we may have crushed some things in the process...
One other thing to remember with grape plants is the root system is bigger than most other edible plants you would grow. So make sure the roots have room to grow through the bottom of your pot. One of my wine barrels had the bottom rotten out already, so that one will have no issues. The new barrel we had to make sure it had holes for the roots to expand.
Build your Own Garden Trellis
The summer I purchased the grapes I was in over my head with garden projects that the trellis didn't make the list. They still grew and did fine, but I knew they would need one going into the second summer.
We played around with all different ideas of where this was going to live and look like. Here were a couple of things we took into account:
Sun: Where would my plants get the most amount of sun.
Will it create shade for other plants? Where could it go so that it wouldn't shade things that need full sun? While the trellis still allowed light through once it was filled with grape vines and leaves it would just become a solid wall.
Thats when we decided on the blueberry patch. I waited for a couple of sunny days so I could watch this area and get an idea of how much sun it actually received. The sun rose and set in a way that the trellis wouldn't really be in the way. Maybe a little shade in the morning but by 10:00 it was full sun. Once we determined it would be the ideal location we started to build.
How to Build your Own Garden Trellis
Set the Posts
First thing we did was measure our area, and it was just about 30' feet long. We knew the longest headers we could get in our truck were 12 feet, so we decided to make it exactly 24' in length. We used three - 6"x6"x8' for the posts and a fast setting concrete to set them. This took a lot of measuring to make sure they would line up perfectly with the headers. First, we placed the center post and then worked in each direction to set the others. Using a snap line, from the center to the outer posts, made sure they were perfectly in line. The outside posts were set at 11' giving the header about a 6" overhang.
This was also when we moved the barrels in place to make sure they fit with the posts.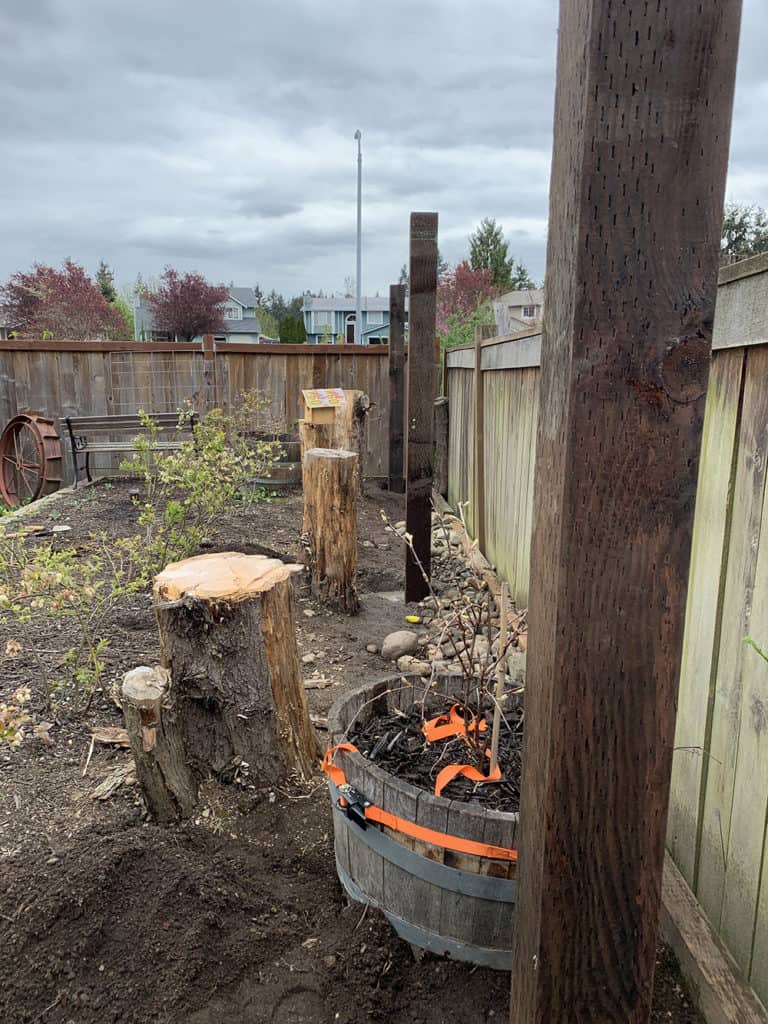 We let the posts set for a few days and then started to build the rest.
Building the Header
We started with four - 2"x8"x12' beams. This gave us a header on each side of the posts.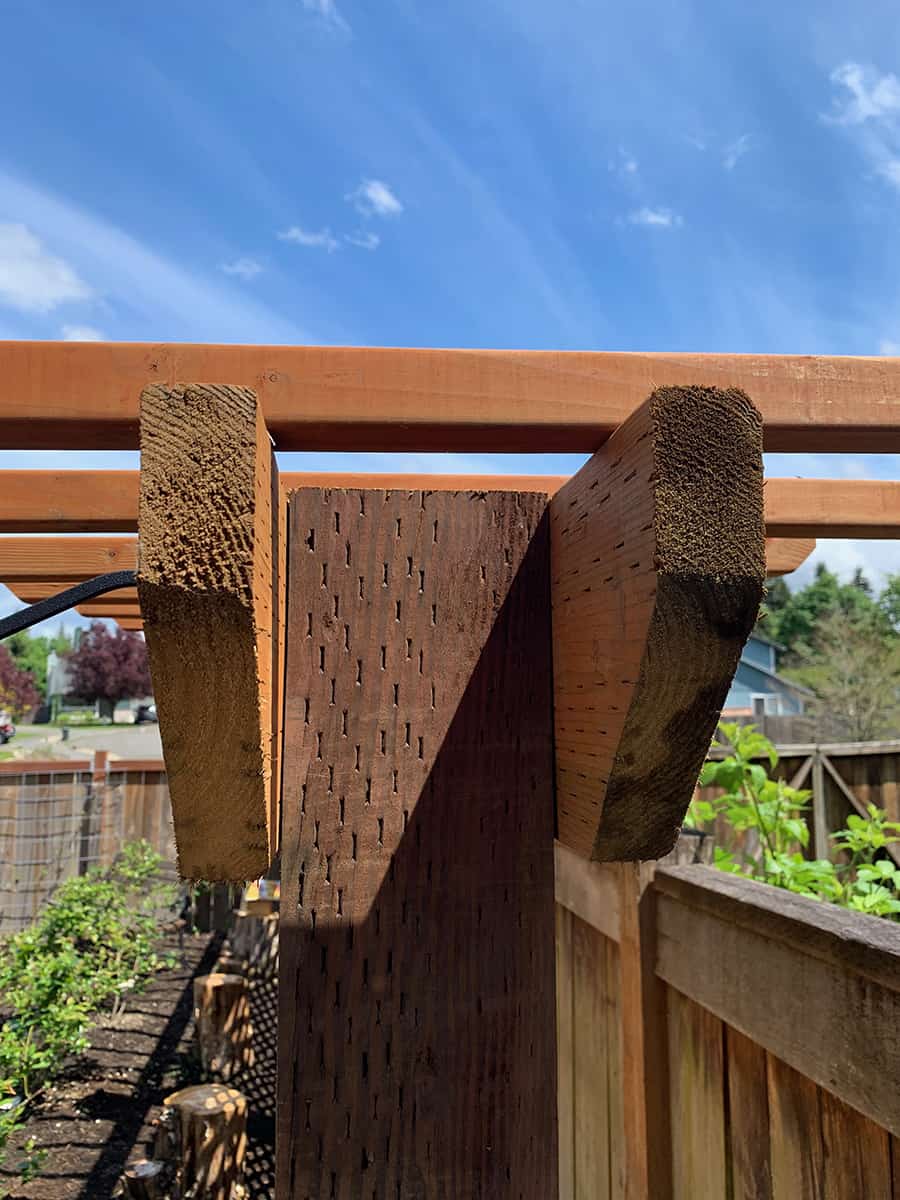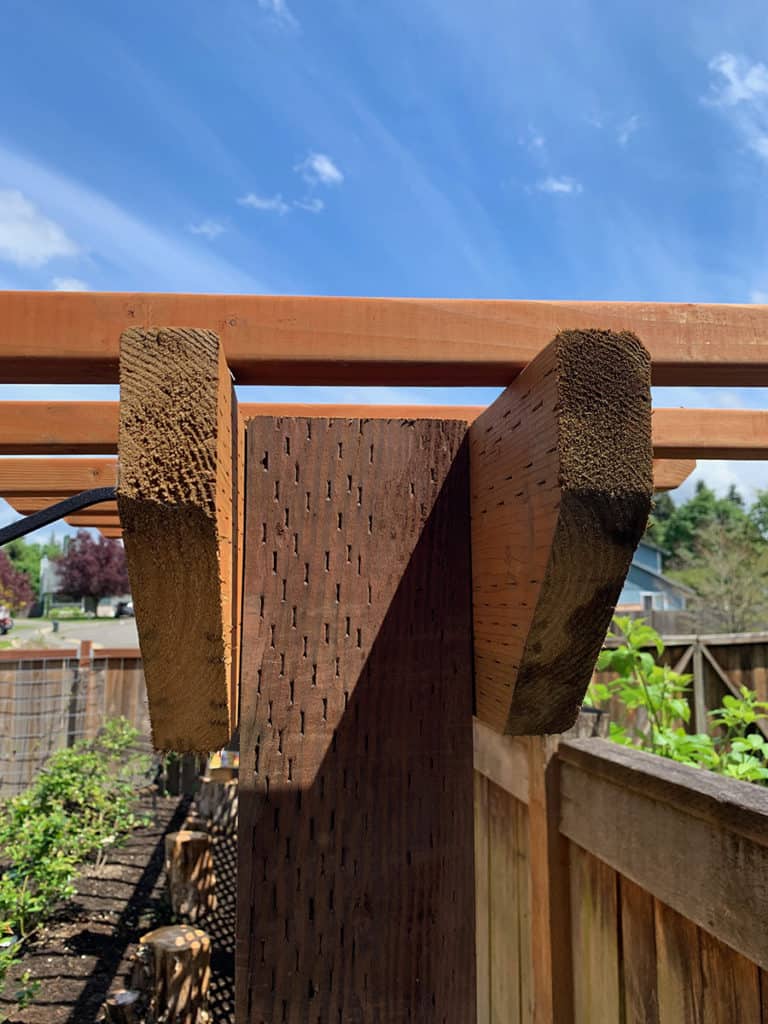 Measure about 2.75" down on the headers and cut a 45 degree angle to give them a little character. I would recommend laying all your headers out on the ground so you get the angles on the proper sides. If you have a center support like we have make sure to not angle the center.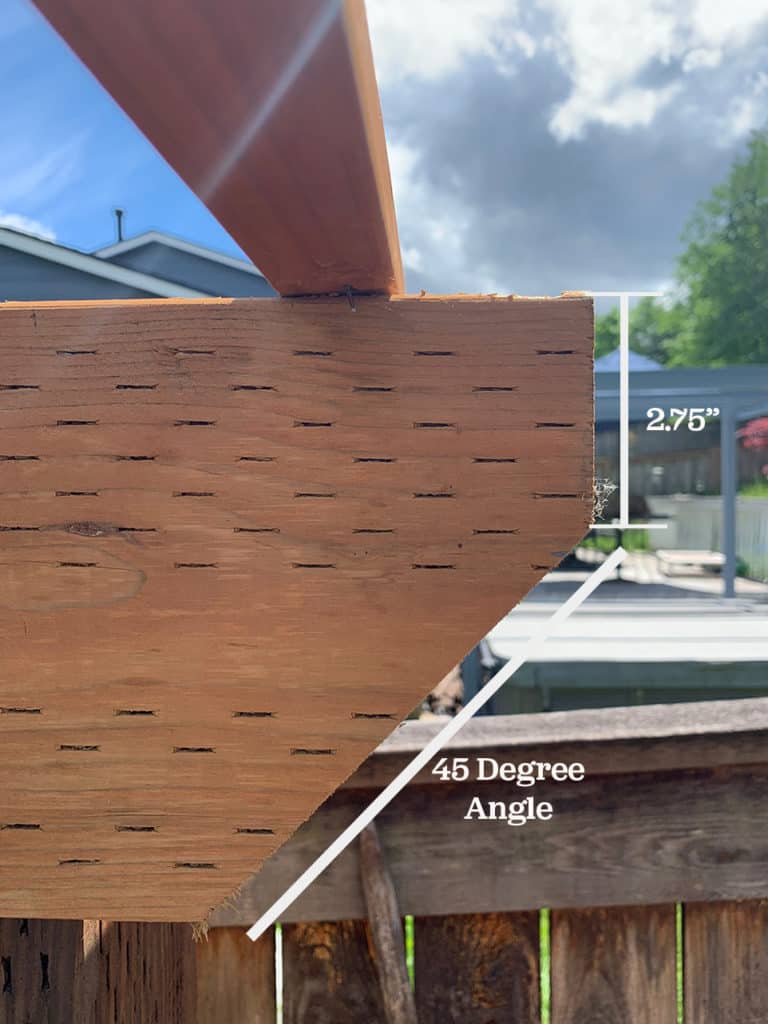 Next, attach the back header only. Once that is in place its time to add the lattice.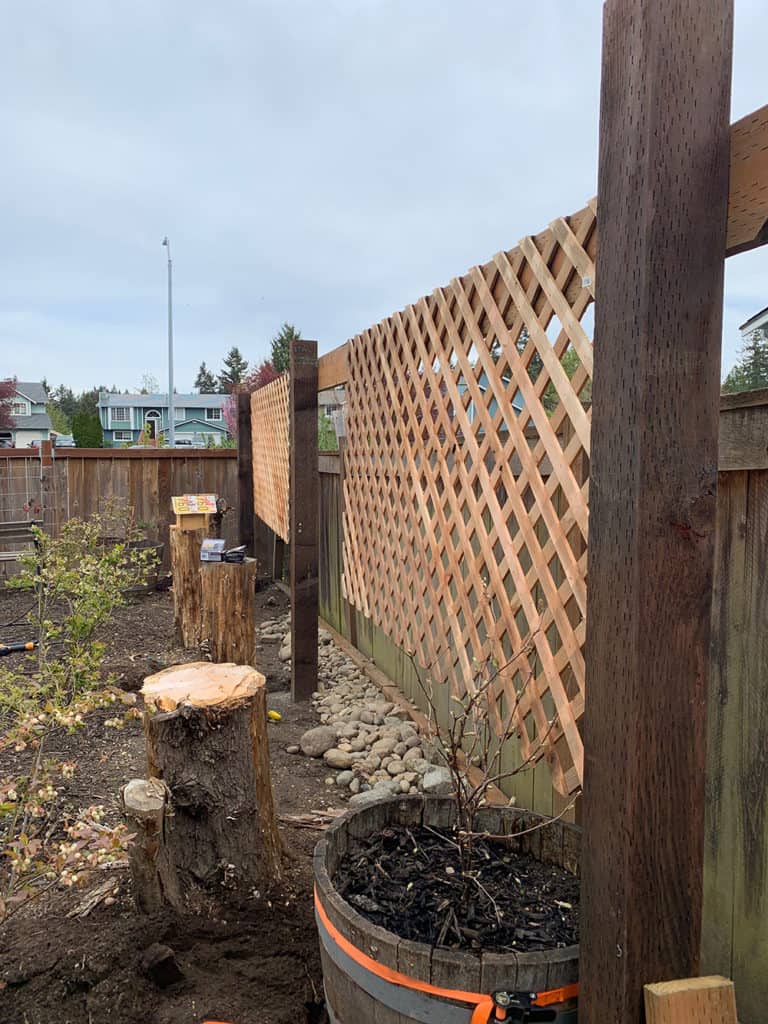 We used 3 pieces of 4'x8' cedar lattice. One section of lattice we ended up having to cut into two pieces to fill in the center spaces. We were able to strategically cut them so that the pattern matched up with the full pieces.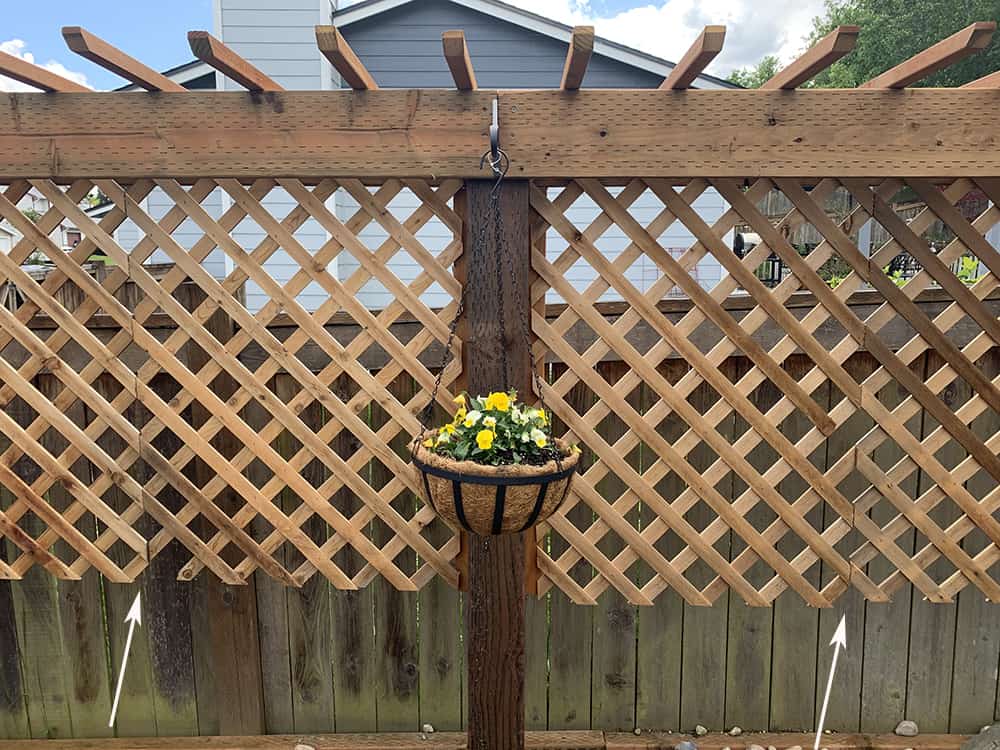 Once the lattice was in place we added the second header.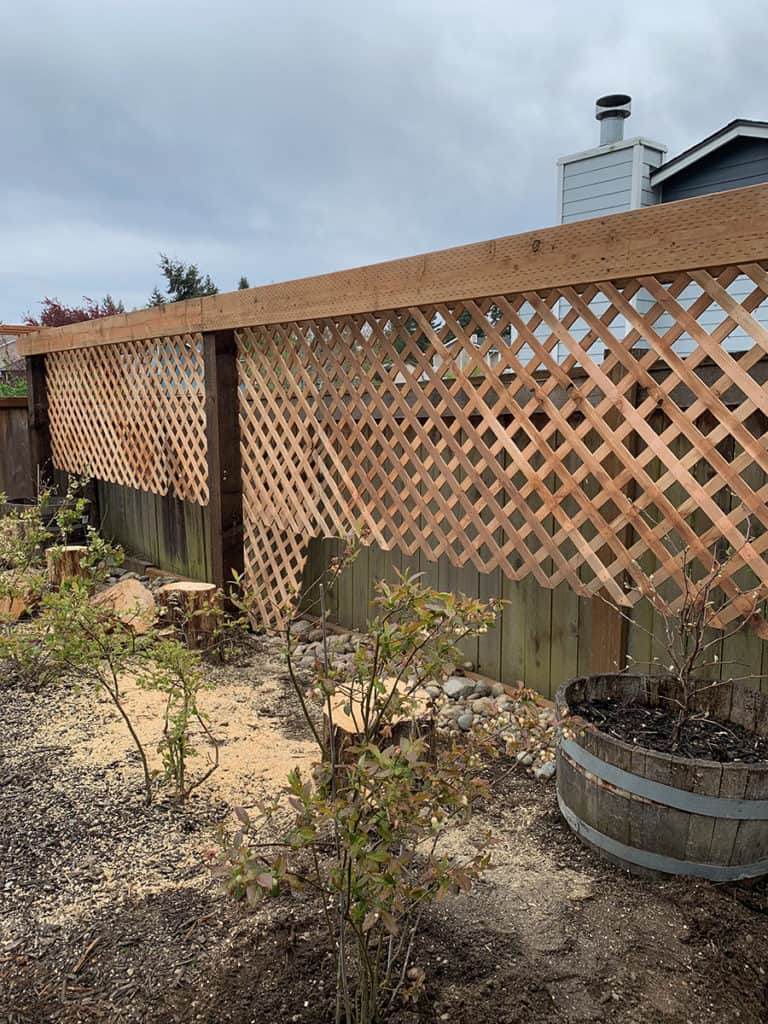 Adding The Top
We really wanted to add something on top to complete the look of the trellis. It gave it the feel of a pergola and also provides another space for the vines to grow.
First we took a 2"x2"x8" board and cut it into 32" sections. This gave us 12" of overhang on the front and 9 off the back. We then made a 45 degree cut on each side. This took some time but the overall look was well worth it.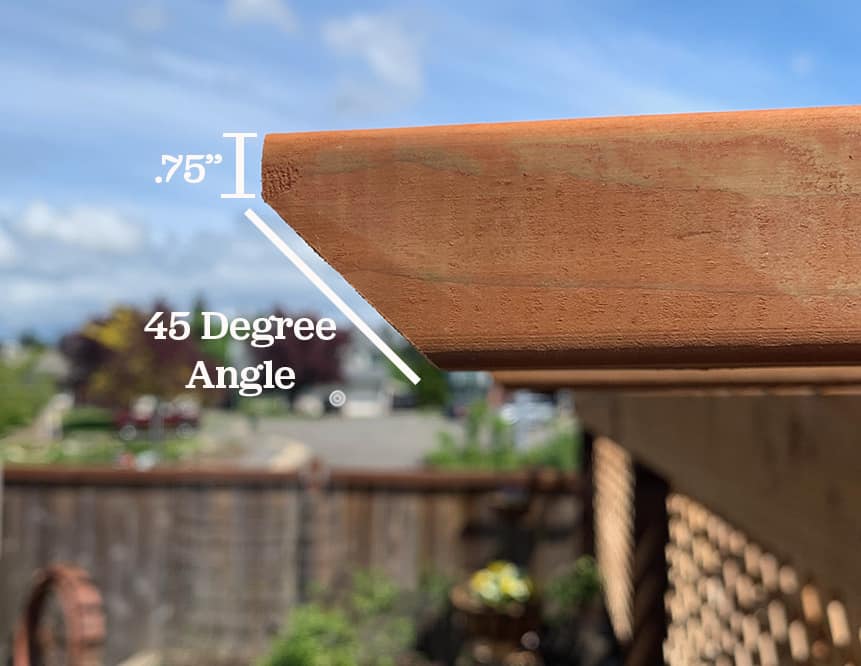 We knew we wanted 12" to hang over the front so we made marks at 12" on all the boards.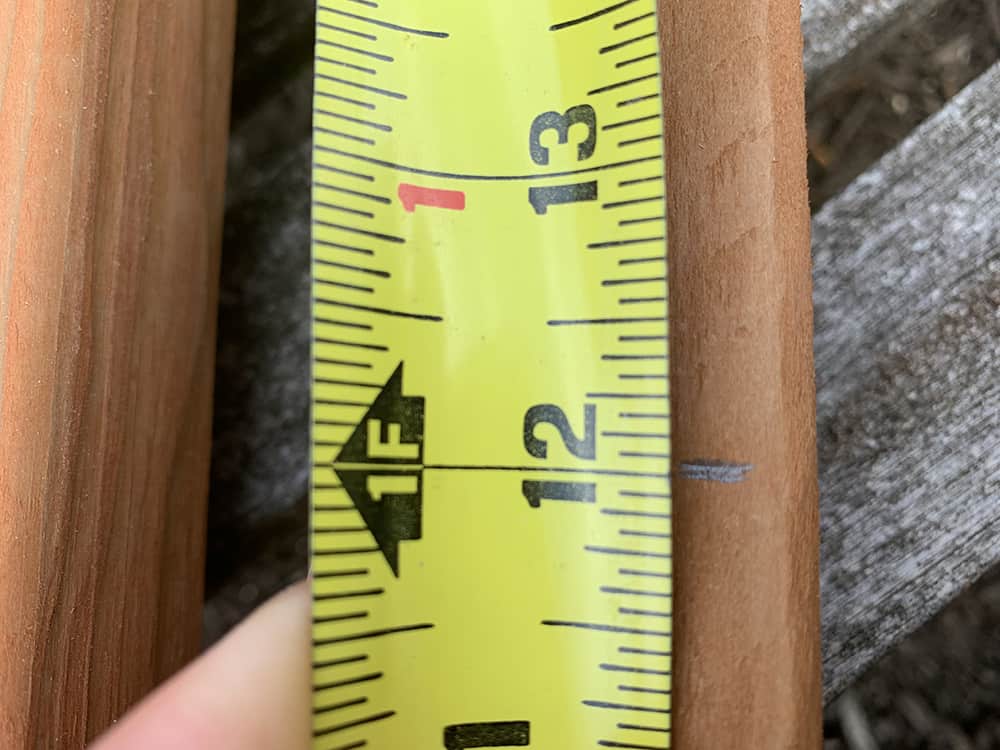 My husband then made a mark at every 9" on the header What this did was space out the top perfectly 9" apart and gave an overhang of 12".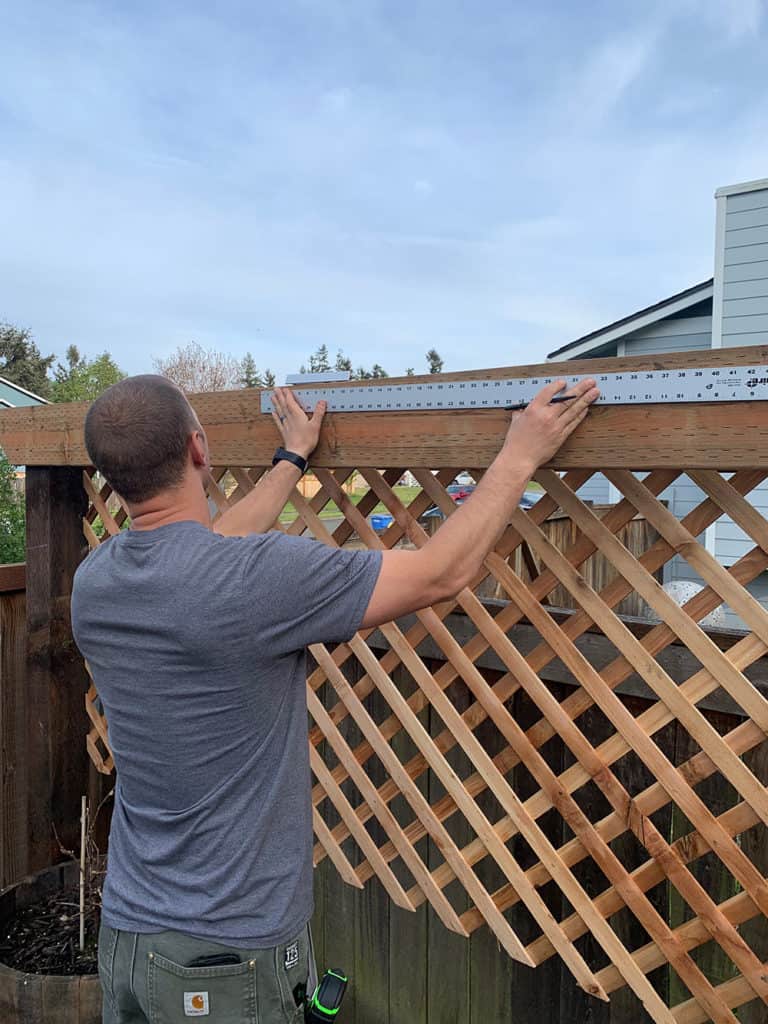 We spent a lot of time looking at different options for spacing and length of the boards and we decided these measurements gave us the look we were after.
The prep work paid off because adding them took very little time. We just lined up the marks on the beams to the marks on the headers and and nailed them all in place.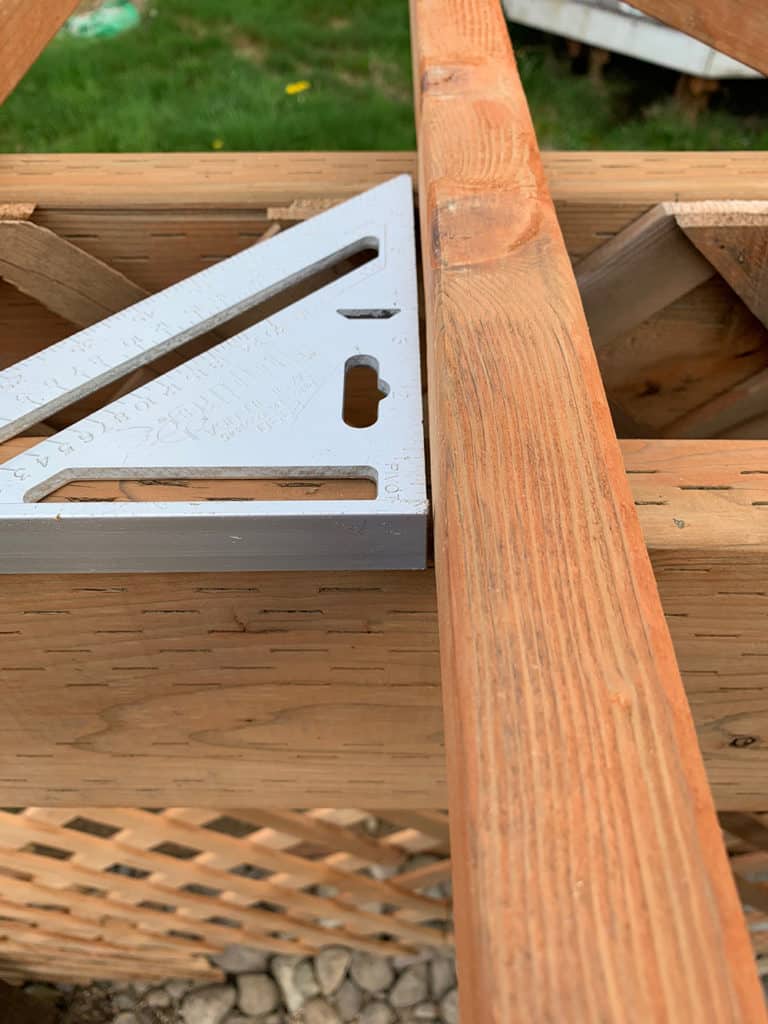 Once we lined the two marks up we took a speed square to make sure the beam was square with the header. Using a nail gun, we secured the beams with two nails on the front and two on the back header.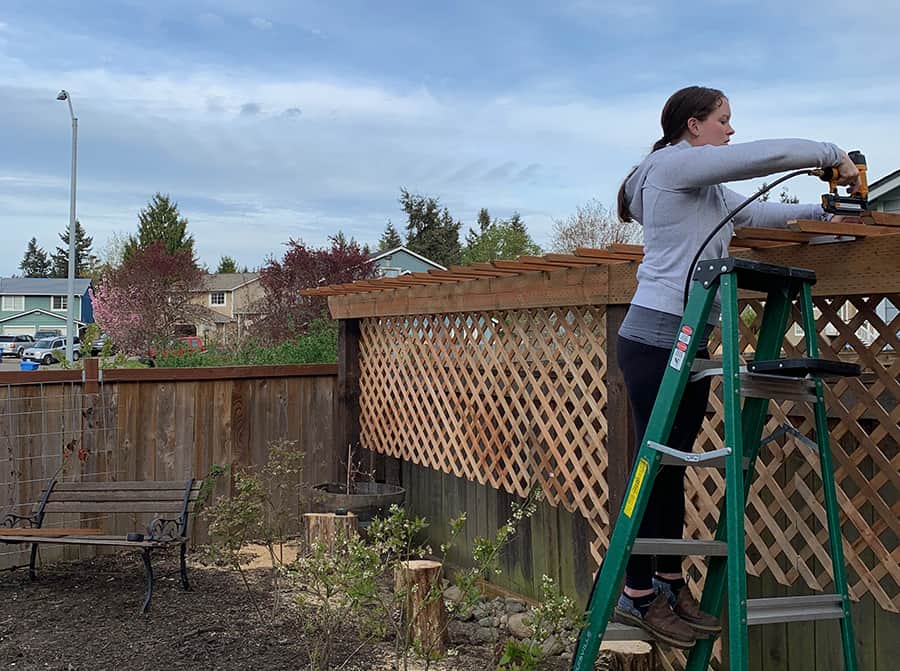 Conclusion
And just like that we completed this beautiful trellis for my grape plants. With some planning and prep work you could easily build your own garden trellis!
A few hanging baskets with flowers was the perfect addition to tie it all together. Not to mention it also brings in the bees for my blueberries.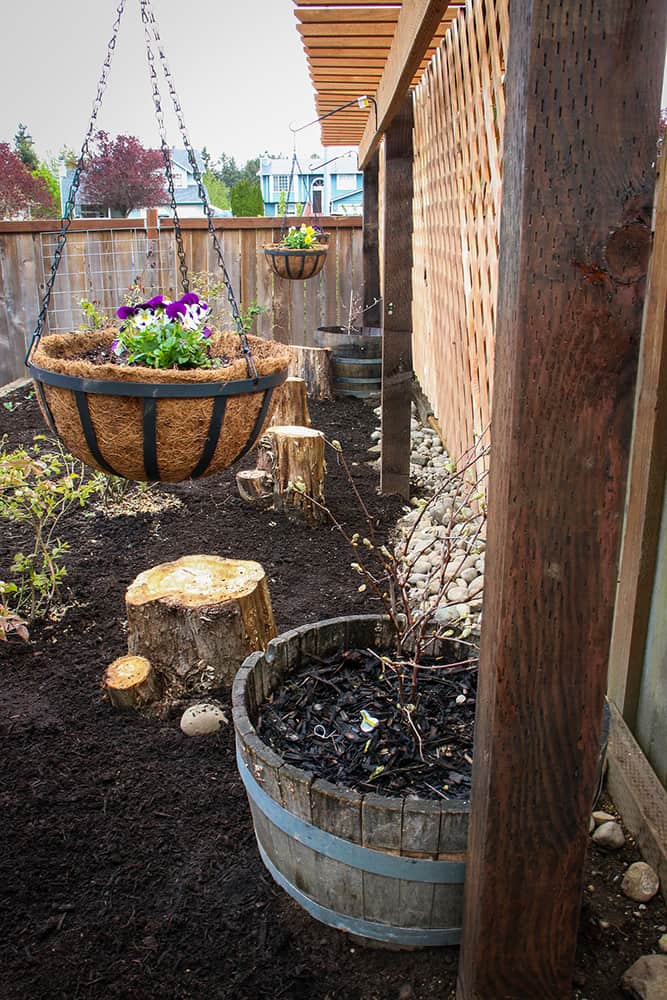 It has been a few weeks since we completed the trellis and my grape plants are thriving! Im so looking forward to the day this entire thing is filled with the vines and fresh grapes. And maybe someday I will have enough to make wine for my family and friends.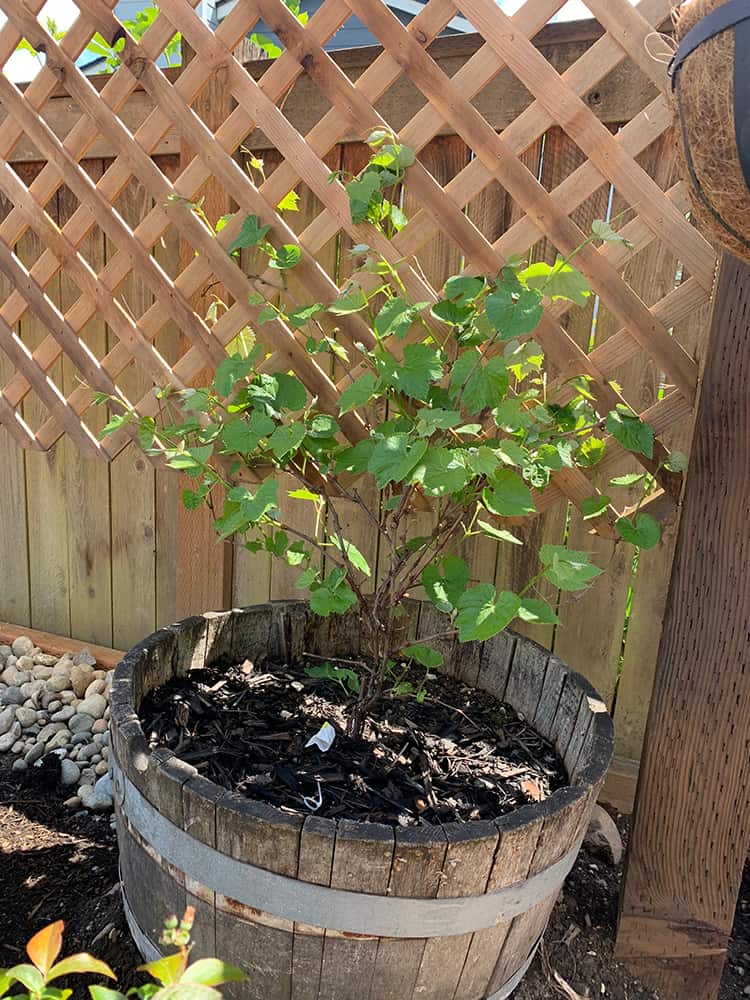 Do you have a cool trellis in your garden? I would love to see it. Please tag me in your posts on instagram @dirt.dough
Don't have a garden yet? You can read all my reasons why I think you should start one and the benefits it will provide to your family.
Need help starting a garden? I give a very simple guide in to how to get started. Sign up for my email and get your free garden planner!
Consider growing your own blueberries this season! They are easy to maintain, get bigger and better every year and who doesn't love fresh blueberries.
Gardening Resources:
Heirloom and organic seeds from True Leaf Market
Gardening supplies and materials from Tractor Supply
Gardening Books:
The Family Garden Plan: Grow a Year's Worth of Sustainable and Healthy Food
The Backyard Homestead: Produce all the food you need on just a quarter acre!
Lean how to make your own Sourdough Starter