Creamy smoked salmon chowder is pure comfort food. This pacific northwest dish is made with potatoes, veggies, cream cheese, and of course all the flavors of smoked salmon.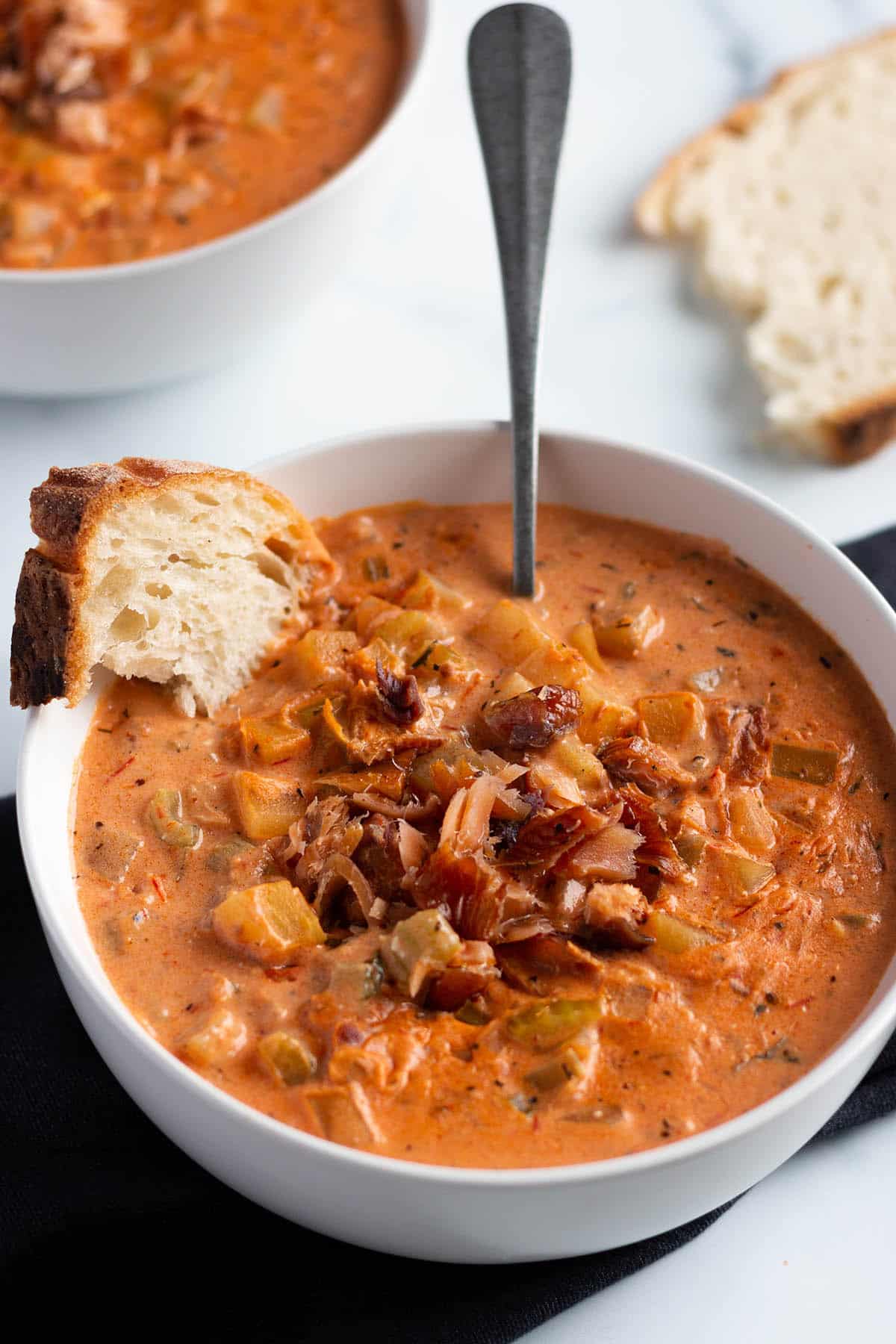 One of the reasons I love being in the pacific northwest is access to all the fresh seafood! Clams, crabs, and all kinds of fish just to name a few.
One thing I look forward to each summer is all the fresh wild-caught salmon which we always have to turn into homemade smoked salmon.
Smoked salmon has so many different uses other than being a great snack. We make dips and this smoked salmon chowder. It's a great way to take a summer staple and turn it into pure winter comfort food.
Make a loaf of fresh homemade sourdough bread and the two are the perfect pairing.
Love chowder? Check out my Pacific Razor Clam Chowder or a crab and corn chowder recipe as well.
Jump to:
Ingredients
The star of this soup is a hot smoked salmon. The term hot refers to the way the salmon is smoked not the level of spiciness. A cold smoked salmon is cooked under 90 degrees Fahrenheit whereas a hot smoked salmon is cooked at 120 degrees or higher.
This particular soup is made with hot smoked salmon. This will give the soup that classic smokey flavor. Hot smoked salmon is also better for warmer dishes because it has a lot more flavor and just holds up better.
Cold smoked is better eaten right out of the package with things like crackers or bagels and a cream spread.
Hot smoked salmon will be darker in color and often bigger chunks of fish that can be broken into little flakes. Cold smoked salmon will be much lighter and sliced thinly.
Ingredients needed to make this smoked salmon chowder:
Olive Oil
Yellow Onion
Celery
Yukon Gold Potatoes
Butter
Flour
Half and Half
Vegetable Broth
Crushed Tomatoes
Dried Basil, Parsley, and Dill
Smoked Paprika
Salt
Cream Cheese
Hot Smoked Salmon (See notes above)
See the recipe card for exact measurements.
Instructions
Step 1: Break up the smoked salmon into bite-size pieces, and set them aside. The salmon is already cooked so it will not be added until the final step.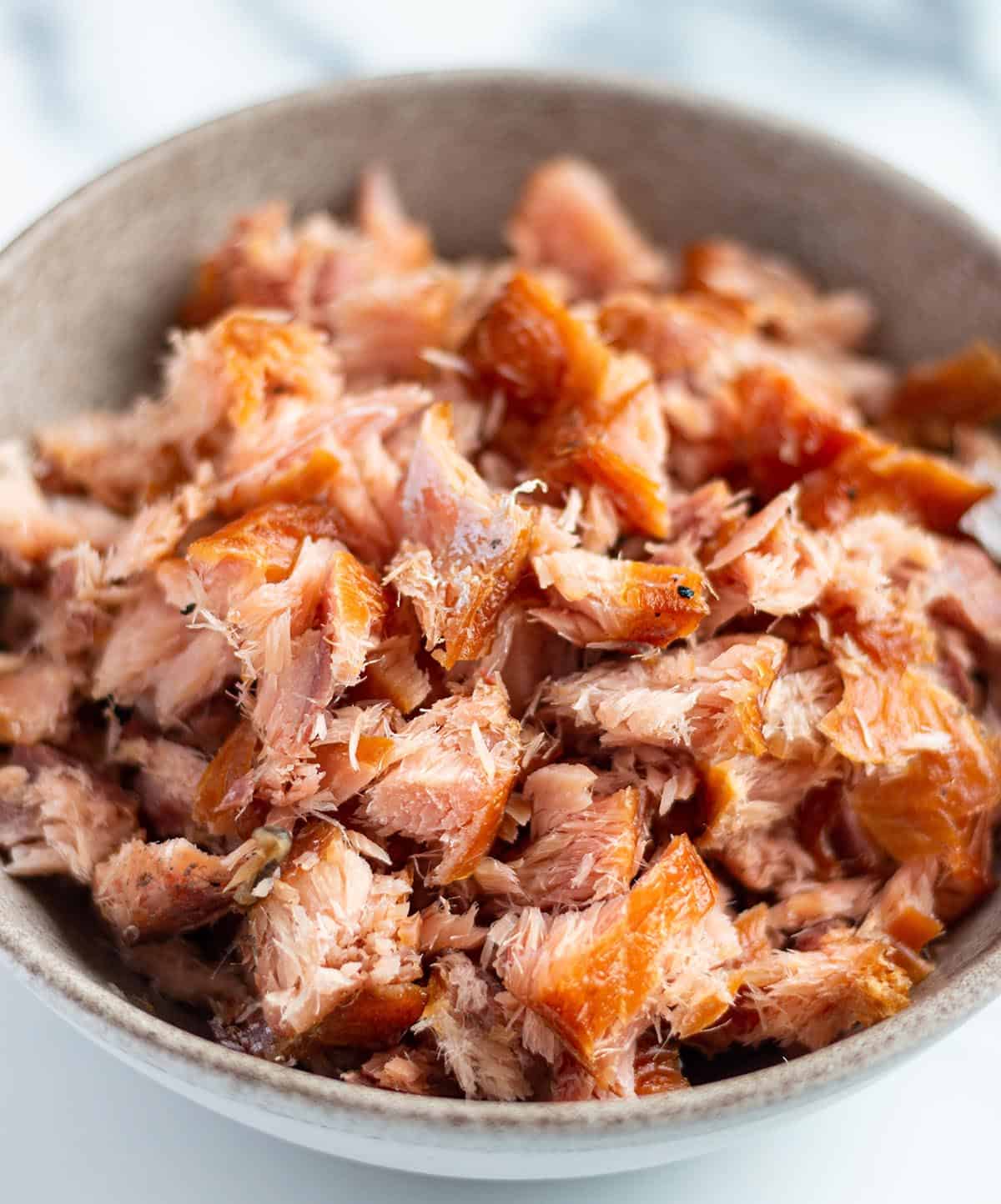 Step 2: Warm up a large dutch oven or other soup pot over medium heat. A 7.5 quart is a great size, giving plenty of room.
Step 3: Add olive oil. Allow to warm up.
Step 4: Add diced onions and start to sautee until soft and translucent. About 5 minutes.
Step 5: Add celery and continue to cook until soft. About another 5 minutes.
Step 6: Add garlic and cook for 30 seconds.
Step 7: Add diced potatoes and stir to coat.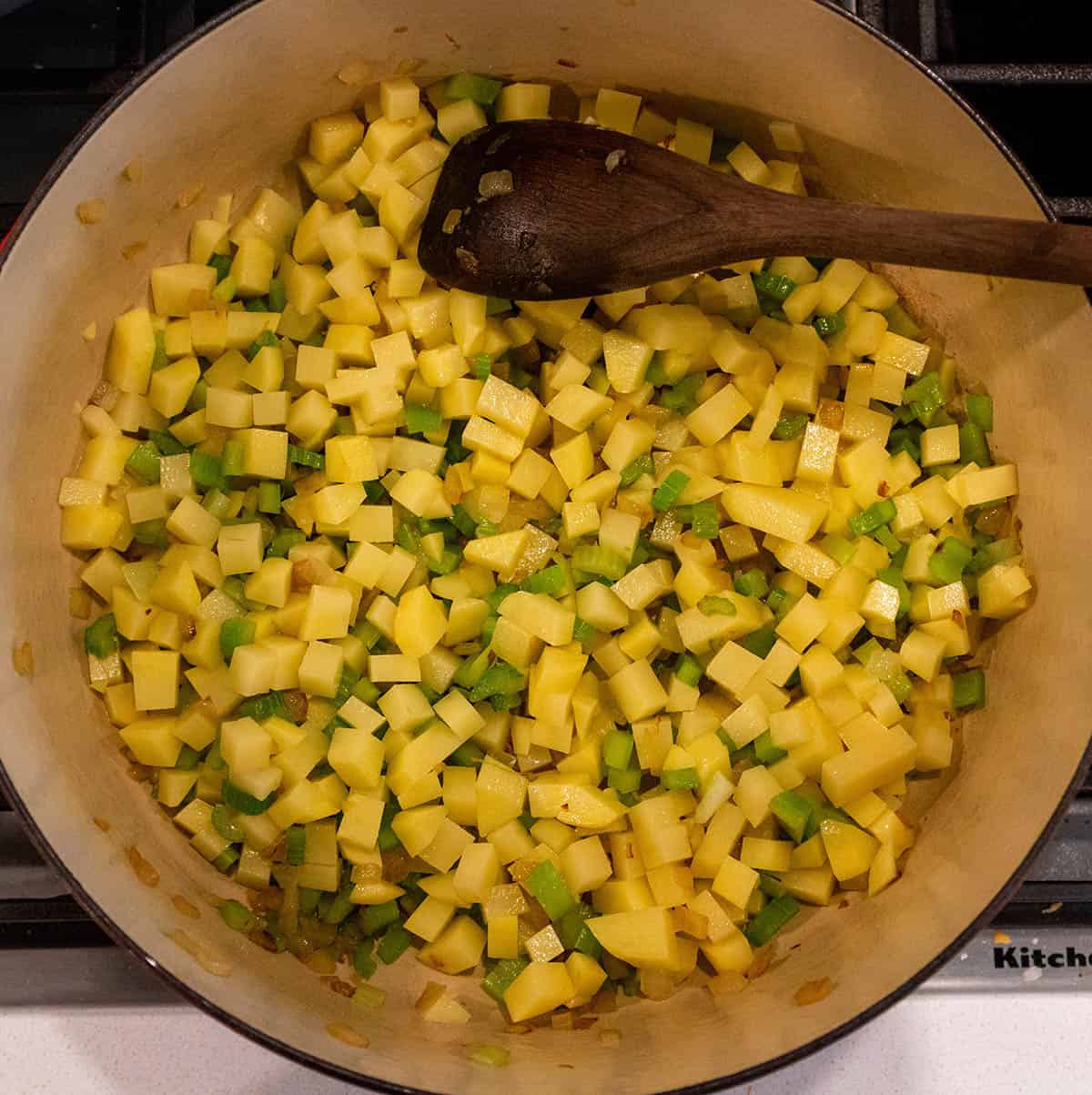 Step 8: Add butter. Once melted stir to coat all the veggies and potatoes.
Step 9: Add flour and stir well. It will start to get really thick. Cook for 2 minutes or until all the flour is cooked through. We do not want raw chunks of flour.
Step 10: Slowly pour in the vegetable stock and half and half, stirring and scraping the bottom of the pot with a wooden spoon until fully incorporated.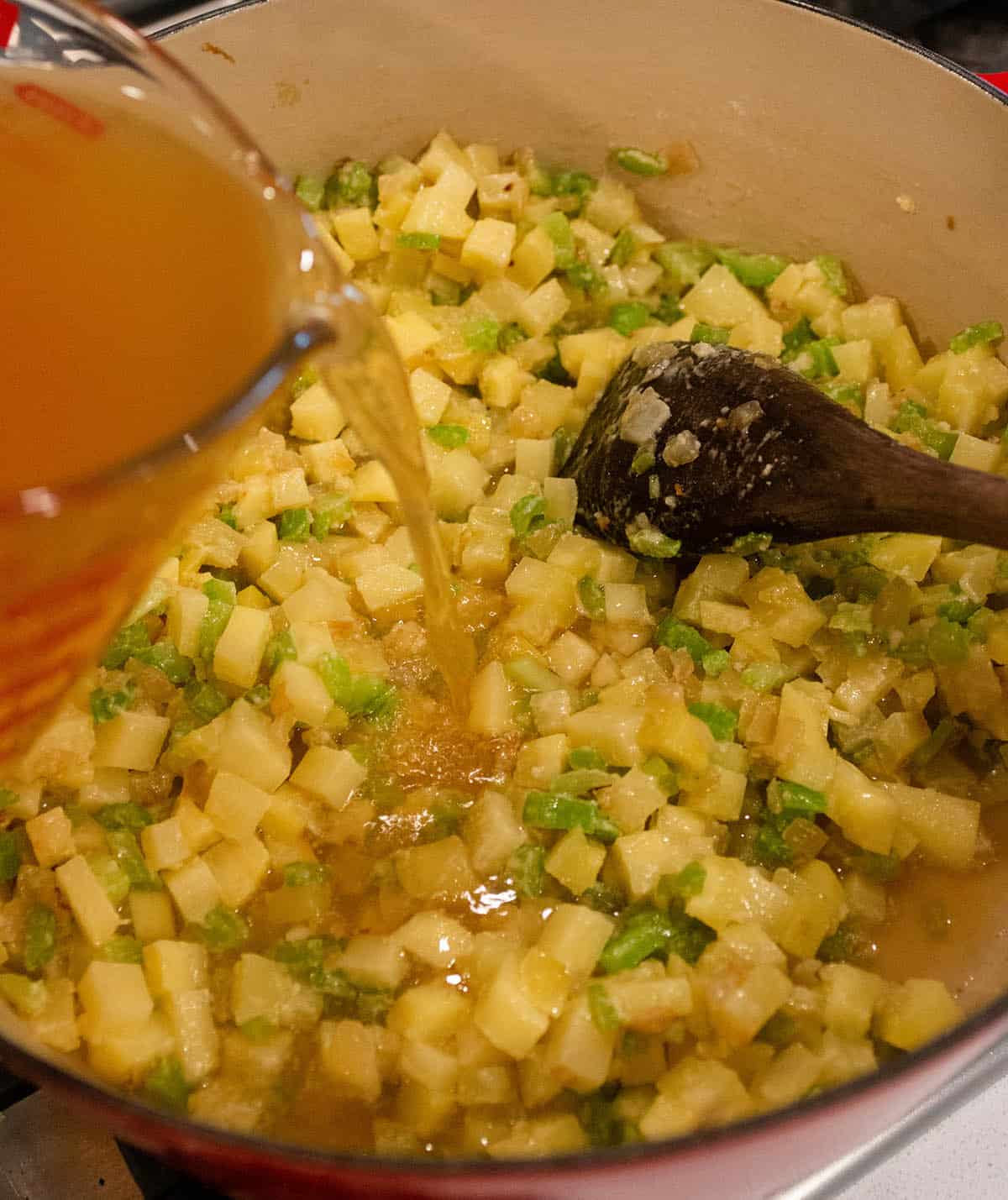 Step 11: Add crushed tomatoes and all the spices.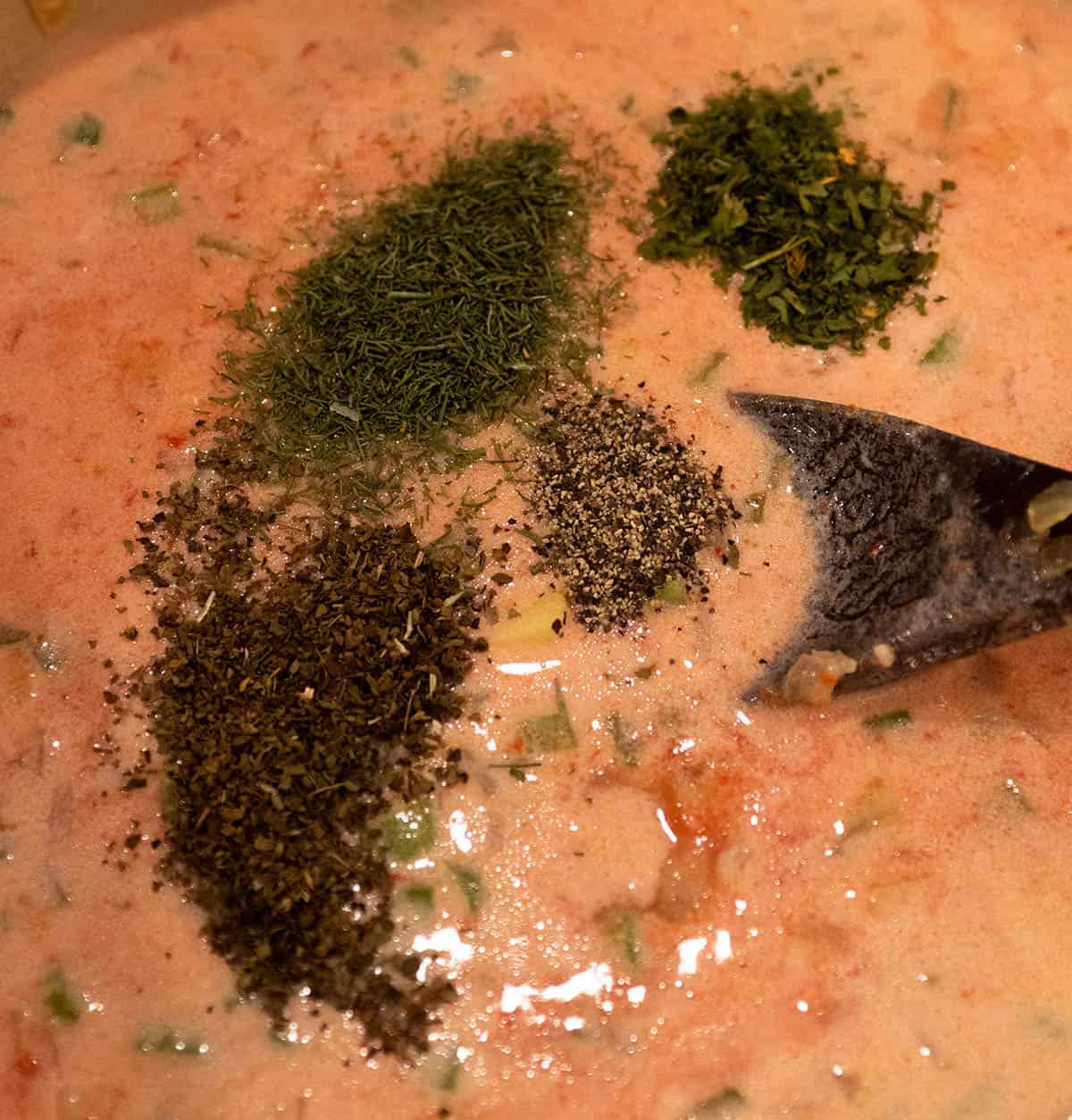 Step 12: Bring to a gentle boil and reduce to a simmer. Allow to simmer for 20 minutes or until the potatoes are nice and soft. Stir frequently.
Step 13: Break up the cream cheese into chunks and add to the soup. Continue to cook and stir until it is fully melted and incorporated. The soup should really start to thicken up.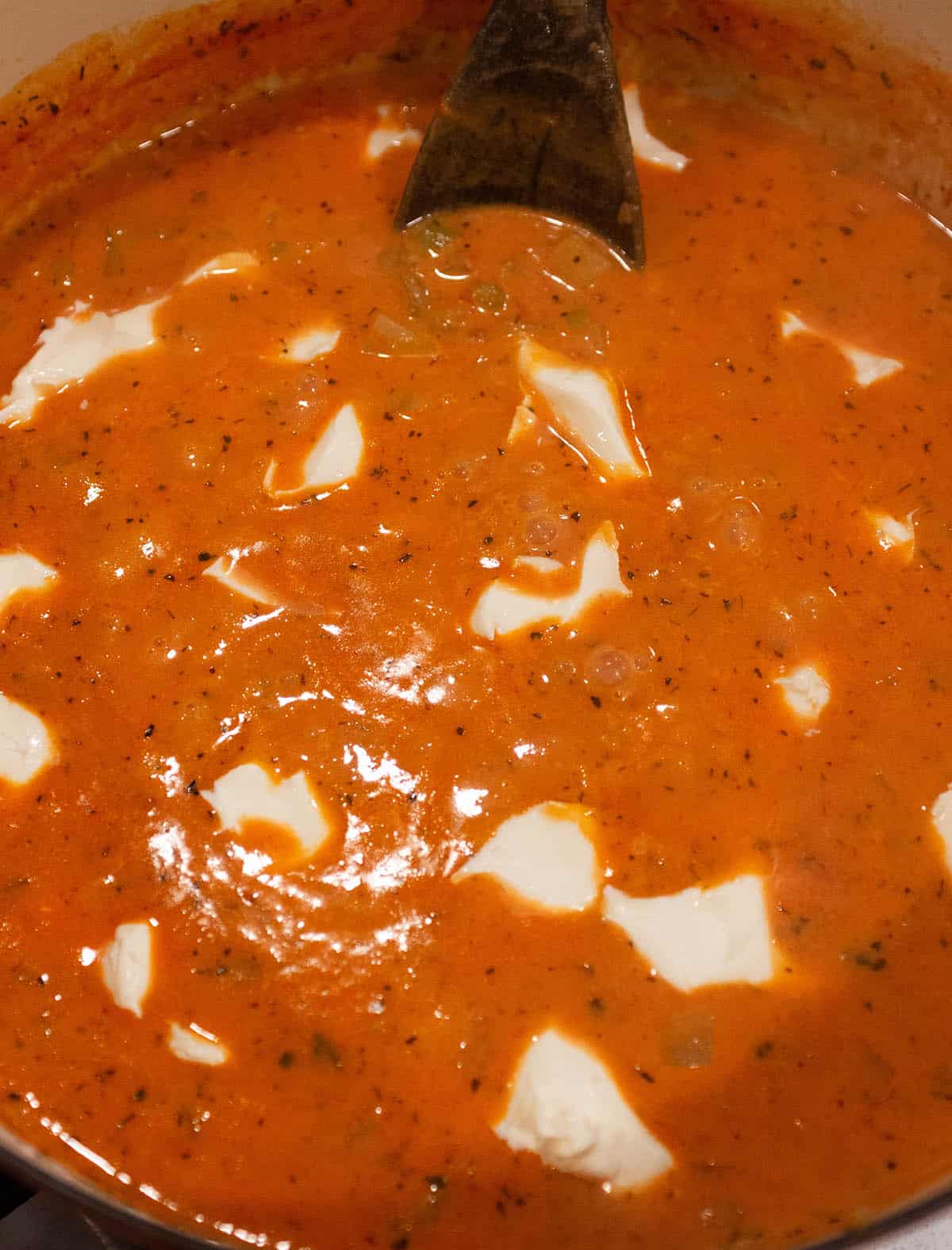 Step 14: Stir in the pieces of smoked salmon and cook for just a couple more minutes.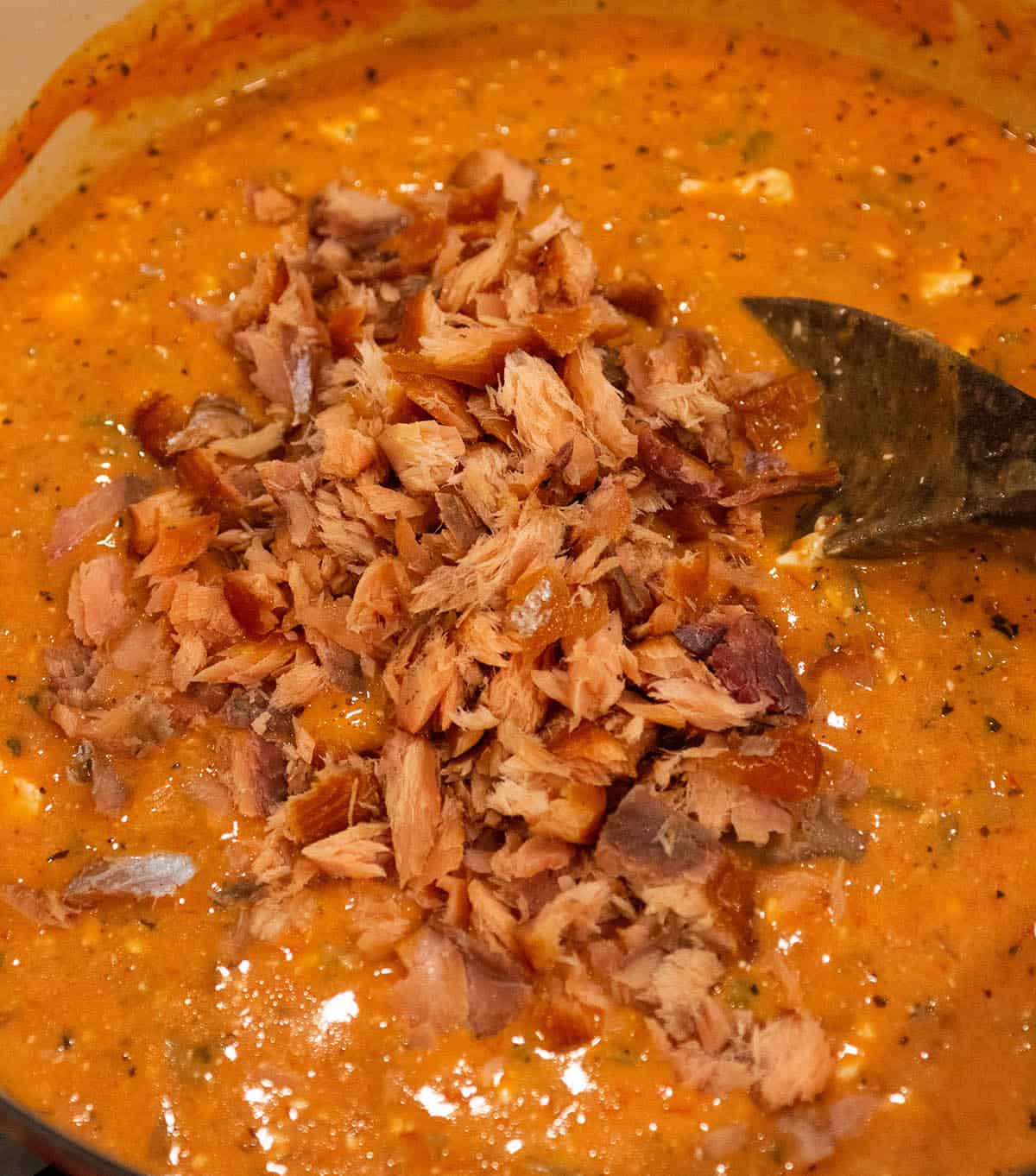 Step 15: Serve and enjoy! Do not forget to add a side of sourdough bread to complete this chowder.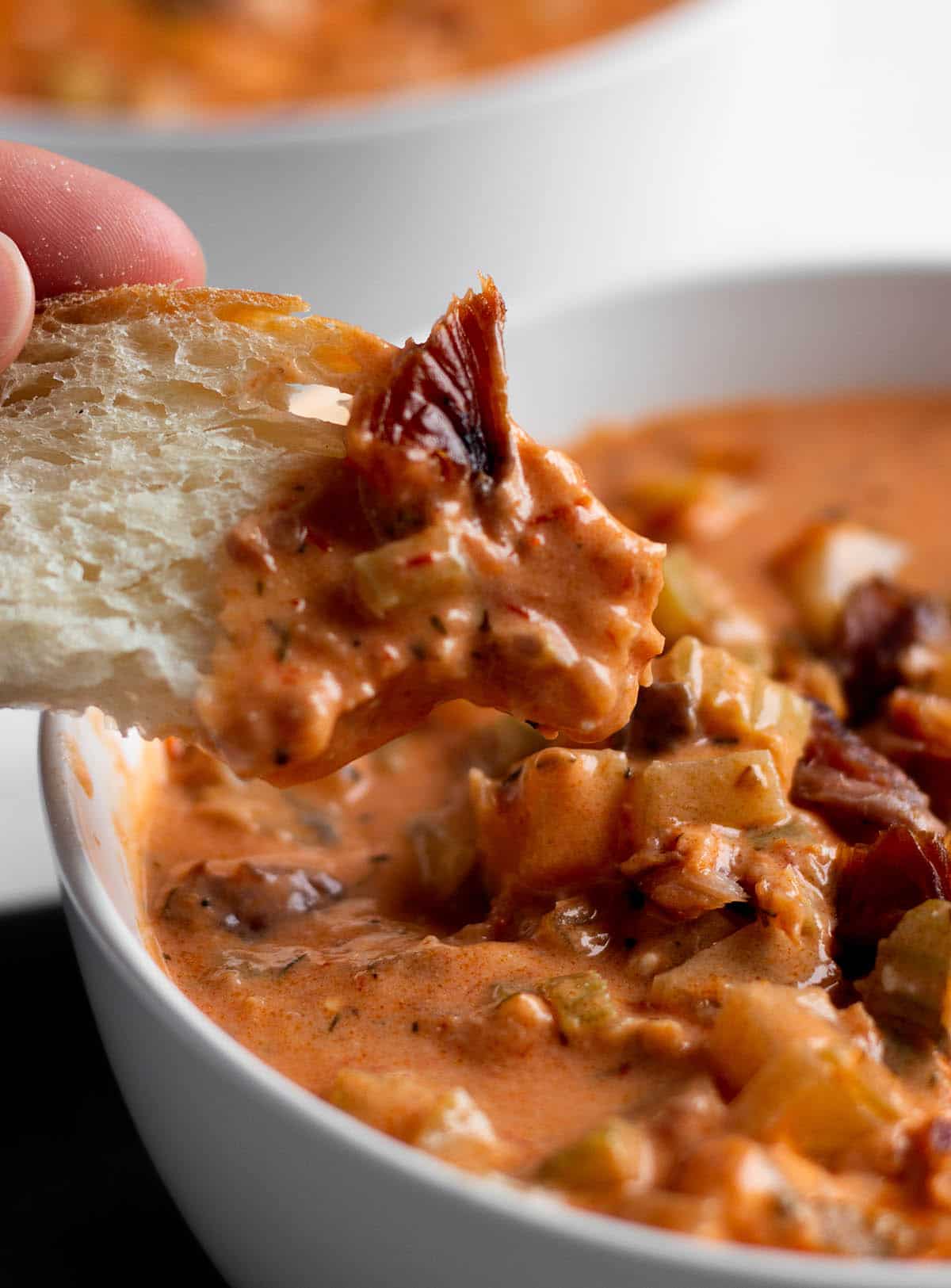 Substitutions
Potatoes: Red potatoes can be substituted for Yukon gold.
Fish Stock: Fish stock can be used in place of vegetable stock. Fish stock isn't always as easy to find so I prefer to just use the vegetable stock.
Variations
Gluten-Free: Use a tried and true gluten-free flour to make the roux. Some gluten-free flours will gum up when added.
Vegetarian: This recipe was developed around that smoked salmon but it is hearty enough to stand on its own without it, making a creamy vegetarian soup.
Equipment
A large dutch oven, 7.5qt or bigger.
Wooden Spoon: If cooking in a dutch oven a wood spoon or spatula is best to use. Avoid metal utensils on your dutch oven pot.
Storage
This soup will keep well in an air-tight container in the refrigerator for up to 3 days. In fact, I highly recommend making it the day before as it gets even better the next day.
How to reheat smoked salmon chowder? The best way to reheat soup is to warm it slowly in a pot or dutch oven over medium heat stirring often.
It can also be microwaved. Place soup in a microwave-safe bowl and run for 1 minute at a time, stirring after each minute. Repeat the process until it has reached your desired temperature.
Does smoked salmon chowder freeze well? Because this soup is cream-based and has cream cheese it will not hold up well to freezing. When dairy freezes it can separate during the thawing process and lose a lot of its consistency.
Other Seafood Recipes:
Other Soup Recipes:
📋Recipe